Abstract
The May 11th 2011, Lorca earthquake in Southeastern Spain was a moderate magnitude event (Mw 5.1) yet it caused nine fatalities, more than 300 injuries and more than 462 million euros in economic loses. Peak ground accelerations as well as response spectral ordinates far exceed expected values from various ground motion prediction models. In particular, spectral ordinates computed from recorded ground motions significantly exceed those in current Spanish probabilistic seismic hazard models, as well as those in the Spanish and European building codes. The objective of this paper is to assess directivity effects on ground motions recorded during the 2011 Lorca earthquake, and to evaluate the significance of these effects in earthquake resistant design on moderate seismic regions. In the first part of this paper, we study the likelihood of the presence of a directivity pulse, by conducting a comparison of different parameters of recorded ground motions to analytical pulses. In the second part, we relate the recorded ground motion and its inelastic displacement spectra to some recent statistical models that try to capture the displacement demand features of earthquakes presenting directivity-pulse characteristics. It is shown that simple analytical pulses are capable of reproducing very well pulse-type near-fault ground motions recorded during the event. It is concluded that directivity effects played a major role in the large impact caused by this relatively small event. Furthermore, directivity effects which are typically ignored, both in probabilistic seismic hazard analysis and in most building codes, may lead to important underestimations of ground motions.
This is a preview of subscription content, log in to check access.
Access options
Buy single article
Instant access to the full article PDF.
US$ 39.95
Price includes VAT for USA
Subscribe to journal
Immediate online access to all issues from 2019. Subscription will auto renew annually.
US$ 99
This is the net price. Taxes to be calculated in checkout.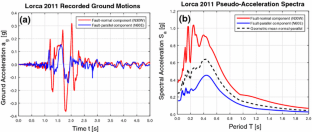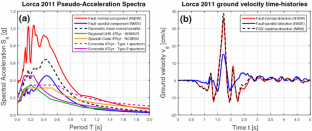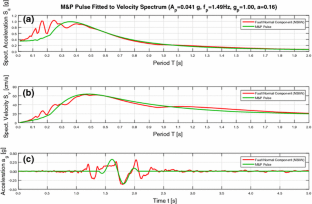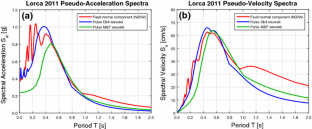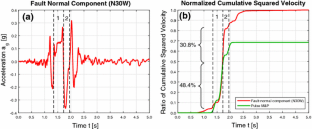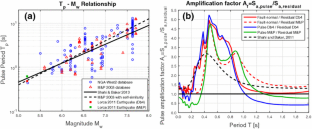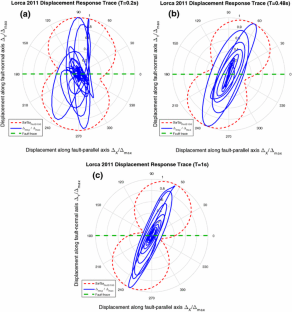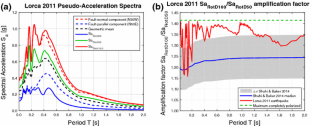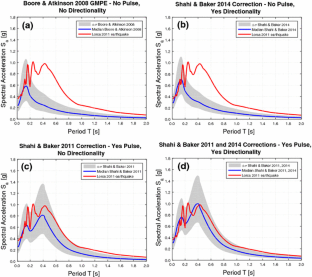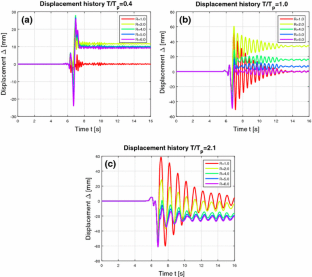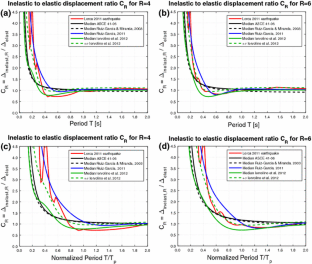 References
Abrahamson NA (2000) Effects of rupture directivity on probabilistic seismic hazard analysis. In: Proceedings of the 6th international conference on seismic zonation, vol 1. Palm Springs, pp 151–156

Akkar SD, Yazgan U, Gulkan P (2004) Deformation limits for simple non-degrading Systems subjected to near-fault ground motions. In: Proceedings 13th world conference on earthquake engineering, Vancouver, Canada

Alavi B, Krawinkler H (2001) Effects of near-fault ground motions on frame structures. Technical Report 138. John A. Blume Earthquake Engineering Center, Stanford

Alguacil G, Vidal F, Navarro M, García-Jerez A, Pérez-Muelas J (2014) Characterization of earthquake shaking severity in the town of Lorca during the May 11, 2011 event. Bull Earthq Eng 12(5):1889–1908

Alonso-Rodríguez A, Miranda E (2015) Assessment of building behavior under near-fault pulse-like ground motions through simplified models. Soil Dyn Earthq Eng 79:45–58

Alvarez-Cabal R, Diaz-Pavón E, Rodríguez-Escribano R (2013) El Terremoto de Lorca, Efectos en los Edificios, Consorcio de Compensación de Seguros, Ministerio de Economía y Competitividad, Madrid, Spain (in Spanish)

Anderson JC, Bertero VV (1987) Uncertainties in establishing design earthquakes. J Struct Eng 113(8):1709–1724

ASCE/SEI Seismic Rehabilitation Standards Committee (2007) Seismic rehabilitation of existing buildings (ASCE/SEI 41-06). American Society of Civil Engineers, Reston

Baez JI, Miranda E (2000) Amplification factors to estimate inelastic displacement demands for the design of structures in the near field. In: Proceedings of 12th world conference on earthquake engineering, Auckland, NZ, 1561

Baker JW (2007) Quantitative classification of near-fault ground motions using wavelet analysis. Bull Seismol Soc Am 97(5):1486–1501

Baker JW, Cornell CA (2006) Which spectral acceleration are you using? Earthq Spectra 22(2):293–312

Benito-Oterino B, Rivas-Medina A, Gaspar-Escribano JM, Murphy P (2012) El terremoto de Lorca (2011) en el contexto de la peligrosidad y el riesgo sísmico en Murcia. Física de la Tierra 24:255–287 (in Spanish)

Bertero VV, Mahin SA, Herrera RA (1978) Aseismic design implications of near-fault San Fernando earthquake records. Earthq Eng Struct Dyn 6(1):31–42

Blazquez-Martinez R, Rodriguez-Estrella T, Ibargüen-Soler J, Martinez-Pagan P, Navarro-Bernal M, Trigueros-Tornero E, Alhama-Manteca I, Tomas-Espin A, Parra-Costa C, Garcia-Ayllon S, Alcaraz-Aparicio M, Hausen-Vargas M, (2014) Estudio de Microzonacion Sismica de Lorca. Universidad Politecnica de Cartagena – Consejeria de Fomento, Obras Publicas y Ordenacion del Territorio (Comunidad Autonoma Region de Murcia). http://portaleslr.carm.es/documents/13454/214474/DOC_MEMORIA_MICROZONACION_SISMICA_LORCA.pdf/201e2c4d-26a7-4dab-92a2-986f73292e41. Accessed Nov 2017 (in Spanish)

Boore D (2010) Orientation-independent, nongeometric-mean measures of seismic intensity from two horizontal components of motion. Bull Seismol Soc Am 100(4):1830–1835

Boore DM, Atkinson GM (2008) Ground-motion prediction equations for the average horizontal component of PGA, PGV, and 5%-damped PSA at spectral periods between 0.01 s and 10.0 s. Earthq Spectra 24(1):99–138

Boore DM, Watson-Lamprey J, Abrahamson NA (2006) Orientation-Independent measures of ground motion. Bull Seismol Soc Am 96(4A):1502–1511

Bradley BA, Quigley MC, Van Dissen RJ, Litchfield NJ (2014) Ground motion and seismic source aspects of the canterbury earthquake sequence. Earthq Spectra 30(1):1–15

Cabañas L, Alcalde JM, Carreño E, Bravo JB (2013) Characteristics of observed strong ground motion accelerograms from the 2011 Lorca (Spain) earthquake. Bull Earthq Eng 12:1909–1932. https://doi.org/10.1007/s10518-013-9501-0

Cabañas-Rodriguez L, Carreño-Herrero E, Izquierdo-Alvarez A, Martinez-Solares JM, Capote-Villar R, Martinez-Diaz J, Benito-Oterino B, Gaspar-Escribano J, Garcia-Mayordomo J, Perez-Lopez R, Rodriguez-Pascua MA, Murphy-Corella P (2011) Informe del Sismo de Lorca del 11 de mayo de 2011. Instituto Geografico Nacional. Ministerio de Fomento. Madrid, Spain. http://www.ign.es/ign/resources/sismologia/Lorca.pdf. Accessed Nov 2016 (in Spanish)

Chioccarelli E, Iervolino I (2010) Near-source seismic demand and pulse-like records: a discussion for L'Aquila earthquake. Earthq Eng Struct Dyn 39(2):1039–1062

García-Mayordomo J, Gaspar-Escribano JM, Benito B (2007) Seismic hazard assessment of the Province of Murcia (SE Spain): analysis of source contribution to hazard. J Seismol 11(4):453–471

Gaspar-Escribano JM, Benito B, García-Mayordomo J (2008) Hazard-consistent response spectra in the Region of Murcia (Southeast Spain): comparison to earthquake-resistant provisions. Bull Earthq Eng 6(2):179–196

González PJ, Tiampo KF, Palano M, Cannavó F, Fernández J (2012) The 2011 Lorca earthquake slip distribution controlled by groundwater crustal unloading. Nat Geosci 5(11):821–825

Hall JJ, Heaton TH, Halling MW, Wald DJ (1995) Near-source ground-motion and its effects in flexible buildings. Earthq Spectra 13(4):569–605

Iervolino I, Chioccarelli E, Baltzopoulos G (2012) Inelastic displacement ratio of near source pulselike ground motions. Earthq Eng Struct Dyn 41:2351–2357

Iwan WD (1997) Drift spectrum: measure of demand for earthquake ground motions. J Struct Eng 132(4):397–404

Iwan WD, Huang CT, Guyader AC (1998) Evaluation of the effects of near-source ground motions. Final Report. California Institute of Technology, Pasadena

Lopez-Comino JA, Mancilla F, Morales J, Stich D (2012) Rupture directivity of the 2011, Mw 5.2 Lorca earthquake (Spain). Geophys Res Lett 39(3):L03301. https://doi.org/10.1029/2011GL050498

Makris N, Black CJ (2004) Evaluation of peak ground velocity as a "good" intensity measure for near-source ground motions. J Eng Mech 130(9):1032–1044

Martínez-Díaz JJ, Álvarez-Gómez JA, García-Mayordomo J, Insua-Arévalo JM, Martín-González F, Rodríguez-Peces MJ (2012a) Interpretación tectónica de la fuente del terremoto de Lorca de 2011 (MW 5, 2) y sus efectos superficiales. Boletín Geológico y Minero 123(4):441–458 (in Spanish)

Martínez-Díaz JJ, Bejar-Pizarro M, Álvarez-Gómez JA, Mancilla FDL, Stich D, Herrera G, Morales J (2012b) Tectonic and seismic implications of an intersegment rupture: the damaging May 11th 2011 Mw 5.2 Lorca, Spain, earthquake. Tectonophysics 546:28–37

Martinez-Solares JM, Cantavella-Nadal JV, Cabañas-Rodríguez L, Valero-Zornosa JF (2012) El terremoto de Lorca de 11 de mayo de 2011 y la sismicidad de la región. Física de la Tierra 24:17–40 (in Spanish)

Mavroeidis GP, Papageorgiou AS (2003) A mathematical representation of near-fault ground motions. Bull Seismol Soc Am 93(3):1099–1131

Moratto L, Saraò A, Vuan A, Mucciarelli M, Jimenez M, Garcia Fernandez M (2017) The 2011 MW 5.2 Lorca earthquake as a case study to investigate the ground motion variability related to the source model. Bull Earthq Eng 15:3463–3482

Pro C, Buforn E, Cesca S Sanz, de Galdeano C, Udías A (2014) Rupture process of the Lorca (southeast Spain) 11 May 2011 (Mw = 5.1) earthquake. J Seismol 18:481–495

Rueda J, Dreger D, Blanco RMG, Mezcua J (2014) Directivity detection and source properties of the 11 May 2011 Mw 5.2 Lorca, Spain, earthquake. Bull Seismol Soc Am 104(4):1735–1749

Rueda-Nuñez J, Mezcua-Rodríguez J, García-Blanco RM (2012) Directividad de la fuente sísmica en el terremoto de Lorca del 11 de mayo de 2011. Física de la Tierra 24:83–111 (in Spanish)

Ruiz-García J (2011) Inelastic displacement ratios for seismic assessment of structures subjected to forward-directivity near-fault ground motions. J Earthq Eng 15(3):449–468

Ruiz-García J, Miranda E (2003) Inelastic displacement ratios for evaluation of existing structures. Earthq Eng Struct Dyn 32(8):1237–1258

Ruiz-García J, Miranda E (2005) Performance-based assessment of existing structures accounting for residual displacements, Report No. 153. John A. Blume Earthquake Center, Stanford University. https://purl.stanford.edu/tz123dt3431. Accessed Nov 2016

Santoyo MA (2014) Finite fault analysis and near-field dynamic strain and rotation estimates due to the 11/05/2011 (Mw5.2) Lorca earthquake, south-eastern Spain. Bull Earthq Eng 12(5):1855–1870

Shahi SK, Baker JW (2011) An empirically calibrated framework for including the effects of near-fault directivity in probabilistic seismic hazard analysis. Bull Seismol Soc Am 101(2):742–755

Shahi SK, Baker JW (2013) A probabilistic framework to include the effects of near-fault directivity in seismic hazard assessment, Report No. 180. The John A. Blume Earthquake Engineering Research Center, Stanford University

Shahi SK, Baker JW (2014) NGA-West2 models for ground-motion directionality. Earthq Spectra 30(3):1285–1300

Shakal A, Graizer V, Huang M, Borcherdt R, Haddadi H, Lin K-W, Stephens C, Roffers P (2005) Preliminary analysis of strong-motion recordings from the 28 September 2004 Parkfield, California earthquake. Seismol Res Lett 76(1):27–39

Somerville PG, Smith NF, Graves RW, Abrahamson NA (1997) Modification of empirical strong ground motion attenuation relations to include the amplitude and duration effects of rupture directivity. Seismol Res Lett 68(1):199–222
About this article
Cite this article
Gordo-Monsó, C., Miranda, E. Significance of directivity effects during the 2011 Lorca earthquake in Spain. Bull Earthquake Eng 16, 2711–2728 (2018). https://doi.org/10.1007/s10518-017-0301-9
Received:

Accepted:

Published:

Issue Date:
Keywords
Lorca earthquake

Pulse

Directivity

Directionality

Near-fault

Inelastic spectra