Abstract
Reduced beam section (RBS) connection was developed as an authentic alternative for welded unreinforced flange connections to prevent the wide spread typical damage of the beam to column welded connections observed after the 1994 Northridge earthquake. Drilled flange (DF) connection, as the next generation of RBS connection, was developed to replace the former RBS connection, due to their easier construction. The present study aims to investigate the effects of different design parameters such as center-to-center distance of the drilled holes, drilled holes diameter, row number of the drilled holes and beam span-to-depth ratio on seismic performance of DF connection. For this purpose, experimentally validated detailed finite element models (FEMs) are used. Also, the cyclic responses of FEMs are utilized to validate the proposed closed-form equations for estimating the yield moment and plastic moment capacity of DF connection. The results indicate that placing the specified limits on the latter design parameters can reduce equivalent plastic strain and Rupture Index at CJP groove weld line of DF connection up to 100 and 154%, respectively. Furthermore, based on the analytical results, the proposed closed-form equations can predict the plastic moment capacity and the yield moment of DF connection with the maximum errors bound less than 8 and 9%, respectively. The results of this study provide the practical recommendations for DF connection seismic design.
Access options
Buy single article
Instant access to the full article PDF.
USD 39.95
Price excludes VAT (USA)
Tax calculation will be finalised during checkout.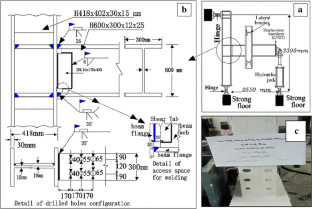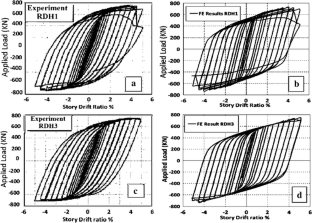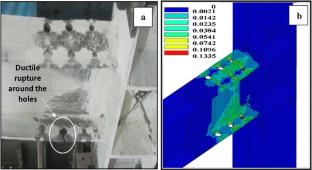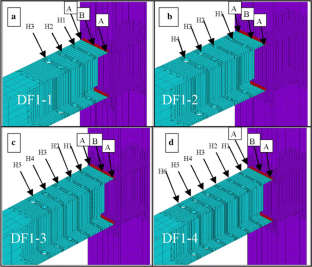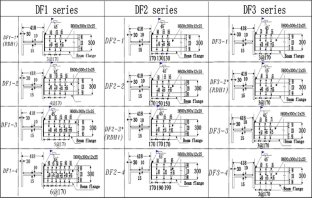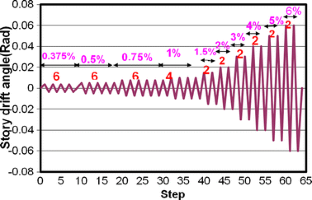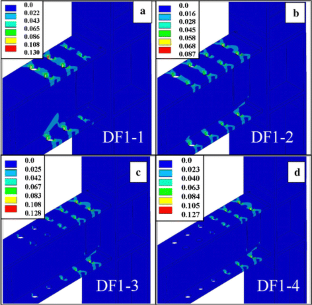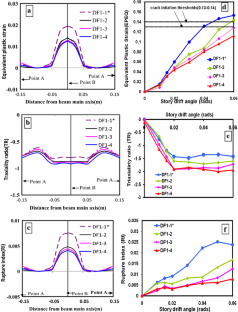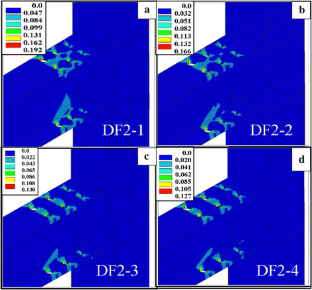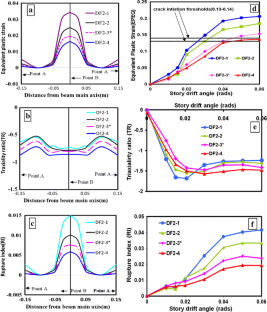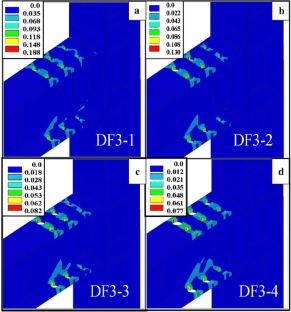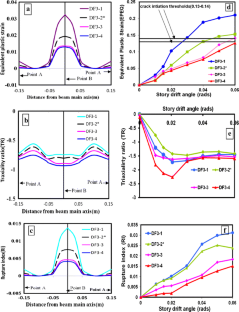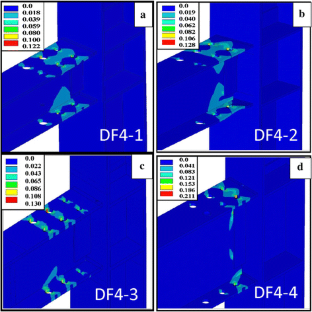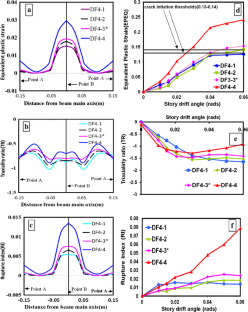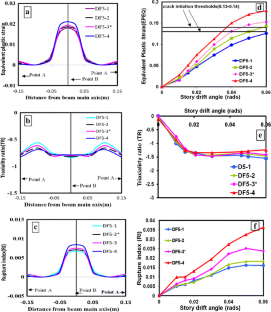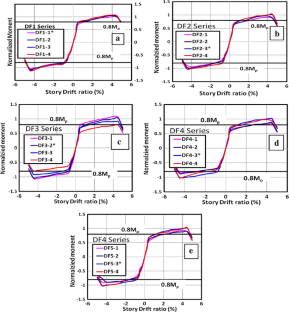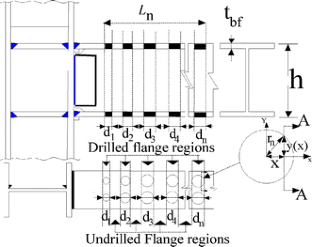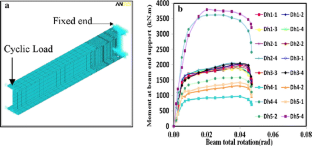 References
AISC (2015) Seismic provisions for structural steel buildings, AISC 341-16. American Institute of Steel Construction, Chicago

AISC (2016a) Prequalified connections for special and intermediate steel moment frames for seismic applications, AISC 358-16. American Institute of Steel Construction, Chicago

AISC (2016b) Specification for structural steel buildings, ANSI/AISC 360-16. American Institute for Steel Construction, Chicago

ANSYS (1998) User's manual. Version 5.4, 201. ANSYS Inc, Houston

Atashzaban A, Hajirasouliha I, Ahmady Jazany R, Izadinia M (2015) Optimum drilled flange moment resisting connections for seismic regions. J Constr Steel Res 112:325–338. https://doi.org/10.1016/j.jcsr.2015.05.013

ATC (1992) Guidelines for cyclic seismic testing of components of steel structures, ATC 24. Applied Technology Council

Deylami A, Moslehi Tabar A (2013) Promotion of cyclic behavior of reduced beam section connections restraining beam web to local buckling. Thin Walled Struct 73:112–120. https://doi.org/10.1016/j.tws.2013.07.013

DIN (1995) Hot rolled I and H sections: dimensions, mass and static parameters, DIN 1025. DIN, Berlin

DIN Steel Standard (2011) Steels for general structural purposes, DIN 17100, Germany Steel Grades

Elkady A, Lignos D (2015) Analytical investigation of the cyclic behavior and plastic hinge formation in deep wide-flange steel beam-columns. Bull Earthq Eng 13(4):1097–1118. https://doi.org/10.1007/s10518-014-9640-y

El-Tawil S, Mikesell T, Vidarsson E, Kunnath S (1998) Strength and ductility of FR welded bolted connections. Report no. SAC/BD-98/01, SAC Joint Venture, Sacramento, CA

Engelhardt MD, Fry G, Johns S, Venti M, Holliday S (2000) Behavior and design of radius cut, reduced beam section connections. Report no. 00/17, SAC, California

Farrokhi H, Danesh F, Eshghi SA (2009) Modified moment resisting connection for ductile steel frames (numerical and experimental investigation). J Constr Steel Res 65(10–11):2040–2049. https://doi.org/10.1016/j.jcsr.2009.04.019

FEMA (2000) State of the art report on connection performance. Report no. FEMA-355D, Federal Emergency Management Agency, Washington

FEMA (2000) Prestandard and commentary for the seismic rehabilitation of buildings. Report no. FEMA-356, Federal Emergency Management Agency, Washington

Ghassemieh M, Kiani J (2013) Seismic evaluation of reduced beam section frames considering connection flexibility. Struct Des Tall Spec Build 22:1248–1269. https://doi.org/10.1002/tal.1003

Han SW, Kim NH (2017) Permissible parameter ranges of access hole geometries for WUF-W connections. J Earthq Spectr 33(2):687–707. https://doi.org/10.1193/060716EQS092M

Hancock JW, Mackenzie AC (1976) On the mechanisms of ductile failure in high strength steels subjected to multi-axial stress states. J Mech Phys Solids 24:147–169. https://doi.org/10.1016/0022-5096(76)90024-7

Hodge PG (1959) Plastic analysis of structures. McGraw-Hill, New York

Iannone F, Latour M, Piluso V, Rizzano G (2011) Experimental analysis of bolted steel beam-to-column connections: component identification. J Earthquake Eng 15(2):214–244. https://doi.org/10.1080/13632461003695353

Inglis CE (1913) Stresses in plates due to the presence of cracks and sharp corners. Trans Inst Nav Archit 55:219–242

Irwin GR (1957) Analysis of stresses and strains near the end of a crack traversing a plate. J Appl Mech 24(3):361–364

Kanvinde AM, Deierlein GG (2005) Continuum based micromodels for ultra low cycle fatigue crack initiation in steel structures. In: Proceedings of the structures congress and exposition. ASCE, Reston, VA

Kanvinde AM, Deierlein GG (2007) A cyclic void growth model to assess ductile fracture in structural steel due to ultra low cycle fatigue. J Eng Mech 133(6):701–712. https://doi.org/10.1061/(ASCE)07339399(2007)133:6(701)

Kim DW, Ball SC, Sim HB, Uang CM (2016) Evaluation of sloped RBS moment connections. J Struct Eng ASCE. https://doi.org/10.1061/(ASCE)ST.1943-541X.0001459

Lee SJ, Noh SE, Han SY, Shin SW (2007) Deformation capacity of reduced beam section moment connection by staggered holes. In: International conference on sustainable building, Seoul, Korea

Mallik PK (1988) Effect of holes stress concentration on tensile strength of sheet modeling compound (SMC-50) composites. Composites 19(4):283–287. https://doi.org/10.1016/0010-4361(88)90004-3

Myers A, Kanvinde A, Deierlein G, Baker J (2014) Probabilistic formulation of the cyclic void growth model to predict ultralow cycle fatigue in structural steel. J Eng Mech 140(6):04014028. https://doi.org/10.1061/(ASCE)EM.1943-7889.0000728

Pachoumis DT, Galoussis EG, Kalfas CN, Christitsas AD (2009) Reduced beam section moment connections subjected to cyclic loading: experimental analysis and FEM simulation. J Eng Struct 31(1):216–223. https://doi.org/10.1016/j.engstruct.2008.08.007

Popov EP, Yang T, Chang S (1998) Design of steel MRF connections before and after 1994 Northridge earthquake. Eng Struct 20(12):1030–1038. https://doi.org/10.1016/S01410296(97)00200-9

Rahnavard R, Hassanipour A, Siahpolo N (2015) Analytical study on new types of reduced beam section moment connections affecting cyclic behavior. Case Stud Struct Eng 3:33–51. https://doi.org/10.1016/j.csse.2015.03.001

Roeder CW (2002) Connection performance for seismic design of steel moment frames. J Struct Eng 128(4):517–525. https://doi.org/10.1061/(ASCE)07339445

SAC (2000) Search connection database. http://www.sacsteel.org/connections

Shaikh AF, Fattah A (1978) Proposed revisions to shear-friction provisions. PCI J 23(2):12–21

Tsai KC, Chen CY (1996) Performance of ductile steel beam-column moment connections. In: 11th world conference on earthquake engineering, Acapulco, Mexico

Vetr M, Haddad A (2010) Study of drilled flange connection in moment resisting frames. Report no. 3732, International Institute of Earthquake Engineering and Seismology, Tehran, Iran

Vetr M, Miri M, Haddad A (2012) Seismic behavior of a new reduced beam section connection by drilled holes arrangement (RBS_DHA) on the beam flanges through experimental studies. In: 15th world conference of earthquake engineering, Lisbon, Portugal

Wahl AM, Beeuwkes R (1934) Stress concentration produced by holes and notches. Trans ASME Appl Mech Sect 56:617–623

Wang Y, Zhou H, Shi Y, Xiong J (2011) Fracture prediction of welded steel connections using traditional fracture mechanics and calibrated micromechanics based models. Int J Steel Struct 11(3):351–366. https://doi.org/10.1007/s13296-011-3010-2

Youssef NFG, Bonowitz D, Gross JL (1995) A survey of steel moment resisting frame buildings affected by the 1994 Northridge earthquake. Report no. NISTIR5625, NIST, Gaithersburg, MD
Acknowledgements
This study was supported by Department of Civil Engineering, East Tehran Branch, Islamic Azad University (IAU) (Grant No. 1295). Great appreciation should be expressed to all staff at the AIU. This study could not have been completed without the valuable help of these colleagues.
About this article
Cite this article
Ahmady Jazany, R. Improved design of drilled flange (DF) moment resisting connection for seismic regions. Bull Earthquake Eng 16, 1987–2020 (2018). https://doi.org/10.1007/s10518-017-0265-9
Received:

Accepted:

Published:

Issue Date:

DOI: https://doi.org/10.1007/s10518-017-0265-9
Keywords
Center-to-center distance of the holes

Full plastic moment

Holes diameter

Row number of drilled holes

Yield moment

Drilled flange connection