Abstract
The East African Rift System is the major active tectonic feature of the Sub-Saharan Africa region. Although the seismicity level of this divergent plate boundary can be described as moderate, several damaging earthquakes have been reported in historical times, and the seismic risk is exacerbated by the high vulnerability of the local buildings and structures. Formulation and enforcement of national seismic codes is therefore an essential future risk mitigation strategy. Nonetheless, a reliable risk assessment cannot be done without the calibration of an updated seismic hazard model for the region. A major limitation affecting the assessment of seismic hazard in Sub-Saharan Africa is the lack of basic information needed to construct source and ground motion models. The historical earthquake record is sparse, with significant variation in completeness over time across different regions. The instrumental catalogue is complete down to sufficient magnitude only for a relatively short time span. In addition, mapping of seismogenically active faults is still an on-going task, and few faults in the region are sufficiently constrained as to allow them to be directly represented within the seismic hazard model. Recent studies have identified major seismogenic lineaments, but there is substantial lack of kinematic information for intermediate-to-small scale tectonic features, information that is essential for the proper calibration of earthquake recurrence models. In this study, we use new data and Global Earthquake Model (GEM) computational tools such as the Hazard Modeller's Toolkit and the OpenQuake engine to perform a pilot study of the seismic hazard associated with the East African Rift. The hazard model obtained has been created using the most recent information available from scientific literature, global bulletins and local earthquake catalogues, including those from AfricaArray projects. In this report, in accordance with the GEM philosophy, we describe in detail all working assumptions, main processing steps, data analyses and interpretations used for the model setup.
Access options
Buy single article
Instant access to the full article PDF.
US$ 39.95
Tax calculation will be finalised during checkout.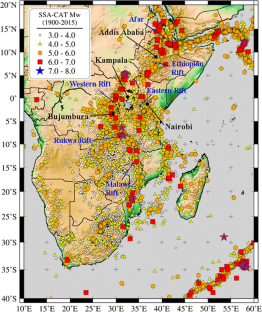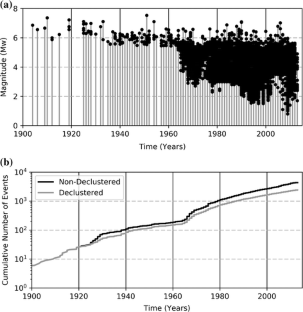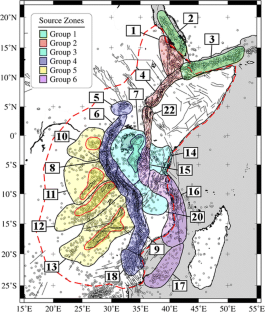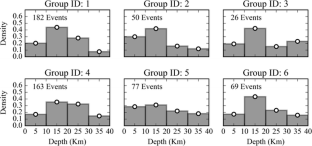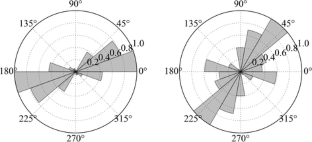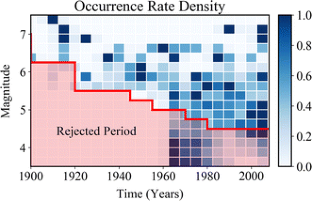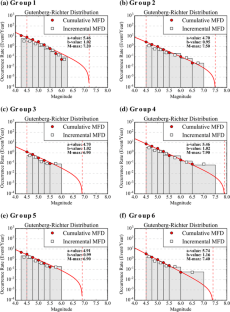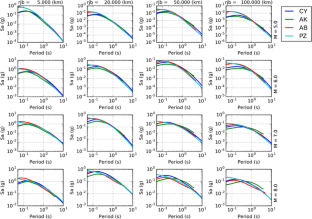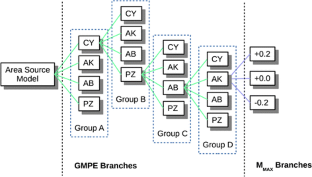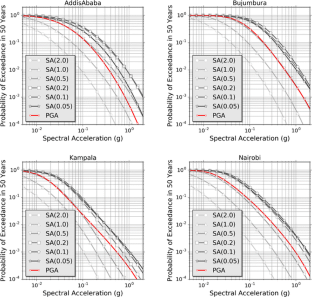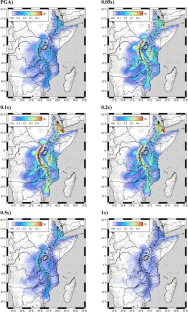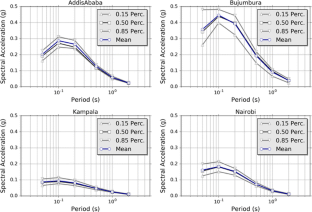 References
Adams A, Nyblade A, Weeraratne D (2012) Upper mantle shear wave velocity structure beneath the East African Plateau: evidence for a deep, plateau-wide low velocity anomaly. Geophys J Int 189:123–142

Akkar S, Sandikkaya MA, Bommer JJ (2014) Empirical ground-motion models for point- and extended-source crustal earthquake scenarios in Europe and the Middle East. Bull Earthq Eng 12:359–387

Ambraseys NN (1991a) The Rukwa earthquake of 13 Dec. 1910 in E. Africa. Terra Nova 3:203–208

Ambraseys NN (1991b) Earthquake hazard in the Kenya Rift: the Subukia earthquake 1928. Geophys J Int 105:253–269

Ambraseys NN, Adams RD (1991) Reappraisal of major African earthquakes, south of 20°N, 1900–1930. Nat Hazards 4:389–419

Atkinson G, Boore D (2006) Earthquake ground-motion prediction equations for eastern North America. Bull Seismol Soc Am 96:2181–2205

Ayele A, Nyblade AA, Langston CA, Cara M, Leveque J (2006) New evidence for Afro-Arabian plate separation in southern Afar. In: Yirgu G, Ebinger CJ, Maguire PKH (eds) The Afar volcanic province within the East African Rift System. Geol. Soc. Lond. Spec. Publ. 259:254–263

Barth A, Wenzel F, Giardini D (2007) Frequency sensitive moment tensor inversion for light to moderate magnitude earthquakes in eastern Africa. Geophys Res Lett 34:L15302

Brazier RA, Nyblade AA, Florentin J (2005) Focal mechanisms and the stress regime in NE and SW Tanzania. Geophys Res Lett 32:L14315. doi:10.1029/2005GL023156

Brazier R, Miao Q, Nyblade A, Ayele A, Langston C (2008) Local magnitude scale for the Ethiopian Plateau. Bull Seismol Soc Am 98:2341–2348. doi:10.1785/0120070266

Brzev S, Scawthorn C, Charleson AW, Allen L, Greene M, Jaiswal K, Silva V (2013) GEM building taxonomy version 2.0. GEM Technical Report 2013-02 V1.0.0, p 188, GEM Foundation, Pavia, Italy. doi:10.13117/GEM.EXP-MOD.TR2013.02

BSSC (2003) The 2003 NEHRP Recommended provisions for new buildings and other structures. Part 1: provisions (FEMA 450), Building Seismic Safety Council. www.bssconline.org

Casey M, Ebinger C, Keir D, Gloagen R, Mohamed R (2006) Strain accommodation in transitional rifts: extension by magma intrusion and faulting in the Ethiopian rift magmatic segment. In: Yirgu G, Ebinger CJ, Maguire PKH (eds) The Afar volcanic province within the East African Rift System. Geol. Soc. Lond. Spec. Publ. 259: 143–163

CEN (2004) Eurocode 8: design of structures for earthquake resistance—part 1: general rules, seismic actions and rules for buildings. European Committee for Standardization, British Standard BS EN 1998-1:2004: E, 219

Chesley JT, Rudnick RL, Lee CT (1999) Re-Os systematics of mantle xenoliths from the East African Rift: age, structure, and history of the Tanzanian craton. Geochim Cosmochim Acta 63:1203–1227

Chiou BS-J, Youngs RR (2014) Update of the chiou and youngs NGA model for the average horizontal component of peak ground motion and response spectra. Earthq Sp 30:1117–1153

Chorowicz J (2005) The East African rift system. J Afr Earth Sci 43:379–410

Cotton F, Scherbaum F, Bommer JJ, Bungum H (2006) Criteria for selecting and adjusting ground motion models for specific target regions: application to central Europe and rock sites. J Seismol 10:137–156

Craig TJ, Jackson JA, Priestley K, McKenzie D (2011) Earthquake distribution patterns in Africa: their relationship to variations in lithospheric and geological structure, and their rheological implications. Geophys J Int 185:403–434

Dawson JB (1992) Neogene tectonics and volcanicity in the North Tanzania sector of the Gregory Rift Valley: contrasts with the Kenya sector. Tectonophysics 204:81–92

Delvaux D, Barth A (2010) African stress pattern from formal inversion of focal mechanism data. Tectonophysics 482:105–128

Delvaux D, Kervyn F, Macheyeki AS, Temu EB (2012) Geodynamic significance of TRM segment in East African Rift (W-Tanzania): active tectonics and paleostress in the Ufipa plateau and Rukwa basin. J Struct Geol 37:161–180

Delvaux D, Mulumba J-L, Fiama Bondo S, Kervyn F, Havenith H-B (2016) Seismic hazard assessment of the Kivu rift segment based on a new seismotectonic zonation model (Western Branch, East African Rift system). J Afr Earth Sci AVCoR. doi:10.1016/j.jafrearsci.2016.10.004

d'Oreye N, Fernandez J, Gonzalez P, Kervyn F, Wauthier C, Frischknecht C, Calais E, Heleno S, Cayol V, Oyen A, Marinkovic P (2008) Systematic InSAR monitoring of African active volcanic zones: what we have learned in three years, or an harvest beyond our expectations. In: Second workshop on use of remote sensing techniques for monitoring volcanoes and seismogenic areas, USEReST 2008, 57–62

Durrheim RJ (2016) African earthquakes. In: Mulugeta G, Simelane T (eds) Natural and human-induced hazards and disasters in Africa. Africa Institute of South Africa, Pretoria, pp 16–42

Edwards B, Allmann B, Fäh D, Clinton J (2010) Automatic computation of moment magnitudes for small earthquakes and the scaling of local to moment magnitude. Geophys J Int 183:407–420

Ekström G, Nettles M, Dziewonski AM (2012) The global CMT project 2004–2010: centroid-moment tensors for 13,017 earthquakes. Phys Earth Planet Inter 200–201:1–9

Engdahl ER, Villaseñor A (2002) Global Seismicity: 1900-1999. In: Lee WHK, Kanamori H, Jennings PC, Kisslinger C (eds) International Handbook of Earthquake and Engineering Seismology, Part A, Chapter 41. Academic Press, New York, pp 665–690

Fenton CH, Bommer JJ (2006) The MW 7.0 Machaze Mozambique earthquake of 23 February 2006. Seismol Res Lett 77:425–439

Field EH, Jordan TH, Cornell CA (2003) OpenSHA—a developing community-modeling environment for seismic hazard analysis. Seismol Res Lett 74:406–419

Franke D, Jokat W, Ladage S, Stollhofen H, Klimke J, Lutz R, Mahanhane ES, Ehrhardt A, Schreckenberger B (2015) The offshore East African Rift System: structural framework at the toe of a juvenile rift. Tectonics 34:2086–2104

Furman TK, Kaleta J, Bryce J, Hanan B (2006) Tertiary mafic lava of Turkana, Kenya: constraints on EAST African plume structure and the occurrence of high μ volcanism in Africa. J Petrol 47:1221–1244

Gardner JK, Knopoff L (1974) Is the sequence of earthquakes in Southern California, with aftershocks removed, Poissonian? Bull Seismol Soc Am 64:1363–1367

Grimison NL, Chen WP (1988) Earthquakes in Davie Ridge-Madagascar region and the southern Nubian-Somalian plate boundary. J Geophys Res 93:10439–10450

Gurnis M, Mittovica J, Ritsema J, Van Hest HJ (2000) Constraining mantle density structure using geological evidence of surface uplift rates: the case of African super-plume. Geochem Geophys Geosyst 1:10220

Hansen S, Nyblade AA, Benoit M (2012) Mantle structure beneath Africa and Arabia from adaptively parameterized P-wave tomography: implications for the origin of Cenozoic Afro-Arabian tectonism. Earth Planet Sci Lett 319–320:23–34

Hartnady CJH (1990) Seismicity and plate boundary evolution in Southeastern Africa. S Afr J Sci 93:473–484

Hartnady CJH (2002) Earthquake hazard in Africa: perspectives on the Nubia-Somalia boundary. S Afr J Sci 98:425–428

Hartnady CJH, Ben-Avrahan HZ, Rogers J (1992) Deep-ocean basin basins and submarine rises of the continental margin of south-eastern Africa: new geological research. S Afr J Sci 88:534–539

ISC (2013) International Seismological Centre, On-line Bulletin. http://www.isc.ac.uk. Int Seismol Cent, Thatcham, United Kingdom

Kebede F, Kulhanek O (1991) Recent seismicity of the East African rift system and its implications. Phys Earth Planet Inter 68:259–273

Keir D, Hamling J, Ayele A, Calais E, Wright T (2009) Evidence for focused magmatic accretion at segment centers from lateral dike injection captured beneath the Red Sea Rift in Afar. Geology 37:59–62

Kipata ML, Delvaux D, Sebagenzi MN, Cailteux J-J, Sintubin M (2013) Brittle tectonic and stress field evolution in the Pan-African Lufilian arc and its foreland (Katanga, DRC): from orogenic compression to extensional collapse, transpressional inversion and transition to rifting. Geol Belg 16:1–17

Langston CA, Brazier RA, Nyblade AA, Owens TJ (1998) Local magnitude scale and seismicity rate for Tanzania, East Africa. Bull Seismol Soc Am 88:712–721

Lithgow-Berteloni C, Silver PG (1998) Dynamic topography, plate driving forces and the African superswell. Nature 395:269–272

Lubkowski Z, Villani M, Coates K, Jirouskova N, Willis M (2014) Seismic design considerations for East Africa. In: Second European conference on earthquake engineering and seismology, 25–29 August 2014, p 14

Macgregor D (2015) History of the development of the East African Rift System: a series of interpreted maps through time. J Afr Earth Sci 101:232–252

Macheyeki AS, Delvaux D, De Batist M, Mruma A (2008) Fault kinematics and tectonic stress in the seismically active Manyara-Dodoma Rift segment in Central Tanzania—implications for the East African Rift. J Afr Earth Sci 51:163–188

Mavonga T (2007) Some characteristics of aftershock sequences of major earthquakes from 1994 to 2002 in the Kivu Province, Western Rift Valley of Africa. Tectonophysics 439:1–12

Mavonga T, Durrheim RJ (2009) Probabilistic seismic hazard assessment for the Democratic Republic of Congo and surrounding areas. S Afr J Geol 112:329–342

McConnell RB (1980) A resurgent taphrogenic lineament of Precambrian origin in eastern Africa. J Geol Soc Lond 137:483–489

McDougall I, Brown FH (2009) Timing of volcanism and evolution of northern Kenya Rift. Geol Mag 146:34–47

McGuire RK (2004) Seismic hazard and risk analysis. Earthqu Eng Res Inst, Oakland

Midzi V, Manzunzu B (2014) Large recorded earthquakes in sub-Saharan Africa. In: Ismail-Zadeh A, Urrutia-Fucagauchi J, Kijko A, Zaliapin I (eds) Extreme natural hazards, disaster risks and societal implications. Cambridge University Press, Cambridge

Midzi V, Hlatywayo DJ, Chapola LS, Kebede F, Atakan K, Lombe DK, Turyomurugyendo G, Tugume FA (1999) Seismic hazard assessment in eastern and Southern Africa. Ann Geophys 42:1067–1083

Mulibo GD, Nyblade AA (2013) Mantle transition zone thinning beneath eastern Africa: evidence for a whole-mantle superplume structure. Geophys Res Lett 40:3562–3566

Mulibo GD, Nyblade AA (2016) The seismotectonics of southeastern Tanzania: implications for the propagation of the Eastern Branch of the East African Rift. Tectonophysics 974:20–30

Mulwa JK, Kimata F, Suzuki S, Kuria ZN (2014) The seismicity in Kenya (East Africa) for the period 1906–2010: a review. J Afr Earth Sci 89:72–78

Nyblade AA, Langston CA (1995) East African earthquakes below 20 km depth and their implications for crustal structure. Geophys J Int 121:49–62

Nyblade AA, Robinson SW (1994) The African superswell. Geophys Res Lett 21:765–768

Pagani M, Monelli D, Weatherill G, Danciu L, Crowley H, Silva V, Henshaw P, Butler L, Nastasi M, Panzeri L, Simionato M, Viganò D (2014) OpenQuake-engine: an open hazard (and risk) software for the global earthquake model. Seismol Res Lett 85:692–702

Petit C, Ebinger C (2000) Flexure and mechanical behaviour of cratonic lithosphere: gravity models of the East African and Baikal rifts. J Geophys Res 105:19151–19162

Pezeshk S, Zandieh A, Tavakoli B (2011) Hybrid empirical ground-motion prediction equations for eastern North America using NGA models and updated seismological parameters. Bull Seismol Soc Am 101:1859–1870

Pik R, Marty B, Carignan J, Lave J (2003) Stability of the upper Nile drainage network (Ethiopia) deduced from (U–Th)/He thermochronometry: implication for uplift and erosion of the Afar plume dome. Earth Planet Sci Lett 215:73–88

Poggi V, Edwards B, Fäh D (2017) A comparative analysis of site-specific response spectral amplification models. Phys Chem Earth 98:16–26 (Special issue)

Reiter L (1990) Earthquake hazard analysis. Columbia University Press, New York, p 254

Ritsema JH, Van Hest HJ, Woodhouse JH (1998) Complex shear wave velocity structure imaged beneath Africa and Iceland. Science 286:1925–1928

Roberts EM, Stevens NJ, O'Connor PM, Dirks PHGM, Gottfried MD, Clyde WC, Armstrong RA, Kemp AIS, Hemming S (2012) Initiation of the Western Branch of the East African Rift, coeval with the eastern Branch. Nat Geosci 5:289–294

Rydelek PA, Sacks JS (1989) Testing the completeness of earthquake catalogues and the hypothesis of self-similarity. Nature 337:249–251

Saria E, Calais E, Stamps DS, Delvaux D, Hartnady CJH (2014) Present-day kinematics of the East African Rift. J Geophys Res 119:3584–3600. doi:10.1002/2013JB010901

Shudofsky GN (1985) Source mechanisms and focal depths of East African earthquakes using the Rayleigh-wave inversion and body-wave modelling. Geophys J R Astron Soc 83:563–634

Simmons NA, Forte AM, Grand SP (2007) Thermochemical structure and dynamics of the African superplume. Geophys Res Lett 34(L02301):2006G. doi:10.1029/L028009

Stamps DS, Saria E, Kreemer C (2015) Sub-Saharan Africa geodetic strain rate model 1.0. GEM Technical report

Stepp JC (1971) An investigation of earthquake risk in the Puget Sound area by use of the type I distribution of largest extremes. Ph.D. thesis, Pennsylvania State University

Storchak DA, Di Giacomo D, Bondár I, Engdahl ER, Harris J, Lee WHK, Villaseñor A, Bormann P (2013) Public Release of the ISC-GEM Global Instrumental Earthquake Catalogue (1900-2009). Seismol Res Lett 84:810–815

Storchak DA, Di Giacomo D, Engdahl ER, Harris J, Bondár I, Lee WHK, Bormann P, Villaseñor A (2015) The ISC-GEM global instrumental earthquake catalogue (1900–2009). Introd Phys Earth Planet Int 239:48–63

Studt FE, Cornet J, Buttgenbach H (1908) Carte geologique du Katanga et notes descriptive. Am Musee Congo, Ser. 2, 1

Tanaka K, Horiuchi S, Sato T, Zana N (1980) The earthquake generating stresses in the Western Rift Valley of Africa. J Phys Earth 28:45–57

Uhrhammer R (1986) Characteristics of Northern and Central California seismicity. Earthq Notes 57:21

USGS (2016) M5.9–22 km NE of Nsunga, Tanzania. U.S. Geological Survey—earthquake hazards Program. http://earthquake.usgs.gov/earthquakes/eventpage/us10006nkx#executive. Accessed 12 Sept 2016

USNRC (2012) Practical implementation guidelines for SSHAC Level 3 and 4 hazard studies. Technical report, p 235. US Nuclear Regulatory Commission

Van Stiphout T, Zhuang J, Marsan D (2012) Theme V—models and techniques for analysing seismicity. Technical report. Community online resource for statistical seismicity analysis. doi:10.5078/corssa-52382934

Vilanova SP, Nemser ES, Besana-Ostman GM, Bezzeghoud M, Borges JF, Da Silveira AB, Cabral J, Carvalho J, Cunha PP, Dias RP, Madeira J, Lopes FC, Oliveira CS, Perea H, García-Mayordomo J, Wong I, Arvidsson R, Fonseca JFBD (2014) Incorporating descriptive metadata into seismic source zone models for seismic-hazard assessment: a case study of the Azores-West Iberian region. Bull Seismol Soc Am 104:1212–1229

Vittori E, Delvaux D, Kervyn F (1997) Kanda fault: a major seismogenic element west of the Rukwa Rift (East Africa: Tanzania). J Geophys 24:139–153

Weatherill GA (2014a) OpenQuake hazard modeller's toolkit—user guide. Glob Earthq Model (GEM). Technical Report. doi:10.13117/GEM.OPENQUAKE.MAN.HMTK.01

Weatherill GA (2014b) OpenQuake ground motion toolkit—user guide. Glob Earthq Model (GEM). Technical Report. doi:10.13117/GEM.OPENQUAKE.MAN.GMTK.01

Weatherill GA, Pagani M, Garcia J (2016) Exploring earthquake databases for the creation of magnitude-homogeneous catalogues: tools for application on a regional and global scale. Geophys J Int 206:1652–1676

Weichert DH (1980) Estimation of the earthquake recurrence parameters for unequal observation periods for different magnitudes. Bull Seismol Soc Am 70:1337–1346

Woessner J, Wiemer S (2005) Assessing the quality of earthquake catalogues: estimating the magnitude of completeness and its uncertainty. Bull Seismol Soc Am 95:684–698

Wolfenden E, Ebinger C, Yiirgu G, Deino A, Ayalew D (2004) Evolution of the northern Main Ethiopian Rift: birth of a triple junction. Earth Planet Sci Lett 224:213–228

Worku A (2014) The status of basic design ground motion provisions in seismic design codes of Sub-Saharan African countries. J S Afr Inst Civ Eng 56:40–53

Yang Z, Chen WP (2010) Earthquakes along the East African Rift System: a multiscale, system-wide perspective. J Geophys Res 115:B12309

Zana N, Wafula M, Lukaya N, Batabolo M (2004) The Kabalo earthquake in DR Congo on September 11, 1992: field observations and damages. Quelques résultats de Recherches en Géophysique. Centre de Recherches et Pédagogie appliqués (C. R. P. A), I.P.N, Kinshasa, 77–89
Acknowledgements
This study is made possible by the generous support of the American people through the United States Agency for International Development (USAID). The contents are the responsibility of GEM and do not necessarily reflect the views of USAID or the United States Government. AfricaArray projects that have provided seismicity information used for this study have been supported by the U.S. National Science Foundation. We would like to thank Dr. Duncan Macgregor for having provided the African fault database. A special thanks goes also to Dr. Dario Slejko and the anonymous reviewer for their appreciation for our work and their insightful suggestions.
About this article
Cite this article
Poggi, V., Durrheim, R., Tuluka, G.M. et al. Assessing seismic hazard of the East African Rift: a pilot study from GEM and AfricaArray. Bull Earthquake Eng 15, 4499–4529 (2017). https://doi.org/10.1007/s10518-017-0152-4
Received:

Accepted:

Published:

Issue Date:
Keywords
Probabilistic seismic hazard analysis

GMPEs

Uncertainty analysis

Earthquake engineering

Logic-tree