Abstract
The test results of nine confined masonry wall specimens, with three different connection details between the masonry and the tie-columns and one unreinforced masonry wall, are presented. The specimens were executed and were tested under constant vertical and cyclic lateral loads. Failure modes, hysteresis loops, resistance envelope curves, averaged evaluated bilinear response envelope curves and behaviour factors were all obtained. Confinement brought an increase in the stiffness, lateral load capacity, ductility and hysteretic energy dissipation of the walls. The connection details did not influence the initial stiffness or the maximum lateral resistance, but they did improve the nonlinear wall behaviour, behaviour factors and hysteretic energy dissipation. They also helped in activating the whole wall for lateral load resistance and maintained its composite behaviour well into the nonlinear range. The measured behaviour factors of all the specimens were above the values suggested by the Eurocodes. The analytical expressions available differed from the prediction quality of the measured results.
Access options
Buy single article
Instant access to the full article PDF.
USD 39.95
Price includes VAT (USA)
Tax calculation will be finalised during checkout.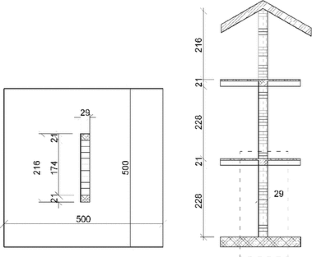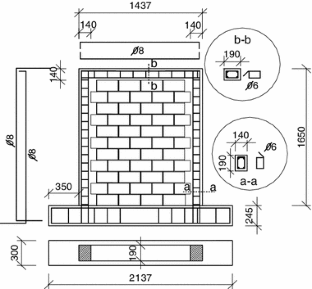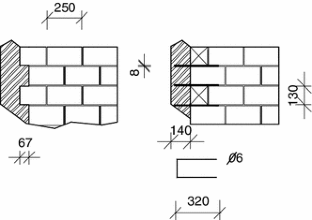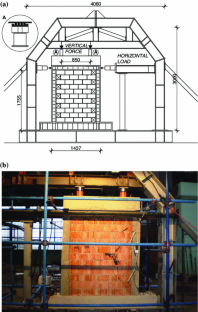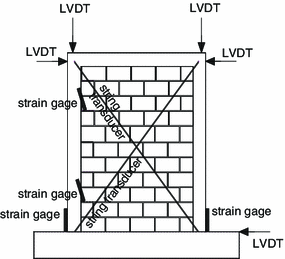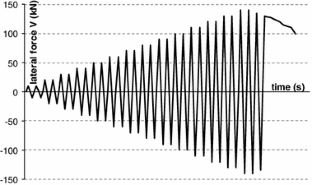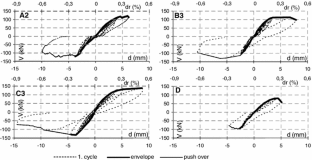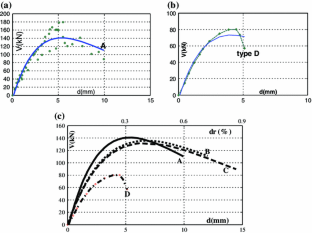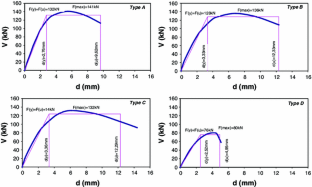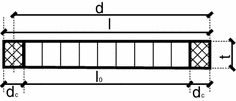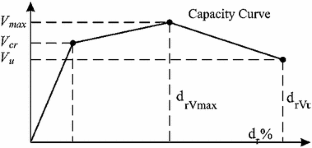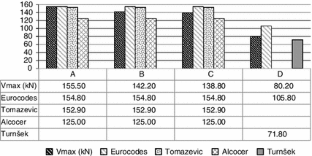 References
Costa A (2007) Experimental testing of lateral capacity of masonry piers, an application to seismic assessment of AAC masonry buildings, Universitat degli Studi di Pavia

Eurocode 2: design of concrete structures: part 1–1, General rules for structures, EN 1992-1-1: 2005, CEN, Bruxelles

Eurocode 6: design of masonry structures: part 1–1 and part 2, common rules for reinforced and unreinforced masonry structures, EN 1996-1-1:2005. CEN, Bruxelles

Eurocode 8: design of structures for earthquake resistance, part 1, general rules, seismic actions and rules for buildings, EN 1998–1:2004. CEN, Bruxelles

Flores LE, Alcocer SM (1996) Calculated response of confined masonry structures. In: Proceedings of the 11 WCEE, Paper No. 1830

Frumento S, Megenes G, Morandi P, Calvi GM (2009) Interpretation of experimental shear tests on clay brick masonry walls and evaluation of q-factors for seismic design. IUSS Press, Pavia

Grünthal G (ed.) (1998) European Macroseismic Scale 1998 (EMS-98). Original Edition, Luxembourg 1998: ESC

Harris HG, Sabnis GM (1999) Structural modeling and experimental techniques, 2nd edn. CRC Press LLC, Florida

Marinilli A, Castilla E (2004) Experimental evaluation of confined masonry walls with several confining-columns, 13th World conference on earthquake engineering Paper No. 2129, Vancouver, BC

MathWorks (2013) MATLAB. (R2013b) [computer program] The MathWorks Inc

Matošević D, Sigmund V, Zovkić J (2009) Experimental testing of masonry and masonry piers. In: 6th ICCSM Proceedings, CSM, Dubrovnik

Meli R, Brzev S et al. (2011) Seismic design guide for low-rise confined masonry buildings, earthquake engineering research institute, Oakland, CA. www.confinedmasonry.org

Morandi P (2006) Inconsistencies in codified procedures for seismic design of masonry buildings. A dissertation submitted in partial fulfilment of the requirements for the master degree in earthquake engineering, Istituto Universitario Università degli di Studi Superiori Studi di Pavia

San Bartolome A, Quiun D, Mayorca P (2004) Proposal of standard for seismic design of confined masonry buildings. Bulletin of ERS, No 37

Tomaževič M (1999) Earthquake resistant design of masonry buildings. Imperial College Press, London

Tomaževič M, Bosiljkov V, Weiss P (2004) Structural behaviour factor for masonry structures. In: 13th World conference on earthquake engineering, Vancouver

Tomaževič M, Weiss P (2010) Displacement capacity of masonry buildings as a basis for assessment of behaviour factor: an experimental study. Bull Earthq Eng 8(6):1267–1294

Turnšek V, Čačović F (1971) Some experimental results on the strength of brick masonry walls. In: Proceedings of the 2nd international brick masonry conference, Stoke-on-Trent, pp. 149–156

UNIDO/UNDP, (1984) Volume 5, Repair and strengthening of reinforced concrete, stone and brick-masonry buildings, Building construction under seismic conditions in the Balkan Region, Project Report RER/79/015

World Housing Encyclopedia (2011) EERI & IAEE. Confined masonry network, seismic design guide for low-rise confined masonry buildings
Acknowledgments
The research presented in this paper is a part of the research project "Seismic design of infilled frames", No. 149–1492966–1536, supported by the Ministry of Science, Education and Sports of the Republic of Croatia and its support is gratefully acknowledged.
About this article
Cite this article
Matošević, Ɖ., Sigmund, V. & Guljaš, I. Cyclic testing of single bay confined masonry walls with various connection details. Bull Earthquake Eng 13, 565–586 (2015). https://doi.org/10.1007/s10518-014-9627-8
Received:

Accepted:

Published:

Issue Date:
Keywords
Confined masonry

Masonry-tie connection

Behaviour factor

Lateral resistance