Abstract
On May 2012, a severe seismic sequence occurred in the central part of the Po Plain (Northern Italy). It was characterized by two main shocks displaying local magnitudes 5.9 (on May 20th) and 5.8 (on May 29th), respectively; the maximum observed intensity was VII–VIII on the MCS scale. The emergency response was coordinated as usual by the Department of Civil Protection (DPC), within the general framework provided by the components and operational structures of the National Civil Protection Service. In addition to the search and rescue and to the population assistance activities, many technical activities were carried out to support the civil protection management of the recovery phase. Among these, mentioning is deserved by: the acquisition and dissemination of the accelerometric data from the National Accelerometric Network and the Seismic Observatory of the Structures, owned and operated by DPC; the evaluation of the liquefaction phenomena; the damage and building safety assessment; the regulations for the seismic safety assessment of industrial buildings, aimed at a rapid re-establishment of the productive activities; the actions undertaken following the evaluations by the Grandi Rischi Commission on the possible evolution of the seismic sequence. All these aspects will be examined under a civil protection perspective.
Access options
Buy single article
Instant access to the full article PDF.
US$ 39.95
Tax calculation will be finalised during checkout.
Subscribe to journal
Immediate online access to all issues from 2019. Subscription will auto renew annually.
US$ 79
Tax calculation will be finalised during checkout.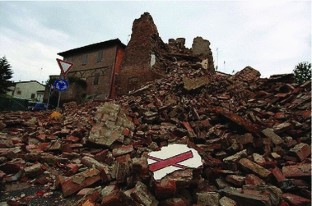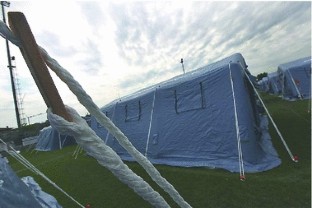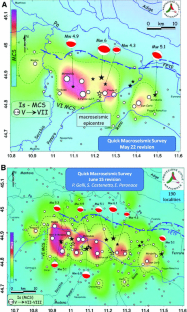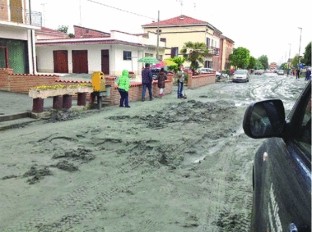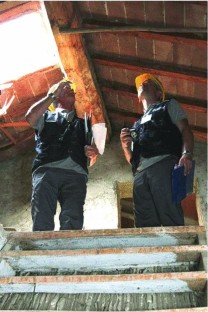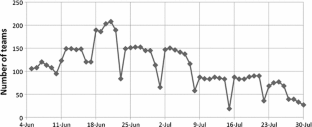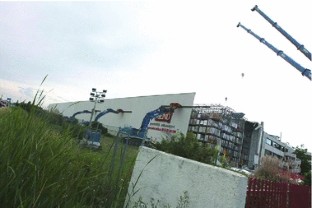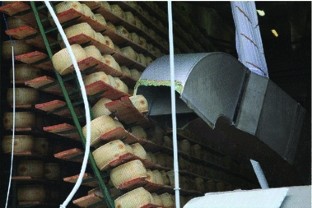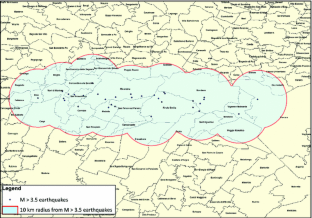 References
Baggio C, Bernardini A, Colozza R, Corazza L, Della Bella M, Di Pasquale G, Dolce M, Goretti A, Martinelli A, Orsini G, Papa F and Zuccaro G (2000) Manuale per la Compilazione della Scheda di I Livello di Rilevamento Danno, Pronto Intervento e Agibilità per Edifici Ordinari nell'Emergenza Post-sismica (Manual for the Compilation of the 1\(^{st}\) Level Forms for the Assessment of the Damage, the Provisional Interventions and the Usability of Ordinary Buildings in the Post-Earthquake Emergency), Servizio Sismico Nazionale e Gruppo Nazionale per la Difesa dai Terremoti, 112 pp

Bigi G, Bonardi G, Catalano R, Cosentino D, Lentini F, Parotto M, Sartori R, Scandone P, Turco E, eds (1992) Structural Model of Italy 1:500,000, CNR Progetto Finalizzato Geodinamica

Bramerini F, Lucantoni A (2001) Simulazioni di scenari di danno per la pianificazione dell'emergenza post-terremoto (Simulation of Damage Scenarios for the Post-Earthquake Emergency Planning). Ingegneria Sismica 18(1):37–46

Burrato P, Ciucci F, Valensise G (2003) An inventory of river anomalies in the Po Plain, northern Italy: evidence for active blind thrust faulting. Ann Geophys 46(5):865–882

Camassi R, Castelli V, Molin D, Bernardini F, Caracciolo CH, Ercolani E, Postpischl L (2011) Materiali per un catalogo dei terremoti italiani: eventi sconosciuti, rivalutati o riscoperti (Materials for an Italian Earthquake Catalogue: Unknown, Re-evaluated or Re-discovered Events), Quaderni di Geofisica, vol 96, pp 50+387, available online: http://istituto.ingv.it/l-ingv/produzionescientifica/quaderni-di-geofisica

Caputo R, Iordanidou K, Minarelli L, Papathanassiou G, Poli ME, Rapti-Caputo D, Sboras S, Stefani M, Zanferrari A (2012) Geological evidence of pre-2012 seismic events, Emilia-Romagna, Italy. Ann Geophys 55(4). doi:10.4401/ag-6148

Caracciolo C, Camassi R, Castelli V (2012) Miglioramento delle conoscenze sul terremoto di Argenta del 1624 da uno studio recente (Improvement of the knowledge on the 164 Argenta Earthquake from a Recent Study). Atti del \(31^\circ \) Convegno Nazionale GNGTS 1:27–32

Castelli V, Bernardini F, Camassi R, Caracciolo CH, Ercolani E, Postpischl L (2012) - Looking for missing earthquake traces in the Ferrara-Modena plain: an update on historical seismicity. Ann Geophys 55(4). doi:10.4401/ag-6110

Chioccarelli E, De Luca F, Iervolino I (2012) Preliminary Study of Emilia (May 20th 2012 Earthquake ground motion records V2.11, available at http://www.reluis.it

Di Manna P, Guerrieri L, Piccardi L, Vittori E, Castaldini D, Berlusconi A, Bonadeo L, Comerci V, Ferrario F, Gambillara R, Livio F, Lucarini M, Michetti AM (2012) Ground effects induced by the 2012 seismic sequence in Emilia: implications for seismic hazard assessment in the Po Plain. Ann Geophys 55(4). doi:10.4401/ag-6143

Dolce M (2008) Civil Protection vs. Earthquake Engineering and Seismological Research. In: Proceedings of 14th world conference on earthquake engineering, October, Beijing, China

Dolce M (2011a) Il monitoraggio sismico del Dipartimento della Protezione Civile—La Rete Accelerometrica Nazionale (The Seismic Monitoring of the Civil Protection Department—The National Strong Motion Network). Progettazione Sismica, n, Rubrica QUI DPC

Dolce M (2011b) Il monitoraggio sismico del Dipartimento della Protezione Civile—L'Osservatorio Sismico delle Strutture. Rubrica (The Seismic Monitoring of the Civil Protection Department—The Seismic Observatory of Structures), QUI DPC, Progettazione Sismica, n. 3

Dolce M, Di Pasquale G, Albanese V, Benetti D, Bramerini F, Coppari S, Corina A, De Rosa G, De Sortis A, Emili P, Ferlito R, Filippi L, Giordano F, Goretti A, Lo Presti T, Lucantoni A, Mercuri M, Moroni C, Orlandi N, Paoli G, Papa F, Pizza A, Procida F, Rinaldelli M, Sergio S, Severino M, Speranza E, Veschi A, Zambonelli E, Manfredi G, Di Ludovico M, Palermo G, Prota A, Verderame G, Corazza L, Cifani G, Mannella A, Martinelli A (2009) Quick Surveys: post-earthquake usability inspections, Progettazione Sismica, n. 3. Special Issue 2009, pp 95–103

Dolce M, Nicoletti M, Ammirati A, Bianconi R, Filippi L, Gorini A, Marcucci S, Palma F, Zambonelli E, Lavecchia G, De Nardis R, Brozzetti F, Boncio P, Cirillo D, Romano A, Costa G, Gallo A, Tiberi L, Zoppé G, Suhadolc P, Ponziani F, Formica A (2012a) The Emilia Thrust Earthquake of 20 May 2012 (Northern Italy): Strong motion and Geological Observations—Report I. http://www.protezionecivile.gov.it/resources/cms/documents/Report_DPC_1_Emilia_EQSd.pdf

Dolce M, Nicoletti M, Ammirati A, Bianconi R, Filippi L, Gorini A, Marcucci S, Palma F, Zambonelli E, Lavecchia G, De Nardis R, Brozzetti F, Boncio P, Cirillo D, Romano A, Costa G, Gallo A, Tiberi L, Zoppé G, Suhadolc P, Ponziani F, Formica A (2012b) The Ferrara Arc Thrust Earthquakes of May-June 2012 (Northern Italy): Strong motion and Geological Observations—Report II. http://www.protezionecivile.gov.it

Dolce M, Nicoletti M, Ammirati A, Bianconi R, Filippi L, Gorini A, Marcucci S, Palma F, Zambonelli E, Lavecchia G, De Nardis R, Brozzetti F, Boncio P, Cirillo D, Romano A, Costa G, Gallo A, Tiberi L, Zoppé G, Suhadolc P, Ponziani F, Formica A (2012c) The Emilia Thrust Earthquakes of May-June 2012 (Northern Italy): Strong motion Dataset—Report III. http://www.protezionecivile.gov.it

Dolce M, Speranza E (2013) Seismic Prevention of the Historic Centre of Ferrara in the Emergency Emilia 2012, Paesaggio Urbano–Urban Design, n. 2, pp V-IX, ISSN 1120–3544

Faccioli E, Cauzzi C (2006) Macroseismic intensities for seismic scenarios estimated from instrumentally based correlations. In: Proceedings of the First European Conference on Earthquake Engineering and Seismology (a joint event of the 13th ECEE & 30th General Assembly of the ESC), Genève (CH), 3–8/9/2006, CD-ROM

Galli P, Castenetto S, Peronace E (2012) The MCS macroseismic survey of the Emilia 2012 earthquakes. Ann Geophys 55(4). doi:10.4401/ag-6163

Gorini A, Nicoletti M, Marsan P, Bianconi R, De Nardis R, Filippi L, Marcucci S, Palma F, Zambonelli E (2010) The Italian strong motion network. Bull Earthq Eng 8:1075–1090

Gruppo di Lavoro Agibilità Sismica dei Capannoni Industriali (2012) Linee di indirizzo per interventi locali e globali su edifici industriali monopiano non progettati con criteri antisismici (Guidelines for local and global interventions on industrial one-story buildings designed without seismic criteria), http://www.reluis.it/images/stories/Linee_di_indirizzo_GDL_Capannoni.pdf

Guidoboni E, Ferrari G, Mariotti D, Comastri A, Tarabusi G, Valensise G (2007) CFTI4Med, Catalogue of Strong Earthquakes in Italy (461 B.C.-1997) and the Mediterranean Area (760 B.C.–1500), INGV-SGA, available online: http://storing.ingv.it/cfti4med/

Marzorati S, Carannante S, Cattaneo M, D'Alema E, Frapiccini M, Ladina C, Monachesi G, Spallarossa D (2012) Automated control procedures and first results from the temporary seismic monitoring of the 2012 Emilia sequence. Ann Geophys 55(4). doi:10.4401/ag-6116

Mele F, Castello B, Marchetti A, Marcocci C, Moro R (2007) ISIDe, Italian Seismological Instrumental and parametric DatabasE: una pagina web per interrogare il Bollettino Sismico Italiano (a web page to query the Italian Seismic Bulletin), \(26^\circ \) Convegno Nazionale GNGTS, http://www2.ogs.trieste.it/gngts/gngts/convegniprecedenti/2007/riassunti/tema-1/1-sess-1/11-mele.pdf

Molin D (2003) Considerazioni sull'eventuale adozione in Italia della scala macrosismica europea (EMS-1998) (Considerations on the eventual adoption of the European Macroseismic Scale in Italy). In: Proceedings \(22^\circ \) Convegno nazionale GNGTS, ISBN/ISSN:88–900385-9-4, 06.21

Papathanassiou G, Caputo R, Rapti-Caputo D (2012) Liquefaction phenomena along the paleo-Reno River caused by the May 20, 2012, Emilia (northern Italy) earthquake, Ann Geophys 55(4). doi:10.4401/ag-6147

Pondrelli S, Salimbeni S, Perfetti P, Danecek P (2012) Quick regional centroid moment tensor solutions for the Emilia 2012 (northern Italy) seismic sequence. Ann Geophys 55(4). doi:10.4401/ag-6146

Rovida A, Camassi R, Gasperini P, Stucchi M (eds) (2011) CPTI11, Parametric Catalogue of Italian Earthquakes, 2011 version, Milano, Bologna, availabe online: http://emidius.mi.ingv.it/CPTI

Salvi S, Tolomei C, Boncori JPM, Pezzo G, Atzori S, Antonioli A, Trasatti E, Giuliani R, Zoffoli S, Coletta A (2012) Activation of the SIGRIS monitoring system for ground deformation mapping during the Emilia 2012 seismic sequence, using COSMO-SkyMed InSAR data. Ann Geophys 55(4). doi:10.4401/ag-6181

Scognamiglio L, Margheriti L, Mele FM, Tinti E, Bono A, De Gori P, Lauciani V, Lucente FP, Mandiello AG, Marcocci C, Mazza S, Pintore S, Quintiliani M (2012) The 2012 Pianura Padana Emiliana seimic sequence: locations, moment tensors and magnitudes. Ann Geophys 55(4). doi:10.4401/ag-6159

Sieberg A (1930) Geologie der Erdbeben. Handboch der Geophysic vol 4, Berlin, pp 552–554

Tertulliani A, Arcoraci L, Berardi M, Bernardini F, Brizuela B, Castellano C, Del Mese S, Ercolani E, Graziani L, Maramai A, Rossi A, Sbarra M, Vecchi M (2012) The Emilia 2012 sequence: a macroseismic survey. Ann Geophys 55(4). doi:10.4401/ag-6140

Toscani G, Burrato P, Di Bucci D, Seno S, Valensise G (2009) Plio-quaternary tectonic evolution of the northern Apennines thrust fronts (Bologna-Ferrara section, Italy): seismotectonic implications. Boll Soc Geol Ital (Italian Journal of Geosciences) 128:605–613. doi:10.3301/IJG.2009.128.2.605

Trifunac MD, Brady AG (1975) On the correlation of seismic intensity scales with the peaks of recorded ground motion. Bull Seismol Soc Am 65:139–162

Working Group MS (2008) Indirizzi e Criteri per la Microzonazione Sismica (Guidelines for Seismic Microzonation), Dept. Of Civil Protection & Conference of Regions

Zambonelli E, De Nardis R, Filippi L, Nicoletti M, Dolce M (2011) Performance of the Italian Strong Motion Network during the 2009, L'Aquila Seismic Sequence (central Italy). Bull Earthq Eng 9(1):39. doi:10.1007/s10518-010-9218-2. Springer Ltd, Dordrecht, The Netherlands
About this article
Cite this article
Dolce, M., Di Bucci, D. National Civil Protection Organization and technical activities in the 2012 Emilia earthquakes (Italy). Bull Earthquake Eng 12, 2231–2253 (2014). https://doi.org/10.1007/s10518-014-9597-x
Received:

Accepted:

Published:

Issue Date:
Keywords
Earthquake

Civil Protection

Emergency Management

Damage

Italy