Abstract
Facet analysis is an established methodology for building classifications and subject indexing systems, but has been less rigorously applied to thesauri. The process of creating a compatible thesaurus from the schedules of the Bliss Bibliographic Classification 2nd edition highlights the ways in which the conceptual relationships in a subject field are handled in the two types of retrieval languages. An underlying uniformity of theory is established, and the way in which software can manage the relationships is discussed. The manner of displaying verbal expressions of concepts (vocabulary control) is also considered, but is found to be less well controlled in the classification than in the thesaurus. Nevertheless, there is good reason to think that facet analysis provides a sound basis for structuring a variety of knowledge organization tools.
Access options
Buy single article
Instant access to the full article PDF.
US$ 39.95
Tax calculation will be finalised during checkout.
Subscribe to journal
Immediate online access to all issues from 2019. Subscription will auto renew annually.
US$ 79
Tax calculation will be finalised during checkout.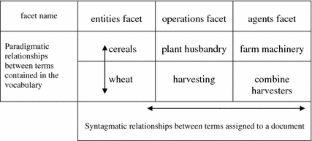 References
Aitchison J (1970) The thesaurofacet: a multipurpose retrieval language tool. J Document 26(3):188–203

Aitchison J (1986) Bliss and the thesaurus; the Bibliographic Classification of H. E. Bliss as a source of thesaurus terms and structure. J Document 42(3):160–181

Aitchison J (2004) Thesauri from BC2: problems and possibilities revealed in an experimental thesaurus derived from the Bliss Music schedule. Bliss Classif Bull 46:20–26

Aitchison J, Curwen A (2004) Music, music, music: the Cambridge workshop and after. Bliss Classif Bull 46:27

Aitchison J, Gomersall A, Ireland R (1969) Thesaurofacet. English Electric, Whetstone

Aitchison J, Gallimore N, Boyde S et al (1992) Royal Institute of International Affairs Library Thesaurus, 2 vols. RIIA, London

Aitchison J, Gilchrist A, Bawden D (2000) Thesaurus construction: a practical manual, 4th edn. Aslib, London

ANSI/NISO Z39.19-2005 (2005) Guidelines for the construction, format, and management of monolingual controlled vocabularies. National Information Standards Organization Press, Bethesda, MD

Austin D (1984) PRECIS: a manual of concept analysis and subject indexing, 2nd edn. British Library Bibliographic Services Division, London

Bhattacharyya G (1982) Classaurus: its fundamentals, design, and use. In: Dahlberg I (ed) Universal classification. 1: subject analysis and ordering systems: proceedings of the 4th international study conference on classification research, 6th annual conference of Gesellschaft für Klassifikation, Augsburg, June 28–July 2, 1982. Indeks, Frankfurt, pp 139–148

Broughton V (2004) Faceted classifications. Chapter 20. In: Essential classification. Facet, London

Broughton V (2005) Essential thesaurus construction. Facet, London

Broughton V (2006) The need for faceted classification as the basis of all methods of information retrieval. Aslib Proc 58(2):49–72

Broughton V, Slavic A (2007) Building a faceted classification for the humanities: principles and procedure. J Document 63(5):727–754

BS 8723-1: 2005 (2005) Structured vocabularies for information retrieval. Part 1: definitions, symbols and abbreviations. British Standards Institution, London

BS 8723-2: 2005 (2005) Structured vocabularies for information retrieval. Part 2: thesauri. British Standards Institution, London

Coates EJ (1960) Subject catalogs: headings and structure. Library Association, London

Coates EJ (1973) Some properties of relationships in the structure of indexing languages. J Document 29(4):390–404

Devadason FJ (1985) Online construction of alphabetic classaurus: a vocabulary control and indexing tool. Inform Process Manage 21(1):11–26. DLIST. http://www.dlist.sir.arizona.edu/1879. Cited 27 Aug 2007

FATKS (Facet analytical theory in knowledge structures) (2003) Project details and documentation. University College London. http://www.ucl.ac.uk/fatks/

Fugmann R (1990) An interactive classaurus on the PC. Int Classif 17(3/4):133–137

Harrold A, Lea G (1991) Musaurus: a music thesaurus: a new approach to organising music information. Music Press, London

Hjørland B (2002) The method of constructing classification schemes: a discussion of the state-of-the-art. In: López-Huertas MJ (ed) Challenges in knowledge representation and organization for the 21st century. Integration of knowledge across boundaries. Proceedings of the the seventh international ISKO conference, 10–13 July 2002, Granada, Spain. Ergon Verlag, Würzburg (Advances in Knowledge Organization; vol 8), p 451

Hjørland B (2007) Approaches to knowledge organization. Lecture given at the University of Rome La Sapienza, April 20, 2007. http://www.w3.uniroma1.it/ssab/new/ApproachesToKO.zip. Cited 27 Aug 2007

Kaiser J (1911) Systematic indexing. Pitman, London

McIlwaine IC, Williamson NJ (1993) Future revision of UDC: progress report on a feasibility study for restructuring. In: Extensions & Corrections to the UDC, vol 15, pp 11–17

McIlwaine IC, Williamson NJ (1994) A feasibility study on the restructuring of the Universal Decimal Classification into a fully faceted classification system. In: Albrechtsen H, Oernager S (eds) Knowledge organization and quality management. Proceedings of the third international ISKO conference, 20–24 June 1994, Copenhagen, Denmark. Indeks Verlag, Frankfurt/Main, pp 406–413

Mills J, Broughton V (1977) Bliss bibliographic classification, 2nd edn. Introduction and auxiliary schedules. Butterworth, London

Patil R, Russ T (2007) Ontosaurus. ISI. Information Sciences Institute. http://www.isi.edu/isd/ontosaurus.html. Cited 27 Aug 2007

Ranganathan SR (1967) Prolegomena to library classification, 3rd edn. (Ranganathan Series in Library Science, 20). Asia Publishing House, London

Shearer JR (2004) A practical exercise in building a thesaurus. Catalog Classif Quart 37(3/4):35–56

Spiteri LF (1997) The use of facet analysis in information retrieval thesauri: an examination of selected guidelines for thesaurus construction. Catalog Classif Quart 25(1):21–39

Svenonius E (1978) Facet definition: a case study. Int Classif 5(3):134–141

Swartout B et al (2007) Ontosaurus: a tool for browsing and editing ontologies. University of Calgary. http://www.ksi.cpsc.ucalgary.ca/KAW/KAW96/swartout/ontosaurus_demo.html. Cited 27 Aug 2007
Acknowledgements
Thanks are due to Paul Coates who developed the original suite of BC2 programs, and who has devised the programs for thesaurus display. Also to Jean Aitchison, the doyenne of the faceted thesaurus, and Leonard Will, both BCA committee members and longtime supporters of BC2, who have undertaken the major part of the work in drawing up the specification for those programs. Their combined expertise in this area (both are members of the working party for the new British Standards for controlled vocabularies) has been invaluable.
About this article
Cite this article
Broughton, V. A Faceted Classification as the Basis of a Faceted Terminology: Conversion of a Classified Structure to Thesaurus Format in the Bliss Bibliographic Classification, 2nd Edition. Axiomathes 18, 193–210 (2008). https://doi.org/10.1007/s10516-007-9027-7
Received:

Accepted:

Published:

Issue Date:
Keywords
Classification software

Conceptual relationships

Facet analysis

Faceted classifications

Thesaurus construction

Thesaurus software

Vocabulary control