Abstract
A growing body of evidence suggests the operation of life and life processes in comets as well in larger icy bodies in the solar system including Enceladus. Attempts to interpret such data without invoking active biology are beginning to look weak and flawed. The emerging new paradigm is that life is a cosmic phenomenon as proposed by Hoyle and Wickramasinghe (Lifecloud: the Origin of Life in the Galaxy, 1978) and first supported by astronomical spectroscopy (Wickramasinghe and Allen, Nature 287:518, 1980; Allen and Wickramasinghe, Nature 294:239, 1981; Wickramasinghe and Allen, Nature 323:44, 1986). Comets are the transporters and amplifiers of microbial life throughout the Universe and are also, according to this point of view, the carriers of viruses that contribute to the continued evolution of life. Comets brought life to Earth 4.2 billion years ago and they continue to do so. Space extrapolations of comets, Enceladus and possibly Pluto supports this point of view. Impacts of asteroids and comets on the Earth as well as on other planetary bodies leads to the ejection of life-bearing dust and rocks and a mixing of microbiota on a planetary scale and on an even wider galactic scale. It appears inevitable that the entire galaxy will be a single connected biosphere.
Access options
Buy single article
Instant access to the full article PDF.
USD 39.95
Price excludes VAT (USA)
Tax calculation will be finalised during checkout.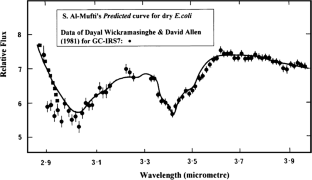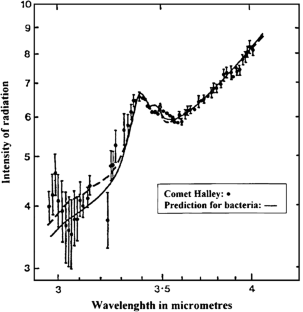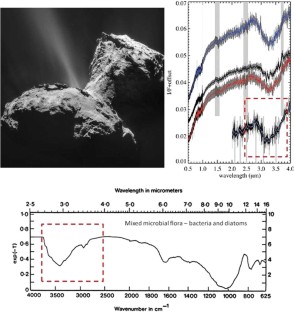 References
Al-Mufti, S.: PhD thesis, Cardiff University (1985)

Allen, D.A., Wickramasinghe, D.T.: Nature 294, 239 (1981)

Allen, D.A., Wickramasinghe, D.T.: Nature 329, 615 (1987)

Altwegg, K., et al.: Sci. Adv. 2, 5 (2016)

Arrhenius, S.: Worlds in the Making. Harper, London (1908)

Bell, E.A., Boehnke, P., Harrison, T.M., Mao, W.L.: Proc. Natl. Acad. Sci. USA 112, 14518 (2015)

Bieler, A., et al.: Nature 526, 678 (2015)

Biver, N., et al.: Sci. Adv. 1(9), 150086 (2015)

Capaccioni, F., et al.: Science 347, A0628 (2015)

Deamer, D.: First Life. University of California Press, Berkeley (2012)

Fagerbakke, K.M., Heldal, M., Norland, S.: Aquat. Microb. Ecol. 10, 15 (2009)

Grebennikova, T.V., Syroeshkin, A.V., Shubralova, E.V., Eliseeva, O.V., Kostina, L.V., et al.: Sci. World J. 218, 7360147 (2018). https://doi.org/10.1155/2018/7360147

Gregory, P.H., Monteith, J.L. (eds.): Airborne Microbes. Symposium of the Society for General Microbiology, vol. 17. Cambridge University Press, Cambridge (1967)

Harris, M.J., et al.: In: Hoover, e.R.B., Levin, G.V., Paepe, R.R., Rozanov, A.Y. (eds.) Instruments, Methods, and Missions for Astrobiology IV. Proc. SPIE Conf., vol. 4495, p. 192. SPIE, Bellingham (2002)

Hoyle, F., Wickramasinghe, N.C.: Lifecloud: The Origin of Life in the Galaxy. Dent, London (1978)

Hoyle, F., Wickramasinghe, N.C.: Diseases from Space. Dent, London (1979)

Hoyle, F., Wickramasinghe, N.C.: Evolution from Space. Dent, London (1981a)

Hoyle, F., Wickramasinghe, N.C.: In: Ponnamperuma, C. (ed.) Comets and the Origin of Life, p. 227. Reidel, Dordrecht (1981b)

Hoyle, F., Wickramasinghe, N.C.: Living Comets. Univ. College, Cardiff Press, Cardiff (1985)

Hoyle, F., Wickramasinghe, N.C.: Astronomical Origins of Life: Steps Towards Panspermia. Kluwer Academic, Dordrect (2000)

Hoyle, F., Wickramasinghe, N.C., Al-Mufti, S., Olavesen, A.H., Wickramasinghe, D.T.: Astrophys. Space Sci. 83, 405 (1982)

Kopparapu, R.K.: Astrophys. J. 767, L8 (2013)

Plane, J., Diego, J., Gomez-Martin, J.C., et al.: In: 41st COSPAR Scientific Assembly (2016). http://adsabs.harvard.edu/abs/2016cosp41E1569P

Postberg, F., Khawaja, N., Abel, B., et al.: Nature (2018). https://doi.org/10.1038/s41586-018-0246-4

Russell, M.J., Murray, A.E., Hand, K.P.: Astrobiology (2017). https://doi.org/10.1089/ast.2016.1600

Shivaji, S., et al.: Int. J. Syst. Evol. Microbiol. 59, 2977 (2009)

Spencer, J.R., Nimmo, F.: Annu. Rev. Earth Planet. Sci. 41, 693 (2013)

Spitale, J.N., Hurford, T.A., Rhoden, A.R., et al.: Nature 521, 57 (2015)

Steele, E.J., Al-Mufti, S., Augustyne, K.A., et al.: Prog. Biophys. Mol. Biol. 136, 3 (2018). https://doi.org/10.1016/j.pbiomolbio.2018.03.004

Thomas, P.C., Tajeddine, P., Tiscereno, M.S., et al.: Icarus on Line, 11 Sept. 2015

Wainwright, M., Wickramasinghe, N.C., Narlikar, J.V., Rajaratnam, P.: Microbiol. Lett. 218, 161 (2003)

Wallis, M.K.: Nature 284, 431 (1980)

Wallis, M.K., Wickramasinghe, N.C.: Mon. Not. R. Astron. Soc. 348, 52 (2004)

Wallis, M.K., Wickramasinghe, N.C.: Astrobiol. Outreach 3, 12 (2015)

Wickramasinghe, N.C.: Nature 252, 462 (1974)

Wickramasinghe, N.C.: The Search for Our Cosmic Ancestry. World Scientific, Singapore (2015)

Wickramasinghe, D.T., Allen, D.A.: Nature 287, 518 (1980)

Wickramasinghe, D.T., Allen, D.A.: Nature 323, 44 (1986)

Wickramasinghe, N.C., Wickramasinghe, J.T.: Astrophys. Space Sci. 286, 453 (2003)

Wickramasinghe, D.T., Hoyle, F., Wickramasinghe, N.C., Al-Mufti, S.: Earth Moon Planets 36, 295 (1986)

Wickramasinghe, N.C., Hoyle, F., Lloyd, D.: Astron. Astrophys. 240, 161 (1996)

Wickramasinghe, J.T., Wickramasinghe, N.C., Napier, W.M.: Comets and the Origin of Life. World Scientific, Singapore (2010)

Wickramasinghe, C., Wainwright, M., Tokoro, G., Hoover, R.B.: In: Instruments, Methods, and Missions for Astrobiology XVII. Proc. SPIE, vol. 9606, p. 96061R (2015). https://doi.org/10.1117/12.2222098

Wickramasinghe, N.C., Rycroft, Wickramasinghe D. T, M.J., et al.: Adv. Astrophys. (2018)

Yabushita, S.: Mon. Not. R. Astron. Soc. 260, 819 (1993)
About this article
Cite this article
Wickramasinghe, N.C., Wickramasinghe, D.T. & Steele, E.J. Comets, Enceladus and panspermia. Astrophys Space Sci 363, 244 (2018). https://doi.org/10.1007/s10509-018-3465-0
Received:

Accepted:

Published:

DOI: https://doi.org/10.1007/s10509-018-3465-0
Keywords
Enceladus

Comets

Interstellar dust