Abstract
The existence of non-collinear libration points and their stability (in linear sense) are examined in the circular restricted three body problem, in which we have considered the smaller primary as an oblate spheroid and bigger one a point mass including the effect of dissipative force specially Stokes drag. Two non-collinear libration points are found but they are unstable for the given range of dissipative constant \(k\) and oblateness factor \(A\) (i.e. \(0 < k < 1\) and \(0 < A < 1\) respectively). Stability of non-collinear libration points are discussed using a different analytical approach. We have also shown analytically the non-existence of collinear libration points due to effect of Stokes drag.
Access options
Buy single article
Instant access to the full article PDF.
US$ 39.95
Tax calculation will be finalised during checkout.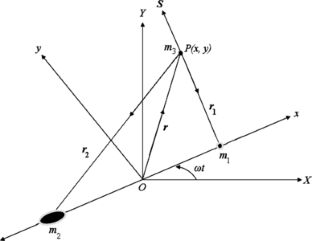 References
Abouelmagd, E.I.: Stability of the triangular points under combined effects of radiation and oblateness in the restricted three-body problem. Earth Moon Planets (2013). doi:10.1007/s11038-013-9415-5

Aggarwal, R., Taqvi, Z.A., Ahmad, I.: Non-linear stability of \(L_{4}\) in the restricted three body problem for radiated axes symmetric primaries with resonances. Bull. Astron. Soc. India 34(4), 327–356 (2006)

Aggarwal, R., Kaur, B.: Robe's restricted problem of \(2+2\) bodies with one of the primaries an oblate body. Astrophys. Space Sci. 352(2), 467–479 (2014)

Jain, M., Aggarwal, R.: Restricted three body problem with Stokes drag effect. Int. J. Astron. Astrophys. 5, 95–105 (2015)

Khanna, M., Bhatnagar, K.B.: Existence and stability of libration points in the restricted three body problem when the smaller primary is a triaxial rigid body and the bigger one an oblate spheroid. Indian J. Pure Appl. Math. 30(7), 721–733 (1999)

Kushvah, B.S., Sharma, J.P., Ishwar, B.: Nonlinear stability in the generalized photogravitational restricted three body problem with Poynting–Robertson drag. Astrophys. Space Sci. 312, 279–293 (2007)

Lhotka, C., Celletti, A.: The effect of Poynting Robertson drag on the triangular Lagrangian points. Astrophys. Space Sci. 250, 249–261 (2015)

Murray, C.D.: Dynamical effects of drag in the circular restricted three body problems: 1. Location and stability of the Lagrangian equilibrium points. Icarus 112, 465–484 (1994)

Pal, A.K., Kushvah, B.S: Geometry of halo and Lissajous orbits in the circular restricted three body problem with drag forces. Mon. Not. R. Astron. Soc. 446, 959–972 (2015)

Raheem, A.R., Singh, J.: Combined effects of perturbations, radiation and oblateness on the stability of equilibrium points in the restricted three-body problem. Astron. J. 131, 1880–1885 (2006)

Sharma, R.K., Taqvi, Z.A., Bhatnagar, K.B.: Existence of libration points in the restricted three body problem when both the primaries are triaxial rigid bodies. Indian J. Pure Appl. Math. 32(1), 125–141 (2001)

Shu, S., Lu, B., Cheng, W., Liu, F.: A criteria for the linear stability of the equilibrium points in the perturbed restricted three body problem and its application in robes problem. Chin. Astron. Astrophys. 28(4), 432–440 (2004)

Subbarao, P.V., Sharma, R.K.: A note on the stability of the triangular points of equilibrium in the restricted three body problem. Astron. Astrophys. 43, 381–383 (1975)

Szebehely, V.: Theory of Orbits, the Restricted Problem of Three Bodies. Academic Press, New York (1967)
About this article
Cite this article
Jain, M., Aggarwal, R. A study of non-collinear libration points in restricted three body problem with stokes drag effect when smaller primary is an oblate spheroid. Astrophys Space Sci 358, 51 (2015). https://doi.org/10.1007/s10509-015-2457-6
Received:

Accepted:

Published:
Keywords
Restricted three body problem

Libration points

Oblateness

Linear stability

Dissipative forces

Stokes drag