Abstract
Sexual awareness is an understudied phenomenon, despite its known effects on mental health. Little is known about the predictors of sexual awareness, including how early sexual debut and early engagement with online dating and hookup apps might impact the development of sexual mindfulness. Given the conceptual overlap between mindfulness and sexual awareness, this study tested a model that hypothesized that general mindfulness and early sexual and online dating debuts may be associated with mental health outcomes and sexual behavior through pathways involving sexual awareness (assertiveness, consciousness, appeal, and monitoring). A sample of 2,379 heterosexually active young adult women completed an online survey. Path models indicated that both early sexual debut (prior to age 15) and early online dating debut (prior to age 18) had significant, positive direct associations with anxiety and depression scores. Early online dating was also associated with condomless sex with casual male partners. However, both early sexual debut and early online dating debut were indirectly linked to greater sexual risk through greater appeal, and to lower sexual risk through sexual assertiveness. Additionally, greater monitoring contributed to more depression for those with an earlier sexual debut. These findings point to potential risks associated with early online dating. They also highlight benefits of studying sexual awareness as a multi-dimensional construct, especially as it helps to clarify divergent findings in the existing literature on the long-term consequences associated with early sexual debut. While some domains were associated with risk (monitoring and appeal), others were indicative of resilience (assertiveness).
Access options
Buy single article
Instant access to the full article PDF.
USD 39.95
Price excludes VAT (USA)
Tax calculation will be finalised during checkout.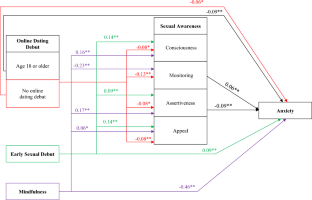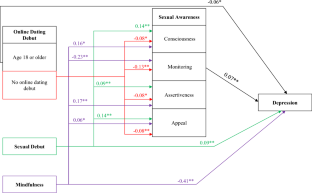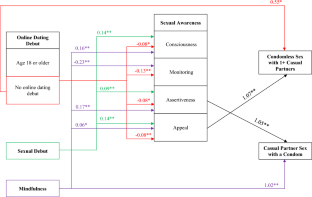 Availability of Data and Material
Data can be made available upon request from the corresponding author.
Code Availability
Code is available upon request from the corresponding author.
References
Agresti, A. (2012). Categorical data analysis. John Wiley & Sons.

Britton, W. B. (2019). Can mindfulness be too much of a good thing: The value of a middle way. Current Opinion in Psychology, 28, 159–165. https://doi.org/10.1016/j.copsyc.2018.12.011

Brown, L. M., & Gilligan, C. (1992). Meeting at the crossroads: Women's psychology and girls' development. Harvard University Press.

Brown, K. W., & Ryan, R. M. (2003). The benefits of being present: Mindfulness and its role in psychological well-being. Journal of Personality and Social Psychology, 84(4), 822–848.

Burnett-Zeigler, I., Satyshur, M. D., Hong, S., Wisner, K. L., & Moskowitz, J. (2019). Acceptability of a mindfulness intervention for depressive symptoms among African-American women in a community health center: A qualitative study. Complementary Therapies in Medicine, 45, 19–24.

Carcedo, R. J., Fernández-Rouco, N., Fernández-Fuertes, A. A., & Martínez-Álvarez, J. L. (2020). Association between sexual satisfaction and depression and anxiety in adolescents and young adults. International Journal of Environmental Research and Public Health, 17(3), 841. https://doi.org/10.3390/ijerph17030841

Castro, Á., & Barrada, J. R. (2020). Dating apps and their sociodemographic and psychosocial correlates: A systematic review. International Journal of Environmental Research and Public Health, 17(18), 6500. https://doi.org/10.3390/ijerph17186500

Chae, J. (2017). Virtual makeover: Selfie-taking and social media use increase selfie-editing frequency through social comparison. Computers in Human Behavior, 66, 370–376.

Collins, R. L., Martino, S. C., & Shaw, R. (2011). Influence of new media on adolescent sexual health: Evidence and opportunities. RAND Corporation. https://www.rand.org/pubs/working_papers/WR761.html.

Dijkstra, P., & Barelds, D. P. (2011). Examining a model of dispositional mindfulness, body comparison, and body satisfaction. Body Image, 8(4), 419–422.

Dir, A. L., Cyders, M. A., Riley, E. N., & Smith, G. T. (2015). Tinder use and associations with problematic alcohol use and sexual hookups among college females. Alcoholism-Clinical and Experimental Research, 39, 553–560.

Drouin, M., Miller, D., Wehle, S. M., & Hernandez, E. (2016). Why do people lie online? "Because everyone lies on the internet." Computers in Human Behavior, 64, 134–142.

Fanslow, J., & Robinson, E. (2004). Violence against women in New Zealand: Prevalence and health consequences. New Zealand Medical Journal, 117, U1173.

Galinsky, A. M., & Sonenstein, F. L. (2011). The association between developmental assets and sexual enjoyment among emerging adults. Journal of Adolescent Health, 48(6), 610–615.

Ganong, K., & Larson, E. (2011). Intimacy and belonging: The association between sexual activity and depression among older adults. Society and Mental Health, 1(3), 153–172.

Garson, G. D. (2019). Multilevel modeling: Applications in STATA®, IBM® SPSS®, SAS®, R, & HLMTM. Sage Publications.

Gillett, R. (2018). Intimate intrusions online: Studying the normalization of abuse in dating apps. Women's Studies International Forum, 69, 212–219.

Golden, R. L., Furman, W., & Collibee, C. (2016). The risks and rewards of sexual debut. Developmental Psychology, 52(11), 1913–1925.

Goldenberg, D. (2019). Disconnected connectedness: The paradox of digital dating for gay and bisexual men. Journal of Gay and Lesbian Mental Health, 23(3), 360–366.

Grant, A. M., & Schwartz, B. (2011). Too much of a good thing: The challenge and opportunity of the inverted U. Perspectives on Psychological Science, 6(1), 61–76.

Hensel, D. J., Fortenberry, J. D., O'Sullivan, L. F., & Orr, D. P. (2011). The developmental association of sexual self-concept with sexual behavior among adolescent women. Journal of Adolescence, 34(4), 675–684.

Higgins, J. A., Mullinax, M., Trussell, J., Davidson, J. K., Sr., & Moore, N. B. (2011). Sexual satisfaction and sexual health among university students in the United States. American Journal of Public Health, 101(9), 1643–1654.

Holtzhausen, N., Fitzgerald, K., Thakur, I., Ashley, J., Rolfe, M., & Pit, S. W. (2020). Swipe-based dating applications use and its association with mental health outcomes: A cross-sectional study. BMC Psychology, 8(1). https://doi.org/10.1186/s40359-020-0373-1

Horne, S., & Zimmer-Gembeck, M. J. (2006). Female sexual subjectivity and well-being: Comparing late adolescents with different sexual experiences. Sexuality Research and Social Policy, 2(3), 25–40.

Hurlbert, D. F. (1991). The role of assertiveness in female sexuality: A comparative study between sexually assertive and sexually nonassertive women. Journal of Sex and Marital Therapy, 17(3), 183–190. https://doi.org/10.1080/00926239108404342

Introduction to SAS. (2023). UCLA: Statistical Consulting Group. From https://stats.oarc.ucla.edu/mplus/dae/multinomiallogistic-regression/ (accessed Jan 21, 2023)

Ingraham, N., Eliason, M. J., Garbers, S., Harbatkin, D., Minnis, A. M., McElroy, J. A., & Haynes, S. G. (2016). Effects of mindfulness interventions on health outcomes in older lesbian/bisexual women. Women's Health Issues, 26, S53–S62.

Kaakinen, M., Koivula, A., Savolainen, I., Sirola, A., Mikkola, M., Zych, I., Paek, H., & Oksanen, A. (2021). Online dating applications and risk of youth victimization: A lifestyle exposure perspective. Aggressive Behavior, 47(5), 530–543.

Kabat-Zinn, J. (1994). Wherever you go there you are: Mindfulness meditation in everyday life. Hyperion.

Kastbom, Å. A., Sydsjö, G., Bladh, M., Priebe, G., & Svedin, C. G. (2015). Sexual debut before the age of 14 leads to poorer psychosocial health and risky behaviour in later life. Acta Paediatrica, 104(1), 91–100. https://doi.org/10.1111/apa.12803

Leavitt, C. E., Lefkowitz, E. S., & Waterman, E. A. (2019). The role of sexual mindfulness in sexual wellbeing, relational wellbeing, and self-esteem. Journal of Sex and Marital Therapy, 45(6), 497–509.

Leavitt, C. E., Allsop, D. B., Busby, D. M., Driggs, S. M., Johnson, H. M., & Saxey, M. T. (2020). Associations of mindfulness with adolescent outcomes and sexuality. Journal of Adolescence, 81, 73–86.

Li, M. J., DiStefano, A. S., Thing, J. P., Black, D. S., Simpson, K., Unger, J. B., Milam, J., Contreras, R., & Bluthenthal, R. N. (2019). Seeking refuge in the present moment: A qualitatively refined model of dispositional mindfulness, minority stress, and psychosocial health among Latino/a sexual minorities and their families. Psychology of Sexual Orientation and Gender Diversity, 6(4), 408–419. https://doi.org/10.1037/sgd0000338

Livingston, J. A., Testa, M., & VanZile-Tamsen, C. (2007). The reciprocal relationship between sexual victimization and sexual assertiveness. Violence against Women, 13(3), 298–313. https://doi.org/10.1177/1077801206297339

Magnusson, B. M., Crandall, A., & Evans, K. (2019). Early sexual debut and risky sex in young adults: The role of low self-control. BMC Public Health, 19(1). https://doi.org/10.1186/s12889-019-7734-9

Mayer, L. S., & McHugh, P. R. (2016). Sexuality and gender: Findings from the biological, psychological, and social sciences. Part two: Sexuality, mental health outcomes, and social stress. The New Atlantis.

Ménard, A. D., & Offman, A. (2009). The interrelationships between sexual self-esteem, sexual assertiveness and sexual satisfaction. Canadian Journal of Human Sexuality, 18, 35–45.

Menkin, J. A., Robles, T. F., Wiley, J. F., & Gonzaga, G. C. (2015). Online dating across the life span: Users' relationship goals. Psychology and Aging, 30(4), 987–993. https://doi.org/10.1037/a0039722

Morton, H., & Gorzalka, B. B. (2013). Cognitive aspects of sexual functioning: Differences between East Asian-Canadian and Euro-Canadian women. Archives of Sexual Behavior, 42(8), 1615–1625.

Muthén, L. K., & Muthén, B. O. (2017). Mplus v.8. Author.

Paterson, L. Q. P., Handy, A. B., & Brotto, L. A. (2017). A pilot study of eight-session mindfulness—based cognitive therapy adapted for women's sexual interest/arousal disorder. Journal of Sex Research, 54(7), 850–861. https://doi.org/10.1080/00224499.2016.1208800

Pflieger, J. C., Cook, E. C., Niccolai, L. M., & Connell, C. M. (2013). Racial/ethnic differences in patterns of sexual risk behavior and rates of sexually transmitted infections among female young adults. American Journal of Public Health, 103(5), 903–909. https://doi.org/10.2105/AJPH.2012.301005

Powell, A., Scott, A. J., & Henry, N. (2020). Digital harassment and abuse: Experiences of sexuality and gender minority adults. European Journal of Criminology, 17(2), 199–223.

Prazak, M., Critelli, J. W., Martin, L. A., Miranda, V. S., Purdum, M., & Powers, C. (2012). Mindfulness and its role in physical and psychological health. Applied Psychology: Health and Well-Being, 4(1), 91–105.

Radloff, L. S. (1977). The CES-D scale: A self-report depression scale for research in the general population. Applied Psychological Measurement, 1(3), 385–401.

Reed, E., Salazar, M., Behar, A. I., Agah, N., Silverman, J. G., Minnis, A. M., Rusch, M. L. A., & Raj, A. (2019). Cyber sexual harassment: Prevalence and association with substance use, poor mental health, and STI history among sexually active adolescent girls. Journal of Adolescence, 75, 53–62.

Rickert, V. I., Neal, W. P., Wiemann, C. M., & Berenson, A. B. (2000). Prevalence and predictors of low sexual assertiveness. Journal of Pediatric and Adolescent Gynecology, 13(2), 88–89. https://doi.org/10.1016/s1083-3188(00)00016-4

Roberts, H., Clark, A., Sherman, C., Heitzeg, M. M., & Hicks, B. M. (2021). Age, sex, and other demographic trends in sexual behavior in the United States: Initial findings of the sexual behaviors, internet use, and psychological adjustment survey. PLoS ONE, 16(8). https://doi.org/10.1371/journal.pone.0255371

Rosenfeld, M. J., & Thomas, R. J. (2012). Searching for a mate: The rise of the Internet as social intermediary. American Sociological Review, 77(4), 523–547.

Sareen, J., Afifi, T. O., McMillan, K. A., & Asmundson, G. J. (2011). Relationship between household income and mental disorders: Findings from a population-based longitudinal study. Archives of General Psychiatry, 68(4), 419–427. https://doi.org/10.1001/archgenpsychiatry.2011.15

Satorra, A., & Bentler, P. M. (2010). Ensuring positiveness of the scaled difference chi-square test statistic. Psychometrika, 75(2), 243–248.

Sawyer, A. N., Smith, E. R., & Benotsch, E. G. (2018). Dating application use and sexual risk behavior among young adults. Sexuality Research and Social Policy, 15(2), 183–191.

Sayyadi, F., Golmakani, N., Ebrahimi, M., Saki, A., Karimabadi, A., & Ghorbani, F. (2019). Determination of the effect of sexual assertiveness training on sexual health in married women: A randomized clinical trial. Iranian Journal of Nursing and Midwifery Research, 24(4), 274–280. https://doi.org/10.4103/ijnmr.IJNMR_51_17

Shapiro, G. K., Tatar, O., Sutton, A., Fisher, W., Naz, A., Perez, S., & Rosberger, Z. (2017). Correlates of Tinder use and risky sexual behaviors in young adults. Cyberpsychology, Behavior, and Social Networking, 20(12), 727–734.

Silverstein, R. G., Brown, A. C. H., Roth, H. D., & Britton, W. B. (2011). Effects of mindfulness training on body awareness to sexual stimuli: Implications for female sexual dysfunction. Psychosomatic Medicine, 73(9), 817–825.

Sprecher, S., O'Sullivan, L. F., Drouin, M., Verette-Lindenbaum, J., & Willetts, M. C. (2019). The significance of sexual debut in women's lives. Current Sexual Health Reports, 11, 265–273. https://doi.org/10.1007/s11930-019-00228-5

Spitzer, R. L., Kroenke, K., Williams, J. B., & Löwe, B. (2006). A brief measure for assessing generalized anxiety disorder: The GAD-7. Archives of Internal Medicine, 166(10), 1092–1097.

Spriggs, A. L., & Halpern, C. T. (2008). Sexual debut timing and depressive symptoms in emerging adulthood. Journal of Youth and Adolescence, 37(9), 1085–1096.

Sneed, C. D. (2009). Sexual risk behavior among early initiators of sexual intercourse. AIDS Care, 21(11), 1395–1400.

Snell, W. E., Fisher, T. D., & Miller, R. S. (1991). Development of the Sexual Awareness Questionnaire: Components, reliability, and validity. Annals of Sex Research, 4(1), 65–92.

Stoner, S. A., Norris, J., George, W. H., Morrison, D. M., Zawacki, T., Davis, K. C., & Hessler, D. M. (2008). Women's condom use assertiveness and sexual risk-taking: Effects of alcohol intoxication and adult victimization. Addictive Behaviors, 33(9), 1167–1176. https://doi.org/10.1016/j.addbeh.2008.04.017

Strubel, J., & Petrie, T. A. (2017). Love me Tinder: Body image and psychosocial functioning among men and women. Body Image, 21, 34–38.

Trub, L. (2022). The wooing web: Double binds of internet dating. In J. Martinez & Z. A. Kahn (Eds.), Emerging adults in therapy: How to strengthen your clinical competency (pp. 201–219). W. W. Norton.

US Census. (2016). Mental health disparities: Diverse populations. https://www.psychiatry.org/getmedia/bac9c998-5b2d-4ffa-ace9-d35844b8475a/Mental-Health-Facts-for-Diverse-Populations.pdf

Vogels, E. A. (2020). 10 facts about Americans and online dating. Pew Research Center. https://www.pewresearch.org/short-reads/2020/02/06/10-facts-about-americans-and-online-dating/

Vogels, E. A. (2021). The state of online harassment. Pew Research Center. https://www.pewresearch.org/internet/2021/01/13/the-state-of-online-harassment/

Wesche, R., Kreager, D. A., Lefkowitz, E. S., & Siennick, S. E. (2017). Early sexual initiation and mental health: A fleeting association or enduring change? Journal of Research on Adolescence, 27(3), 611–627. https://doi.org/10.1111/jora.12303

Widman, L., Golin, C. E., Kamke, K., Burnette, J. L., & Prinstein, M. J. (2018). Sexual assertiveness skills and sexual decision-making in adolescent girls: Randomized controlled trial of an online program. American Journal of Public Health, 108(1), 96–102.

Woertman, L., & Van den Brink, F. (2012). Body image and female sexual functioning and behavior: A review. Journal of Sex Research, 49(2–3), 184–211.

Woo, J. S., Brotto, L. A., & Gorzalka, B. B. (2011). The role of sex guilt in the relationship between culture and women's sexual desire. Archives of Sexual Behavior, 40(2), 385–394.

World Health Organization. (2010). Measuring sexual health: Conceptual and practical considerations and related indicators. Author.
Acknowledgements
The authors acknowledge the efforts of the students who contributed to the execution of this study, including: Rashelle Ahokas, Laura Eltahawy, Zach Hubert, Megan Ludwig, and Vendela Parker
Ethics declarations
Conflict of interest
N/A.
Ethical Approval
The study received IRB approval by Pace University.
Informed Consent
All study participants provided informed consent prior to study enrollment.
Additional information
Publisher's Note
Springer Nature remains neutral with regard to jurisdictional claims in published maps and institutional affiliations.
The original version of this article was revised: Some changes to the text of this article—such as in the capitalization of words and the level of section headings—were made following its original publication.
Rights and permissions
Springer Nature or its licensor (e.g. a society or other partner) holds exclusive rights to this article under a publishing agreement with the author(s) or other rightsholder(s); author self-archiving of the accepted manuscript version of this article is solely governed by the terms of such publishing agreement and applicable law.
About this article
Cite this article
Trub, L.R., Stewart, J.L., Lomidze, A. et al. Young Adult Women and Sexual Awareness in the Digital Age: Examining Pathways Linking Online Dating Debut and Mindfulness with Sexual and Mental Health. Arch Sex Behav 52, 2859–2877 (2023). https://doi.org/10.1007/s10508-023-02692-6
Received:

Revised:

Accepted:

Published:

Issue Date:

DOI: https://doi.org/10.1007/s10508-023-02692-6
Keyword