Abstract
Despite the gaining popularity in mainstream media of the phenomenon that is BDSM, empirical research on the motives and underlying psychological mechanisms driving BDSM practitioners is scarce. The current study focused on the potential driving roles of sensation seeking and coping styles in BDSM-related interests and behavior. A cross-sectional survey questionnaire was completed by 256 Dutch-speaking BDSM practitioners (110 men, 135 women, 7 gender fluid, 2 genderless, 1 other not specified), 1 missing (this participant did not answer the question regarding gender, but did answer all other survey items) and a matched control group lacking any BDSM interest recruited from the general Belgian population (N = 300; 135 men, 158 women, 4 gender fluid, 3 genderless). The questionnaire consisted of several items surveying different BDSM identities and interest levels of BDSM-related activities, an adapted version of the Dutch Sensation Seeking Scale, and items querying seven coping styles. Compared to controls, BDSM practitioners reported significantly higher levels of sensation seeking for all dimensions (experience seeking, thrill seeking, and distraction seeking), as well as the use of more active coping skills such as problem solving and taking action. Gender differentiated which specific coping skills were being used with women seeking out more emotional support and comfort and reaching out more for help and advice in both the BDSM and control group, and men taking more action and seeking distraction in leisure. About 40% of the practitioners reported using BDSM itself as a coping strategy. Further research is needed to explore the link between coping and sexuality in general, and to other psychological processes that drive BDSM interests in order to destigmatize and normalize consensual BDSM-related activities within the general population.
Access options
Buy single article
Instant access to the full article PDF.
US$ 39.95
Tax calculation will be finalised during checkout.
Subscribe to journal
Immediate online access to all issues from 2019. Subscription will auto renew annually.
US$ 119
Tax calculation will be finalised during checkout.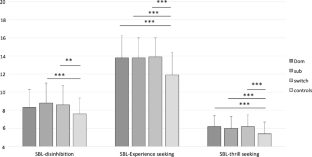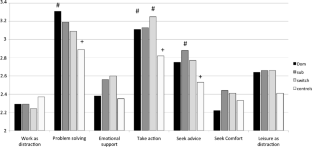 References
Alison, L., Santtila, P., Sandnabba, N. K., & Nordling, N. (2001). Sadomasochistically oriented behavior: Diversity in practice and meaning. Archives of Sexual Behavior, 30, 1–12.

Blankers, M. (2006). Omgaan met risico. Emotie, persoonlijkheid en risicoperceptie: verkenning van de onderliggende samenhang. Unpublished manuscript, Department of Social Psychology, University of Amsterdam, Amsterdam, Netherlands.

Breivik, G., Sand, T. S., & Sookermany, A. M. (2017). Sensation seeking and risk-taking in the Norwegian population. Personality and Individual Differences, 119, 266–272. https://doi.org/10.1016/j.paid.2017.07.039.

De Neef, N., Coppens, V., Huys, W., & Morrens, M. (2019). Bondage-discipline, Dominance-submission and sadomasochism (BDSM) from a biopsychosocial perspective: A systematic review. Sexual Medicine, 7(2), 129–144. https://doi.org/10.1016/j.esxm.2019.02.002.

Feelgood, S., Cortoni, F., & Thompson, A. (2007). Sexual coping, general coping and cognitive distortions in incarcerated rapists and child molesters. Journal of Sexual Aggression, 11(2), 157–170. https://doi.org/10.1080/13552600500073657.

Feij, J. A., & Van Zuilen, R. W. (1984). SBL-Handleiding. Spanningsbehoeftelijst. Lisse: Swets & Zeitlinger.

Giebel, G., Moran, J., Schawohl, A., & Weierstall, R. (2015). The thrill of loving a dominant partner: Relationships between preference for a dominant mate, sensation seeking, an trait anxiety. Personal Relationships, 22, 275–284. https://doi.org/10.1111/pere.12079.

Gil-Llario, M. D., Morell-Mengual, V., Ballester-Arnal, R., Giménez-Garcia, C., & Castro-Calvo, J. (2015). Sexual sensation seeking in Spanish young men and women with different sexual orientations. Journal of Sex and Marital Therapy, 41(5), 252–530. https://doi.org/10.1080/0092623x.2014.911316.

Glyde, T. (2015). BDSM: Psychotherapy's grey area. The Lancet Psychiatry, 2(3), 211–213. https://doi.org/10.1016/s2215-0366(15)00058-9.

Hahn, H., Kalnitsky, S., Thamotharan, S., Beauchaine, T. B., & Ahn, W. (2019). Delay discounting of protected sex: Relationship type and sexual orientation influence sexual risk behavior. Archives of Sexual Behavior, 48, 2089–2102. https://doi.org/10.1007/s10508-019-1450-5.

Hébert, A., & Weaver, A. (2014). An examination of personality characteristics associated with BDSM orientations. Canadian Journal of Human Sexuality, 23(2), 106–115. https://doi.org/10.3138/cjhs.2467.

Henkin, W. (2013). Some beneficial aspects of exploring personas and role play in the BDSM context. In D. Langdridge & M. Barker (Eds.), Safe, sane and consensual (2nd ed., pp. 235–246). New York: Palgrave Macmillan.

Holvoet, L., Huys, W., Coppens, V., Seeuws, J., Goethals, K., & Morrens, M. (2017). Fifty Shades of Belgian Gray: The prevalence of BDSM-related fantasies and activities in the general population. Journal of Sexual Medicine, 14, 1152–1159. https://doi.org/10.1016/j.jsxm.2017.07.003.

Hutchinson, S. L., Baldwin, C. K., & Oh, S. S. (2006). Adolescent coping: Exploring adolescent's leisure-based responses to stress. Leisure Sciences, 28, 115–131. https://doi.org/10.1080/01490400500483984.

Jung, S., & Jamieson, L. (2014). Examining the use of sex to cope in a forensic sample. Journal of Addictions & Offender Counseling, 35, 30–37. https://doi.org/10.1002/j.2161-1874.2014.00022.x.

Kalichman, S. C., Johnson, J. R., Adair, V., Rompa, D., Multhauf, K., & Kelly, J. A. (1994). Sexual Sensation Seeking Scale: Development and predicting AIDS-risk behavior among homosexually active men. Journal of Personality Assessment, 62, 285–397.

Kieran, R. A., & Sheff, E. (2016). How did it hurt?: Distinguishing between intimate partner violence and BDSM in relationships. In P. Karian (Ed.), Critical & experiential: Dimensions in gender and sexual diversity (pp. 141–159). Kota, India: Resonance Publications Ltd.

Kleijn, W. C., Van Heck, G. L., & Van Waning, A. (2000). Ervaringen met een Nederlandse bewerking van de COPE copeingvragenlijst: De COPE-Easy. Gedrag & Gezondheid, 28(4), 213–226.

Lazarus, R. S., & Folkman, S. (1984). Stress, appraisal and coping. New York, NY: Springer.

Lengua, L. J., & Stormshak, E. A. (2000). Gender, gender roles, and personality: Gender differences in the prediction of coping and psychological symptoms. Sex Roles, 43(11), 787–820. https://doi.org/10.1023/a:1011096604861.

Lidden, L., Kingerlee, R., & Barry, J. A. (2018). Gender differences in preferences for psychological treatment, coping strategies, and triggers to help-seeking. British Journal of Clinical Psychology, 57, 42–58. https://doi.org/10.1111/bjc.12147.

Lindemann, D. (2011). BDSM as therapy? Sexualities, 14(2), 151–172. https://doi.org/10.1177/1363460711399038.

Martinez, K. (2017). BDSM role fluidity: A mixed-methods approach to investigating switches within dominant/submissive binaries. Journal of Homosexuality, 65(10), 1299–1324. https://doi.org/10.1080/00918369.2017.1374062.

McCoul, M. D., & Haslam, N. (2001). Predicting high risk sexual behavior in heterosexual and homosexual men: The roles of impulsivity and sensation seeking. Personality and Individual Differences, 31, 1303–1310.

Nordling, N., Sandnabba, N. K., & Santilla, P. (2000). The prevalence and effects of self-reported childhood sexual abuse among sadomasochistically oriented males and females. Journal of Child Sexual Abuse, 9, 53–63.

Sornberger, M. J., Smith, N. G., Toste, J. R., & Heath, N. L. (2013). Nonsuicidal self-injury, coping strategies, and sexual orientation. Journal of Clinical Psychology, 69(6), 571–583. https://doi.org/10.1002/jclp.21947.

Stephenson, M. T., Velez, L. F., Chalela, P., Ramirez, A., & Hoyle, R. H. (2007). The reliability and validity of the Brief Sensation Seeking Scale (BSSS-8) with young adult Latino workers: Implications for tobacco and alcohol disparity research. Addiction, 102(2), 79–91. https://doi.org/10.1111/j.1360-0443.2007.01958.x.

Ten Brink, S., Coppens, V., Huys, W., & Morrens, M. (2020). The psychology of kink: A survey study into the relationship of trauma and attachment style in BDSM interests. Sexuality Research and Social Policy. https://doi.org/10.1007/s13178-020-00438-w.

Weinberg, M. S., Williams, C. J., & Moser, C. (1984). The social constituents of sadomasochism. Social Problems, 31(4), 379–389. https://doi.org/10.2307/800385.

Wignall, L., & McCormack, M. (2017). An exploratory study of a new kink activity: "Pup play". Archives of Sexual Behavior, 46(3), 801–811. https://doi.org/10.1007/s10508-015-0636-8.

Williams, D. J., Prior, E. E., Alvarado, T., Thomas, J. N., & Christensen, M. C. (2016). Is bonadage and discipline, dominance and submission, and sadomasochism recreative leisure? A descriptive exploratory investigation. Journal of Sexual Medicine, 13, 1091–1094. https://doi.org/10.1016/j.sxm.2016.05.001.

Wismeijer, A. A., & Van Assen, M. A. (2013). Psychological characteristics of BDSM practitioners. Journal of Sexual Medicine, 10(8), 1943–1952. https://doi.org/10.1111/jsm.12192.

Wuyts, E., De Neef, N., Coppens, V., Fransen, E., Schellens, E., Van Der Pol, M., & Morrens, M. (2020). Betweens pleasure and pain: A pilot study on the biological mechanisms associated with BDSM interactions in dominants and submissives. Journal of Sexual Medicine, 17(4), 784–792. https://doi.org/10.1016/j.jsxm.2020.01.001.

Zuckerman, M. (1979). Sensation seeking: Beyond the optimal level of arousal. New York: Erlbaum.

Zuckerman, M. (1994). Behavioral expressions and biosocial bases of sensation seeking. New York: Cambridge University Press.

Zuckerman, M., Bone, R. N., Neary, R., Mangelsdorff, D., & Brustman, B. (1972). What is the sensation seeker? Personality trait and experience correlates of the Sensation-Seeking Scales. Journal of Consulting and Clinical Psychology, 39, 308–321.

Zuckerman, M., Kolin, E. A., Price, L., & Zoob, I. (1964). Development of a Sensation-Seeking Scale. Journal of Consulting Psychology, 28(6), 477–482. https://doi.org/10.1037/h0040995.
Ethics declarations
Conflicts of interest
Violette Coppens and Manuel Morrens have received funding for scientific research unrelated to the current project from Johnson & Johnson, Belgium.
Ethical Approval
The study was approved by the ethical committee board of UZA/UA (University Hospital of Antwerp).
Informed Consent
All participants had given informed consent before entering the study.
Additional information
Publisher's Note
Springer Nature remains neutral with regard to jurisdictional claims in published maps and institutional affiliations.
Appendices
Appendix 1
Adapted Version of the Dutch Sensation Seeking Scale (Blankers, 2006)
Here are a number of statements that people might use to describe themselves. Read through them carefully. If you agree with a statement or if you think it fits you, click "true." If you do not agree with a statement or if you think it does not fit you, click "untrue." It is important to answer all questions. There are no right or wrong answers.
|   | True | Untrue |
| --- | --- | --- |
| I tend to start new things without planning ahead |   |   |
| I like new and exciting experiences, even when they're scary |   |   |
| Before I start something new, I always plan it carefully |   |   |
| I prefer to travel without planning the route beforehand |   |   |
| I like to do things impulsively |   |   |
| I like to wind up in new and unpredictable situations |   |   |
| I like doing things purely because they are exciting |   |   |
| My interests change regularly |   |   |
| I like doing things because they are a little scary |   |   |
| I usually think about what I'm going to do, before I do it |   |   |
| I'll try anything once |   |   |
| I'd like to live the kind of life where I'm constantly moving and travelling, with a lot of change and excitement |   |   |
| I rarely make time to plan things |   |   |
| I like to do crazy things sometimes, just for fun |   |   |
| I like exploring a strange city or neighbourhood by myself, even if I could get lost |   |   |
| I prefer to have friends who are exciting and unpredictable |   |   |
| I tend to get so carried away by new and exciting things or ideas that I often don't think about possible consequence |   |   |
| I'm an impulsive person |   |   |
| I like wild and uninhibited parties |   |   |
Appendix 2
Queried Coping Styles
The next few questions concern how people deal with problems in their lives. Please indicate if you use these tactics or not. This is not about their efficiency. We only want to know if you use them and how often. (1: I don't do this; 2: I sometimes do this; 3: I regularly do this; 4: I always do this).
|   | 1 | 2 | 3 | 4 |
| --- | --- | --- | --- | --- |
| I focus my attention on work or other activities to distract myself from the problem |   |   |   |   |
| I try to come up with possible solutions to change my problematic situation |   |   |   |   |
| I try to find emotional support with others |   |   |   |   |
| I take action to improve my problematic situation |   |   |   |   |
| I do things to distract myself such as going to the cinema, watching TV, reading, daydreaming, sleeping or shopping |   |   |   |   |
| I ask for advice on how to handle the situation |   |   |   |   |
| I try to find comfort and understanding with others |   |   |   |   |
About this article
Cite this article
Schuerwegen, A., Huys, W., Coppens, V. et al. The Psychology of Kink: A Cross-Sectional Survey Study Investigating the Roles of Sensation Seeking and Coping Style in BDSM-Related Interests. Arch Sex Behav 50, 1197–1206 (2021). https://doi.org/10.1007/s10508-020-01807-7
Received:

Revised:

Accepted:

Published:

Issue Date:
Keywords
BDSM

Psychological mechanisms

Sensation seeking

Coping

Bondage and discipline

Sadism and masochism

Kink