Abstract
The olfactory system contributes significantly to human social behavior and especially to mate choice and empathic functioning. In this context, previous research examining individuals with impaired olfactory function indicated an influence of the sense of smell on different aspects of sexuality. However, the applied samples, methods, and results are diverse and an involvement of confounding factors, such as breathing problems, depression or social insecurity cannot be ruled out. The present study examined the potential correlation between odor threshold in healthy participants and their sexual desire, sexual experience, and sexual performance. In 70 adults (28 male, 42 female; mean age 24.8 ± 4.1 years), odor threshold was assessed using the "Sniffin' Sticks." The participants also responded to a battery of questions on sexual desire (Sexual Desire Inventory), sexual experience (orgasm frequency, perceived pleasantness of sexual activities on a visual analogue scale) as well as sexual performance (frequency of having sex, average duration of sexual intercourse). Odor sensitivity correlated positively with sexual experience: Participants with high olfactory sensitivity reported higher pleasantness of sexual activities. Further, women with high olfactory sensitivity reported a higher frequency of orgasms during sexual intercourse. These findings were exclusively present for sexual experience; no significant correlations were detected for sexual desire or sexual performance. The experience of sexual interactions appears to be enriched by olfactory input. We discuss that the perception of certain body odors may contribute to the concept of sexual pleasure by enhanced recruitment of reward areas.
Access options
Buy single article
Instant access to the full article PDF.
USD 39.95
Price excludes VAT (USA)
Tax calculation will be finalised during checkout.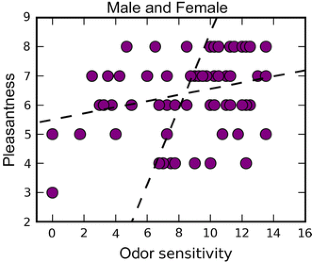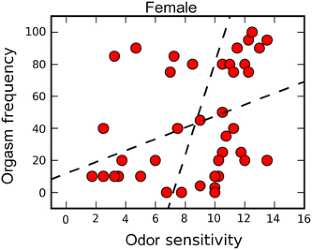 Notes
The study design represents a larger examination of sensory input on sexual behavior, including a psychophysical stroking experiment as well as the determination of features of discriminative touch and hair follicle density on the forearm (Jönsson et al., 2017). For reasons of clarity and comprehensibility, the method section will solely elaborate the determination of olfactory function with the "Sniffin' Sticks" and the applied questionnaires.
References
Beutel, M. E., Stöbel-Richter, Y., & Brähler, E. (2008). Sexual desire and sexual activity of men and women across their lifespans: Results from a representative German community survey. BJU International, 101(1), 76–82.

Blaustein, A. R. (1981). Sexual selection and mammalian olfaction. American Naturalist, 117(6), 1006–1010.

Brämerson, A., Nordin, S., & Bende, M. (2007). Clinical experience with patients with olfactory complaints, and their quality of life. Acta Oto-Laryngologica, 127(2), 167–174.

Burke, S. M., Veltman, D. J., Gerber, J., Hummel, T., & Bakker, J. (2012). Heterosexual men and women both show a hypothalamic response to the chemo-signal androstadienone. PLoS ONE, 7(7), e40993. https://doi.org/10.1371/journal.pone.0040993.

Croy, I., Bendas, J., Wittrodt, N., Lenk, M., Joraschky, P., & Weidner, K. (2017). Gender-specific relation between olfactory sensitivity and disgust perception. Chemical Senses, 42(6), 487–492. https://doi.org/10.1093/chemse/bjw163.

Croy, I., Bojanowski, V., & Hummel, T. (2013). Men without a sense of smell exhibit a strongly reduced number of sexual relationships, women exhibit reduced partnership security–a reanalysis of previously published data. Biological Psychology, 92(2), 292–294.

Croy, I., Nordin, S., & Hummel, T. (2014). Olfactory disorders and quality of life—an updated review. Chemical Senses, 39(3), 185–194.

Croy, I., Springborn, M., Lötsch, J., Johnston, A. N. B., & Hummel, T. (2011). Agreeable smellers and sensitive neurotics—correlations among personality traits and sensory thresholds. PLoS ONE, 6(4), e18701. https://doi.org/10.1371/journal.pone.0018701.

Digman, J. M. (1990). Personality structure: Emergence of the five-factor model. Annual Review of Psychology, 41(1), 417–440.

Doty, R. L. (1991). Olfactory system. In I. V. Getchell, R. L. Doty, L. M. Bartoshuk, & I. B. Snow, Jr. (Eds.), Smell and taste in health and disease (pp. 175–203). New York: Raven.

Ehrenstein, W. H., & Ehrenstein, A. (1999). Psychophysical methods. In U. Windhorst & H. Johansson (Eds.), Modern techniques in neuroscience research (Vol. 1, pp. 1211–1241). Berlin: Springer.

Gower, D., & Ruparelia, B. (1993). Olfaction in humans with special reference to odorous 16-androstenes: Their occurrence, perception and possible social, psychological and sexual impact. Journal of Endocrinology, 137(2), 167–187.

Graham, C. A., Janssen, E., & Sanders, S. A. (2000). Effects of fragrance on female sexual arousal and mood across the menstrual cycle. Psychophysiology, 37(1), 76–84.

Gudziol, V., Wolff-Stephan, S., Aschenbrenner, K., Joraschky, P., & Hummel, T. (2009). Depression resulting from olfactory dysfunction is associated with reduced sexual appetite—a cross-sectional cohort study. Journal of Sexual Medicine, 6(7), 1924–1929.

Herz, R. S., & Inzlicht, M. (2002). Sex differences in response to physical and social factors involved in human mate selection: The importance of smell for women. Evolution and Human Behavior, 23(5), 359–364.

Hufnagl, B., Lehrner, J., & Deecke, L. (2003). Development of a questionnaire for the assessment of self reported olfactory functioning. Chemical Senses, 28, E27.

Hummel, T., Kobal, G., Gudziol, H., & Mackay-Sim, A. (2007). Normative data for the "Sniffin'Sticks" including tests of odor identification, odor discrimination, and olfactory thresholds: An upgrade based on a group of more than 3,000 subjects. European Archives of Oto-Rhino-Laryngology, 264(3), 237–243.

Hummel, T., Sekinger, B., Wolf, S., Pauli, E., & Kobal, G. (1997). 'Sniffin'sticks': Olfactory performance assessed by the combined testing of odor identification, odor discrimination and olfactory threshold. Chemical Senses, 22, 39–52.

Jönsson, E. H., Bendas, J., Weidner, K., Wessberg, J., Olausson, H., Wasling, H. B., & Croy, I. (2017). The relation between human hair follicle density and touch perception. Scientific Reports, 7(1), 2499. https://doi.org/10.1038/s41598-017-02308-9.

Kobal, G., Hummel, T., Sekinger, B., Barz, S., Roscher, S., & Wolf, S. (1996). " Sniffin'sticks": Screening of olfactory performance. Rhinology, 34, 222–226.

Kromer, J., Hummel, T., Pietrowski, D., Giani, A., Sauter, J., Ehninger, G., … Croy, I. (2016). Influence of HLA on human partnership and sexual satisfaction. Scientific Reports, 6, 32550.

Kuhn, W., Koenig, J., Donoghue, A., Hillecke, T. K., & Warth, M. (2014). Psychometrische Eigenschaften einer deutschsprachigen Kurzversion des Sexual Desire Inventory (SDI-2). Zeitschrift für Sexualforschung, 27, 138–149.

Landis, B., Hummel, T., Hugentobler, M., Giger, R., & Lacroix, J. (2003). Ratings of overall olfactory function. Chemical Senses, 28, 691–694.

Lang, F. R., Lüdtke, O., & Asendorpf, J. B. (2001). Testgüte und psychometrische Äquivalenz der deutschen Version des Big Five Inventory (BFI) bei jungen, mittelalten und alten Erwachsenen. Diagnostica, 47, 111–121.

Merkonidis, C., Grosse, F., Ninh, T., Hummel, C., Haehner, A., & Hummel, T. (2015). Characteristics of chemosensory disorders—results from a survey. European Archives of Oto-Rhino-Laryngology, 272, 1403–1416.

Mondragón-Ceballos, R., Hernández-López, L., Cerda-Molina, A. L., de la O Rodriguez, C. E., & Chavira-Ramírez, R. (2013). Changes in men's salivary testosterone and cortisol levels, and in sexual desire after smelling female axillary and vulvar scents. Frontiers in Endocrinology, 4, 159. https://doi.org/10.3389/fendo.2013.00159.

Passie, T., Hartmann, U., Schneider, U., & Emrich, H. M. (2003). On the function of groaning and hyperventilation during sexual intercourse: Intensification of sexual experience by altering brain metabolism through hypocapnia. Medical Hypotheses, 60(5), 660–663.

Pfeiffer, C. A., & Johnston, R. E. (1994). Hormonal and behavioral responses of male hamsters to females and female odors: Roles of olfaction, the vomeronasal system, and sexual experience. Physiology & Behavior, 55, 129–138.

Savic, I., Berglund, H., Gulyas, B., & Roland, P. (2001). Smelling of odorous sex hormone-like compounds causes sex-differentiated hypothalamic activations in humans. Neuron, 31, 661–668.

Schienle, A., Schäfer, A., Stark, R., Walter, B., Franz, M., & Vaitl, D. (2003). Disgust sensitivity in psychiatric disorders: A questionnaire study. Journal of Nervous and Mental Disease, 191, 831–834.

Shu, C.-H., Hummel, T., Lee, P.-L., Chiu, C.-H., Lin, S.-H., & Yuan, B.-C. (2009). The proportion of self-rated olfactory dysfunction does not change across the life span. American Journal of Rhinology & Allergy, 23, 413–416.

Sorokowska, A., Oleszkiewicz, A., & Sorokowski, P. (2018). A compensatory effect on mate selection? Importance of auditory, olfactory, and tactile cues in partner choice among blind and sighted individuals. Archives of Sexual Behavior, 47(3), 597–603.

Spector, I. P., Carey, M. P., & Steinberg, L. (1996). The Sexual Desire Inventory: Development, factor structure, and evidence of reliability. Journal of Sex and Marital Therapy, 22, 175–190.

Spitzer, R., Kroenke, K., & Williams, J. (2000). Validation and utility of a self-report version of PRIME-MD. Primary Care Companion to the Journal of Clinical Psychiatry, 2(1), 31.

Stevenson, R. J. (2010). An initial evaluation of the functions of human olfaction. Chemical Senses, 35(1), 3–20.
Ethics declarations
Conflict of interest
The authors declare no conflict of interest.
Additional information
This is an invited paper, which was peer-reviewed, from the Presidential Symposium (Chair: Heather L. Hoffmann) at the meeting of the International Academy of Sex Research, Malmö, Sweden, July 2016.
About this article
Cite this article
Bendas, J., Hummel, T. & Croy, I. Olfactory Function Relates to Sexual Experience in Adults. Arch Sex Behav 47, 1333–1339 (2018). https://doi.org/10.1007/s10508-018-1203-x
Received:

Revised:

Accepted:

Published:

Issue Date:

DOI: https://doi.org/10.1007/s10508-018-1203-x
Keywords