Access options
Buy single article
Instant access to the full article PDF.
US$ 39.95
Tax calculation will be finalised during checkout.
Subscribe to journal
Immediate online access to all issues from 2019. Subscription will auto renew annually.
US$ 119
Tax calculation will be finalised during checkout.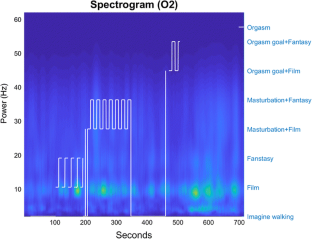 Notes
1.

The positive deflection in the brain response to a stimulus around 300 ms, or P300, is commonly thought to reflect context updating (Donchin & Coles, 1988). For example, novel stimuli provoke higher P300s than previously observed stimuli.
References
Amen, D. G., Willeumier, K., & Johnson, R. (2012). The clinical utility of brain SPECT imaging in process addictions. Journal of Psychoactive Drugs, 44, 18–26.

Arnow, B. A., Millheiser, L., Garrett, A., Lake Polan, M., Glover, G. H., Hill, K. R., et al. (2009). Women with hypoactive sexual desire disorder compared to normal females: A functional magnetic resonance imaging study. Neuroscience, 158, 484–502. doi:10.1016/j.neuroscience.2008.09.044.

Arthur, E., McGill, D., & Essary, E. H. (2014). Playing it straight: Framing strategies among reparative therapists. Sociological Inquiry, 84, 16–41. doi:10.1111/soin.12026.

Bauer, L. O. (2001). CNS recovery from cocaine, cocaine and alcohol, or opioid dependence: A p300 study. Clinical Neurophysiology, 112, 1508–1515. doi:10.1016/S1388-2457(01)00583-1.

Billieux, J., Schimmenti, A., Khazaal, Y., Maurage, P., & Heeren, A. (2015). Are we overpathologizing everyday life? A tenable blueprint for behavioral addiction research. Journal of Behavioral Addictions, 4, 119–123.

Blais-Lecours, S., Vaillancourt-Morel, M.-P., Sabourin, S., & Godbout, N. (2016). Cyberpornography: Time use, perceived addiction, sexual functioning, and sexual satisfaction. Cyberpsychology Behavior and Social Networking, 19, 649–655.

Bootzin, R. R., & Bailey, E. T. (2005). Understanding placebo, nocebo, and iatrogenic treatment effects. Journal of Clinical Psychology, 61, 871–880.

Bouchard, K. N., Dawson, S. J., & Lalumière, M. L. (2017). The effects of sex drive and paraphilic interests on paraphilic behaviours in a nonclinical sample of men and women. The Canadian Journal of Human Sexuality, 26, 97–111. doi:10.3138/cjhs.262-a8.

Brom, M., Laan, E., Everaerd, W., Spinhoven, P., Trimbos, B., & Both, S. (2016). The effect of a dopamine antagonist on conditioning of sexual arousal in women. Psychopharmacology, 233, 1179–1189.

Brown, C. C., Carroll, J. S., Yorgason, J. B., Busby, D. M., Willoughby, B. J., & Larson, J. H. (2017). A common-fate analysis of pornography acceptance, use, and sexual satisfaction among heterosexual married couples. Archives of Sexual Behavior, 46, 575–584. doi:10.1007/s10508-016-0732-4.

Busemeyer, J. R., & Stout, J. C. (2002). A contribution of cognitive decision models to clinical assessment: Decomposing performance on the bechara gambling task. Psychological Assessment, 14, 253–262.

Cahn, B. R., & Polich, J. (2006). Meditation states and traits: EEG, ERP, and neuroimaging studies. Psychological Bulletin, 132, 180–211. doi:10.1037/0033-2909.132.2.180.

Christodoulou, K., Germine, L., Anderson, A., Christodoulou, J., & McGrath, L. M. (2017). Dispelling the myth: Training in education or neuroscience decreases but does not eliminate beliefs in neuromyths. Frontiers in Psychology. doi:10.3389/fpsyg.2017.01314.

Culbreth, J. R. (2000). Substance abuse counselors with and without a personal history of chemical dependency: A review of the literature. Alcoholism Treatment Quarterly, 18, 67–82.

Daneback, K., Træen, B., & Månsson, S.-A. (2009). Use of pornography in a random sample of Norwegian heterosexual couples. Archives of Sexual Behavior, 38, 746–753. doi:10.1007/s10508-008-9314-4.

Dehlin, J. P., Galliher, R. V., Bradshaw, W. S., Hyde, D. C., & Crowell, K. A. (2015). Sexual orientation change efforts among current or former LDS church members. Journal of Counseling Psychology, 62, 95–105. doi:10.1037/cou0000011.

Demos, K. E., Heatherton, T. F., & Kelley, W. M. (2012). Individual differences in nucleus accumbens activity to food and sexual images predict weight gain and sexual behavior. Journal of Neuroscience, 32, 5549–5552. doi:10.1523/jneurosci.5958-11.2012.

Donchin, E., & Coles, M. G. (1988). Is the p300 component a manifestation of context updating? Behavioral and Brain Sciences, 11, 357–427.

Drescher, J. (2015). Queer diagnoses revisited: The past and future of homosexuality and gender diagnoses in DSM and ICD. International Review of Psychiatry, 27, 386–395. doi:10.3109/09540261.2015.1053847.

Fineberg, N. A., Chamberlain, S. R., Goudriaan, A. E., Stein, D. J., Vanderschuren, L. J., Gillan, C. M., et al. (2014). New developments in human neurocognition: Clinical, genetic, and brain imaging correlates of impulsivity and compulsivity. CNS Spectrums, 19, 69–89. doi:10.1017/S1092852913000801.

Gola, M., Wordecha, M., Sescousse, G., Lew-Starowicz, M., Kossowski, B., Wypych, M., et al. (2017). Can pornography be addictive? An fMRI study of men seeking treatment for problematic pornography use. Neuropsychopharmacology, 42, 2021–2031.

Goldstein, R. Z., & Volkow, N. D. (2002). Drug addiction and its underlying neurobiological basis: Neuroimaging evidence for the involvement of the frontal cortex. American Journal of Psychiatry, 159, 1642–1652. doi:10.1176/appi.ajp.159.10.1642.

Grubbs, J. B., Stauner, N., Exline, J. J., Pargament, K. I., & Lindberg, M. J. (2015). Perceived addiction to internet pornography and psychological distress: Examining relationships concurrently and over time. Psychology of Addictive Behaviors, 29, 1056–1067. doi:10.1037/adb0000114.

Hesse, C., & Pedersen, C. L. (2017). Porn sex versus real sex: How sexually explicit material shapes our understanding of sexual anatomy, physiology, and behaviour. Sexuality and Culture, 21, 754–775. doi:10.1007/s12119-017-9413-2.

Hoffmann, H., Goodrich, D., Wilson, M., & Janssen, E. (2014). The role of classical conditioning in sexual compulsivity: A pilot study. Sexual Addiction and Compulsivity, 21, 75–91. doi:10.1080/10720162.2014.895460.

Hoyle, R. H., Fejfar, M. C., & Miller, J. D. (2000). Personality and sexual risk taking: A quantitative review. Journal of Personality, 68, 1203–1231.

Ischebeck, M., Endrass, T., Simon, D., & Kathmann, N. (2011). Auditory novelty processing is enhanced in obsessive–compulsive disorder. Depression and Anxiety, 28, 915–923.

Kraus, S. W., Voon, V., & Potenza, M. N. (2016). Should compulsive sexual behavior be considered an addiction? Addiction, 111, 2097–2106. doi:10.1111/add.13297.

Krueger, R. B. (2016). Diagnosis of hypersexual or compulsive sexual behavior can be made using ICD-10 and DSM-5 despite rejection of this diagnosis by the American Psychiatric Association. Addiction, 111, 2110–2111. doi:10.1111/add.13366.

Laan, E., Martoredjo, D. K., Hesselink, S., Snijders, N., & van Lunsen, R. H. (2016). Young women's genital self-image and effects of exposure to pictures of natural vulvas. Journal of Psychosomatic Obstetrics and Gynecology. doi:10.1080/0167482X.2016.1233172.

Laier, C., & Brand, M. (2017). Mood changes after watching pornography on the internet are linked to tendencies towards internet-pornography-viewing disorder. Addictive Behaviors Reports, 5, 9–13. doi:10.1016/j.abrep.2016.11.003.

Ley, D., Prause, N., & Finn, P. (2014). The emperor has no clothes: A review of the 'pornography addiction' model. Current Sexual Health Reports, 6, 94–105. doi:10.1007/s11930-014-0016-8.

Lilienfeld, S. O., Ritschel, L. A., Lynn, S. J., Cautin, R. L., & Latzman, R. D. (2014a). Why ineffective psychotherapies appear to work. Perspectives on Psychological Science, 9, 355–387. doi:10.1177/1745691614535216.

Lilienfeld, S. O., Ritschel, L. A., Lynn, S. J., Cautin, R. L., & Latzman, R. D. (2014b). Why ineffective psychotherapies appear to work: A taxonomy of causes of spurious therapeutic effectiveness. Perspectives on Psychological Science, 9, 355–387. doi:10.1177/1745691614535216.

McFall, R. M. (1991). Manifesto for a science of clinical psychology. The Clinical Psychologist, 44, 75–88.

McFall, R. M. (2000). Elaborate reflections on a simple manifesto. Applied and Preventive Psychology, 9, 5–21.

Meehl, P. E. (1957). When shall we use our heads instead of the formula? Journal of Counseling Psychology, 4, 268–273.

Meehl, P. E. (1973). Psychodiagnosis: Selected papers. Minneapolis: University of Minnesota Press.

Moeller, F. G., Barratt, E. S., Fischer, C. J., Dougherty, D. M., Reilly, E. L., Mathias, C. W., et al. (2004). P300 event-related potential amplitude and impulsivity in cocaine-dependent subjects. Neuropsychobiology, 50, 167–173. doi:10.1007/pl00005481.

Moholy, M., Prause, N., Proudfit, G. H., Rahman, A., & Fong, T. (2015). Sexual desire, not hypersexuality, predicts self-regulation of sexual arousal. Cognition and Emotion, 29, 1505–1516. doi:10.1080/02699931.2014.993595.

Novak, M. A. (2017). [Review of the book Sex addiction as affect dysregulation: A neurobiologically informed holistic treatment by A. Katehakis]. Journal of Sex and Marital Therapy, 43, 288–289. doi:10.1080/0092623X.2017.1297631.

Peter, J., & Valkenburg, P. M. (2009). Adolescents' exposure to sexually explicit internet material and sexual satisfaction: A longitudinal study. Human Communication Research, 35, 171–194. doi:10.1111/j.1468-2958.2009.01343.x.

Peters, E., Vastfjall, D., Garling, T., & Slovic, P. (2006). Affect and decision making: A "hot" topic. Journal of Behavioral Decision Making, 19, 79–85.

Prause, N., & Pfaus, J. (2015a). Red herring: Hook, line, and stinker. Sexual Medicine, 3, 221–224. doi:10.1002/sm2.70.

Prause, N., & Pfaus, J. (2015b). Viewing sexual stimuli associated with greater sexual responsiveness, not erectile dysfunction. Sexual Medicine, 3, 90–98. doi:10.1002/sm2.58.

Prause, N., Siegle, G. J., Deblieck, C., Wu, A., & Iacoboni, M. (2016a). EEG to primary rewards: Predictive utility and malleability by brain stimulation. PLoS ONE. doi:10.1371/journal.pone.0165646.

Prause, N., Steele, V. R., Staley, C., & Sabatinelli, D. (2015). Late positive potential to explicit sexual images associated with the number of sexual intercourse partners. Social Cognitive and Affective Neuroscience, 10, 93–100. doi:10.1093/scan/nsu024.

Prause, N., Steele, V. R., Staley, C., Sabatinelli, D., & Hajcak, G. (2016b). Prause et al. (2015) the latest falsification of addiction predictions. Biological Psychology, 120, 159–161. doi:10.1016/j.biopsycho.2016.05.007.

Rissel, C., Richters, J., de Visser, R. O., McKee, A., Yeung, A., & Caruana, T. (2016). A profile of pornography users in Australia: Findings from the second Australian Study of Health and Relationships. Journal of Sex Research, 54, 227–240. doi:10.1080/00224499.2016.1191597.

Russo, P. M., De Pascalis, V., Varriale, V., & Barratt, E. S. (2008). Impulsivity, intelligence and p300 wave: An empirical study. International Journal of Psychophysiology, 69, 112–118. doi:10.1016/j.ijpsycho.2008.03.008.

Safron, A. (2016). What is orgasm? A model of sexual trance and climax via rhythmic entrainment. Socioaffective Neuroscience of Psychology, 6, 31763. doi:10.3402/snp.v6.31763.

Salzinger, K. (2005). Clinical, statistical, and broken-leg predictions. Behavior and Philosophy, 33, 91–99.

Schneider, J. P. (2014). Compulsive and addictive sexual disorders and the family. CNS Spectrums, 5, 53–62. doi:10.1017/S1092852900007677.

Shafir, E., Simonson, I., & Tversky, A. (1993). Reason-based choice. Cognition, 49, 11–36. doi:10.1016/0010-0277(93)90034-S.

Staley, C., & Prause, N. (2013). Erotica viewing effects on intimate relationships and self/partner evaluations. Archives of Sexual Behavior, 42, 615–624. doi:10.1007/s10508-012-0034-4.

Versace, F., Engelmann, J., Jackson, E., Slapin, A., Cortese, K., Bevers, T., et al. (2013). Brain responses to erotic and other emotional stimuli in breast cancer survivors with and without distress about low sexual desire: A preliminary fMRI study. Brain Imaging and Behavior, 7, 533–542. doi:10.1007/s11682-013-9252-1.

Voon, V., Mole, T. B., Banca, P., Porter, L., Morris, L., Mitchell, S., et al. (2014). Neural correlates of sexual cue reactivity in individuals with and without compulsive sexual behaviours. PLoS ONE. doi:10.1371/journal.pone.0102419.

Walton, M. T., Cantor, J. M., Bhullar, N., & Lykins, A. D. (2017). Hypersexuality: A critical review and introduction to the "sexhavior cycle". Archives of Sexual Behavior. doi:10.1007/s10508-017-0991-8.

Walton, M. T., Lykins, A. D., & Bhullar, N. (2016). Sexual arousal and sexual activity frequency: Implications for understanding hypersexuality [Letter to the Editor]. Archives of Sexual Behavior, 45, 777–782. doi:10.1007/s10508-016-0727-1.

Wehrum, S., Klucken, T., Kagerer, S., Walter, B., Hermann, A., Vaitl, D., et al. (2013). Gender commonalities and differences in the neural processing of visual sexual stimuli. Journal of Sexual Medicine, 10, 1328–1342. doi:10.1111/jsm.12096.

Williams, J. D., & Gruzelier, J. H. (2001). Differentiation of hypnosis and relaxation by analysis of narrow band theta and alpha frequencies. International Journal of Clinical and Experimental Hypnosis, 49, 185–206.

Winters, J., Christoff, K., & Gorzalka, B. B. (2009). Conscious regulation of sexual arousal in men. Journal of Sex Research, 46, 330–343.

Zucker, K. J. (2016). The science and politics of diagnosis: Reflections on the DSM-5 Work Group on Sexual and Gender Identity Disorders. In S. B. Levine, C. B. Risen, & S. E. Althof (Eds.), Handbook of clinical sexuality for mental health professionals (3rd ed., pp. 362–368). New York: Routledge.
About this article
Cite this article
Prause, N. Evaluate Models of High-Frequency Sexual Behaviors Already. Arch Sex Behav 46, 2269–2274 (2017). https://doi.org/10.1007/s10508-017-1078-2
Received:

Accepted:

Published:

Issue Date:
Keywords
Addiction Model

Experience Orgasm

Sexual Desire Levels

Empirically Supported Treatments (ESTs)

Risky Predictions