Abstract
Research exploring the impact of circumcision on the sexual lives of men has failed to consider men's attitudes toward their circumcision status, which may, in part, help to explain inconsistent findings in the literature. The current study explored the potential relationship between attitudinal factors toward one's circumcision status, timing of one's circumcision, and sexual correlates. A total of 811 men (367 circumcised as neonates, 107 circumcised in childhood, 47 circumcised in adulthood, and 290 intact) aged 19–84 years (M = 33.02, SD = 12.54) completed an online survey. We assessed attitudes toward one's circumcision status, three domains of body image (Male Genital Image Scale, Body Exposure during Sexual Activities Questionnaire, Body Image Satisfaction Scale), and self-reported sexual functioning (International Index of Erectile Function). Men who were circumcised as adults or intact men reported higher satisfaction with their circumcision status than those who were circumcised neonatally or in childhood. Lower satisfaction with one's circumcision status—but not men's actual circumcision status—was associated with worse body image and sexual functioning. These findings identify the need to control for attitudes toward circumcision status in the study of sexual outcomes related to circumcision. Future research is required to estimate the number of men who are dissatisfied with their circumcision status, to explore the antecedents of distress in this subpopulation, and to understand the extent of negative sexual outcomes associated with these attitudes.
Access options
Buy single article
Instant access to the full article PDF.
USD 39.95
Price excludes VAT (USA)
Tax calculation will be finalised during checkout.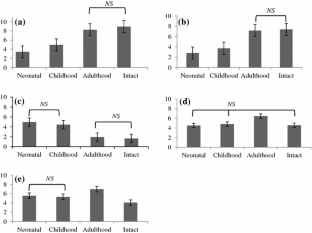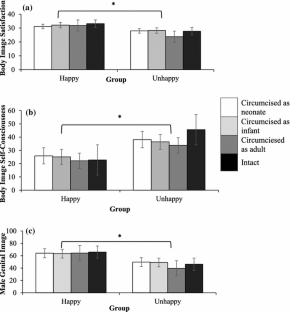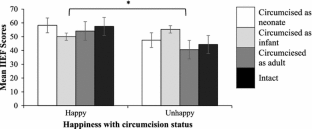 References
Algars, M., Santtila, P., Jern, P., Johansson, A., & Westerlund, M. (2011). Sexual body image and its correlates: A population-based study of Finnish women and men. International Journal of Sexual Health, 23, 26–34.

Barlow, D. H. (1986). Causes of sexual dysfunction: The role of anxiety and cognitive interference. Journal of Consulting and Clinical Psychology, 54, 140–148.

Beasley, T. M., & Schumacker, R. E. (1995). Multiple regression approach to analyzing contingency tables: Post hoc and planned comparison procedures. Journal of Experimental Education, 64, 79–93.

Blank, S., Brady, M., Buerk, E., Carlo, W., Diekema, D., Freedman, A., et al. (2012). Male circumcision. Pediatrics, 130, e756–e785.

Bossio, J. A., Pukall, C. F., & Steele, S. (2014). A review of the current state of the male circumcision literature. Journal of Sexual Medicine, 11, 2847–2864.

Bossio, J. A., Pukall, C. F., & Steele, S. (2016). Examining penile sensitivity in neonatally circumcised and intact men using quantitative sensory testing. Journal of Urology, 195, 1848–1853.

Boyle, G. J. (2015). Circumcision of infants and children: Short-term trauma and long-term psychosexual harm. Advances in Sexual Medicine, 5, 22–38.

Breuer, R. (2013). Examining the relationships between recreational physical activity, body image, and sexual functioning and satisfaction in men. Doctoral dissertation. Retrieved from The Atrium Thesis Database (URI: http://hdl.handle.net/10214/7290).

Cash, T. F., Fleming, E. C., Alindogan, J., Steadman, L., & Whitehead, A. (2002). Beyond body image as a trait: The development and validation of the Body Image States Scale. Eating Disorders, 10, 103–113.

Cash, T. F., Maikkula, C. L, & Yamamiya, Y. (2004). "Baring the body in the bedroom": Body image, sexual self-schemas, and sexual functioning among college women and men. Electronic Journal of Human Sexuality, 7. Retrieved from http://www.ejhs.org/volume7/bodyimage.html.

Cold, C. J., & Taylor, J. R. (1999). The prepuce. British Journal of Urology International, 83, 34–44.

Davis, S. N., Patterson, L. Q., & Binik, Y. M. (2011). Male genital image: Measurement and implications for medical conditions and surgical practice. Sexologies, 21, 43–47.

Earp, B. D. (2015). Do the benefits of male circumcision outweigh the risks? A critique of the proposed CDC guidelines. Frontiers in Pediatrics. doi:10.3389/fped.2015.00018.

Fink, K. S., Carson, C. C., & DeVellis, R. F. (2002). Adult circumcision outcomes study: Effect on erectile function, penile sensitivity, sexual activity and satisfaction. Journal of Urology, 167, 2113–2116.

Gaither, T. W., Allen, I. E., Osterberg, E. C., Alwal, A., Harris, C. R., & Breyer, B. N. (2017). Characterization of genital dissatisfaction in a national sample of U.S. men. Archives of Sexual Behavior, 46, 2123–2130.

Gillen, M. M., Lefkowitz, E. S., & Shearer, C. L. (2006). Does body image play a role in risky sexual behavior and attitudes? Journal of Youth and Adolescence, 35, 230–242.

Hammond, T. (1999). A preliminary poll of men circumcised in infancy or childhood. BJU International, 83, 85–92.

Kigozi, G., Watya, S., Polis, C. B., Buwembo, D., Kiggundu, V., Wawer, M. J., et al. (2008). The effect of male circumcision on sexual satisfaction and function, results from a randomized trial of male circumcision for human immunodeficiency virus prevention, Rakai, Uganda. BJU International, 101, 65–70.

Kim, D., & Pang, M. G. (2007). The effect of male circumcision on sexuality. BJU International, 99, 619–622.

Kinsey, A. C., Pomeroy, W. B., & Martin, C. E. (1948). Sexual behavior in the human male. Philadelphia: W. B. Saunders Co.

Laumann, E. O., Masi, C. M., & Zuckerman, E. W. (1997). Circumcision in the United States: Prevalence, prophylactic effects, and sexual practice. Journal of the American Medical Association, 277, 1052–1057.

Laumann, E. O., Paik, A., & Rosen, R. C. (1999). Sexual dysfunction in the United States: Prevalence and predictors. Journal of the American Medical Association, 281, 537–544.

Lever, J., Frederick, D. A., & Peplau, L. A. (2006). Does size matter? Men's and women's views on penis size across the lifespan. Psychology of Men and Masculinity, 7, 129–143.

Masood, S., Patel, H., Himpson, R., Palmer, J., Mufti, G., & Sheriff, M. (2005). Penile sensitivity and sexual satisfaction after circumcision: Are we informing men correctly? Urology International, 75, 62–66.

McMath, A. (2015). Infant male circumcision and the autonomy of the child: Two ethical questions. Journal of Medical Ethics, 41, 687–690.

Morrison, T. G., Bearden, A., Ellis, S. R., & Harriman, R. (2005). Correlates of genital perceptions among Canadian post-secondary students. Electronic Journal of Human Sexuality, 8. http://www.ejhs.org/volume8/GenitalPerceptions.htm.

Payne, K., Thaler, L., Kukkonen, T., Carrier, S., & Binik, Y. (2007). Sensation and sexual arousal in circumcised and uncircumcised men. Journal of Sexual Medicine, 4, 667–674.

Peplau, L. A., Frederick, D. A., Yee, C., Maisel, N., Lever, J., & Ghavami, N. (2009). Body image satisfaction in heterosexual, gay, and lesbian adults. Archives of Sexual Behavior, 38, 713–725.

Pruzinsky, T., & Cash, T. F. (2002). Body image: A handbook of theory, research, and clinical practice. New York, NY: The Guilford Press.

Reinholtz, R. K., & Muehlenhard, C. L. (1995). Genital perceptions and sexual activity in a college population. Journal of Sex Research, 32, 155–169.

Rosen, R. C., Riley, A., Wagner, G., Osterloh, I. H., Kirkpatrick, J., & Mishra, A. (1997). The International Index of Erectile Function (IIEF): A multidimensional scale for assessment of erectile dysfunction. Urology, 49, 822–830.

Sanchez, D. T., & Kiefer, A. K. (2007). Body concerns in and out of the bedroom: Implications for sexual pleasure and problems. Archives of Sexual Behavior, 36, 808–820.

Schlossberger, N. M., Turner, R. A., & Irwin, C. E. (1991). Early adolescent knowledge and attitudes about circumcision: Methods and implications for research. Journal of Adolescent Health, 13, 293–297.

Senel, F. M., Demirelli, M., Misirlioglu, F., & Sezgin, T. (2012). Adult male circumcision performed with plastic clamp technique in Turkey: Results and long-term effects on sexual function. Urology Journal, 9, 700–705.

Senol, M. G., Sen, B., Karademir, K., Sen, H., & Saraçoglu, M. (2008). The effect of male circumcision on pudendal evoked potentials and sexual satisfaction. Acta Neurologica Belgica, 108, 90–93.

Shen, Z., Chen, S., Zhu, C., Wan, Q., & Chen, Z. (2004). Erectile function evaluation after adult circumcision. National Journal of Andrology, 10, 18–19.

Son, H., Song, S. H., Kim, S. W., & Paick, J. S. (2010). Self-reported premature ejaculation prevalence and characteristics in Korean young males: Community-based data from an internet survey. Journal of Andrology, 31, 540–546.

Sorrells, M. L., Snyder, J. L., Reiss, M. D., Eden, C., Milos, M. F., Wilcox, N., et al. (2007). Fine-touch pressure thresholds in the adult penis. BJU International, 99, 864–869.

Svoboda, J. S., Van Howe, R. S., & Dwyer, J. G. (2000). Informed consent for neonatal circumcision: An ethical and legal conundrum. Journal of Contemporary Health Literature and Policy, 17, 61–134.

Taylor, J. R., Lockwood, A. P., & Taylor, A. J. (1996). The prepuce: Specialized mucosa of the penis and its loss to circumcision. British Journal of Urology, 77, 291–295.

Winter, H. (1989). An examination of the relationships between penis size and body image, genital image, and perception of sexual competency in the male. Doctoral dissertation, New York University, School of Education, Health, Nursing, and Arts Professions.

World Health Organization. (2007). Male circumcision: Global trends and determinants of prevalence, safety, and acceptability (pp. 1–30). Author. Retrieved from http://www.who.int/reproductivehealth/publications/rtis/9789241596169/en/.

Zhang, G. X., Yu, L. P., Bai, W. J., & Wang, X. F. (2012). Selective resection of dorsal nerves of penis for premature ejaculation. International Journal of Andrology, 35, 873–879.
Acknowledgements
We would like to extend a warm thank you to the many participants who took part in this research. We would also like give a special thank you to Sean Dougherty for developing the coding software for this data.
Funding
This research was funded by Social Sciences and Humanities Research Council (SSHRC), awarded to the first author, and Pfizer-Canadian Male Sexual Health Council (CMSHC), awarded to the second author.
Ethics declarations
Conflict of interest
The authors declare that they have no conflict of interest.
Ethics Approval
All procedures performed in studies involving human participants were in accordance with the ethical standards of the institutional and/or national research committee and with the 1964 Helsinki declaration and its later amendments or comparable ethical standards.
Informed Consent
Informed consent was obtained from all individual participants included in the study.
About this article
Cite this article
Bossio, J.A., Pukall, C.F. Attitude Toward One's Circumcision Status Is More Important than Actual Circumcision Status for Men's Body Image and Sexual Functioning. Arch Sex Behav 47, 771–781 (2018). https://doi.org/10.1007/s10508-017-1064-8
Received:

Revised:

Accepted:

Published:

Issue Date:

DOI: https://doi.org/10.1007/s10508-017-1064-8
Keywords