Abstract
Touching is a powerful means for eliciting sexual arousal. Here, we establish the topographical organization of bodily regions triggering sexual arousal in humans. A total of 704 participants were shown images of same and opposite sex bodies and asked to color the bodily regions whose touching they or members of the opposite sex would experience as sexually arousing while masturbating or having sex with a partner. Resulting erogenous zone maps (EZMs) revealed that the whole body was sensitive to sexual touching, with erogenous hotspots consisting of genitals, breasts, and anus. The EZM area was larger while having sex with a partner versus while masturbating, and was also dependent on sexual desire and heterosexual and homosexual interest levels. We conclude that tactile stimulation of practically all bodily regions may trigger sexual arousal. Extension of the erogenous zones while having sex with a partner may reflect the role of touching in maintenance of reproductive pair bonds.
Access options
Buy single article
Instant access to the full article PDF.
USD 39.95
Price excludes VAT (USA)
Tax calculation will be finalised during checkout.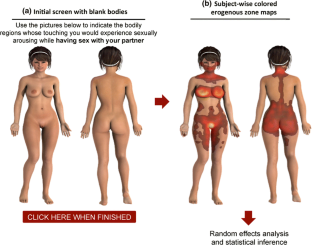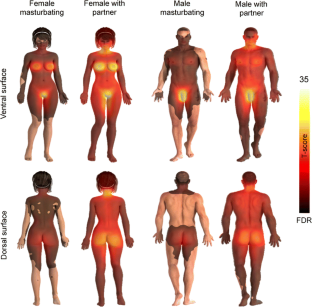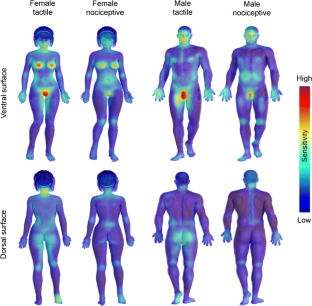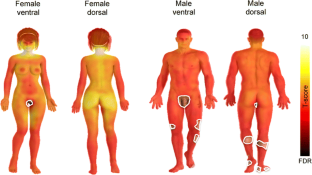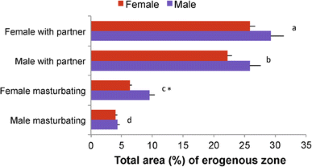 Notes
A trivial explanation for these results is that while masturbating an individual cannot touch all of their back. However, the overall pattern of results remains essentially unchanged even when only the ventral surface of the body is considered.

These maps reflect participants' evaluation of tactile and nociceptive sensitivity, rather than true sensory thresholds. However, the maps shown in Fig. 4 agree in general well with prior studies using sparse spatial sampling of tactile sensitivity (Ackerley, Carlsson, Wester, Olausson, & Backlund Wasling, 2014; Mancini et al., 2014).
References
Ackerley, R., Carlsson, I., Wester, H., Olausson, H., & Backlund Wasling, H. (2014). Touch perceptions across skin sites: Differences between sensitivity, direction discrimination and pleasantness. Frontiers in Behavioral Neuroscience, 8, 54. doi:10.3389/fnbeh.2014.00054.

Baker, R. R., & Bellis, M. A. (1993). Human sperm competition–ejaculate adjustment by males and the function of masturbation. Animal Behaviour, 46, 861–885.

Bartholomew, K., & Horowitz, L. M. (1991). Attachment styles among young adults—A test of a 4-category model. Journal of Personality and Social Psychology, 61, 226–244.

Blakemore, S. J., Wolpert, D., & Frith, C. (2000). Why can't you tickle yourself? NeuroReport, 11, R11–R16.

Chivers, M. L., Seto, M. C., Lalumiere, M. L., Laan, E., & Grimbos, T. (2010). Agreement of self-reported and genital measures of sexual arousal in men and women: A meta-analysis. Archives of Sexual Behavior, 39, 5–56.

Dean, R. C., & Lue, T. F. (2005). Physiology of penile erection and pathophysiology of erectile dysfunction. Urologic Clinics of North America, 32, 379–395.

Derogatis, L. R. (1978). The DSFI: A multidimensional measure of sexual functioning. Jourrnal of Sex & Marital Therapy, 5, 244–281.

Dunbar, R. I. M. (2010). The social role of touch in humans and primates: Behavioural function and neurobiological mechanisms. Neuroscience and Biobehavioral Reviews, 34, 260–268.

Fillingim, R. B., & Maixner, W. (1995). Gender differences in the responses to noxious stimuli. Pain Forum, 4, 209–221.

Ford, C. S., & Beach, F. A. (1951). Patterns of sexual behavior. New York: Harper & Brothers.

Georgiadis, J. R., Kortekaas, R., Kuipers, R., Nieuwenburg, A., Pruim, J., Reinders, A. A., & Holstege, G. (2006). Regional cerebral blood flow changes associated with clitorally induced orgasm in healthy women. European Journal of Neuroscience, 24, 3305–3316.

Georgiadis, J. R., Reinders, A., Paans, A. M. J., Renken, R., & Kortekaas, R. (2009). Men versus women on sexual brain function: Prominent differences during tactile genital stimulation, but not during orgasm. Human Brain Mapping, 30, 3089–3101.

Gescheider, G. A., Bolanowski, S. J., Hall, K. L., Hoffman, K. E., & Verrillo, R. T. (1994). The effects of aging on information-processing channels in the sense of touch 1. Absolute sensitivity. Somatosensory and Motor Research, 11, 345–357.

Hertenstein, M. J., Verkamp, J. M., Kerestes, A. M., & Holmes, R. M. (2006). The communicative functions of touch in humans, nonhuman primates, and rats: A review and synthesis of the empirical research. Genetic, Social, and General Psychology Monographs, 132, 5–94.

Hietanen, J. K., Glerean, E., Hari, R., & Nummenmaa, L. (in press). Bodily maps of emotions across child development. Developmental Science. doi:10.1111/desc.12389.

Hubscher, C. H., & Johnson, R. D. (2003). Responses of thalamic neurons to input from the male genitalia. Journal of Neurophysiology, 89, 2–11.

Hurlbert, D. F., Apt, C., Hurlbert, M. K., & Pierce, A. P. (2000). Sexual compatibility and the sexual desire-motivation relation in females with hypoactive sexual desire disorder. Behavior Modification, 24, 325–347.

Janssen, E. (2011). Sexual arousal in men: A review and conceptual analysis. Hormones and Behavior, 59, 708–716.

Jones, S. E., & Yarbrough, A. E. (1985). A naturalistic study of the meanings of touch. Communication Monographs, 52, 19–56.

Kelly, M. P., Strassberg, D. S., & Turner, C. M. (2006). Behavioral assessment of couples' communication in female orgasmic disorder. Journal of Sex and Marital Therapy, 32, 81–95.

Komisaruk, B. R., & Whipple, B. (2005). Functional MRI of the brain during orgasm in women. Annual Review of Sex Research, 16, 62–86.

Lang, P. J. (1995). The emotion probe: Studies of motivation and attention. American Psychologist, 50, 372–385.

Levin, R., & Meston, C. (2006). Nipple/breast stimulation and sexual arousal in young men and women. Journal of Sexual Medicine, 3, 450–454.

Lippa, R. A. (2006). Is high sex drive associated with increased sexual attraction to both sexes? It depends on whether you are male or female. Psychological Science, 17, 46–52.

Liu, Q., Vrontou, S., Rice, F. L., Zylka, M. J., Dong, X., & Anderson, D. J. (2007). Molecular genetic visualization of a rare subset of unmyelinated sensory neurons that may detect gentle touch. Nature Neuroscience, 10, 946–948.

Loken, L. S., Wessberg, J., Morrison, I., McGlone, F., & Olausson, H. (2009). Coding of pleasant touch by unmyelinated afferents in humans. Nature Neuroscience, 12, 547–548.

Mancini, F., Bauleo, A., Cole, J., Lui, F., Porro, C. A., Haggard, P., & Iannetti, G. D. (2014). Whole-body mapping of spatial acuity for pain and touch. Annals of Neurology, 75, 917–924.

Martin-Alguacil, N., Schober, J., Kow, L.-M., & Pfaff, D. (2006). Arousing properties of the vulvar epithelium. Journal of Urology, 176, 456–462.

Nummenmaa, L., Glerean, E., Hari, R., & Hietanen, J. K. (2014). Bodily maps of emotions. Proceedings of the National Academy of Sciences of the United States of America, 111, 646–651.

Olausson, H., Lamarre, Y., Backlund, H., Morin, C., Wallin, B. G., Starck, G., & Bushnell, M. C. (2002). Unmyelinated tactile afferents signal touch and project to insular cortex. Nature Neuroscience, 5, 900–904.

Oliver, M. B., & Hyde, J. S. (1993). Gender differences in sexuality: A meta-analysis. Psychological Bulletin, 114, 29–51.

Penfield, W., & Boldrey, E. (1937). Somatic motor and sensory representation in the cerebral cortex of man as studied by electrical stimulation. Brain, 60, 389–443.

Purnine, D. M., & Carey, M. P. (1997). Interpersonal communication and sexual adjustment: The roles of understanding and agreement. Journal of Consulting and Clinical Psychology, 65, 1017–1025.

Ruben, J., Schwiemann, J., Deuchert, M., Meyer, R., Krause, T., Curio, G., … Villringer, A. (2001). Somatotopic organization of human secondary somatosensory cortex. Cerebral Cortex, 11, 463–473.

Schober, J. M., Meyer-Bahlburg, H. F. L., & Dolezal, C. (2009). Self-ratings of genital anatomy, sexual sensitivity and function in men using the Self-Assessment of Genital Anatomy and Sexual Function, Male questionnaire. BJU International, 103, 1096–1103.

Sell, R. L. (1996). The Sell assessment of sexual orientation: Background and scoring. Journal of Gay, Lesbian, and Bisexual Identity, 1, 295–310.

Steers, W. D. (2000). Neural pathways and central sites involved in penile erection neuroanatomy and clinical implications. Neuroscience and Biobehavioral Reviews, 24, 507–516.

Suvilehto, J., Glerean, E., Dunbar, R. I. M., Hari, R., & Nummenmaa, L. (2015). Topography of social touching depends on emotional bonds between humans. Proceedings of the National Academy of Sciences of the United States of America, 112, 13811–13816.

Turnbull, O. H., Lovett, V. E., Chaldecott, J., & Lucas, M. D. (2014). Reports of intimate touch: Erogenous zones and somatosensory cortical organization. Cortex, 53, 146–154.

Walen, S. R., & Roth, D. (1987). A cognitive approach. In J. H. Geer & W. T. O'Donohue (Eds.), Theories of human sexuality (pp. 335–362). New York: Plenum Press.

Willis, F, Jr, & Briggs, L. (1992). Relationship and touch in public settings. Journal of Nonverbal Behavior, 16, 55–63.
Acknowledgments
This research was supported by Academy of Finland (MIND Program Grants #265915 to LN and #266187 to JKH).
Ethics declarations
Conflict of interest
The authors declare no competing financial interests.
Electronic supplementary material
Below is the link to the electronic supplementary material.
About this article
Cite this article
Nummenmaa, L., Suvilehto, J.T., Glerean, E. et al. Topography of Human Erogenous Zones. Arch Sex Behav 45, 1207–1216 (2016). https://doi.org/10.1007/s10508-016-0745-z
Received:

Revised:

Accepted:

Published:

Issue Date:

DOI: https://doi.org/10.1007/s10508-016-0745-z
Keywords
Somatosensation

Arousal

Sexuality

Touch

Bonding