Abstract
The present study utilized a sample of 1755 adult couples in heterosexual romantic relationships to examine how different patterns of pornography use between romantic partners may be associated with relationship outcomes. While pornography use has been generally associated with some negative and some positive couple outcomes, no study has yet explored how differences between partners may uniquely be associated with relationship well-being. Results suggested that greater discrepancies between partners in pornography use were related to less relationship satisfaction, less stability, less positive communication, and more relational aggression. Mediation analyses suggested that greater pornography use discrepancies were primarily associated with elevated levels of male relational aggression, lower female sexual desire, and less positive communication for both partners which then predicted lower relational satisfaction and stability for both partners. Results generally suggest that discrepancies in pornography use at the couple level are related to negative couple outcomes. Specifically, pornography differences may alter specific couple interaction processes which, in turn, may influence relationship satisfaction and stability. Implications for scholars and clinicians interested in how pornography use is associated with couple process are discussed.
This is a preview of subscription content, log in to check access.
Access options
Buy single article
Instant access to the full article PDF.
US$ 39.95
Price includes VAT for USA
Subscribe to journal
Immediate online access to all issues from 2019. Subscription will auto renew annually.
US$ 199
This is the net price. Taxes to be calculated in checkout.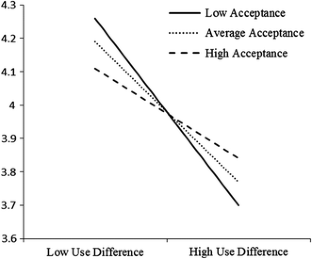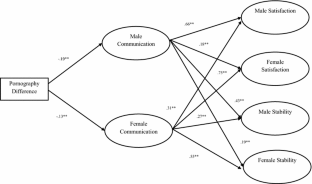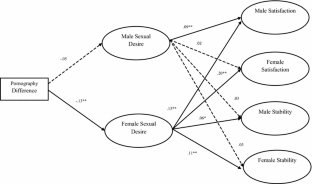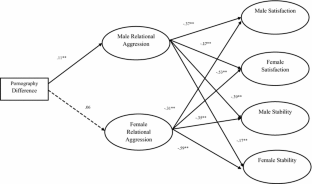 References
Aiken, L. S., & West, S. G. (1991). Multiple regression: Testing and interpreting interactions. Newbury Park, CA: Sage.

Booth, A., Johnson, D., & Edwards, J. N. (1983). Measuring marital instability. Journal of Marriage and the Family, 45, 387–394.

Bridges, A. J., Bergner, R. M., & Hesson-McInnis, M. (2003). Romantic partners' use of pornography: Its significance for women. Journal of Sex and Marital Therapy, 29, 1–14.

Bridges, A. J., & Morokoff, P. J. (2011). Sexual media use and relational satisfaction in heterosexual couples. Personal Relationships, 18, 562–585.

Busby, D. M., Holman, T. B., & Niehuis, S. (2009). The association between partner enhancement and self-enhancement and relationship quality outcomes. Journal of Marriage and Family, 71, 449–464.

Busby, D. M., Holman, T. B., & Taniguchi, N. (2001). RELATE: Relationship evaluation of the individual, family, cultural, and couple contexts. Family Relations, 50, 308–316.

Busby, D. M., Ivey, D. C., Harris, S. M., & Ates, C. (2007). Self-directed, therapist-directed, and assessment-based interventions for premarital couples. Family Relations, 56, 279–290.

Butler, M. H., & Seedall, R. B. (2006). The attachment relationship in recovery from addiction. Part 1: Relationship mediation. Sexual Addiction & Compulsivity, 13, 289–315.

Carroll, J. S., Nelson, D. A., Yorgason, J. B., Harper, J. M., Ashton, R., & Jensen, A. C. (2010). Relational aggression in marriage. Aggressive Behavior, 36, 315–329.

Carroll, J. S., Padilla-Walker, L. M., Nelson, L. J., Olson, C. D., Barry, C., & Madsen, S. D. (2008). Generation XXX: Pornography acceptance and use among emerging adults. Journal of Adolescent Research, 23, 6–30.

Cassidy, J., & Shaver, P. R. (Eds.). (1999). Handbook of attachment: Theory, research, and clinical applications. New York: Guilford Press.

Cook, W. L., & Kenny, D. A. (2005). The actor-partner interdependence model: A model of bidirectional effects in developmental studies. International Journal of Behavioral Development, 29, 101–109.

Cooper, A., Galbreath, N., & Becker, M. A. (2004). Sex on the internet: Further our understanding of men with online sexual problems. Psychology of Addictive Behaviors, 18, 223–230.

Daneback, K., Træen, B., & Månsson, S. (2009). Use of pornography in a random sample of Norwegian heterosexual couples. Archives of Sexual Behavior, 38, 746–753.

Dariotis, J. K., Sifakis, F., Pleck, J. H., Astone, N. M., & Sonenstein, F. L. (2011). Racial and ethnic disparities in sexual risk behaviors and STDs during young men's transition to adulthood. Perspectives on Sexual and Reproductive Health, 43, 51–59.

Gagnon, J. H., & Simon, W. (1973). Youth, sex, and the future. In D. D. Gottlieb (Ed.), Youth in contemporary society (pp. 211–257). Oxford: Sage.

Gottman, J. M., Coan, J., Carrere, S., & Swanson, C. (1998). Predicting marital happiness and stability from newlywed interactions. Journal of Marriage and the Family, 60, 5–22.

Grov, C., Gillespie, B., Royce, T., & Lever, J. (2011). Perceived consequences of casual online sexual activities on heterosexual relationships: A U. S. online survey. Archives of Sexual Behavior, 40, 429–439.

Hazan, C., & Zeifman, D. (1999). Pair bonds as attachments: Evaluating the evidence. In J. Cassidy & P. R. Shaver (Eds.), Handbook of attachment: Theory, research, and clinical applications (pp. 336–354). New York: Guilford Press.

Heaton, T. B. (2002). Factors contributing to increasing marital stability in the United States. Journal of Family Issues, 23, 392–409.

Lambert, N. M., Negash, S., Stillman, T. F., Olmstead, S. B., & Fincham, F. D. (2012). A love that doesn't last: Pornography consumption and weakened commitment to one's romantic partner. Journal of Social and Clinical Psychology, 31, 410–438.

Leedes, R. (1999). Theory and praxis: A heuristic for describing, evaluating, and intervening on sexual desire disorders when sexual expression interferes with humanistic expression. Sexual Addiction and Compulsivity, 6, 289–310.

Lofgren-Mårtenson, L., & Månsson, S. (2010). Lust, love, and life: A qualitative study of Swedish adolescents' perceptions and experiences with pornography. Journal of Sex Research, 47, 568–579.

Luo, S., Chen, H., Yue, G., Zhang, G., Zhaoyang, R., & Xu, D. (2008). Predicting marital satisfaction from self, partner, and couple characteristics: Is it me, you, or us? Journal of Personality, 76, 1231–1265.

Maddox, A. M., Rhoades, G. K., & Markman, H. J. (2009). Viewing sexually-explicit materials alone or together: Associations with relationship quality. Archives of Sexual Behavior, 40, 441–448.

Malamuth, N. M., Hald, G. M., & Koss, M. (2012). Pornography, individual differences in risk and men's acceptance of violence against women in a representative sample. Sex Roles, 66, 427–439.

Nelson, L. J., Padilla-Walker, L. M., & Carroll, J. S. (2010). "I believe it is wrong but I still do it": A comparison of religious young men who do versus do not use pornography. Psychology of Religion and Spirituality, 2, 136–147.

Olmstead, S. B., Negash, S., Pasley, K., & Fincham, F. D. (2013). Emerging adults' expectations for pornography use in the context of future committed romantic relationships: A qualitative study. Archives of Sexual Behavior, 42, 625–635.

Owen, J. J., Rhoades, G. K., Stanley, S. M., & Fincham, F. D. (2010). "Hooking up" among college students: Demographic and psychosocial correlates. Archives of Sexual Behavior, 39, 653–663.

Poulsen, F. O., Busby, D. M., & Galovan, A. M. (2013). Pornography use: Who uses it and how it is associated with couple outcomes. Journal of Sex Research, 50, 72–83.

Reiss, I. L. (1960). Premarital sexual standards in America. New York: Free Press.

Schneider, J. P. (2000). Effects of cybersex addiction on the family: Results of a survey. Sexual Addiction & Compulsivity, 7, 31–58.

Simmons, C. A., Lehmann, P., & Collier-Tenison, S. (2008). Linking male use of the sex industry to controlling behaviors in violent relationships. Violence Against Women, 14, 406–417.

Sinkovic, M., Stulhofer, A., & Bozic, J. (2012). Revisiting the association between pornography use and risky sexual behaviors: The role of early exposure to pornography and sexual sensation seeking. Journal of Sex Research, 50, 633–641.

Sprecher, S., & McKinney, K. (1993). Sexuality. Thousand Oaks, CA: Sage Publications.

Stack, S., Wasserman, I., & Kern, R. (2004). Adult social bonds and use of internet pornography. Social Science Quarterly, 85, 75–88.

Teachman, J. D. (2002). Stability across cohorts in divorce risk factors. Demography, 39, 331–351.

Traeen, B., Spitznogle, K., & Beverfjord, A. (2004). Attitudes and use of pornography in the Norwegian population 2002. Journal of Sex Research, 41, 193–200.

Twohig, M. P., Crosby, J. M., & Cox, J. M. (2009). Viewing Internet pornography: For whom is it problematic, how, and why? Sexual Addiction & Compulsivity, 16, 253–266.

von Sydow, K. (1999). Sexuality during pregnancy and after childbirth: A meta-content analysis of 59 studies. Journal of Psychosomatic Research, 47, 27–49.

Weinberg, M. S., Williams, C. J., Kleiner, S., & Irizarry, Y. (2010). Pornography, normalization, and empowerment. Archives of Sexual Behavior, 39, 1389–1401.

Wetterneck, C. T., Burgess, A. J., Short, M. B., Smith, A. H., & Cervantes, M. E. (2012). The role of sexual compulsivity, impulsivity, and experiential avoidance in Internet pornography use. Psychological Record, 62, 3–18.

Willoughby, B. J., Farero, A., & Busby, D. M. (2014). Exploring the effects of sexual desire discrepancy among married couples. Archives of Sexual Behavior, 43, 551–562.

Yucel, D., & Gassanov, M. A. (2010). Exploring actor and partner correlates of sexual satisfaction among married couples. Social Science Research, 39, 725–738.

Zitzman, S. T., & Butler, M. H. (2009). Wives' experience of husbands' pornography use and concomitant deception as an attachment threat in the adult pair-bond relationship. Sexual Addiction & Compulsivity, 16, 210–240.
About this article
Cite this article
Willoughby, B.J., Carroll, J.S., Busby, D.M. et al. Differences in Pornography Use Among Couples: Associations with Satisfaction, Stability, and Relationship Processes. Arch Sex Behav 45, 145–158 (2016). https://doi.org/10.1007/s10508-015-0562-9
Received:

Revised:

Accepted:

Published:

Issue Date:
Keywords
Pornography

Marriage

Sexuality

Sexual desire