Abstract
Since the publication of the seminal paper by Clark and Hatfield (1989), there has been an ongoing discussion about their finding that men accept sexual invitations from females more willingly than vice versa. We focused on two questions that have not yet been answered: First, what happens when the same request for casual sex is made in a different setting where social pressure is lower and such a request more common? To address this issue, 6 male and 8 female average looking confederates approached 162 men and 119 women either at a university campus or in a nightclub and asked for a date or for casual sex. The gender difference remained, with significantly more men than women consenting to a sexual invitation. The second issue concerned the perceived risk for women of accepting such an offer. We made up an elaborate cover story and invited 60 male and female participants into our laboratory. They were shown 10 pictures of persons of the opposite sex and led to believe that these people either consented to date or to have sex with them. The participants then could choose from the pictures who they wanted to meet to engage in a date or sex. In this subjectively safer environment, the gender difference disappeared, with the same proportion of men and women consenting to a date or sex. However, men were more liberal in their choice in either condition, compared to the female subjects. We conclude that while gender differences remained in both experiments, women were more liberal in a subjectively safer situation.
This is a preview of subscription content, log in to check access.
Access options
Buy single article
Instant access to the full article PDF.
US$ 39.95
Price includes VAT for USA
Subscribe to journal
Immediate online access to all issues from 2019. Subscription will auto renew annually.
US$ 199
This is the net price. Taxes to be calculated in checkout.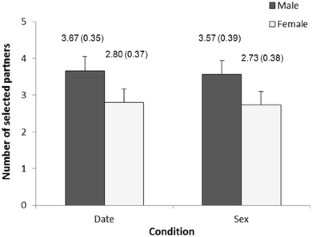 References
Albury, K., & Crawford, K. (2012). Sexting, consent and young people's ethics: Beyond Megan's story. Continuum: Journal of Media & Cultural Studies, 26, 463–473.

Alexander, M. G., & Fisher, T. D. (2003). Truth and consequences: Using the bogus pipeline to examine sex differences in self-reported sexuality. Journal of Sex Research, 40, 27–35.

Ariely, D., & Loewenstein, G. F. (2006). The heat of the moment: The effect of sexual arousal on sexual decision making. Journal of Behavioral Decision Making, 19, 87–98.

Black, M. C., Basile, K. C., Breiding, M. J., Smith, S. G., Walters, M. L., Merrick, M. T., et al. (2011). The National Intimate Partner and Sexual Violence Survey (NISVS): 2010 Summary Report. Atlanta, GA: National Center for Injury Prevention and Control, Centers for Disease Control and Prevention.

Buss, D. M., & Schmitt, D. P. (1993). Sexual strategies theory: An evolutionary perspective on human mating. Psychological Review, 100, 204–232.

Catalano, S. (2007). Intimate partner violence in the United States. Washington, DC: U.S. Department of Justice, Bureau of Justice Statistics.

Clark, R. D. (1990). The impact of AIDS on gender differences in willingness to engage in casual sex. Journal of Applied Social Psychology, 20, 771–782.

Clark, R. D., & Hatfield, E. (1989). Gender differences in receptivity to sexual offers. Journal of Psychology and Human Sexuality, 2, 39–55.

Clark, R. D., & Hatfield, E. (2003). Love in the afternoon. Psychological Inquiry, 14, 227–231.

Conley, T. D. (2011). Perceived proposer personality characteristics and gender differences in acceptance of casual sex offers. Journal of Personality and Social Psychology, 100, 309–329.

Conley, T. D., Moors, A. C., Matsick, J. L., Ziegler, A., & Valentine, B. A. (2011). Women, men, and the bedroom: Methodological and conceptual insights that narrow, reframe, and eliminate gender differences in sexuality. Current Directions in Psychological Science, 20, 296–300.

Conley, T. D., Ziegler, A., & Moors, A. C. (2013). Backlash from the bedroom: Stigma mediates gender differences in acceptance of casual sex offers. Psychology of Women Quarterly, 37, 392–407.

Dawkins, R. (1976). The selfish gene. New York City: Oxford University Press.

Eagly, A. H., Wood, W., & Diekman, A. B. (2000). Social role theory of sex differences and similarities: A current appraisal. In T. Eckes & H. M. Trautner (Eds.), The developmental social psychology of gender (pp. 123–174). Mahwah, NJ: Lawrence Erlbaum.

George, W., & Stoner, S. (2000). Understanding acute alcohol effects on sexual behavior. Annual Review of Sex Research, 11, 92–124.

Gladue, B. A., & Delaney, H. J. (1990). Gender differences in perception of attractiveness of men and women in bars. Personality and Social Psychology Bulletin, 16, 378–391.

Grammer, K. (1994). Signale der Liebe: Die biologischen Gesetze der Partnerschaft [Signals of love: The biological laws of partnership]. Hamburg: Hoffmann und Campe.

Grant, S., LaBrie, J. W., Hummer, J. F., & Lac, A. (2012). How drunk am I? Misperceiving one's level of intoxication in the college drinking environment. Psychology of Addictive Behaviors, 26, 51–58.

Guéguen, N. (2011). Effects of solicitor sex and attractiveness on receptivity to sexual offers: A field study. Archives of Sexual Behavior, 40, 915–919.

Hald, G. M., & Høgh-Olesen, H. (2009). Would you go to bed with me?: Gender differences in receptivity to sexual invitations. In H. Høgh-Olesen, H. J. Tonnesvang, & P. Bertelsen (Eds.), Human characteristics: Evolutionary perspectives on human mind and kind (pp. 366–381). Cambridge, England: Cambridge Scholars.

Hald, G. M., & Høgh-Olesen, H. (2010). Receptivity to sexual invitations from strangers of the opposite gender. Evolution and Human Behavior, 31, 453–458.

Hoyle, R. H., Fejfar, M. C., & Miller, J. D. (2000). Personality and sexual risk taking: A quantitative review. Journal of Personality, 68, 1203–1231.

Kinsey, A. C., Pomeroy, W. B., & Martin, C. E. (1948). Sexual behavior in the human male. Philadelphia: W. B. Saunders.

Kruger, J., & Dunning, D. (1999). Unskilled and unaware of it: How difficulties in recognizing one's own incompetence lead to inflated self-assessments. Journal of Personality and Social Psychology, 77, 1121–1134.

Oliver, H., & Hyde, J. S. (1993). Gender differences in sexuality: A meta-analysis. Psychological Bulletin, 114, 29–51.

Peterson, J. L., & Hyde, J. S. (2010). A meta-analytic review of research on gender differences in sexuality, 1993–2007. Psychological Bulletin, 136, 21–38.

Rammstedt, B., & John, O. P. (2007). Measuring personality in one minute or less: A 10-item short version of the Big Five Inventory in English and German. Journal of Research in Personality, 41, 203–212.

Schmitt, D. P. (2005). Sociosexuality from Argentina to Zimbabwe: A 48-nation study of sex, culture, and strategies of human mating. Behavioral and Brain Sciences, 28, 247–275.

Schmitt, D. P., Jonason, P. K., Byerley, G. J., Flores, S. D., Illbeck, B. E., O'Leary, K. N., & Qudrat, A. (2012). A reexamination of sex differences in sexuality: New studies reveal old truths. Current Directions in Psychological Science, 21, 135–139.

Schützwohl, A., Fuchs, A., Mckibbin, W. F., & Shackelford, T. K. (2009). How willing are you to accept sexual requests from slightly unattractive to exceptionally attractive imagined requestors? Human Nature, 20, 282–293.

Sterne, J. A. C., White, I. R., Carlin, J. B., Spratt, M., Royston, P., Kenward, M. G., … Carpenter, J. R. (2009). Multiple imputation for missing data in epidemiological and clinical research: Potential and pitfalls. British Medical Journal, 338. doi:10.1136/bmj.b2393.

Symons, D. (1979). The evolution of human sexuality. New York: Oxford University Press.

Voracek, M., Fisher, M. L., Hofhansl, A., Rekkas, P. V., & Ritthammer, N. (2006). I find you to be very attractive…Biases in compliance estimates to sexual offers. Psicothema, 18, 384–391.
About this article
Cite this article
Baranowski, A.M., Hecht, H. Gender Differences and Similarities in Receptivity to Sexual Invitations: Effects of Location and Risk Perception. Arch Sex Behav 44, 2257–2265 (2015). https://doi.org/10.1007/s10508-015-0520-6
Received:

Revised:

Accepted:

Published:

Issue Date:
Keywords
Gender differences

Sexuality

Casual sex

Mating

Attractiveness