Abstract
Waist-to-hip ratio (WHR) is an important ornament display that signals women's health and fertility. Its significance derives from human development as a bipedal species. This required fundamental changes to hip morphology/musculature to accommodate the demands of both reproduction and locomotion. The result has been an obstetric dilemma whereby women's hips are only just wide enough to allow the passage of an infant. Childbirth therefore poses a significant hip width related threat to maternal mortality/risk of gynecological injury. It was predicted that this would have a significant influence on women's sexual behavior. To investigate this, hip width and WHR were measured in 148 women (M age = 20.93 + 0.17 years) and sexual histories were recorded via questionnaire. Data revealed that hip width per se was correlated with total number of sexual partners, total number of one night stands, percentage of sexual partners that were one night stands, number of sexual partners within the context of a relationship per year sexually active, and number of one night stands per year sexually active. By contrast, WHR was not correlated with any of these measures. Further analysis indicated that women who predominantly engaged in one night stand behavior had wider hips than those who did not. WHR was again without effect in this context. Women's hip morphology has a direct impact on their risk of potentially fatal childbirth related injury. It is concluded that when they have control over this, women's sexual behavior reflects this risk and is therefore at least in part influenced by hip width.
Access options
Buy single article
Instant access to the full article PDF.
USD 39.95
Price excludes VAT (USA)
Tax calculation will be finalised during checkout.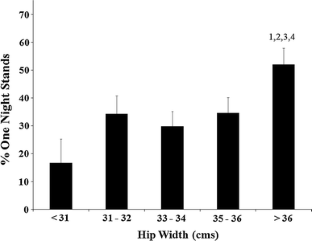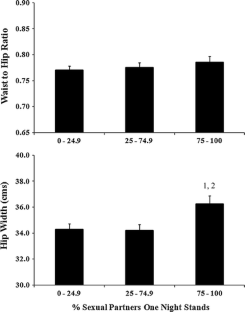 References
Arrowsmith, S., Hamlin, E. C., & Wall, L. L. (1996). Obstructed labor injury complex: Obstetric fistula formation and the multifaceted morbidity of maternal birth trauma in the developing world. Obstetrical & Gynecological Survey, 51, 568–574.

Beise, J. (2005). The helping grandmother and the helpful grandmother: The role of maternal and paternal grandmothers in child mortality in the 17th and 18th century population of French settlers in Quebec, Canada. In E. Voland, A. Chasiotis, & W. Schiefenhoevel (Eds.), Grandmotherhood: The evolutionary significance of the second half of the female life (pp. 215–238). New Brunswick, NJ: Rutgers University Press.

Butte, N. F., & King, J. C. (2005). Energy requirements during pregnancy and lactation. Public Health Nutrition, 8, 1010–1027.

Clark, R. D., & Hatfield, E. (1989). Gender differences in receptivity to sexual offers. Journal of Psychology and Human Sexuality, 2, 39–55.

Czernichow, S., Kengne, A. P., Huxley, R. R., Batty, G. D., de Galan, B., Grobbee, D., … ADVANCE Collaborative Group. (2011). Comparison of waist-to-hip ratio and other obesity indices as predictors of cardiovascular disease risk in people with type-2 diabetes: A prospective cohort study from ADVANCE. European Journal of Cardiovascular Prevention & Rehabilitation, 18, 312–319.

DeSilva, J., & Lesnik, J. (2006). Chimpanzee neonatal brain size: Implications for brain growth in Homo erectus. Journal of Human Evolution, 51, 207–212.

DeSilva, J. M., & Lesnik, J. J. (2008). Brain size at birth throughout human evolution: A new method for estimating neonatal brain size in hominins. Journal of Human Evolution, 55, 1064–1074.

Dixson, B. J., Grimshaw, G. M., Linklater, W. L., & Dixson, A. F. (2011). Eye-tracking of men's preferences for waist-to-hip ratio and breast size of women. Archives of Sexual Behavior, 40, 43–50.

Dixson, B. J., Sagata, K., Linklater, W. L., & Dixson, A. F. (2010). Male preferences for female waist-to-hip ratio and body mass index in the highlands of Papua New Guinea. American Journal of Physical Anthropology, 141, 620–625.

Hendrie, C. A., Mannion, H. D., & Godfrey, G. K. (2009). Evidence to suggest that nightclubs function as human sexual display grounds. Behaviour, 146, 1331–1348.

Jaanusson, V. (1991). Morphological changes leading to hominid bipedalism. Lethaia, 24, 443–457.

Karremans, J. C., Frankenhuis, W. E., & Arons, S. (2010). Blind men prefer a low waist-to-hip ratio. Evolution and Human Behavior, 31, 182–186.

Kirschner, M. A., & Samojlik, E. (1991). Sex hormone metabolism in upper and lower body obesity. International Journal of Obesity, 15, 101–108.

Lieberman, D. E., Raichlen, D. A., Pontzer, H., Bramble, D. M., & Cutright-Smith, E. (2006). The human gluteus maximus and its role in running. Journal of Experimental Biology, 209, 2143–2155.

Lovejoy, C. O. (1988). Evolution of human walking. Scientific American, 259, 118–125.

Marlowe, F. (1998). The nubility hypothesis: The human breast as an honest signal of residual reproductive value. Human Nature, 9, 263–271.

Marlowe, F., & Wetsman, A. (2001). Preferred waist-to-hip ratio and ecology. Personality and Individual Differences, 30, 481–489.

Mayor, S. (2005). 23% of babies in England are delivered by caesarean section. British Medical Journal, 330, 806.

Mohanty, C., Prasad, R., Reddy, A. S., Ghosh, J. K., Singh, T. B., & Das, B. K. (2006). Maternal anthropometry as predictors of low birth weight. Journal of Tropical Pediatrics, 52, 24–29.

Perilloux, H. K., Webster, G. D., & Gaulin, S. J. C. (2010). Signals of genetic quality and maternal investment capacity: The dynamic effects of fluctuating asymmetry and waist-to-hip ratio on men's ratings of women's attractiveness. Social Psychological and Personality Science, 1, 34–42.

Platek, S. M., & Singh, D. (2010). Optimal waist-to-hip ratios in women activate neural reward centers in men. PLoS ONE, 5, e9042.

Rosenberg, K. R. (1992). The evolution of modern human childbirth. American Journal of Physical Anthropology, 35, 89–124.

Rosenberg, K., & Trevathan, W. (2002). Birth, obstetrics and human evolution. British Journal of Obstetrics & Gynecology, 109, 1199–1206.

Sheiner, E., Levy, A., Katz, M., & Mazor, M. (2005). Short stature—an independent risk factor for Cesarean delivery. European Journal of Obstetrics & Gynecology and Reproductive Biology, 120, 175–178.

Singh, D. (1993). Adaptive significance of female physical attractiveness: Role of waist-to-hip ratio. Journal of Personality and Social Psychology, 65, 293–307.

Singh, D., Dixson, B. J., Jessop, T. S., Morgan, B., & Dixon, A. F. (2010). Cross-cultural consensus for waist-to-hip ratio and women's attractiveness. Evolution and Human Behavior, 31, 176–181.

Stålberg, K., Bodestedt, Å., Lyrenäs, S., & Axelsson, O. (2006). A narrow pelvic outlet increases the risk for emergency cesarean section. Acta Obstetricia et Gynecologica Scandinavica, 85, 821–824.

Stewart, D. B. (1984). The pelvis as passageway II. The modern human pelvis. British Journal of Obstetrics & Gynecology, 91, 618–623.

Swami, V., Jones, J., Einon, D., & Furnham, A. (2009). Men's preferences for women's profile waist-to-hip ratio, breast size, and ethnic group in Britain and South Africa. British Journal of Psychology, 100, 313–325.

Thompson, A. (1983). Extramarital sex: A review of the research literature. Journal of Sex Research, 19, 1–22.

Thurnau, G. R., Hales, K. A., & Morgan, M. A. (1992). Evaluation of the fetal–pelvic relationship. Clinical Obstetrics and Gynecology, 35, 570–581.

Tymicki, K. (2006). The correlates of infant and childhood mortality: A theoretical overview and new evidence from the analysis of longitudinal data from Bejsce parish register reconstitution study 18th–20th centuries, Poland. Paper presented at the Population Association of America Annual Conference, Los Angeles.

Vaidya, D., Dobs, A., Gapstur, S. M., Golden, S. H., Cushman, M., Liu, K., et al. (2012). Association of baseline sex hormone levels with baseline and longitudinal changes in waist-to-hip ratio: Multi-ethnic study of atherosclerosis. International Journal of Obesity, 36, 1578–1584.

Walker, R., Hill, K., Burger, O., & Hurtado, A. M. (2006). Life in the slow lane revisited: Ontogenetic separation between chimpanzees and humans. American Journal of Physical Anthropology, 129, 577–583.

Weiss, D. L., & Slosnerick, M. (1981). Attitudes toward sexual and non-sexual extramarital involvements among a sample of college students. Journal of Marriage and Family, 43, 349–358.

WHO. (2006). Neonatal and perinatal mortality: Country, regional and global estimates, 2006. Geneva: WHO.

WHO. (2007). Maternal mortality in 2005: Estimates developed by WHO, UNICEF, UNFPA, and the World Bank. WHO: Geneva.

Wittman, A. B., & Wall, L. (2007). The evolutionary origins of obstructed labor: Bipedalism, encephalization, and the human obstetric dilemma. Obstetric & Gynecological Survey, 62, 739–748.

Zaadstra, B. M., Seidell, J. C., Van Noord, P. A., te Velde, E. R., Habbema, J. D., Vrieswijk, B., et al. (1993). Fat and female fecundity: Prospective study of effect of body fat distribution and conception rates. British Medical Journal, 306, 484–487.
About this article
Cite this article
Simpson, V.J., Brewer, G. & Hendrie, C.A. Evidence to Suggest that Women's Sexual Behavior is Influenced by Hip Width Rather than Waist-to-Hip Ratio. Arch Sex Behav 43, 1367–1371 (2014). https://doi.org/10.1007/s10508-014-0289-z
Received:

Revised:

Accepted:

Published:

Issue Date:

DOI: https://doi.org/10.1007/s10508-014-0289-z
Keywords
Hip width

Waist-to-hip ratio

Obstetric dilemma

Sexual behavior