Abstract
The current study investigated seasonal variation in internet searches regarding sex and mating behaviors. Harmonic analyses were used to examine the seasonal trends of Google keyword searches during the past 5 years for topics related to pornography, prostitution, and mate-seeking. Results indicated a consistent 6-month harmonic cycle with the peaks of keyword searches related to sex and mating behaviors occurring most frequently during winter and early summer. Such results compliment past research that has found similar seasonal trends of births, sexually transmitted infections, condom sales, and abortions.
Access options
Buy single article
Instant access to the full article PDF.
US$ 39.95
Tax calculation will be finalised during checkout.
Subscribe to journal
Immediate online access to all issues from 2019. Subscription will auto renew annually.
US$ 119
Tax calculation will be finalised during checkout.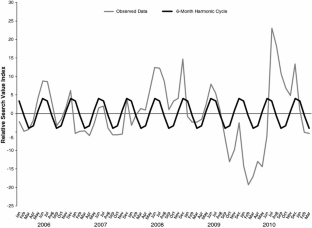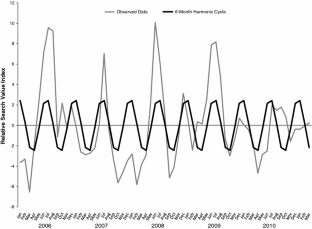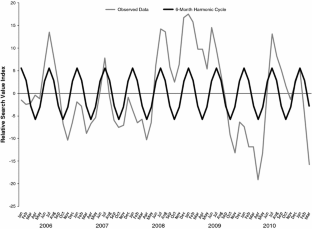 References
Baumeister, R. F., Catanese, K. R., & Vohs, K. D. (2001). Is there a gender difference in strength of sex drive? Theoretical views, conceptual distinctions, and a review of relevant evidence. Personality and Social Psychology Review, 5, 242–273.

Brewer, D. P., Muth, S., Roberts, J. M., Dudeck, J. A., & Woodhouse, D. (2007). Clients of prostitute women: Deterrence, prevalence, characteristics and violence. Washington, DC: National Institute of Justice, US Department of Justice.

Cooper, A., Delmonico, D. L., & Burg, R. (2000). Cybersex users, abusers, and compulsives: New findings and implication. Sexual Addiction and Compulsivity, 7, 5–29.

Elam-Evans, L. D., Strauss, L. T., Herndon, J., Parker, W. Y., Whitehead, S., & Berg, C. J. (2002). Abortion surveillance in the United States-1999. Morbidity mortality weekly report. Retrieved May 3, 2011 from http://www.cdc.gov/mmwr/preview/mmwrhtml/ss5109a1.htm.

Fallows, D. (2005). How men and women use the internet. Pew Internet and American life project. Retrieved May 5, 2011 from, http://www.pewinternet.org/~/media//Files/Reports/2005/PIP_Women_and_Men_online.pdf.pdf.

Fortenberry, J. D., Orr, D. P., Zimet, G. D., & Blythe, M. J. (1997). Weekly and seasonal variation in sexual behaviors among adolescent women with sexually transmitted diseases. Journal of Adolescent Health, 20, 420–425.

Ginsberg, J., Mohebbi, M. H., Patel, R. S., Brammer, L., Smolinski, M. S., & Brillian, L. (2009). Detecting influenza epidemics using search engine query data. Nature, 457, 1012–1014.

Google. (2009). Google trends. Retrieved March 8, 2011, from http://www.google.com/intl/en/trends/about.html.

Hakim, D., & Rashbaum, W. K. (March 10, 2008). Spitzer is linked to a prostitution ring. New York Times. Retrieved May 3, 2011 from http://www.nytimes.com/2008/03/10/nyregion/10cnd-spitzer.html.

Herold, A. H., Woodard, L. J., Roetzheim, R. G., Pamies, R. J., Young, D. L., & Micceri, T. (1993). Seasonality of Chlamydia trachomatis genital infections in university women. Journal of American College Health, 42, 117–120.

Lam, D., & Miron, J. A. (1991). Seasonality of births in human populations. Social Biology, 38, 51–78.

Levin, M. L., Xu, X., & Bartkowski, J. P. (2002). Seasonality of sexual debut. Journal of Marriage and Family, 64, 871–884.

Macdowall, W., Wellings, K., Stephenson, J., & Glasier, A. (2008). Summer nights: A review of the evidence of seasonal variations in sexual health indicators among young people. Health Education, 108, 40–53.

Malamuth, N. (1996). Sexually explicit media, gender differences and evolutionary theory. Journal of Communication, 46, 8–31.

Markey, P. M., & Markey, C. N. (2010). Changes in pornography seeking behaviors following political elections: An examination of the Challenge Hypothesis. Evolution and Human Behavior, 31, 442–446.

Markey, P. M., & Markey, C. N. (2011). Pornography seeking behaviors following midterm political elections in the United States: A replication of the challenge hypothesis. Computers in Human Behavior, 27, 1262–1264.

Markey, P. M., & Markey, C. N. (2012). Pornography seeking behaviors. In Z. Yan (Ed.), Encyclopedia of cyber behavior (pp. 337–346). Hershey, PA: IGI Global.

McCarthy, M. J. (2010). Internet monitoring of suicide risk in the population. Journal of Affective Disorders, 3, 277–289.

Parnell, A. M., & Rodgers, J. L. (1998). Seasonality of induced abortion in North Carolina. Journal of Biosocial Science, 30, 321–332.

Petersen, D. J., & Alexander, G. R. (1992). Seasonal variation in adolescent conceptions, induced abortions, and late initiation of prenatal care. Public Health Reports, 107, 701–706.

Pittman, S., Tita, A. T., Barratt, M. S., Rubin, S. R., & Hollier, L. M. (2005). Seasonality and immediate antecedents of sexual intercourse in adolescents. Journal of Reproductive Medicine, 50, 193–197.

Rodgers, J. L., Harris, D. F., & Vickers, K. B. (1992). Seasonality of first coitus in the United States. Social Biology, 39, 1–14.

Ropelato, J. (2006). Internet pornography statistics. Retrieved May 3, 2011 from http://internet-filter-review.toptenreviews.com/internet-pornography-statistics.html.

Scafetta, N., Restrepo, E., & West, B. J. (2003). Seasonality of birth and conception to teenagers in Texas. Social Biology, 50, 1–22.

Schroeder, B., Tetlow, P., Sanfilippo, J. S., & Hertweck, S. P. (2001). Is there a seasonal variation in gonorrhea and chlamydia in adolescents? Journal of Pediatric and Adolescent Gynecology, 14, 25–27.

Seiver, D. A. (1985). Trend and variation in the seasonality of U.S. fertility, 1947–1976. Demography, 22, 89–100.

Tita, A. T. N., Hollier, L. M., & Waller, D. K. (2001). Seasonality in conception of births and influence on late initiation of prenatal care. Gynecology and Obstetrics, 97, 976–981.

Tourangeau, R., & Yan, T. (2007). Sensitive questions in surveys. Psychological Bulletin, 133, 859–883.

Warner, R. M. (1998). Spectral analysis of time-series data. New York, NY: Guilford Press.

Warren, C. W., Gold, J., Tyler, C. W., Smith, J. C., & Paris, A. L. (1980). Seasonal variations in spontaneous abortions. American Journal of Public Health, 70, 1297–1299.

Wellings, K., Macdowall, W., Catchpole, M., & Goodrich, J. (1999). Seasonal variations in sexual activity and their implication for sexual health promotion. Journal of the Royal Society of Medicine, 92, 60–64.

World Bank. (2011). Internet users (per 100 people). Retrieved May 5, 2011 from http://search.worldbank.org/data?qterm=internet%20united%20states&language=EN&format=html.

Yang, A. C., Huang, N. E., Peng, C. K., & Tsai, S. J. (2010). Do seasons have an influence on the incidence of depression? The use of an internet search engine query data as a proxy of human affect. PLoS One, 5, e13728. doi:10.1371/journal.pone.0013728.

Ybarra, M. L., & Mitchell, K. J. (2005). Exposure to internet pornography among children and adolescents: A national survey. CyberPsychology and Behavior, 8, 473–486.
About this article
Cite this article
Markey, P.M., Markey, C.N. Seasonal Variation in Internet Keyword Searches: A Proxy Assessment of Sex Mating Behaviors. Arch Sex Behav 42, 515–521 (2013). https://doi.org/10.1007/s10508-012-9996-5
Received:

Revised:

Accepted:

Published:

Issue Date:
Keywords
Sex

Pornography

Google

Keyword

Seasonal