Abstract
Theories of "life history evolution" suggest that individuals might adjust the timing of marriage and reproduction, as well as their propensity to terminate a marriage or pregnancy and invest in skill development, in response to indicators of the locally prevailing level of life expectancy. In particular, such theories generate the hypothesis that foreshortened time horizons lead to hastened reproduction and marriage whereas lengthier time horizons increase the likelihood of reproductive and marital termination and lead to greater investment in education. Here, I show that the scheduling and occurrence of marital and reproductive behavior (including both initiation and termination), as well as levels of educational attainment and investment, covary with life expectancy, even after controlling for the effects of affluence. In analyses of variation in marital, reproductive, and educational behaviors at two jurisdictional levels in Canada, life expectancy was positively correlated with patterns of age-specific fertility, age at first marriage, divorce, abortion, conferral of high school and higher education degrees (with the exception of the trades) and mean number of years of schooling. The large and highly consistent relationships observed between life expectancy and the behaviors under investigation suggest that these associations may be mediated by individual "perceptions" of life expectancy, though more research is needed before conclusions can be firmly reached.
Access options
Buy single article
Instant access to the full article PDF.
USD 39.95
Price excludes VAT (USA)
Tax calculation will be finalised during checkout.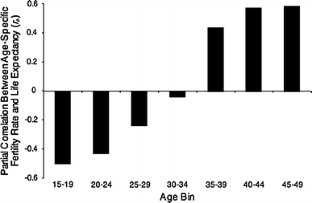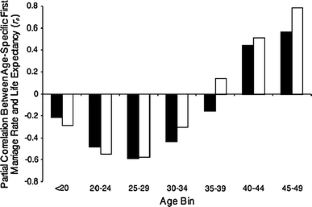 References
Boothby, D., & Drewes, T. (2006). Postsecondary education in Canada: Returns to university, college and trades education. Canadian Public Policy, 32, 1–21.

Bulled, N. L., & Sosis, R. (2010). Examining the relationship between life expectancy, reproduction, and educational attainment. Human Nature, 21, 269–289.

Burke, B. L., Martens, A., & Faucher, E. H. (2010). Two decades of terror management theory: A meta-analysis of mortality salience research. Personality and Social Psychology Review, 14, 155–195.

Card, D. (1999). The causal effect of education on earnings. In O. C. Ashenfelter & D. Card (Eds.), Handbook of labor economics (Vol. 3A, pp. 1801–1863). Amsterdam: Elsevier.

Charmantier, A., McCleery, R. H., Cole, L. R., Perrins, C., Kruuk, L. E., & Sheldon, B. C. (2008). Adaptive phenotypic plasticity in response to climate change in a wild bird population. Science, 320, 800–803.

Chisholm, J. S. (1993). Death, hope, and sex: Life-history theory and the development of reproductive strategies. Current Anthropology, 34, 1–24.

Chisholm, J. S., Quinlivan, J. A., Petersen, R. W., & Coall, D. A. (2005). Early stress predicts age at menarche and first birth, adult attachment, and expected lifespan. Human Nature, 16, 233–265.

Clutton-Brock, T. H. (1984). Reproductive effort and terminal investment in iteroparous animals. American Naturalist, 123, 212–229.

Creighton, J. C., Heflin, N. D., & Belk, M. C. (2009). Cost of reproduction, resource quality, and terminal investment in a burying beetle. American Naturalist, 174, 673–684.

Daly, M., & Wilson, M. (1984). A sociobiological analysis of human infanticide. In G. Hausfater & S. Blaffer Hrdy (Eds.), Infanticide: Comparative and evolutionary perspectives (pp. 487–502). New York: Aldine.

Dunkel, C., Mathes, E., & Decker, M. (2009). Behavioral flexibility in life history strategies: The role of life expectancy. Journal of Social, Evolutionary, and Cultural Psychology, 4, 51–61.

Eisner, M. (2001). Modernization, self-control and lethal violence: The long-term dynamics of European homicide rates in theoretical perspective. British Journal of Criminology, 41, 618–638.

Ellis, B. J., Shirtcliff, E. A., Boyce, W. T., Deardorff, J., & Essex, M. J. (2011). Quality of early family relationships and the timing and tempo of puberty: Effects depend on biological sensitivity to context. Development and Psychopathology, 23, 85–99.

Engqvist, L., & Sauer, K. P. (2002). A life-history perspective on strategic mating effort in male scorpionflies. Behavioral Ecology, 13, 632–636.

Geronimus, A. T. (1996). What teen mothers know. Human Nature, 7, 323–352.

Geronimus, A. T., Bound, J., & Waidmann, T. A. (1999). Health inequality and population variation in fertility-timing. Social Science and Medicine, 49, 1623–1636.

Hill, K., & Kaplan, H. (1999). Life history traits in humans: Theory and empirical studies. Annual Review of Anthropology, 28, 397–430.

Hill, E. M., & Low, B. S. (1992). Contemporary abortion patterns: A life-history approach. Ethology and Sociobiology, 13, 35–48.

Hill, E. M., Ross, L. T., & Low, B. S. (1997). The role of future unpredictability in human risk-taking. Human Nature, 8, 287–325.

Keeley, L. H. (1996). War before civilization. New York: Oxford University Press.

Lock, J. E., Smiseth, P. T., Moore, P. J., & Moore, A. J. (2007). Coadaptation of prenatal and postnatal maternal effects. American Naturalist, 170, 709–718.

Low, B. S., Hazel, A., Parker, N., & Welch, K. B. (2008). Influences on women's reproductive lives: Unexpected ecological underpinnings. Cross-Cultural Research, 42, 201–219.

Low, B. S., Simon, C. P., & Anderson, K. G. (2002). An evolutionary ecological perspective on demographic transitions: Modeling multiple currencies. American Journal of Human Biology, 14, 149–167.

Martin, T. C., & Bumpass, L. L. (1989). Recent trends in marital disruption. Demography, 26, 37–51.

Mathews, P., & Sear, R. (2008). Life after death: An investigation into how mortality perceptions influence fertility preferences using evidence from an Internet-based experiment. Journal of Evolutionary Psychology, 6, 155–172.

Nettle, D. (2011). Flexibility in reproductive timing in human females: integrating ultimate and proximate explanations. Philosophical Transactions of the Royal Society, Series B: Biological Sciences, 366, 357–365.

Nussey, D. H., Postma, E., Glenapp, P., & Visser, M. E. (2005). Selection on heritable phenotypic plasticity in a wild bird population. Science, 310, 304–306.

Pettit, E. J., & Bloom, B. L. (1984). Whose decision was it? The effects of initiator status on adjustment to marital disruption. Journal of Marriage and the Family, 46, 587–595.

Promislow, D. E. L., & Harvey, P. H. (1990). Living fast and dying young: A comparative analysis of life-history variation among mammals. Journal of Zoology, 220, 417–437.

Quinlan, R. J. (2010). Extrinsic mortality effects on reproductive strategies in a Caribbean community. Human Nature, 21, 124–139.

Roff, D. A. (1992). The evolution of life histories: Theory and analysis. New York: Chapman & Hall.

Roitberg, B. D., Sircom, J., Roitberg, C. A., van Alphen, J. J. M., & Mangel, M. (1993). Life expectancy and reproduction. Nature, 364, 108.

Short, R. V. (1994). Human reproduction in an evolutionary context. Annals of the New York Academy of Sciences, 709, 416–425.

Stearns, S. C. (1992). The evolution of life histories. New York: Oxford University Press.

Thomas, F., Renaud, F., Benefice, E., de Meeus, T., & Guegan, J.-F. (2001). International variability of ages at menarche and menopause: Patterns and main determinants. Human Biology, 73, 271–290.

Tullberg, B. S., & Lummaa, V. (2001). Induced abortion ratio in modern Sweden falls with age, but rises again before menopause. Evolution and Human Behavior, 22, 1–10.

United Nations Department of Economic and Social Affairs. (2004). World population monitoring 2002: Reproductive rights and reproductive health. New York: Department for Economic and Social Affairs.

United Nations Department of Economic and Social Affairs. (2009). World population prospects: The 2008 revision. New York: Department for Economic and Social Affairs.

Wegner, D. M. (2002). The illusion of conscious will. Cambridge, MA: MIT Press.

Williams, G. C. (1966). Adaptation and natural selection. Princeton, NJ: Princeton University Press.

Wilson, T. D. (2002). Strangers to ourselves. Cambridge, MA: Belknap Press.

Wilson, M., & Daly, M. (1992). The man who mistook his wife for a chattel. In J. H. Barkow, L. Cosmides, & J. Tooby (Eds.), The adapted mind (pp. 289–322). New York: Oxford University Press.

Wilson, M., & Daly, M. (1997). Life expectancy, economic inequality, homicide, and reproductive timing in Chicago neighbourhoods. British Medical Journal, 314, 1271–1274.

Worthman, C. M. (1998). Growth and natural selection. In S. J. Ulijaszek, F. E. Johnston, & M. A. Preece (Eds.), The Cambridge encyclopedia of human growth and development (pp. 365–367). New York: Cambridge University Press.
Acknowledgments
This work is dedicated to the memory of Margo Wilson, who knew a valuable datum when she saw it. I thank Martin Daly and Anne Barbeau for helpful comments and discussion, Nick Rogerson for data extraction, and the Social Science and Humanities Research Council for funding.
About this article
Cite this article
Krupp, D.B. Marital, Reproductive, and Educational Behaviors Covary with Life Expectancy. Arch Sex Behav 41, 1409–1414 (2012). https://doi.org/10.1007/s10508-012-9949-z
Received:

Revised:

Accepted:

Published:

Issue Date:

DOI: https://doi.org/10.1007/s10508-012-9949-z
Keywords