Abstract
Epidemiological studies find a positive association between physical and sexual abuse, neglect, and witnessing violence in childhood and same-sex sexuality in adulthood, but studies directly assessing the association between these diverse types of maltreatment and sexuality cannot disentangle the causal direction because the sequencing of maltreatment and emerging sexuality is difficult to ascertain. Nascent same-sex orientation may increase risk of maltreatment; alternatively, maltreatment may shape sexual orientation. Our study used instrumental variable models based on family characteristics that predict maltreatment but are not plausibly influenced by sexual orientation (e.g., having a stepparent) as natural experiments to investigate whether maltreatment might increase the likelihood of same-sex sexuality in a nationally representative sample (n = 34,653). In instrumental variable models, history of sexual abuse predicted increased prevalence of same-sex attraction by 2.0 percentage points [95 % confidence interval (CI) = 1.4–2.5], any same-sex partners by 1.4 percentage points (95 % CI = 1.0–1.9), and same-sex identity by 0.7 percentage points (95 % CI = 0.4–0.9). Effects of sexual abuse on men's sexual orientation were substantially larger than on women's. Effects of non-sexual maltreatment were significant only for men and women's sexual identity and women's same-sex partners. While point estimates suggest much of the association between maltreatment and sexual orientation may be due to the effects of maltreatment on sexual orientation, confidence intervals were wide. Our results suggest that causal relationships driving the association between sexual orientation and childhood abuse may be bidirectional, may differ by type of abuse, and may differ by sex. Better understanding of this potentially complex causal structure is critical to developing targeted strategies to reduce sexual orientation disparities in exposure to abuse.
Access options
Buy single article
Instant access to the full article PDF.
US$ 39.95
Tax calculation will be finalised during checkout.
Subscribe to journal
Immediate online access to all issues from 2019. Subscription will auto renew annually.
US$ 119
Tax calculation will be finalised during checkout.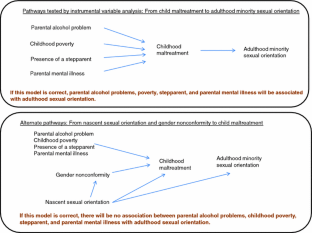 References
Administration on Children Youth and Families. (2007). Child maltreatment 2007. Washington, DC: U.S. Government Printing Office.

Alanko, K., Santtila, P., Salo, B., Jern, P., Johansson, A., & Sandnabba, N. K. (2010). Testing causal models of the relationship between childhood gender atypical behaviour and parent–child relationship. British Journal of Developmental Psychology, 29, 214–233.

Angrist, J. D., Imbens, G. W., & Rubin, D. B. (1996). Identification of causal effects using instrumental variables. Journal of the American Statistical Association, 91, 444–455.

Angrist, J. D., & Krueger, A. B. (2001). Instrumental variables and the search for identification: From supply and demand to natural experiments. Journal of Economic Perspectives, 15, 69–85.

Baum, C. F., Schaffer, M. E., & Stillman, S. (2003). Instrumental variables and GMM: Estimation and testing. Stata Journal, 3, 1–31.

Bays, J. (1990). Substance abuse and child abuse. Impact of addiction on the child. Pediatric Clinics of North America, 37, 881–904.

Bernstein, D. P., Fink, L., Handelsman, L., Foote, J., Lovejoy, M., Wenzel, K., et al. (1994). Initial reliability and validity of a new retrospective measure of child abuse and neglect. American Journal of Psychiatry, 151, 1132–1136.

Bonet, B. (2001). Instrumentality tests revisited. Paper presented at the Conference on Uncertainty and Artificial Intelligence, San Francisco, CA.

Bound, J., Jaeger, D. A., & Baker, R. M. (1995). Problems with instrumental variables estimation when the correlation between the instruments and the endogeneous explanatory variable is weak. Journal of the American Statistical Association, 90, 443–450.

Briere, J. N., & Elliott, D. M. (1994). Immediate and long-term impacts of child sexual abuse. Future of Children, 4, 54–69.

Browne, A., & Finkelhor, D. (1986). Impact of child sexual abuse: A review of the research. Psychological Bulletin, 99, 66–77.

Cameron, P., & Cameron, K. (1995). Does incest cause homosexuality? Psychological Reports, 76, 611–621.

Cameron, P., & Cameron, K. (1996). Do homosexual teachers pose a risk to pupils? Journal of Psychology, 130, 603–613.

Chermack, S. T., Stoltenberg, S. F., Fuller, B. E., & Blow, F. C. (2000). Gender differences in the development of substance-related problems: The impact of family history of alcoholism, family history of violence and childhood conduct problems. Journal of Studies on Alcohol and Drugs, 61, 845–852.

Cochran, S. D., Ackerman, D., Mays, V. M., & Ross, M. W. (2004). Prevalence of non medical drug use and dependence among homosexually active men and women in the US population. Addiction, 99, 989–998.

Corliss, H. L., Austin, S. B., Roberts, A. L., & Molnar, B. E. (2009). Sexual risk in "mostly heterosexual" young women: Influence of social support and caregiver mental health. Journal of Women's Health, 18, 2005–2010.

Corliss, H. L., Cochran, S. D., & Mays, V. M. (2002). Reports of parental maltreatment during childhood in a United States population-based survey of homosexual, bisexual, and heterosexual adults. Child Abuse and Neglect, 26, 1165–1178.

Cushing, B. S., & Kramer, K. M. (2005). Mechanisms underlying epigenetic effects of early social experience: The role of neuropeptides and steroids. Neuroscience and Biobehavioral Reviews, 29, 1089–1105.

D'Augelli, A. R., & Grossman, A. H. (2001). Disclosure of sexual orientation, victimization, and mental health among lesbian, gay, and bisexual older adults. Journal of Interpersonal Violence, 16, 1008–1027.

Fergusson, D. M., & Horwood, L. J. (1998). Exposure to interparental violence in childhood and psychosocial adjustment in young adulthood. Child Abuse and Neglect, 22, 339–357.

Fergusson, D. M., Horwood, L. J., Ridder, E. M., & Beautrais, A. L. (2005). Sexual orientation and mental health in a birth cohort of young adults. Psychological Medicine, 35, 971–981.

Gartner, R. B. (1999). Sexual victimization of boys by men: Meanings and consequences. Journal of Gay and Lesbian Psychotherapy, 3, 1–33.

Glymour, M. M., Tchetgen, E. J., & Robins, J. M. (2012). Credible Mendelian randomization studies: Approaches for evaluating the instrumental variable assumptions. American Journal of Epidemiology, 175, 332–339.

Grant, B., & Kaplan, K. (2005). Source and accuracy statement for the Wave 2 National Epidemiologic Survey on Alcohol and Related Conditions (NESARC). Rockville, MD: National Institute on Alcohol Abuse and Alcoholism.

Greene, J. M., Ennett, S. T., & Ringwalt, C. L. (1999). Prevalence and correlates of survival sex among runaway and homeless youth. American Journal of Public Health, 89, 1406–1409.

Greenland, S. (2000). An introduction to instrumental variables for epidemiologists. International Journal of Epidemiology, 29, 722–729.

Holmes, W. C., & Slap, G. B. (1998). Sexual abuse of boys: Definition, prevalence, correlates, sequelae, and management. Journal of the American Medical Association, 280, 1855–1862.

Hughes, T. L., Haas, A. P., Razzano, L., Cassidy, R., & Matthews, A. (2000). Comparing lesbians' and heterosexual women's mental health: A multi-site survey. Journal of Gay & Lesbian Social Services, 11, 57–76.

Institute of Medicine. (2011). The health of lesbian, gay, bisexual, and transgender (LGBT) people: Building a foundation for better understanding. Washington, DC: The National Academies Press.

Kinnish, K. K., Strassberg, D. S., & Turner, C. W. (2005). Sex differences in the flexibility of sexual orientation: A multidimensional retrospective assessment. Archives of Sexual Behavior, 34, 173–183.

Langstrom, N., Rahman, Q., Carlstrom, E., & Lichtenstein, P. (2010). Genetic and environmental effects on same-sex sexual behavior: A population study of twins in Sweden. Archives of Sexual Behavior, 39, 75–80.

LeVay, S. (1996). Queer science: The use and abuse of research into homosexuality. Cambridge, MA: The Massachusetts Institute of Technology Press.

Lim, M. M., & Young, L. J. (2006). Neuropeptidergic regulation of affiliative behavior and social bonding in animals. Hormones and Behavior, 50, 506–517.

Marvasti, J. A., & Dripchak, V. (2004). The trauma of incest and child sexual abuse: Psychobiological perspective. In J. A. Marvasti (Ed.), Psychiatric treatment of victims and survivors of sexual trauma (pp. 3–18). Springfield, IL: Charles C Thomas.

Ott, M. Q., Corliss, H. L., Wypij, D., Rosario, M., & Austin, S. B. (2011). Stability and change in self-reported sexual orientation identity in young people: Application of mobility metrics. Archives of Sexual Behavior, 40, 519–532.

Pearl, J. (2000). Causality. Cambridge, UK: Cambridge University Press.

Rieger, G., Linsenmeier, J. A., Gygax, L., & Bailey, J. M. (2008). Sexual orientation and childhood gender nonconformity: Evidence from home videos. Developmental Psychology, 44, 46–58.

Riley, E. H., Wright, R. J., Jun, H. J., Hibert, E. N., & Rich-Edwards, J. W. (2010). Hypertension in adult survivors of child abuse: Observations from the Nurses' Health Study II. Journal of Epidemiology and Community Health, 64, 413–418.

Roberts, A. L., Austin, S. B., Corliss, H. L., Vandermorris, A. K., & Koenen, K. C. (2010). Pervasive trauma exposure among US sexual orientation minority adults and risk of posttraumatic stress disorder. American Journal of Public Health, 100, 2433–2441.

Roberts, A. L., Rosario, M., Corliss, H. L., Koenen, K. C., & Austin, S. B. (2012). Childhood gender nonconformity: A risk indicator for childhood abuse and posttraumatic stress in youth. Pediatrics, 129, 410–417.

Ronan, K. R., Canoy, D. F., & Burke, K. J. (2009). Child maltreatment: Prevalence, risk, solutions, obstacles. Australian Psychologist, 44, 195–213.

Roodman, D. (2009). Estimating fully observed recursive mixed-process models with cmp CGD [Working paper]. Washington, DC: Center for Global Development.

Ruan, W. J., Goldstein, R. B., Chou, S. P., Smith, S. M., Saha, T. D., Pickering, R. P., et al. (2008). The Alcohol Use Disorder and Associated Disabilities Interview Schedule-IV (AUDADIS-IV): Reliability of new psychiatric diagnostic modules and risk factors in a general population sample. Drug and Alcohol Dependence, 92, 27–36.

Saewyc, E. M., Skay, C. L., Pettingell, S. L., Reis, E. A., Bearinger, L., Resnick, M., et al. (2006). Hazards of stigma: The sexual and physical abuse of gay, lesbian, and bisexual adolescents in the United States and Canada. Child Welfare, 85, 195–213.

Sell, R. L. (1997). Defining and measuring sexual orientation: A review. Archives of Sexual Behavior, 26, 643–658.

Shrier, L. A., Shih, M. C., Hacker, L., & de Moor, C. (2007). A momentary sampling study of the affective experience following coital events in adolescents. Journal of Adolescent Health, 40(357), e351–e358.

Singh, D., McMain, S., & Zucker, K. J. (2011). Gender identity and sexual orientation in women with borderline personality disorder. Journal of Sexual Medicine, 8, 447–454.

Spiegelman, D., Hertzmark, E., & Wand, H. C. (2007). Point and interval estimates of partial population attributable risks in cohort studies: Examples and software. Cancer Causes and Control, 18, 571–579.

Staiger, D., & Stock, J. H. (1997). Instrumental variables regression with weak instruments. Econometrica, 65, 557–586.

StataCorp LP. (2010). Stata/IC (Version 11.1). College Station, TX: Author.

Straus, M. A. (1990). Measuring intrafamily conflict and violence: The Conflict Tactics (CT) Scales. In M. A. Straus & R. J. Gelles (Eds.), Physical violence in American families (pp. 29–47). New Brunswick, NJ: Transaction Publishers.

Straus, M. A., Hamby, S. L., Finkelhor, D., Moore, D. W., & Runyan, D. (1998). Identification of child maltreatment with the Parent-Child Conflict Tactics Scales: Development and psychometric data for a national sample of American parents. Child Abuse and Neglect, 22, 249–270.

Vogeltanz, N. D., Wilsnack, S. C., Harris, T. R., Wilsnack, R. W., Wonderlich, S. A., & Kristjanson, A. F. (1999). Prevalence and risk factors for childhood sexual abuse in women: National survey findings. Child Abuse and Neglect, 23, 579–592.

Wegman, H. L., & Stetler, C. (2009). A meta-analytic review of the effects of childhood abuse on medical outcomes in adulthood. Psychosomatic Medicine, 71, 805–812.

Williams, L. M. (1994). Recall of childhood trauma: A prospective study of women's memories of child sexual abuse. Journal of Consulting and Clinical Psychology, 62, 1167–1176.

Wilson, H., & Widom, C. (2010). Does physical abuse, sexual abuse, or neglect in childhood increase the likelihood of same-sex sexual relationships and cohabitation? A prospective 30-year follow-up. Archives of Sexual Behavior, 39, 63–74.

Wyatt, G. E. (1985). The sexual abuse of Afro-American and white-American women in childhood. Child Abuse and Neglect, 9, 507–519.

Zietsch, B. P., Verweij, K. J., Bailey, J. M., Wright, M. J., & Martin, N. G. (2011). Sexual orientation and psychiatric vulnerability: A twin study of neuroticism and psychoticism. Archives of Sexual Behavior, 40, 133–142.
Acknowledgments
Dr. Roberts is supported by the Harvard Training Program in Psychiatric Genetics and Translational Research (T32MH017119). Dr. Glymour is supported by the NIH (NIA 1R21 AG34385-01A1; 1R21AG037889-01), NIMH (1RC4MH092707-01), and NICHD (1R21HD066312-01), the Robert Wood Johnson Foundation Health & Society Scholars Program, the MacArthur Foundation Network on SES and Health, the Milton Fund for Harvard University Junior Faculty, and the American Heart Association (10SDG2640242). Dr. Koenen is supported by NIH (MH078928, DA022720, and MH086309) and the Kaiser Family Foundation.
Conflict of Interest
None.
About this article
Cite this article
Roberts, A.L., Glymour, M.M. & Koenen, K.C. Does Maltreatment in Childhood Affect Sexual Orientation in Adulthood?. Arch Sex Behav 42, 161–171 (2013). https://doi.org/10.1007/s10508-012-0021-9
Received:

Revised:

Accepted:

Published:

Issue Date:
Keywords
Sexual behavior

Child abuse

Homosexuality

Instrumental variable models

Sexual orientation