Abstract
Vertebrate males commonly experience elevations in testosterone levels in response to sexual stimuli, such as presentation of a novel mating partner. Some previous human studies have shown that watching erotic movies increases testosterone levels in males although studies measuring testosterone changes during actual sexual intercourse or masturbation have yielded mixed results. Small sample sizes, "unnatural" lab-based settings, and invasive techniques may help account for mixed human findings. Here, we investigated salivary testosterone levels in men watching (n = 26) versus participating (n = 18) in sexual activity at a large U.S. sex club. The present study entailed minimally invasive sample collection (measuring testosterone in saliva), a naturalistic setting, and a larger number of subjects than previous work to test three hypotheses related to men's testosterone responses to sexual stimuli. Subjects averaged 40 years of age and participated between 11:00 pm and 2:10 am. Consistent with expectations, results revealed that testosterone levels increased 36% among men during a visit to the sex club, with the magnitude of testosterone change significantly greater among participants (72%) compared with observers (11%). Contrary to expectation, men's testosterone changes were unrelated to their age. These findings were generally consistent with vertebrate studies indicating elevated male testosterone in response to sexual stimuli, but also point out the importance of study context since participation in sexual behavior had a stronger effect on testosterone increases in this study but unlike some previous human lab-based studies.
This is a preview of subscription content, log in to check access.
Access options
Buy single article
Instant access to the full article PDF.
US$ 39.95
Tax calculation will be finalised during checkout.
Subscribe to journal
Immediate online access to all issues from 2019. Subscription will auto renew annually.
US$ 199
Tax calculation will be finalised during checkout.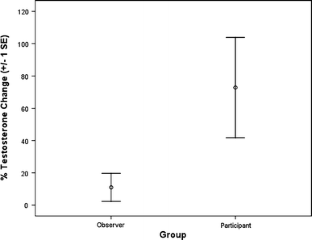 References
Aikey, J. L., Nyby, J. G., Anmuth, M., & James, P. J. (2002). Testosterone rapidly reduces anxiety in male house mice (Mus musculus). Hormones and Behavior, 42, 448–460.

Andersson, M. (1994). Sexual selection. Princeton, NJ: Princeton University Press.

Archer, J. (2006). Testosterone and human aggression: An evaluation of the "Challenge Hypothesis". Neuroscience and Biobehavioral Reviews, 30, 319–345.

Axelsson, J., Ingre, M., Akerstedt, T., & Holmback, U. (2005). Effects of acutely displaced sleep on testosterone. Journal of Clinical Endocrinology and Metabolism, 90, 4530–4535.

Bateman, A. J. (1948). Intrasexual selection in Drosophila. Heredity, 2, 349–368.

Bribiescas, R. G. (2006). Men: Evolutionary and life history. Cambridge, MA: Harvard University Press.

Daly, M., & Wilson, M. (1988). Homicide. New York: Aldine.

Dixson, A. F. (2009). Sexual selection and the origins of human mating systems. New York: Oxford University Press.

Ford, C. S., & Beach, F. A. (1951). Patterns of sexual behavior. New York: Ace Books.

Gleason, E. D., Fuxjager, M. J., Oyegbile, T. O., & Marler, C. A. (2009). Testosterone release and social context: When it occurs and why. Frontiers in Neuroendocrinology, 30, 460–469.

Gray, P. B., & Anderson, K. G. (2010). Fatherhood: Evolution and human paternal behavior. Cambridge, MA: Harvard University Press.

Gray, P. B., & Campbell, B. C. (2009). Human male testosterone, pair bonds and fatherhood. In P. T. Ellison & P. B. Gray (Eds.), Endocrinology of social relationships (pp. 270–293). Cambridge, MA: Harvard University Press.

Hirschenhauser, K., & Oliveira, R. F. (2006). Social modulation of androgens in male vertebrates: Meta-analyses of the Challenge Hypothesis. Animal Behaviour, 71, 265–277.

Isidori, A. M., Giannetta, E., Gianfrilli, D., Greco, E. A., Bonifacio, V., Aversa, A., et al. (2005). Effects of testosterone on sexual function in men: Results of a meta-analysis. Clinical Endocrinology, 63, 381–394.

Nyby, J. G. (2008). Reflexive testosterone release: A model system for studying the nongenomic effects of testosterone upon male behavior. Frontiers in Neuroendocrinology, 29, 199–210.

Packard, M. G., Schroeder, J. P., & Alexander, G. M. (1998). Expression of testosterone conditioned place preference is blocked by peripheral or intraaccumbens injection of α-flupenthixol. Hormones and Behavior, 34, 39–47.

Roney, J. R., Lukaszewski, A. W., & Simmons, Z. L. (2007). Rapid endocrine responses of young men to social interactions with young women. Hormones and Behavior, 52, 326–333.

Rupprecht, R. (2003). Neuroactive steroids: Mechanisms of action and neuropsychopharmacological properties. Psychoneuroendocrinology, 28, 139–168.

Travison, T. G., Morley, J. E., Araujo, A. B., O'Donnell, A. B., & McKinlay, J. B. (2006). The relationship between libido and testosterone levels in aging men. Journal of Clinical Endocrinology and Metabolism, 91, 2509–2531.

Trivers, R. (1972). Parental investment and sexual selection. In B. C. Campbell (Ed.), Sexual selection and the descent of man (pp. 136–179). Chicago: Aldine.

van Anders, S. M., & Gray, P. B. (2007). Hormones and human partnering. Annual Review of Sex Research, 18, 60–93.

van Anders, S. M., & Watson, N. V. (2006). Social neuroendocrinology: Effects of social contexts and behaviors on sex steroids in humans. Human Nature, 17, 212–237.

Wingfield, J. C., Hegner, R. E., Dufty, A. M., & Ball, G. F. (1990). The "challenge hypothesis": Theoretical implications for patterns of testosterone secretion, mating systems, and breeding systems. American Naturalist, 136, 829–846.
About this article
Cite this article
Escasa, M.J., Casey, J.F. & Gray, P.B. Salivary Testosterone Levels in Men at a U.S. Sex Club. Arch Sex Behav 40, 921–926 (2011). https://doi.org/10.1007/s10508-010-9711-3
Received:

Revised:

Accepted:

Published:

Issue Date:
Keywords
Sexual activity

Sexual function

Androgens

Challenge hypothesis