Abstract
Sexuality research focuses almost exclusively on individuals rather than couples, though ongoing relationships are very important for most people and cultures. The present study was the first to examine sexual and relationship parameters of middle-aged and older couples in committed relationships of 1–51 years duration. Survey research was conducted in Brazil, Germany, Japan, Spain, and the U.S. targeting 200 men aged 40–70 and their female partners in each country, with 1,009 couples in the final sample. Key demographic, health, physical intimacy, sexual behavior, sexual function, and sexual history variables were used to model relationship happiness and sexual satisfaction. The median ages were 55 for men and 52 for women; median relationship duration was 25 years. Relationship satisfaction in men depended on health, physical intimacy, and sexual functioning, while in women only sexual functioning predicted relationship satisfaction. Models predicting sexual satisfaction included significant physical intimacy and sexual functioning for both genders and, for men, more frequent recent sexual activity and fewer lifetime partners. Longer relationship duration predicted greater relationship happiness and sexual satisfaction for men. However, women in relationships of 20 to 40 years were significantly less likely than men to report relationship happiness. Compared to men, women showed lower sexual satisfaction early in the relationship and greater sexual satisfaction later. Within the long-term committed relationship context, there were significant gender differences in correlates of sexual and relationship satisfaction, with sexual functioning a common predictor of both types of satisfaction and physical intimacy a more consistent and salient predictor for men.
Access options
Buy single article
Instant access to the full article PDF.
US$ 39.95
Tax calculation will be finalised during checkout.
Subscribe to journal
Immediate online access to all issues from 2019. Subscription will auto renew annually.
US$ 119
Tax calculation will be finalised during checkout.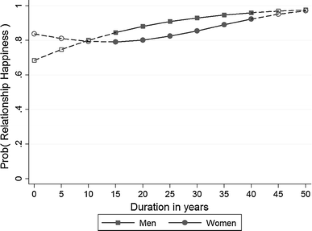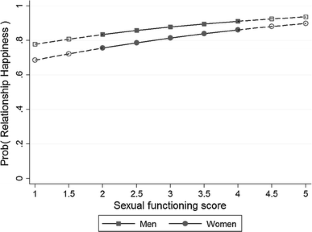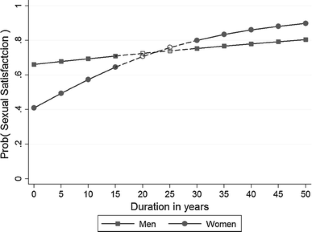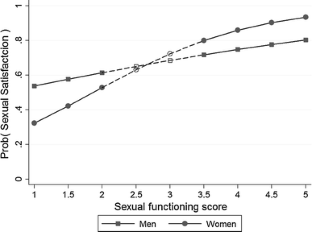 Notes
1.

For further details about the questionnaire or to request a copy of the questionnaire, please contact the corresponding author.

2.

An ideal measure of duration would include both years cohabitating and later years married; however, the survey questions did not guarantee mutual exclusivity. For example, for an individual who reported 10 years of marriage and 10 years of cohabitation, we were unable to determine with certainty whether these years were contemporaneous making relationship duration 10 years total or additive making duration 20 years total, or a combination thereof.

3.

A total of 21 participants reported no male or female lifetime sexual partners. We confirmed that these participants were in relationships and that they had been sexually active (via other variables, such as reports of age of first sex or frequency of sex over the past four weeks) and these cases were assigned a value of 1.

4.

Of the 108 men who reported "Never or almost never ejaculating," 96 reported "Never or almost never ejaculating too quickly."

5.

The significance of the difference in predicted probabilities depends both on the magnitude of the difference but also on factors such as the number of cases at a given level of the independent variable.
References
Andersson, G., & Philipov, D. (2001). Life-table representations of family dynamics in 16 FFS countries (MPIDR Working Paper Series WP 2001-024). Rostock, Germany: Max-Planck Institute for Demographic Research.

Benevolo, M., Mottolese, M., Marandino, F., Carosi, M., Diodoro, M. G., Sentinelli, S., … Vocaturo, A. (2008). HPV prevalence among healthy Italian male sexual partners of women with cervical HPV infection. Journal of Medical Virology, 80, 1275–1281.

Fisher, W. A., Rosen, R. C., Eardley, I., Sand, M., & Goldstein, I. (2005). Sexual experience of female partners of men with erectile dysfunction: The Female Experience of Men's Attitudes to Life Events and Sexuality (FEMALES) study. Journal of Sexual Medicine, 2, 675–684.

Fisher, W. A., Rosen, R. C., Mollen, M., Brock, G., Karlin, G., Pommerville, P., … Sand, M. (2005). Improving the sexual quality of life of couples affected by erectile dysfunction: A double-blind, randomized, placebo-controlled trial of vardenafil. Journal of Sexual Medicine, 2, 699–708.

Hassebrauk, M., & Fehr, B. (2002). Dimensions of relationship quality. Personal Relationships, 9, 253–270.

Heiman, J. R., Talley, D. R., Bailen, J. L., Rosenberg, S. J., Pace, C. R., & Bavendam, T. (2007). Sexual function and satisfaction in heterosexual couples when men are administered sildenafil citrate (Viagra) for erectile dysfunction: A multicentre, randomized, double-blind, placebo-controlled trial. British Journal of Obstetrics and Gynecology, 114, 437–447.

Karney, B. R., & Bradbury, T. N. (1995). The longitudinal course of marital quality and stability: A review of theory, methods, and research. Psychological Bulletin, 118, 3–34.

Laumann, E. O., Gagnon, J. H., Michael, R. T., & Michaels, S. (1994). The social organization of sexuality: Sexual practices in the United States. Chicago: University of Chicago Press.

Laumann, E. O., Paik, A., Kang, J.-H., Wang, T., Levinson, B., Nicolosi, A., … Gingell, C. (2006). A cross-national study of subjective sexual well-being among older women and men: Findings from the global study of sexual attitudes and behaviors. Archives of Sexual Behavior, 35, 145–161.

Liu, C. (2003). Does quality of marital sex decline with duration? Archives of Sexual Behavior, 32, 55–60.

Long, J. S., & Freese, J. (2005). Regression models for categorical dependent variables using Stata (2nd ed.). College Station, TX: Stata Press.

Peterson, B. D., Pirritano, M., Christensen, U., & Schmidt, L. (2008). The impact of partner coping in couples experiencing infertility. Human Reproduction, 23, 1128–1137.

Raymo, J. M., Iwasawa, M., & Bumpass, L. (2004). Marital dissolution in Japan: Recent trends and patterns. Demographic Research, 11, 395–420.

Remien, R. H., Stirratt, M. J., Dolezal, C., Dognin, J. S., Wagner, G. J., Carballo-Dieguez, A., … Jung, T. M. (2005). Couple-focused support to improve HIV medication adherence: A randomized controlled trial. AIDS, 19, 807–814.

Rosen, R., Brown, C., Heiman, J., Leiblum, S., Meston, C., Shabsigh, R., … D'Agostino, R. (2000). The Female Sexual Function Index (FSFI): A multidimensional self-report instrument for the assessment of female sexual function. Journal of Sex and Marital Therapy, 26, 191–208.

Rosen, R., Fisher, W., Eardley, I., Niederberger, C., Nadel, A., & Sand, M. (2004). The Multinational Men's Attitudes to Life Events and Sexuality (MALES) Study. I. Prevalence of erectile dysfunction and related health concerns in the general population. Current Medical Research Opinion, 20, 607–617.

Rosen, R. C., Riley, A., Wagner, G., Osterloh, I. H., Kirkpatrick, J., & Mishra, A. (1997). The International Index of Erectile Function (IIEF): A multidimensional scale for assessment of erectile dysfunction. Urology, 49, 822–830.

Smith, K. B., Pukall, C. F., Tripp, D. A., & Nickel, J. C. (2007). Sexual and relationship functioning in men with chronic prostatitis/chronic pelvic pain syndrome and their partners. Archives of Sexual Behavior, 36, 301–311.

Spanier, G. (1976). Measuring dyadic adjustment: New scales for assessing the quality of marriage and similar dyads. Journal of Marriage Family, 38, 15–28.

Sprecher, S. (2002). Sexual satisfaction in premarital relationships: Associations with satisfaction, love, commitment, and stability. Journal of Sex Research, 39, 190–196.

Sprecher, S., & Cate, R. (2004). Sexual satisfaction and sexual expression as predictors of relationship satisfaction and stability. In J. Harvey, A. Wenzel, & S. Sprecher (Eds.), Handbook of sexuality in close relationships (pp. 235–256). Mahwah, NJ: Lawrence Erlbaum.

Turner, A. N., Morrison, C. S., Padian, N. S., Kaufman, J. S., Behets, F. M., Salta, R. A., … Miller, W. C. (2008). Male circumcision and women's risk of incident chlamydial, gonococcal, and trichomonal infections. Sexually Transmitted Diseases, 35, 689–695.

U.S. Census Bureau. (2005). Number, timing, and duration of marriages and divorces: 2001. Current Population Reports, P70-97. Washington, DC: U.S. Government Printing Office.

Yeh, H. C., Lorenz, F. O., Wickrama, K. A., Conger, R. D., & Elder, G. H. (2006). Relationships among sexual satisfaction, marital quality, and marital instability in midlife. Journal of Family Psychology, 20, 339–343.
Acknowledgments
This study was supported by an independent investigator-initiated grant from Bayer-Schering. Sampling and data collection fieldwork were performed by Synovate Healthcare. The design, conceptualization, analysis, and interpretation of the results were the sole product of discussions among the co-authors, represent the consensus of the co-authors, and have not been subject to editorial revision by Bayer-Schering. Johanna Salazar provided valuable assistance with article preparation.
About this article
Cite this article
Heiman, J.R., Long, J.S., Smith, S.N. et al. Sexual Satisfaction and Relationship Happiness in Midlife and Older Couples in Five Countries. Arch Sex Behav 40, 741–753 (2011). https://doi.org/10.1007/s10508-010-9703-3
Received:

Revised:

Accepted:

Published:

Issue Date:
Keywords
Couples

Midlife

Sexual satisfaction

Relationship happiness

Sexual function

Physical intimacy