Abstract
Pornography continues to be a contentious matter with those on the one side arguing it detrimental to society while others argue it is pleasurable to many and a feature of free speech. The advent of the Internet with the ready availability of sexually explicit materials thereon particularly has seemed to raise questions of its influence. Following the effects of a new law in the Czech Republic that allowed pornography to a society previously having forbidden it allowed us to monitor the change in sex related crime that followed the change. As found in all other countries in which the phenomenon has been studied, rape and other sex crimes did not increase. Of particular note is that this country, like Denmark and Japan, had a prolonged interval during which possession of child pornography was not illegal and, like those other countries, showed a significant decrease in the incidence of child sex abuse.
This is a preview of subscription content, log in to check access.
Access options
Buy single article
Instant access to the full article PDF.
US$ 39.95
Price includes VAT for USA
Subscribe to journal
Immediate online access to all issues from 2019. Subscription will auto renew annually.
US$ 199
This is the net price. Taxes to be calculated in checkout.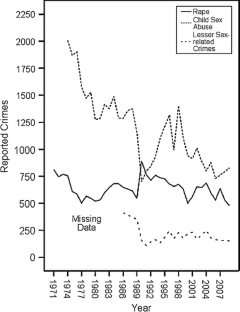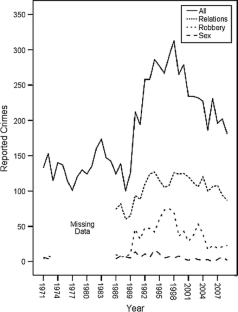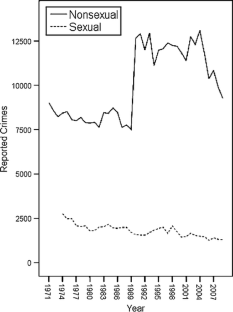 Notes
1.

In October 2007, a new law (§205a, Head V., Czech Penal Code) was enacted prohibiting the possession of child pornography. According to the law, persons holding a movie, photo, electronic, computer or any other format depicting a child involved in any pornographic activity can be imprisoned for up to two years.
References
Asiaone. (2008). Playboy magazine: 'Polite' porn? Retrieved from http://www.asiaone.com/Just%2BWoman/News/High%2BLife/Story/A1Story20080922-89341.html

Christensen, F. M. (1990). Pornography: The other side. New York: Praeger.

D'Amato, A. (2006). Porn up, rape down. Northwestern Public Law Research Paper (No. 913013).

Diamond, M. (1999). The effects of pornography: An international perspective. In J. Elias, V. D. Elias, V. L. Bullough, G. Brewer, J. J. Douglas & W. Jarvis (Eds.), Pornography 101: Eroticism, sexuality and the first amendment (pp. 223–260). Amherst, NY: Prometheus Press.

Diamond, M., & Kontula, O. (2010). Pornography and sex crimes in Finland. Manuscript in preparation.

Diamond, M., & Uchiyama, A. (1999). Pornography, rape and sex crimes in Japan. International Journal of Law and Psychiatry, 22, 1–22.

Donnerstein, E., Linz, D., & Penrod, S. (1987). The question of pornography: Research findings and policy implications. New York: Free Press.

Dworkin, A. (1981). Pornography men possessing women. New York: Putnam.

Endrass, J., Urbaniok, F., Hammermeister, L. C., Benz, C., Elbert, T., Laubacher, A., et al. (2009). The consumption of Internet child pornography and violent sex offending. BMC Psychiatry, 9, 43–49.

Goldstein, M., Kant, H., Judd, L., Rice, C., & Green, R. (1971). Experience with pornography: Rapists, pedophiles, homosexuals, transsexuals, and controls. Archives of Sexual Behavior, 1, 1–15.

Kendall, T. D. (in press). Pornography, rape, and the internet. Journal of Legal Studies.

Kutchinsky, B. (1973). The effect of easy availability of pornography on the incidence of sex crimes: The Danish experience. Journal of Social Issues, 29, 163–181.

Kutchinsky, B. (1991). Pornography and rape: Theory and practice? Evidence from crime data in four countries where pornography is easily available. International Journal of Law and Psychiatry, 14, 47–64.

Landripet, I., Stulhofer, A., & Diamond, M. (2006). Assessing the influence of pornography on sexual violence: A cross-cultural perspective. Poster presented at the meeting of the International Academy of Sex Research, Amsterdam, The Netherlands.

MacKinnon, C. A., & Dworkin, A. (1988). Pornography and civil rights: A new day for women's equality. Minneapolis, MN: Organization Against Pornography.

Mala, E., Raboch, J., & Sovak, Z. (1995). Sexualne zneuzivane deti [Sexually abused children]. Prague: Psychiatricke centrum.

Marshall, W. L. (2005). Sexual offenders and paraphilias. In A. Freeman, S. H. Felgoise, C. M. Nezu, A. M. Nezu, & M. A. Reinecke (Eds.), Encyclopedia of cognitive behavior therapy (pp. 335–359). New York: Springer.

McElroy, W. (1997). A feminist defense of pornography. Free Inquiry, 17(4), 14–17.

Newitz, A. (2002). Obscene feminists: Why women are leading the battle against censorship. San Francisco Bay Guardian. Retrieved from http://www.sfbg.com/36/32/news_womenvscensorship.html

Ng, M. L., & Ma, J. L. C. (2001). Sexuality in Hong Kong Special administrative region of the People's Republic of China. In B. Francoeur (Ed.), The international encyclopedia of human sexuality (Vol. 4, pp. 217–244). New York: Continuum.

Raboch, J., Raboch, J., & Sindlar, M. (1996). Sexuální vývoj českých dívek před listo padem 1989 a po něm [Sexual development of Czech girls before and after November 1989]. Casopis lekaru Ceskych, 153, 71–73.

Strossen, N. (1995). Defending pornography: Free speech, sex, and the fight for women's rights. New York: Scribner.

Thornhill, R., & Palmer, C. T. (2000). A natural history of rape. Cambridge: MIT Press.

Tiefer, L. (1995). Sex is not a natural act & other essays. Boulder, CO: Westview Press.

Vonkova, J., & Hunkova, M. (2004). Domaci nasili v ceskem pravu z pohledu zen [Domestic violence from the women's viewpoint]. Praha: ProFem.

Weiss, P. (2002). Sexualni deviace [Sexual deviations]. Praha: Portal.

Weiss, P., & Zverina, E. (2003). Sexualni chovani obyvatel Ceske republiky III [Sexual behavior in the Czech Republic III]. Praha: DEMA.

Wolf, N. (2003). The porn myth: In the end, porn doesn't whet men's appetites—It turns them off the real thing. New York Magazine. Retrieved from http://nymag.com/nymetro/news/trends/n_9437/
Acknowledgments
The authors deeply thank Tomas Husak at Ministry of Justice of the Czech Republic, Vladimir Stolin at Ministry of Interior of the Czech Republic, Pavel Kvoriak at PK 62 Inc., Barbora Capitova at Czech Statistical Office, and Martin Konvicka at University of South Bohemia. This work was supported by grant 53221-15-0001-01 from the J. S. Purkinje University in Usti nad Labem, Czech Republic.
About this article
Cite this article
Diamond, M., Jozifkova, E. & Weiss, P. Pornography and Sex Crimes in the Czech Republic. Arch Sex Behav 40, 1037–1043 (2011). https://doi.org/10.1007/s10508-010-9696-y
Received:

Revised:

Accepted:

Published:

Issue Date:
Keywords
Pornography

Rape

Child sex abuse

Internet

Sex crimes

Murder