Abstract
Sexual selection via male mate choice has often been implicated in the evolution of permanently enlarged breasts in women. While questionnaire studies have shown that men find female breasts visually attractive, there is very little information about how they make such visual judgments. In this study, we used eye-tracking technology to test two hypotheses: (1) that larger breasts should receive the greatest number of visual fixations and longest dwell times, as well as being rated as most attractive; (2) that lightly pigmented areolae, indicative of youth and nubility, should receive most visual attention and be rated as most attractive. Results showed that men rated images with medium-sized or large breasts as significantly more attractive than small breasts. Images with dark and medium areolar pigmentation were rated as more attractive than images with light areolae. However, variations in breast size had no significant effect on eye-tracking measures (initial visual fixations, number of fixations, and dwell times). The majority of initial fixations during eye-tracking tests were on the areolae. However, areolar pigmentation did not affect measures of visual attention. While these results demonstrate that cues indicative of female sexual maturity (large breasts and dark areolae) are more attractive to men, patterns of eye movements did not differ based on breast size or areolar pigmentation. We conclude that areolar pigmentation, as well as breast size, plays a significant role in men's judgments of female attractiveness. However, fine-grained measures of men's visual attention to these morphological traits do not correlate, in a simplistic way, with their attractiveness judgments.
Access options
Buy single article
Instant access to the full article PDF.
US$ 39.95
Tax calculation will be finalised during checkout.
Subscribe to journal
Immediate online access to all issues from 2019. Subscription will auto renew annually.
US$ 119
Tax calculation will be finalised during checkout.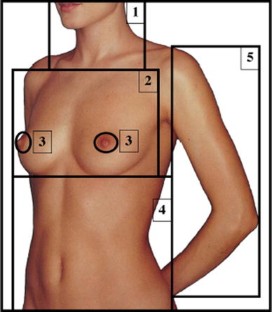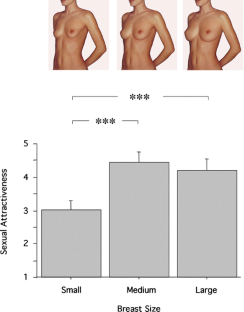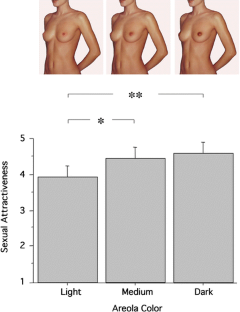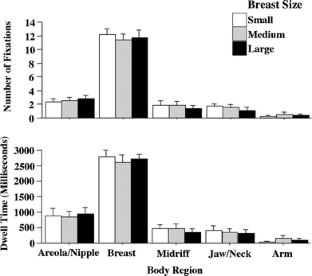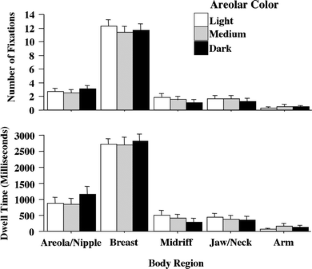 References
Barber, N. (1995). The evolutionary psychology of physical attractiveness: Sexual selection and human morphology. Ethology and Sociobiology, 16, 395–424.

Biro, F. M., Falkner, F., Khoury, P., Morrison, J., & Lucky, A. (1992). Areolar and breast staging in adolescent girls. Journal of Pediatric and Adolescent Gynecology, 5, 271–272.

Brown, T. P., La, H., Ringrose, C., Hyland, R. E., Cole, A. A., & Brotherston, T. M. (1999). A method for assessing female breast morphometry and its clinical application. British Journal of Plastic Surgery, 52, 353–359.

Castellanos, E. H., Charboneau, E., Dietrich, M. S., Park, S., Bradley, P., Mogg, K., et al. (2009). Obese adults have visual attentional bias for food cue images: Evidence for altered reward system function. International Journal of Obesity, 33, 1063–1073.

Cornellissen, P. L., Hancock, P. J. B., Kiviniemi, V., George, H. R., & Tovée, M. J. (2009). Patterns of eye movements when male and female observers judge female attractiveness, body fat and waist-to-hip ratio. Evolution and Human Behavior. doi:10.1016/j.evolhumbehav.2009.04.003.

De Martino, B., Kalisch, R., Rees, G., & Dolan, R. J. (2009). Enhanced processing of threat stimuli under limited attentional resources. Cerebral Cortex, 19, 127–134.

Dean, N., Haynes, J., Brennan, J., Neild, T., Goddard, C., Dearman, B., et al. (2005). Nipple areolar pigmentation: Histology and potential for reconstitution in breast reconstruction. British Journal of Plastic Surgery, 58, 202–208.

Dixson, B. J., Grimshaw, G, M., Linklater, W. L., & Dixson, A. F. (2009). Eye tracking of men's preferences for waist-to-hip ratio and breast size of women. Archives of Sexual Behavior. doi:10.1007/s10508-009-9523-5.

Fink, B., Matts, P. J., Klingenberg, H., Kuntze, S., Bettina, W., & Grammer, K. (2008). Visual attention to variation in facial skin color distribution. Journal of Cosmetic Dermatology, 7, 155–161.

Furnham, A., Swami, V., & Shah, K. (2006). Body weight, waist-to-hip ratio and breast size correlates of ratings of attractiveness and health. Personality and Individual Differences, 41, 443–454.

Gallup, G. G. (1982). Permanent breast enlargement in human females: A sociobiological analysis. Journal of Human Evolution, 11, 597–601.

Garn, S. N., & French, N. Y. (1963). Post-partum and age changes in areolar pigmentation. American Journal of Obstetrics and Gynecology, 85, 873–875.

Garn, S. N., Selby, S., & Crawford, M. R. (1956). Skin reflectance studies in children and adults. American Journal of Physical Anthropology, 14, 101–117.

Goodhart, C. B. (1964). A biological view of toplessness. New Scientist, 407, 558–560.

Grammer, K., Fink, B., Juette, A., Ronzal, G., & Thornhill, R. (2001). Female faces and bodies: N-dimensional feature space and attractiveness. In G. Rhodes & I. Zebrowitz (Eds.), Advances in visual cognition I: Facial attractiveness (pp. 91–125). Westport, CT: Ablex Publishing.

Guthrie, R. D. (1976). Body hot spots. New York: Van Nostrand Reinhold.

Hewig, J., Trippe, R. H., Hecht, H., Straube, T., & Miltner, W. H. R. (2008). Gender differences for specific body regions when looking at men and women. Journal of Nonverbal Behavior, 32, 67–78.

Horvath, T. (1981). Physical attractiveness: The influence of selected torso parameters. Archives of Sexual Behavior, 10, 21–24.

Jasienska, G., Ziomkiewicz, A., Ellison, P. T., Lipson, S. F., & Thune, I. (2004). Large breasts and narrow waists indicate high reproductive potential in women. Proceedings of the Royal Society B, 271, 1213–1217.

Jones, D. (1996). Physical attractiveness and the theory of sexual selection. Ann Arbor, MI: Museum of Anthropology Press.

Lass-Hennemann, J., Schulz, A., Nees, F., Blumenthal, T. D., & Schachinger, H. (2009). Direct gaze of photographs of female nudes influences startle in men. International Journal of Psychology, 72, 111–114.

Linzell, J. L. (1959). Physiology of the mammary glands. Physiological Reviews, 39, 534–576.

Lipson, S. F., & Ellison, P. T. (1996). Comparison of salivary steroid profiles in naturally occurring conception and non-conception cycles. Human Reproduction, 11, 2090–2096.

Lykins, A. D., Meana, M., & Kambe, G. (2006). Detection of differential viewing patterns to erotic and non-erotic stimuli using eye-tracking methodology. Archives of Sexual Behavior, 35, 569–575.

Lykins, A. D., Meana, M., & Strauss, G. P. (2008). Sex differences in visual attention to erotic and non-erotic visual stimuli. Archives of Sexual Behavior, 37, 219–228.

Maner, J. K., DeWall, C. N., & Gailliot, M. T. (2008). Selective attention to signs of success: Social dominance and early stage interpersonal perception. Personality and Social Psychology Bulletin, 34, 488–501.

Maner, J. K., Gailliot, M. T., & DeWall, C. N. (2007). Adaptive attentional attunement: Evidence for mating-related perceptual bias. Evolution and Human Behavior, 28, 28–36.

Marlowe, F. (1998). The nubility hypothesis: The human breast as an honest signal of residual reproductive value. Human Nature, 9, 263–271.

Montagna, W., & Macpherson, E. E. (1974). Some neglected aspects of the anatomy of the breasts. Journal of Investigative Dermatology, 63, 10–16.

Muzaffar, F., Hussain, I., & Haroon, T. S. (1998). Physiologic skin changes during pregnancy: A study of 140 cases. International Journal of Dermatology, 37, 429–431.

Pawson, I. G., & Petrakis, N. L. (1975). Comparison of breast pigmentation among women of different racial groups. Human Biology, 47, 441–450.

Raymond, J. E., & O'Brien, L. (2009). Selective visual attention and motivation: The consequences of value learning in an attentional blink task. Psychological Science, 20, 981–988.

Rupp, H. A., & Wallen, K. (2007). Sex differences in viewing sexual stimuli: An eye tracking study of men and women. Hormones and Behavior, 51, 524–533.

Ruz, M., & Lupiáñez, J. (2002). A review of attentional capture: On its automaticity and sensitivity to endogenous control. Psicológica, 23, 283–309.

Shimojo, S., Simion, C., Shimojo, E., & Scheier, S. (2003). Gaze bias both reflects and influences preference. Nature Neuroscience, 6, 1317–1322.

Short, R. V. (1976). The evolution of human reproduction. Proceedings of the Royal Society B, 195, 3–24.

Simblet, S. (2001). Anatomy for the artist. New York: DK Publishing.

Singh, D., & Young, R. K. (1995). Body weight, waist-to-hip ratio, breasts, and hips: Role in judgments of attractiveness and desirability for relationships. Ethology and Sociobiology, 16, 483–507.

Suschinsky, K. D., Elias, L. J., & Krupp, D. B. (2007). Looking for Ms. Right: Allocating attention to facilitate mate choice decisions. Evolutionary Psychology, 5, 428–441.

Sütterlin, B., Brunner, T. A., & Opwis, K. (2008). Eye-tracking the cancellation and focus model for preference judgments. Journal of Experimental Social Psychology, 44, 904–911.

Symons, D. (1995). Beauty is in the adaptations of the beholder: The evolutionary psychology of human female sexual attractiveness. In P. R. Abramson & S. D. Pinkerton (Eds.), Sexual nature, sexual culture (pp. 80–118). Chicago: University of Chicago Press.

Tsujimura, A., Miyagawa, Y., Takada, S., Matsuoka, Y., Takao, T., Hirai, T., et al. (2009). Sex differences in visual attention to sexually explicit videos: A preliminary study. Journal of Sexual Medicine, 6, 1011–1017.

Vandeweyer, E., & Hertens, D. (2002). Quantification of glands and fat in breast tissue: An experimental determination. Annals of Anatomy, 184, 181–184.

Voracek, M., & Fisher, M. L. (2006). Success is all in the measures: Androgenousness, curvaceousness, and starring frequencies in adult media actresses. Archives of Sexual Behavior, 35, 297–304.

Voracek, M., & Fisher, M. L. (2009). Data are the natural enemy of hypotheses: Reply to Holland (2009) [Letter to the Editor]. Archives of Sexual Behavior, 38, 460–462.

Wiggins, J. S., Wiggins, N., & Conger, J. C. (1968). Correlates of heterosexual somatic preference. Journal of Personality and Social Psychology, 10, 82–90.
About this article
Cite this article
Dixson, B.J., Grimshaw, G.M., Linklater, W.L. et al. Eye Tracking of Men's Preferences for Female Breast Size and Areola Pigmentation. Arch Sex Behav 40, 51–58 (2011). https://doi.org/10.1007/s10508-010-9601-8
Received:

Revised:

Accepted:

Published:

Issue Date:
Keywords
Female attractiveness

Breast size

Areolar pigmentation

Sexual selection

Eye-tracking