Abstract
Evidence indicating that sex-linked toy preferences exist in two nonhuman primate species support the hypothesis that developmental sex differences such as those observed in children's object preferences are shaped in part by inborn factors. If so, then preferences for sex-linked toys may emerge in children before any self-awareness of gender identity and gender–congruent behavior. In order to test this hypothesis, interest in a doll and a toy truck was measured in 30 infants ranging in age from 3 to 8 months using eye-tracking technology that provides precise indicators of visual attention. Consistent with primary hypothesis, sex differences in visual interest in sex-linked toys were found, such that girls showed a visual preference (d > 1.0) for the doll over the toy truck and boys compared to girls showed a greater number of visual fixations on the truck (d = .78). Our findings suggest that the conceptual categories of "masculine" and "feminine" toys are preceded by sex differences in the preferences for perceptual features associated with such objects. The existence of these innate preferences for object features coupled with well-documented social influences may explain why toy preferences are one of the earliest known manifestations of sex-linked social behavior.
This is a preview of subscription content, log in to check access.
Access options
Buy single article
Instant access to the full article PDF.
US$ 39.95
Price includes VAT for USA
Subscribe to journal
Immediate online access to all issues from 2019. Subscription will auto renew annually.
US$ 199
This is the net price. Taxes to be calculated in checkout.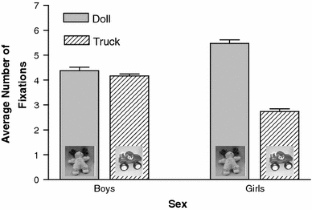 References
Alexander, G. M. (2003). An evolutionary perspective of sex-typed toy preferences: Pink, blue, and the brain. Archives of Sexual Behavior, 32, 7–14.

Alexander, G. M., & Hines, M. (1994). Gender labels and play styles: Their relative contribution to children's selection of playmates. Child Development, 65, 869–879.

Alexander, G. M., & Hines, M. (2002). Sex differences in responses to children's toys in a non-human primate (cercopithecus aethiops sabaeus). Evolution and Human Behavior, 23, 467–479.

Aslin, R. N. (2007). What's in a look? Developmental Science, 10, 48–53.

Berenbaum, S. A., & Hines, M. (1992). Early androgens are related to childhood sex-typed toy preferences. Psychological Science, 3, 203–206.

Block, J. H. (1983). Differential premises arising from differential socialization of the sexes: Some conjectures. Child Development, 54, 1335–1354.

Campbell, A., Shirley, L., & Caygill, L. (2002). Sex-typed preferences in three domains: Do two-year-olds need cognitive variables. British Journal of Psychology, 93, 203–217.

Campbell, A., Shirley, L., & Heywood, C. (2000). Infants' visual preference for sex-congruent babies, children, toys and activities: A longitudinal study. British Journal of Developmental Psychology, 18, 479–498.

Cohen, J. (1977). Statistical analysis for the behavioral sciences. New York: Academic Press.

Connellan, J., Baron-Cohen, S., Wheelwright, S., Batki, A., & Ahluwalia, J. (2000). Sex differences in human neonatal social perception. Infant Behavior and Development, 23, 113–118.

Connor, J. M., & Serbin, L. A. (1977). Behaviorally based masculine- and feminine-activity preferences scales for preschoolers: Correlates with other classroom behaviors and cognitive tests. Child Development, 48, 1411–1416.

Eisenberg, N., Murray, E., & Hite, T. (1982). Children's reasoning regarding sex-typed toy choices. Child Development, 53, 81–86.

Fagot, B. I. (1977). Consequences of moderate cross-gender behavior in preschool children. Child Development, 48, 902–907.

Fagot, B. I. (1978). The influence of sex of child on parental reactions to toddler children. Child Development, 49, 459–465.

Fagot, B. I., Leinbach, M. D., & Hagan, R. (1986). Gender labeling and the adoption of sex-typed behaviors. Developmental Psychology, 22, 440–443.

Fagot, B. I., & Littman, I. (1976). Relation of preschool sex-typing to intellectual performance in elementary school. Psychological Reports, 39, 699–704.

Geary, D. C. (1999). Male, female: The evolution of human sex differences. Washington, DC: American Psychological Association.

Goldberg, S., & Lewis, M. (1969). Play behavior in the year-old infant: Early sex differences. Child Development, 40, 21–31.

Hassett, J. M., Siebert, E. R., & Wallen, K. (2008). Sex differences in rhesus monkey toy preferences parallel those of children. Hormones and Behavior, 54, 359–364.

Hayhoe, M. M. (2004). Advances in relating eye movements and cognition. Infancy, 6, 267–274.

Higley, J. D., Hopkins, W. D., Hirsch, R. M., Marra, L. M., & Suomi, S. M. (1987). Preferences of female rhesus monkeys (macaca mulatta) for infantile coloration. Developmental Psychobiology, 20, 7–18.

Hines, M., & Alexander, G. M. (2008). Monkeys, girls, boys and toys: A confirmation [Letter to the editor]. Hormones and Behavior, 54, 359–364.

Johnson, M. H., & Morton, J. (1991). Biology and cognitive development: The case of face recognition. Oxford: Blackwell.

Lewis, M., & Weinraub, M. (1979). The origins of early sex role development. Sex Roles, 5, 135–153.

Liben, L. S., & Bigler, R. S. (2002). The developmental course of gender differentiation: Conceptualizing, measuring, and evaluating constructs and pathways. Monographs of the Society for Research in Child Development, 67, 1–147.

Maccoby, E. E. (1998). The two sexes: Growing up apart, coming together. Cambridge, MA: Belknap Press/Harvard University Press.

Martin, C. L., & Halverson, C. F. (1981). A schematic processing model of sex typing and stereotyping in children. Child Development, 52, 1119–1134.

Martin, C. L., Ruble, D. N., & Szkrybalo, J. (2002). Cognitive theories of early gender development. Psychological Bulletin, 128, 903–933.

Mather, G., & Murdoch, L. (1994). Gender discrimination in biological motion displays based on dynamic cues. Proceedings of the Royal Society of London. B, 258, 273–279.

Miller, C. L., Younger, B. A., & Morse, P. A. (1982). The categorization of male and female voices in infancy. Infant Behavior and Development, 5, 143–159.

Nordenstrom, A., Servin, A., Bohlin, G., Larsson, A., & Wedell, A. (2002). Sex-typed toy play behavior correlates with the degree of prenatal androgen exposure assessed by cyp21 genotype in girls with congenital adrenal hyperplasia. Journal of Clinical Endocrinology and Metabolism, 87, 5119–5124.

O'Brien, M., & Huston, A. C. (1985). Development of sex-typed play behavior in toddlers. Developmental Psychology, 21, 866–871.

Pasterski, V. L., Geffner, M. E., Brain, C., Hindmarsh, P., Brook, C., & Hines, M. (2005). Prenatal hormones and postnatal socialization by parents as determinants of male-typical toy play in girls with congenital adrenal hyperplasia. Child Development, 76, 264–278.

Pomerleau, A., Bolduc, D., Malcuit, G., & Cossette, L. (1990). Pink or blue: Environmental gender stereotypes in the first two years of life. Sex Roles, 22, 359–367.

Quinn, P. D., Kelly, D. J., Lee, K., Pascalis, O., & Slater, A. M. (2008). Preference for attractive faces in human infants extends beyond conspecifics. Developmental Science, 11, 76–83.

Robert, M., & Heroux, G. (2004). Visuo-spatial play experience: Forerunner of visuo-spatial achievement in preadolescent and adolescent boys and girls? Infant and Child Development, 13, 49–78.

Rochat, P. (1989). Object manipulation and exploration in 2- to 5-month old infants. Developmental Psychology, 25, 871–884.

Ruble, D. N., Martin, C. L., & Berenbaum, S. A. (2006). Gender development. In W. Damon & R. M. Lerner (Series Eds.), and N. Eisenberg (Vol. Ed.), Handbook of child psychology. Vol. 3: Social, emotional, and personality development (6th ed., pp. 858–932). New York: Wiley.

Serbin, L. A., & Connor, J. M. (1979). Sex-typing of children's play preferences and patterns of cognitive performance. Journal of Genetic Psychology, 134, 315–316.

Serbin, L. A., Poulin-Dubois, D., Colburne, K. A., Sen, M. G., & Eichstedt, J. A. (2001). Gender stereotyping in infancy: Visual preferences for and knowledge of gender-stereotyped toys in the second year of life. International Journal of Behavioral Development, 25, 7–15.

Servin, A., Bohlin, G., & Berlin, L. (1999). Sex differences in 1-, 3-, 5-year-olds' toy-choice in a structured play-session. Scandinavian Journal of Psychology, 40, 43–48.

Silk, J. B., Alberts, S. C., & Altmann, J. (2003). Social bonds of female baboons enhance infant survival. Science, 302, 1231–1233.

Smith, P. K., & Daglish, L. (1977). Sex differences in parent and infant behavior in the home. Child Development, 48, 1250–1254.

Voyer, D., Nolan, C., & Voyer, S. (2000). The relation between experience and spatial performance in men and women. Sex Roles, 43, 891–915.

Younger, B. A., & Johnson, K. E. (2006). Infants' developing appreciation of similarities between model objects and their real-world referents. Child Development, 77, 1680–1697.

Zemach, I., Chang, S., & Teller, D. Y. (2007). Infant color vision: Prediction of infants' spontaneous color preferences. Vision Research, 47, 1368–1381.

Zosuls, K. M., Ruble, D. N., Tamis-LeMonda, C. S., Shrout, P. E., Bornstein, M. H., & Greulich, F. K. (in press). The acquisition of gender labels in infancy: Implications for sex-typed play. Developmental Psychology.
Acknowledgement
This research was supported by NSF grant BCS-0618411 (GMA).
About this article
Cite this article
Alexander, G.M., Wilcox, T. & Woods, R. Sex Differences in Infants' Visual Interest in Toys. Arch Sex Behav 38, 427–433 (2009). https://doi.org/10.1007/s10508-008-9430-1
Received:

Revised:

Accepted:

Published:

Issue Date:
Keywords
Toy preferences

Infants

Eye-tracking

Sex differences