Latitude, Digit Ratios, and Allen's and Bergmann's Rules: A Comment on Loehlin, McFadden, Medland, and Martin (2006)
In a recent article in this
Journal
, Loehlin, McFadden, Medland, and Martin (
2006
) investigated the relationship between latitude and digit ratio (2D:4D) first commented upon by Manning (
2002
). Manning suggested that inter-ethnic differences in mean digit ratio were a function of latitude, with populations at intermediate latitudes having the highest digit ratios and those at the equator and at high latitudes having the lowest. This trend was seen in the populations studied in Manning et al. (
2000
) (see Fig.
1
, left panel). Higher digit ratios appeared to be more common at intermediate latitudes. However, the data collected by Loehlin et al. do not appear to fit this trend (Fig.
1
, right panel).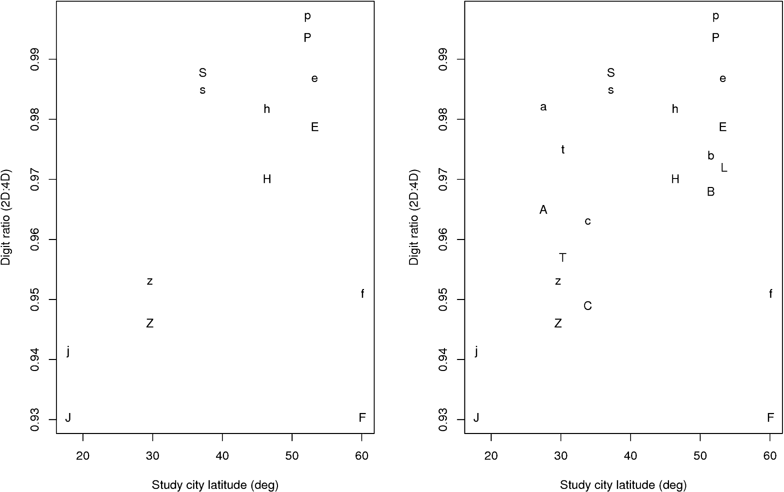 Keywords
Testosterone 
Mental Rotation 
Digit Ratio 
Common Genetic Factor 
Rotation Ability 
These keywords were added by machine and not by the authors. This process is experimental and the keywords may be updated as the learning algorithm improves.
Notes
Acknowledgments
We thank Amy Chee, Steven Hamblin, Frank Trovato, and Reginia Yan for comments and assistance.
Copyright information
© Springer Science+Business Media, LLC 2007