Abstract
Work in Argumentation Studies (AS) and Studies in Expertise and Experience (SEE) has been proceeding on converging trajectories, moving from resistance to expert authority to a cautious acceptance of its legitimacy. The two projects are therefore also converging on the need to account for how, in the course of complex and confused civic deliberations, nonexpert citizens can figure out which statements from purported experts deserve their trust. Both projects recognize that nonexperts cannot assess expertise directly; instead, the nonexpert must judge whether to trust the expert. But how is this social judgment accomplished? A normative pragmatic approach from AS can complement and extend the work from SEE on this question, showing that the expert's putting forward of his view and "bonding" it with his reputation for expertise works to force or "blackmail" his audience of citizens into heeding what he says. Appeals to authority thus produce the visibility and accountability we want for expert views in civic deliberations.
This is a preview of subscription content, log in to check access.
Access options
Buy single article
Instant access to the full article PDF.
US$ 39.95
Price includes VAT for USA
Subscribe to journal
Immediate online access to all issues from 2019. Subscription will auto renew annually.
US$ 99
This is the net price. Taxes to be calculated in checkout.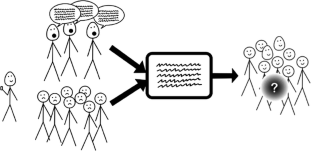 Notes
1.

To AS, this sounds odd. We might want to translate it as "social knowledge can justify, or warrant acceptance of, a technical conclusion."

2.

I have also tried to frame the distinction between technical/internal and social/external grounds for assessment as one between "epistemic" and "pragmatic" justifications for knowledge (Goodwin 2010a); my peers have found this attempt unpersuasive, however.

3.

Need I also point out that the speed of the meta-expert's analysis is likely to be slower than the speed of politics, and that from the citizens' point of view, the friendly meta-expert is yet another apparent egghead demanding their regard?

4.

Put yet another way: we need to ask, insistently, "How do scientists communicate with an untrained public?" (Collins and Evans 2003, p. 446).

5.

In fact, we might expect that a society which paid great public respect to experts would also invest great craft and cunning into the art of evading their advice.
References
Ceccarelli, L. 2011. Manufactured scientific controversy: Science, rhetoric, and public debate. Rhetoric and Public Affairs 14: 195–228.

Colingridge, D., and C. Reeve. 1986. Science speaks to power: The role of experts in policy making. London: Frances Pinter.

Collins, H., and R. Evans. 2002. The third wave of science studies: Studies of expertise and experience. Social Studies of Science 32: 35–296.

Collins, H., and R. Evans. 2003. King Canute meets the beach boys: Responses to the third wave. Social Studies of Science 33: 435–452.

Collins, H., and R. Evans. 2007. Rethinking expertise. Chicago, IL: University of Chicago Press.

Collins, H., and T. Pinch. 1998. The golem: What you should know about science, 2nd ed. Cambridge: Cambridge University Press.

Collins, H., M. Weinel, and R. Evans. 2010. The politics and policy of the third wave: New technologies and society. Critical Policy Studies 4: 185–201.

Evans, R., and A. Plows. 2007. Listening without prejudice? Re-discovering the value of the disinterested citizen. Social Studies of Science 37: 827–853.

Fischer, F. 2009. Democracy and expertise: Reorienting policy inquiry. Oxford: Oxford University Press.

Goldman, A.I. 2001. Experts: Which ones should you trust? Philosophy and Phenomenological Research 63: 85–110.

Goodnight, G.Th. 1982. The personal, technical and public spheres of argument: A speculative inquiry into the art of public deliberation. Journal of the American Forensic Association 18: 214–227.

Goodwin, J. 1998. Forms of authority and the real ad verecundiam. Argumentation 12: 267–280.

Goodwin, J. 2000. Comments on [Jacobs'] "Rhetoric and dialectic from the standpoint of normative pragmatics." Argumentation 14: 287–292.

Goodwin, J. 2001. Cicero's authority. Philosophy and Rhetoric 34: 38–60.

Goodwin, J. 2007. Argument has no function. Informal Logic 27: 69–90.

Goodwin, J. 2009. The authority of the IPCC first assessment report and the manufacture of consensus. Presented at the National Communication Association convention, Chicago, IL; http://goodwin.public.iastate.edu/pubs/goodwinIPCC.pdf.

Goodwin, J. 2010a. The authority of Wikipedia. In Argument cultures, ed. Juko Ritola. Windsor, ONT: Ontario Society for the Study of Argumentation (CD-ROM).

Goodwin, J. 2010b. Trust in experts as a principal-agent problem. In Dialectics, dialogue and argumentation: An examination of Douglas Walton's theories of reasoning and argument, ed. Chris Reed and Christopher W. Tindale, 133–143. London: College Publications.

Goodwin, J., and M.F. Dahlstrom, 2011. Good reasons for trusting climate science communication. Presented at the American Meteorological Society convention, Seattle, WA; http://ams.confex.com/ams/91Annual/webprogram/Paper184847.html.

Govier, T. 2010. Conductive arguments and counter considerations. In A practical study of argument, 352–375. Belmont CA: Wadsworth.

Guston, D.H. 1999. Stabilizing the boundary between US politics and science: The role of the Office of Technology Transfer as a boundary organization. Social Studies of Science 29: 87–111.

Hardwig, J. 1985. Epistemic dependence. The Journal of Philosophy 82: 335–349.

Innocenti, B. Forthcoming. A normative pragmatic model of making fear appeals. Philosophy and Rhetoric.

Jackson, S. 1998. Disputation by design. Argumentation 12: 183–198.

Jackson, S. 2008. Predicaments of politicization in the debate over abstinence-only sex education. In Controversy, confrontation: Relating controversy analysis with argumentation theory, ed. F.H.v. Eemeren and B. Garssen, 215–230. Amsterdam: John Benjamins.

Jacobs, S. 2000. Rhetoric and dialectic from the standpoint of normative pragmatics. Argumentation 14: 261–286.

Johnson, R.H., and J.A. Blair. 1994. Logical self-defense. New York: McGraw-Hill.

Kauffeld, F.J. 1998. Presumptions and the distribution of argumentative burdens in acts of proposing and accusing. Argumentation 12: 245–266.

Kauffeld, F.J. 2002. Pivotal issues and norms in rhetorical theories of argumentation. In Dialectic and rhetoric: The warp and woof of argumentation analysis, ed. F.H.v. Eemeren and P. Houtlosser, 97–118. Dordrecht: Kluwer.

Kauffeld, F.J. 2009. What are we learning about the arguers' probative obligations. In Concerning argument, ed. Scott Jacobs, 1–31. Washington, DC: National Communication Association.

Kutrovátz, G. 2010. Trust in experts: Contextual patterns of warranted epistemic dependence. Balkan Journal of Philosophy 2: 57–68.

Locke, J. 1975 [1690]. An essay concerning human understanding. ed. P.H. Nidditch. Oxford: Clarendon.

Paroske, M. 2009. Deliberating international science policy controversies: Uncertainty and AIDS in South Africa. Quarterly Journal of Speech 95: 148–170.

Priest, S.H., H. Bonfadelli, and M. Rusanen. 2003. The "trust gap" hypothesis: Predicting support for biotechnology across national cultures as a function of trust in actors. Risk Analysis 23: 751–766.

Shapiro, S.P. 1987. The social control of impersonal trust. American Journal of Sociology 93: 623–658.

Tindale, Ch.W. 1999. The authority of testimony. Protosociology 13: 96–116.

Walton, D. 1997. Appeal to expert opinion: Arguments from authority. University Park, PA: The Pennsylvania State University Press.

Weinel, M. 2007. Primary source knowledge and technical decision-making: Mbeki and the AZT debate. Studies in History and Philosophy of Science Part A38: 748–760.

Willard, C.A. 1996. Liberalism and the problem of knowledge: A new rhetoric for modern democracy. Chicago, IL: University of Chicago Press.

Woods, J., and D. Walton. 1974. Argumentum ad verecundiam. Philosophy and Rhetoric 7: 135–153.

Wynne, B. 2003. Seasick on the third wave? Subverting the hegemony of propositionalism: Response to Collins and Evans (2002). Social Studies of Science 33: 401–417.
Acknowledgments
This work was made possible with the support of a summer stipend from the National Endowment for the Humanities (# FT5812610).
About this article
Cite this article
Goodwin, J. Accounting for the Appeal to the Authority of Experts. Argumentation 25, 285 (2011). https://doi.org/10.1007/s10503-011-9219-6
Keywords
Argumentation

Expertise

Authority

Appeal to authority

Deliberation

Normative pragmatics