Abstract
In the past ten years, a growing number of digital projects have emerged within archives, and they have placed a focus on using Linked Data to facilitate connections to be made between music related materials across the World Wide Web. Projects such as Linked Jazz exemplify the possibilities that can be achieved between researchers, digital experts and archivists. Recent developments for Irish traditional music at the Irish Traditional Music Archive (ITMA) in Dublin, Ireland mean that the genre can also now be described using an extensive ontology, LITMUS (Linked Irish Traditional Music). In 2019, we engaged this ontology within a digital project entitled Connections in Sound, exploring the challenges and possibilities for Linked Data based on audio collections of Irish traditional music from the American Folklife Center (AFC) at the Library of Congress in Washington DC. The project adapted an experimental approach to enriching metadata from audio materials of Irish traditional music, song and dance at the AFC by creating and working with proof-of-concept resources. Using the project entitled Connections in Sound as a case study, this paper will demonstrate the challenges, opportunities and particularities related to engaging a range of fieldwork and transcribed metadata as Linked Data. This paper suggests that the work of experimenting with certain types of non-commercial digital audio material for use in datasets and digital infrastructures informs ways to represent diversity of musical traditions in the archive and across the World Wide Web.
Access options
Buy single article
Instant access to the full article PDF.
USD 39.95
Price excludes VAT (USA)
Tax calculation will be finalised during checkout.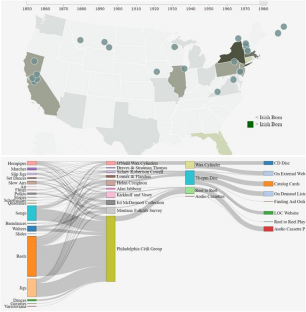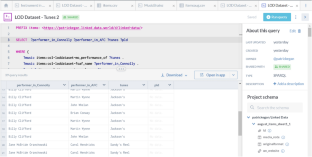 Notes
In Irish traditional music, some examples exist that support the claim that archival audio recordings can contribute to the performance of music within the tradition. For example, in the 1950s in Dublin, Ireland, a number of acetate disc recordings were made of traveller uilleann piper Johnny Doran and it may be argued that these recordings held by the National Folklore Commission in Dublin have made quite an impact on the piping styles of many musicians within Ireland and beyond. This material contributes to the claim that archival field recordings can play role in musical traditions, even though direct connections between the archive and these communities have not been made explicit. This may occur as a result of the ways that archival materials are utilised, for example during process by which they are packaged and issued as part of the commercial recordings made by traditional musicians.

Some grass roots projects grew out of the Web 1.0 movement in the mid-1990s. For example, the 1850 Irish traditional music melodies were transcribed from book form into electronic format by a group of musicians under the leadership of Dan Beimborn and John Chambers, using the ABC music notation language. Their work has since been made freely available on the Internet, now accessible only via The Wayback Machine. Others include "The Fiddler's Companion" by Andrew Kuntz, which includes lore alongside item descriptions.
References
"Mae Mulcahy Plays Concertina and Discusses Irish Dances and Life in Butte, Montana, Part 1." The Library of Congress. https://www.loc.gov/item/afc1981005_afs20441/. Accessed 26 Jan 2021

Alemu G (2018) Metadata enrichment for digital heritage: users as co-creators. Int Inf Libr Rev 50(2):142–156

Boyd D, Crawford K (2012) Critical questions for big data: Provocations for a cultural, technological, and scholarly phenomenon. Inf Commun Soc 15(5):662–679

Burns, C (2019) Diversity & inclusion in cataloging & metadata: paths forward. Digital Humanities 2020

Campbell M (2014) Tribal Kings and Tattooed Chiefs: The Hidden Irish of the Pacific World. Irish Migrants in New Communities: Seeking the Fair Land? Lanham, Kentucky

Cawley J (2020) Becoming an Irish Traditional Musician. Routledge, London

Coladangelo LP (2020) Ontology and Domain Knowledge Base Construction for Contra Dance as an Intangible Cultural Heritage: A Case Study in Knowledge Organization of American Folk Dance. PhD Thesis, Kent State University

Foley JM (2012) Oral tradition and the internet: Pathways of the mind. University of Illinois Press, Chicago

ITMA (2021) Irish Traditional Music Archive. https://www.itma.ie. Accessed 4 Jan 2021

Kearney D (2009) Towards a regional understanding of Irish traditional music. PhD Thesis, UCC

Kenny A (2016) Communities of musical practice. Routledge, New York

Kumar V (2018) A model for content enrichment of institutional repositories using linked data. J of Web Librariansh 12(1):46–62

Kuntz, Andrew (2021) "The Fiddler's Companion." https://www.ibiblio.org/fiddlers/index.html. Accessed 28 Jan 2021

Landau C, Fargion JT (2012) We're all archivists now: towards a more equitable ethnomusicology. Ethnomusicol Forum 21(2):125–140

Larson RR, Pitti D, Turner A (2014) SNAC: the social networks and archival context project-towards an archival authority cooperative. In: IEEE/ACM Joint Conference on Digital Libraries

Lobley N (2011) Taking xhosa music out of the fridge and into the townships. Ethnomusicol Forum 21(2):181–195

Mancini JM (2004) "Messin' with the furniture man": early country music, regional culture, and the search for an anthological modernism. Am Lit His 16(2):208–237

McKemmish S, Faulkhead S, Russell L (2011) Distrust in the archive: reconciling records. Arch Sci 11(3–4):211–239

Ó hAllmhuráin G (2016) Flowing tides: history and memory in an irish soundscape. Oxford University Press, Oxford

O'Shea H (2009) Defining the nation, confining the musician: the case of irish traditional music. Music Politics. https://doi.org/10.3998/mp.9460447.0003.205

Papacharissi Z (2015) The unbearable lightness of information and the impossible gravitas of knowledge: big data and the makings of a digital orality. Media Cult Soc 37(7):1095–1100. https://doi.org/10.1177/0163443715594103

Raimond Y, Samer A, Sandler M, Giasson F (2007) The Music Ontology. ISMIR

Reed T (2009) Returning Hopi Voices: Redefining Repatriation through Community Partnership. Comunicação apresentada na Native American and Indigenous Studies Association Conference, vol. 21

Ridington R, Ridington J (2006) When you sing it now, just like new: first nations poetics, voices, and representations. U of Nebraska Press, Nebraska

Scully M (2018) The Digital Incunabula: The Future of Storytelling in the Digital Age. PhD Thesis, Salve Regina University

Simon N (2010) The participatory museum. Museum 2.0, Santa Cruz

Slominski T (2020) Trad nation: gender, sexuality, and race in irish traditional music. Wesleyan University Press, Connecticut

Smith SKS (2001) Traditional music: ceol traidisiúnta: irish traditional music in a modern world. New Hibernia Review/ Iris Éireannach Nua 5(2):111–125

Smith SKS, Wells PF (2009) He kept the music for himself. Irish Literary Supplement 28(2):26–27

Spencer S (2010) Wheels of the world: how recordings of Irish traditional music bridged the gap between homeland and diaspora. J of Soc for Am Music 4(4):437–449

Talty J (2020) The 'Real Thing'? Deconstructing Canonicity in Irish Traditional Music, Ó Riada Memorial Lecture, p 29

Toner P (2004) History, memory and music: The repatriation of digital audio to Yolngu communities, or, memory as metadata. In: Open Conference Systems, Sydney

Vallely F (2011) The Companion to Irish Traditional Music. Cork University Press, Cork

Ward F (2016) Processes of transmission in Irish traditional music: Approaching a virtual orality. PhD Thesis, UL

Weissenberger L (2014) When "Everything" is Information: Irish Traditional Music and Information Retrieval. In: Proceedings of the iConference 2014 Proceedings. https://doi.org/10.9776/14131
Funding
This research was generously funded by both the Kluge Center Fellowship in Digital Studies at the Library of Congress, and the Fulbright Commission's Tech Impact award, 2019.
Additional information
Publisher's Note
Springer Nature remains neutral with regard to jurisdictional claims in published maps and institutional affiliations.
About this article
Cite this article
Egan, P. In search of the item: Irish traditional music, archived fieldwork and the digital. Arch Sci 23, 45–63 (2023). https://doi.org/10.1007/s10502-021-09382-z
Accepted:

Published:

Issue Date:

DOI: https://doi.org/10.1007/s10502-021-09382-z
Keywords