Abstract
This paper explores the nature of the archival body and the ways in which it is temporally situated and yet also always in motion. Applying transdisciplinary logics, it argues that the affective nature of archival productions follows the machinations of metamorphoses and (un)becoming. Using two queer/ed and transgender archives as sites of inquiry, the paper explores the erotic and affective nature of accessing the archival body in its multimodal forms. Although touching, smelling and stroking what remains of distinct material lives might elucidate arousal and certain other affective and haptic responses within the visitor to the archives, the records themselves hold and cradle their creators and their storytelling techniques along with their relationships to longing for and belonging in the archival body of knowledge. This approach suggests that understanding of the record and its affects can be enriched by temporal perspectives that acknowledge distinct and diverse temporalities and promote generative understandings of potentially meaningful progressions of time and everyday rhythms embodied within archival materials.
This is a preview of subscription content, log in to check access.
Access options
Buy single article
Instant access to the full article PDF.
US$ 39.95
Price includes VAT for USA
Subscribe to journal
Immediate online access to all issues from 2019. Subscription will auto renew annually.
US$ 99
This is the net price. Taxes to be calculated in checkout.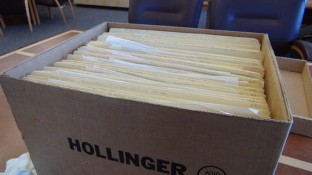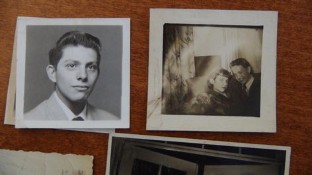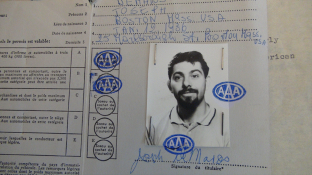 Notes
1.

I use the forward slash in queer/ed to highlight the movement between a present and past tense verb. Importantly, this word choice is a deliberate move toward the verb to queer as a way to subvert the normative. The slash '/' for me also represents the taking apart and simultaneous coming together, much like (un)becoming metamorphoses, which implicates embodiment.

2.

3.

In a 2006 online interview, Ari states "I did not identify as bisexual until late in the '90s. However, I did label myself as androgyne-bigender. I defined the terms operationally, i.e. living comfortably in either conventional gender role for most social situations and taking what I consider the most positive aspects from each" (www.myhusbandbetty.com/2006/05/24/five-questions-with-ariadne-kane/).
References
Ahmed S (2006) Orientations: toward a queer phenomenology. GLQ J Lesbian Gay Stud 12(4):543–574

Bastian J (2009) 'Play mas': carnival in the archives and the archives in carnival: records and community identity in the US Virgin Islands. Arch Sci 9:113–125

Bearman DA, Lytle RH (1985–86) The power of the principle of provenance. Archivaria 21(Winter):14–27

Berlant L (1997) The queen of America goes to Washington city: essays on sex and citizenship. Duke University Press, Durham

Brown W (1995) States of injury. Princeton University Press, Princeton

Browne K, Nash CJ (2010) Queer methods and methodologies: an introduction. In: Browne K, Nash CJ (eds) Queer methods and methodologies: intersecting queer theory and social science research. Ashgate Publishing, Surrey, pp 1–23

Canaday M (2011) The straight state: sexuality and citizenship in twentieth-century America. Princeton University Press, Princeton

Cook T, Schwartz JM (2002) Archives, records, and power: from (postmodern) theory to (archival) performance. Arch Sci 2:1–19

Cvetkovich A (2003) An archive of feelings: trauma, sexuality, and lesbian public cultures. Duke University Press, Durham

en|gender: Helen Boyd's J Gender & Trans Iss. http://www.myhusbandbetty.com/2006/05/24/five-questions-with-ariadne-kane/. Accessed 23 Oct 2015

Freedman EB (1998) 'The burning of letters continues': elusive identities and the historical construction of sexuality. Women Hist 9(4):181–200

Freeman E (2010) Time binds: queer temporalities, queer histories. Duke University Press, Durham

Freud S (1899) The interpretation of dreams. Franz Deuticke, Leipzig

Gordon AF (1997) Ghostly matters: haunting and the sociological imagination. University of Minnesota Press, Minneapolis

Gould DB (2009) Moving politics: emotion and ACT UP's fight against AIDS. University of Chicago Press, Chicago

Gregg M, Seigworth GJ (2010) The affect theory reader. Duke University Press, Durham

Halberstam J (2005) In a queer time & place: transgender bodies, subcultural lives. New York University Press, New York

Hernández R (2015) Drawn from the scraps: the finding AIDS of Mundo Meza. Rad Hist Rev 122:70–88

Hunter GS (2003) Developing and maintaining practical archives, 2nd edn. Neal-Schuman, New York

Husserl E (1900) Logical investigations. Tr. JN Findlay (1970) Routledge, New York

Lee JA (2015a) Beyond pillars of evidence: exploring the shaky ground of queer/ed archives and their methodologies. In: Gilliland AJ, McKemmish S, Lau A (eds) Research in the archival multiverse. Monash University Press, Melbourne

Lee JA (2015b) A Queer/ed Archival Methodology: theorizing practice through radical interrogations of the archival body. Dissertation

Licona AC (2012) Zines in third space: radical cooperation and borderlands rhetoric. SUNY Press, Albany

Licona AC (2013) "Mi'ja, just say you're a feminist like you used to…": pa/trolling & performing queer rhetorics in the everyday. Keynote Address, Queering Spaces/Queering Borders Queer Studies Conference at University of North Carolina-Asheville

Love H (2007) Feeling backward: loss and the politics of queer history. Harvard University Press, Cambridge

Marks LU (2002) touch: sensuous theory and multisensory media. University of Minnesota Press, Minneapolis

Massumi B (1987) Notes on the translation and acknowledgments. In: A thousand plateaus: capitalism and schizophrenia, by G Deleuze and F Guattari. Tr. B. Massumi. University of Minnesota Press, Minneapolis

Massumi B (2002) Parables for the virtual: movement, affect, sensation. Duke University Press, Durham

Massumi B (2003) Navigating movements: an interview with Brian Massumi. In: Zournazi M (ed) Hope: new philosophies for change. Routledge, New York, pp 210–242

Mbembe A (2001) On the postcolony. University of California Press, Berkeley

McKemmish S, Gilliland AJ (2013) Archival and recordkeeping research: past, present, and future. In: Williamson K, Johanson G (eds) Research methods: information, systems and contexts. Tilde Publishing, Prahran, pp 79–112

McKemmish S, Iacovino L, Ketelaar E, Castan M, Russell L (2011) Resetting relationships: archives and Indigenous human rights in Australia. Arch Manuscr 39(1):107–144

Muñoz JE (1999) Disidentifications: queers of color and the performance of politics. University of Minnesota Press, Minneapolis

Muñoz JE (2006) Feeling brown, feeling down: Latina affect, the performativity of race, and the depressive position. Signs New Fem Theor Vis Cult 31(3):675–688

Puar JK (2007) Terrorist assemblages: homonationalism in queer times. Duke University Press, Durham

Schwartz JM, Cook T (2002) Archives, records, and power: the making of modern memory. Arch Sci 2:1–19

Sedgwick EK (1997) Paranoid reading and reparative reading; or, you're so vain, you probably think this introduction is about you. In: Sedgwick EK (ed) Novel gazing: queer readings in fiction. Duke University Press, Durham, pp 1–37

Sobchack V (2004) Carnal thoughts: embodiment and moving image culture. University of California Press, Berkeley

Steedman C (2001) Dust: the archive and cultural history. Rutgers University Press, New Brunswick

Sullivan N (2003) A critical introduction to queer theory. New York University Press, New York

Transgender Archives, University of Victoria, Victoria, British Columbia, Canada. Figures used are photographs taken of 2008-006 Swin, Rikki Collection 2/24 007/01/025 during research visit in March 2014. Used with permission from Transgender Archives

Transgender Archives, University of Victoria, Victoria, British Columbia, Canada. http://transgenderarchives.uvic.ca/. Accessed 23 Oct 2015

Upward F (1996) Structuring the records continuum—part one: postcustodial principles and properties. Arch Manuscr 24(2):268–285
About this article
Cite this article
Lee, J.A. Be/longing in the archival body: eros and the "Endearing" value of material lives. Arch Sci 16, 33–51 (2016). https://doi.org/10.1007/s10502-016-9264-x
Keywords
Queer

Embodiment

Affect

Belonging

Temporality

Archival body