Abstract
In this paper, we propose an epistemological framework based on mixed methods research to support specific adaptation of digital preservation models (such as the Open Archival Information System) in relation to digital curation models (such as the Digital Curation Centre curation lifecycle). Specifically, in the artistic domain, this framework is targeting production processes involving work-specific digital technologies, where the goal is to preserve the ways of re-performing the works rather than the preservation of a recording of the performance. This framework is based on four previous studies and their ontological and epistemological assumptions. The paper builds on these studies to elaborate a model for mixed methods digital curation, which accounts for multiple views of the relation between information and representation, and presents the impact on both digital curation research and practice.
Access options
Buy single article
Instant access to the full article PDF.
US$ 39.95
Tax calculation will be finalised during checkout.
Subscribe to journal
Immediate online access to all issues from 2019. Subscription will auto renew annually.
US$ 79
Tax calculation will be finalised during checkout.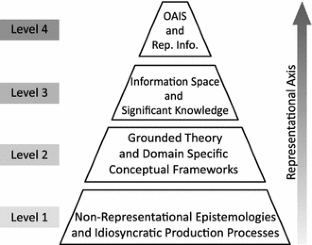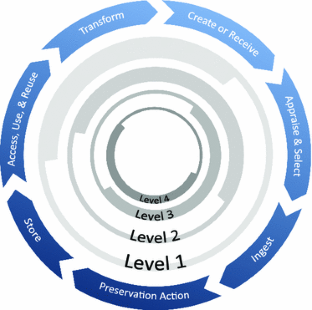 Notes
1.

For the record, MOMA in New York City recently added video games to its permanent collection, Antonelli (2012).

2.

Boutard and Guastavino reviewed other knowledge management models, some of which have been used in the context of information studies, such as Snowden's Cynefin model in Childs and McLeod's (2013) research in record management.

3.

From this perspective, "the model can and should be made as independent of singular contexts as possible" (Lorino et al. 2011, p. 771).
References
Abbott D (2012) Preserving interaction. In: Konstantelos L, Delve J, Anderson D, Billenness C, Baker D, Dobreva M (eds) Software art, vol 2. JISC, pp 61–70

Abbott D, Beer E (2006) Getting to know our audience: AHDS performing arts scoping study. Tech Rep AHDS Performing Arts, Glasgow

Antonelli P (2012) Video games: 14 in the collection, for starters. Accessed 24 Nov 2013 at http://www.moma.org/explore/inside_out/2012/11/29/video-games-14-in-the-collection-for-starters

Balmisse G (2002) Gestion des connaissances—outils et applications du knowledge management. Vuibert, Paris

Bateson G (1987) Steps to an ecology of mind: collected essays in anthropology, psychiatry, evolution, and epistemology. Aronson, Northvale

Benghozi PJ (1995) Les sentiers de la gloire: savoir gérer pour savoir créer. In: Charue-Duboc F (ed) Des savoirs en action. L'Harmattan, Paris, pp 51–87

Berweck S (2012) It worked yesterday: on (re-)performing electroacoustic music. PhD Thesis, University of Huddersfield

Bloor D (1999) Anti-latour. Stud Hist Philos Sci 30(1):81–112

Blumer H (1969) Symbolic interactionism: perspective and method. Prentice-Hall, Englewood Cliffs

Boisot MH (1995) Information space: a framework for learning in organizations, institutions and culture. Routledge, London

Boisot MH, Canals A (2004) Data, information, and knowledge: have we got it right? J Evol Econ 14(1):43–67

Boisot MH, MacMillan I, Han K (2007) Property rights and information flows: a simulation approach. J Evol Econ 17(1):63–93

Born G (1997) Modernist discourse, psychic forms, and agency: aesthetic subjectivities at IRCAM. Cult Anthropol 12(4):480–501

Born G (2005) On musical mediation: ontology, technology and creativity. Twent Century Music 2(01):7–36

Boutard G, Guastavino C (2012a) Archiving electroacoustic and mixed music: significant knowledge involved in the creative process of works with spatialisation. J Doc 68(6):749–771

Boutard G, Guastavino C (2012b) Following gesture following: grounding the documentation of a multi-agent creation process. Comput Music J 36(4):59–80

Boutard G, Guastavino C (2013) The performing world of digital archives. In: Actes de la 4ème conférence document numérique et société. De Boeck, Zagreb, pp 13–24

Boutard G, Marandola F (2013a) Documentation des processus créatifs pour la préservation et la dissémination des œuvres mixtes. In: Proceedings of tracking the creative process in music 2013, Montréal, QC, pp 35–37

Boutard G, Marandola F (2013b) Méthode et application de la documentation des œuvres mixtes en vue de leur préservation et de leur diffusion. Circuit: musiques contemporaines 22(4):37–47

Boutard G, Guastavino C, Turner JM (2013) A digital archives framework for the preservation of artistic works with technological components. Int J Digit Curation 8(1):42–65

Bryant A (2009) Grounded theory and pragmatism: the curious case of Anselm Strauss. Forum Qual Soc Res 10(3). Accessed 19 Mar 2014 at http://www.qualitative-research.net/index.php/fqs/article/view/1358

Bulmer M (1979) Research questions and hypothesis block 2, Part 1. Research methods in education and social sciences. Open University Press, Milton Keynes

Cahour B, Licoppe C (2010) Confrontations with traces of one's own activity. Revue d'anthropologie des connaissances 4(2):a–k

Canazza S, Vidolin A (2001) Introduction: preserving electroacoustic music. J New Music Res 30(4):289–293

Cance C, Genevois H, Dubois D (2013) What is instrumentality in new digital musical devices? A contribution from cognitive linguistics and psychology. In: Castellango M, Genevois H (eds) La musique et ses instruments. Delatour, Paris, pp 283–298

Charmaz K (2006) Constructing grounded theory: a practical guide through qualitative analysis. Sage Publications, Thousand Oaks

Childs S, McLeod J (2013) Tackling the wicked problem of ERM: using the cynefin framework as a lens. Rec Manag J 23(3):191–227

Cibangu SK (2013) A memo of qualitative research for information science: toward theory construction. J Doc 69(2):194–213

Clarke AE (2005) Situational analysis: grounded theory after the postmodern turn. Sage, Thousand Oaks

Clot Y (2008) Travail et pouvoir d'agir. Presses Universitaires de France, Paris

Clot Y, Leplat J (2005) La méthode clinique en ergonomie et en psychologie du travail. Le travail humain 68(4):289–316

Coenen-Huther J (2002) La sociologie des sciences entre positivisme et sociologisme. Revue européenne des sciences sociales 40(124):219–231

Coleman A (2011) Quote from an artist's manager. In: Scholte T, Wharton G (eds) Inside installations: theory and practice in the care of complex artworks. Amsterdam University Press, Amsterdam, pp 217–218

Collins D (2007) Real-time tracking of the creative music composition process. Digit Creat 18(4):239–256

Costain Schou K, Hewison J (1998) Health psychology and discourse: personal accounts as social texts in grounded theory. J Health Psychol 3(3):297–311

Cussins A (1992) Content, embodiment and objectivity. The theory of cognitive trails. Mind 101(404):651–688

Dappert A, Farquhar A (2009) Significance is in the eye of the stakeholder. In: Proceedings of ECDL'09. Corfu, Greece, pp 297–308

Davenport TH, Prusak L (1998) Working knowledge: how organizations manage what they know. Harvard Business Press, Boston

Day RE (2010) The self-imposed limits of library and information science: remarks on the discipline, on the profession, on the university, and on the state of "Information" in the U.S. at large today. InterActions UCLA J Edu Inf Stud 6(2). Accessed 19 Mar 2014 at http://www.escholarship.org/uc/item/0jr2h7w5

de Tilly AN (2009) Moving images, editioned artworks and authenticity. In: Hermens E, Fiske E (eds) Art, conservation and authenticities: material, concept, context. Archetype Publications, London

Donin N (2012) Empirical and historical musicologies of creative processes: towards a cross-fertilization. In: Collins D (ed) The act of musical composition: Studies in the creative process. Ashgate Publishing Limited, Burlington, pp 1–26

Donin N, Theureau J (2007) Theoretical and methodological issues related to long term creative cognition: the case of musical composition. Cogn Technol Work 9(4):233–251

Fidel R (2008) Are we there yet? : mixed methods research in library and information science. Libr Inf Sci Res 30:265–272

Fourmentraux JP (2006) Internet artworks, artists and computer programmers: sharing the creative process. Leonardo 39(1):44–50

Franklin MB (2001) The artist speaks: Sigmund Koch on aesthetics and creative work. Am Psychol 56(5):445–452

Frické M (2008) The knowledge pyramid: a critique of the DIKW hierarchy. J Inf Sci 35(2):131–142

Georgiou D (2001) Présentation du champ des méthodes qualitatives dans la psychologie anglo-saxonne. In: Rouan G, Santiago Delefosse M (eds) Les méthodes qualitatives en psychologie. Dunod, Paris, pp 9–37

Gingras Y (1995) Un air de radicalisme. Actes de la recherche en sciences sociales 108(1):3–18

Glaser BG (1978) Theoretical sensitivity: advances in the methodology of grounded theory. Sociology Press, Mill Valley

Glaser BG, Strauss AL (1967) The discovery of grounded theory: strategies for qualitative research. Aldine Publishing, Chicago

Goodman AI (1993) Philosophical applications of cognitive science. Westview Press, Boulder CO

Goulding C (2002) Grounded theory: a practical guide for management, business and market researchers. Sage, London

Greene JC (2006) Toward a methodology of mixed methods social inquiry. Res Sch 13(1):93–98

Greene JC (2008) Is mixed methods social inquiry a distinctive methodology? J Mixed Methods Res 2(1):7–22

Guba EG (1981) Criteria for assessing the trustworthiness of naturalistic inquiries. Edu Commun Technol J 29(2):75–91

Guy M, Donnelly M, Molloy L (2013) Pinning it down: towards a practical definition of 'Research data' for creative arts institutions. Int J Digit Curation 8(2):99–110

Heath H, Cowley S (2004) Developing a grounded theory approach: a comparison of Glaser and Strauss. Int J Nurs Stud 41(2):141–150

Hedstrom M (1991) Understanding electronic incunabula: a framework for research on electronic records. Am Arch 54(3):334–354

Hedstrom M, Lee C (2002) Significant properties of digital objects: definitions, applications, implications. In: Proceedings of the DLM-forum 2002. Office for Official Publications of the European Communities, Luxembourg, pp 218–227

Hennion A (1993) La passion musicale: une sociologie de la médiation. Editions Métailié, Paris

Hennion A, Latour B (1993) Objet d'art, objet de science. note sur les limites de l'anti-fétichisme. Sociologie de l'art 6:7–24

Henwood KL, Pidgeon NF (1992) Qualitative research and psychological theorizing. Br J Psychol 83(1):97–111

Heydenreich G (2011) Documentation of change—change of documentation. In: Scholte T, Wharton G (eds) Inside installations: theory and practice in the care of complex artworks. Amsterdam University Press, Amsterdam, pp 155–171

Higgins S (2008) The DCC curation lifecycle model. Int J Digit Curation 3(1):134–140

Hockx-Yu H, Knight G (2008) What to preserve?: significant properties of digital objects. Int J Digit Curation 3(1):141–153

Hutchins E (1995) Cognition in the wild. MIT Press, Cambridge

Innocenti P (2012) Bridging the gap in digital art preservation: interdisciplinary reflections on authenticity, longevity and potential collaborations. In: Konstantelos L, Delve J, Anderson D, Billenness C, Baker D, Dobreva M (eds) Software art, vol 2. JISC, pp 71–83

Key Perspectives Ltd (2010) Data dimensions: disciplinary differences in research data sharing, reuse and long term viability. SCARP synthesis study. Tech Rep Digital Curation Centre. Accessed 24 Nov 2013 at http://www.dcc.ac.uk/projects/scarp

Knight G, Pennock M (2009) Data without meaning: establishing the significant properties of digital research. Int J Digit Curation 4(1):159–174

Konstantelos L (2012) Documenting the context of software artworks through social theory: towards a vocabulary for context classification. In: Konstantelos L, Delve J, Anderson D, Billenness C, Baker D, Dobreva M (eds) Software art, vol 2. JISC pp 18–32

Laforet A (2009) La conservation du net art au musée—les stratégies à l'oeuvre. PhD Thesis, Université d'Avignon et des Pays de Vaucluse

Latour B (1994) On technical mediation—philosophy, sociology, genealogy. Common Knowl 3:29–64

Latour B (2005) Reassembling the social: an introduction to actor-network-theory (Clarendon lectures in management studies). Oxford University Press, New York

Laurenson P (2006) Authenticity, change and loss in the conservation of time-based media installations. In: Schachter J, Brockman S (eds) (Im)permanence: cultures in/out of time. Center for the Arts in Society, Carnegie Mellon University, Pittsburgh, pp 150–164

Lorino P, Tricard B, Clot Y (2011) Research methods for non-representational approaches to organizational complexity: the dialogical mediated inquiry. Organ Stud 32(6):769–801

Lovejoy M (2011) Defining conditions for digital arts: social function, authorship, and audience. In: Lovejoy M, Paul C, Vesna V (eds), Context providers: conditions of meaning in media arts. Intellect Books

Ma L (2012a) Meanings of information: the assumptions and research consequences of three foundational LIS theories. J Am Soc Inf Sci Technol 63(4):716–723

Ma L (2012b) Some philosophical considerations in using mixed methods in library and information science research. J Am Soc Inf Sci Technol 63(9):1859–1867

McAdam R, McCreedy S (1999) A critical review of knowledge management models. Learn Organ 6(3):91–101

McDonough J (2013) A tangled web: Metadata and problems in game preservation. In: Anderson D, Delve J (eds) Gaming environments and virtual worlds, vol 3. JISC, pp 49–62

Menger PM, Cullinane D (1989) Technological innovations in contemporary music. J R Music Assoc 114(1):92–101

Meunier JG (2002) Représentation, information et culture. In: Rastier F (ed) Une introduction aux sciences de la culture. Presses Universitaires de France, Paris

Mills J, Bonner A, Francis K (2006) The development of constructivist grounded theory. Int J Qual Methods 5(1):25–35

Morel B, Ramanujam R (1999) Through the looking glass of complexity: The dynamics of organizations as adaptive and evolving systems. Organization Sci 10(3):278–293

Nielsen HJ, Hjørland B (2014) Curating research data: the potential roles of libraries and information professionals. J Doc 70(2):221–240

Nonaka I, Takeuchi H (1995) The knowledge-creating company: how Japanese companies create the dynamics of innovation, 1st edn. Oxford University Press, New York

Palmer CL, Wickett KM, Weber NM, Muñoz T, Renear AH (2013) Foundations of data curation: the pedagogy and practice of "purposeful work" with research data. Arch J 3. Accessed 19 Mar 2014 at http://www.archivejournal.net/issue/3/archives-remixed/foundations-of-data-curation-the-pedagogy-and-practice-of-purposeful-work-with-research-data

Pennock M (2007) Digital curation: a life-cycle approach to managing and preserving usable digital information. Libr Arch 1. Accessed 19 Mar 2014 at http://www.ukoln.ac.uk/ukoln/staff/m.pennock/publications/docs/lib-arch_curation.pdf

Rastier F (2010) Sémantique et recherches cognitives, 3rd edn. Presses Universitaires de France, Paris

Reference model OAIS (magenta book). Tech Rep (2012, Jun). Consultative Committee for Space Data Systems, Washington, DC

Richard A, Boutard G (2013) Derrière les potentiomètres, les musiciens de l'Experimentalstudio : entretien avec André Richard. Circuit: musiques contemporaines 22(4):25–35

Strauss AL (1969) Mirrors and masks: the search for identity. Sociology Press, Mill Valley

Strauss AL, Corbin JM (1994) Grounded theory methodology: an overview. In: Denzin NK, Lincoln YS (eds) Handbook of qualitative research, 2nd edn. Sage Publications, Thousand Oaks, pp 273–285

Strauss AL, Corbin JM (1998) Basics of qualitative research: techniques and procedures for developing grounded theory, 2nd edn. Sage Publications, Thousand Oaks

Suchman L (1987) Plans and situated actions: the problem of human-machine communication. Cambridge University Press, Cambridge

Producer-archive interface methodology abstract standard. Tech Rep (2006) Consultative Committee for Space Data Systems, Washington, DC

Theureau J (2010) Les entretiens d'autoconfrontation et de remise en situation par les traces matérielles et le programme de recherche "cours d'action". Revue d'anthropologie des connaissances 4(2):287–322

Van Someren MW, Barnard YF, Sandberg JA (1994) The think aloud method: a practical guide to modelling cognitive processes. Academic Press, London

Vermersch P (2009) Describing the practice of introspection. J Conscious Stud 16(10–12):20–57

Vermersch P (2011) L'entretien d'explicitation, 7th edn. ESF, Issy-les-Moulineaux

Waibel G, Erway R (2009) Think globally, act locally: library, archive, and museum collaboration. Mus Manag Curatorship 24(4):323–335

Wetzel DB (2004) Analysis, reconstruction, and performance of interactive electroacoustic music for clarinet and obsolete technology: selected compositions by musgrave, pennycook, kramer, and lippe. PhD Thesis, University of Arizona

Wetzel DB (2006) A model for the conservation of interactive electroacoustic repertoire: analysis, reconstruction, and performance in the face of technological obsolescence. Organ Sound 11(3):273–284

Yakel E, Faniel I, Kriesberg A, Yoon A (2013) Trust in digital repositories. Int J Digit Curation 8(1):143–156

Yong K (2006) Electroacoustic adaptation as a mode of survival: arranging giacinto scelsi's aitsi pour piano amplifée (1974) for piano and computer. Organ Sound 11(3):243–254

Zorich DM, Waibel G, Erway R (2008) Beyond the silos of the LAMs: collaboration among libraries, archives and museums. Tech Rep OCLC Research. Accessed 24 Nov 2013 at http://www.oclc.org/content/dam/research/publications/library/2008/2008-05.pdf
Acknowledgments
The author would like to thank the anonymous reviewers for their constructive and encouraging comments.
About this article
Cite this article
Boutard, G. Towards mixed methods digital curation: facing specific adaptation in the artistic domain. Arch Sci 15, 169–189 (2015). https://doi.org/10.1007/s10502-014-9218-0
Keywords
Digital curation lifecycle

Mixed methods

Epistemological framework

Information and representation

Domain-specific adaptation

Artistic domain