Abstract
Global inland aquaculture continues to grow rapidly at an annual rate of 5.8%, increasing competition for other land use thereby generating sustainability concerns. Nigeria is the largest producer of African catfish, yet species-level information is completely scanty in relation to encompassing nature of environmental, social and economic values. In this study, a field survey exercise of the operations, systems and yield of Eriwe fish farm village was conducted with 74 fish farm cooperatives. The present study sought to establish the sustainability status of catfish farming in the region using proposed indicators in the existing literature. Findings revealed catfish farming in the village is economically sustainable with an annual gross margin of $44,539 and $25,868, coupled with a net income of $44,386 and $25,728 for intensive and semi-intensive systems respectively. This was further established with net present value (NPV) of $10,279 and $8323 and benefit-cost ratio (BCR) of 2.16 and 2.35 for both systems respectively. Both systems were found to have low labour remuneration < 0.50, which are below the recommended standard of 1. Environmental sustainability indicators revealed 100% of farmers discharged untreated wastewater directly into the river. All catfish farmers in the village contributed to the annual upgrade of road networks and security assurance. Through this study, it was revealed catfish farming is economically sustainable in the region. However, the influence of catfish farming practices on the social factors and ecological values have been given little or no attention.
This is a preview of subscription content,
to check access.
Access this article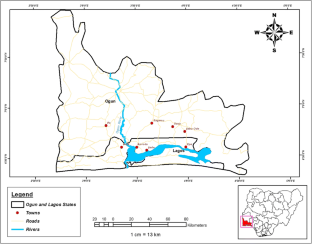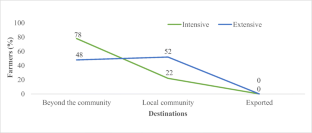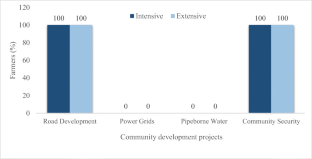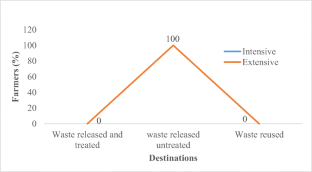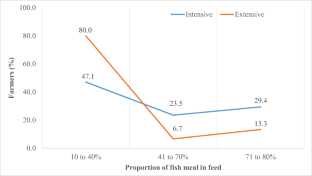 Similar content being viewed by others
References
Abiona BG, Fakoya EO, Alegbeleye WO, Fapojuwo EO, Adeogun SO et al (2011) Constraints to integrated and non – integrated fish farming activities in Ogun state. Nigeria Journal of Agricultural Science 3(4):233–240

Adeniyi MA (2016) Using fish farming cluster to create wealth: Ijebu pattern (operations). Being Text of Address Presented to the Minister of Niger Delta, Abuja

Adeogun OA, Ayinla OA, Ajana AM, Ajao EA (1999) Economic impact assessment of hybrid catfish (Heteroclarias) in Nigeria. In: Technical report of National Agricultural Research Project (NARP). Lagos, NIOMR, Victoria Island, pp 27

Adewumi AA (2015) Aquaculture in Nigeria: sustainability issues and challenges. Aquaculture and Food Science 3(12):223–231

Adewumi AA, Olaleye VF (2011b) Catfish culture in Nigeria: progress, prospects and problems. Afr J Agric Res 6(6):1281–1285

Agbeja YE, Obosi K (2014) Assessing the level of aquaculture biosecurity regulations compliance in Ibadan, Nigeria. Journal of Biology and Medical Sciences 2:2409–5117

Akegbejo-samsons Y, Adeoye O (2012) Measuring profitability in small-scale aquaculture enterprises in South-west, Nigeria. In: IIFET 2012 Tanzania proceedings

Akinrotimi OA, Abu MG, Aranyo AA (2011) Environmentally friendly aquaculture key to sustainable fish farming development in Nigeria. Cont J Fish and Aqua Sci 5(2):17–31

Alawode OO, Oluwatayo I (2016b) Effect of catfish production of welfare of small-holder farmers in Osun state, Nigeria. J Agric Ext Rural Dev 4(42):471–481

Anamarija F, Carl H (2003) Sustainable aquaculture: developing the promise of aquaculture. Global conference: oceans and coasts at Rio+;10, UNESCO, Paris, December 3–7, 2001. Kluwer academic publishers. Aquac Int 11(517–530):2003

Appelbaum S, Kamler E (2000) Survival, growth, metabolism and behavior of Clarias gariepinus early stages under different light conditions. Aquacult Eng 22:269–287

Bennich T (2015) The economic sustainability of land-based aquaculture systems: an integrated analysis (published master's thesis). University of Bergen, Bergen

Britz JP (1988) Environmental requirement of African sharptooth catfish, Clarias gariepinus, larvae and juveniles. MSc, thesis. Rhodes University, Grahamston, p 123

Bruton MN (1986) The life history styles of invasive fishes in southern Africa. In: Macdonald IAW, Kruger FJ, Ferrar AA (eds) The ecology and Management of Biological Invasions in southern Africa. Oxford University Press, Cape Town, pp 201–209

Cao L, Wang W, Yang Y, Yang C, Yuan Z, Xiong S, Diana J (2007) Environmental impact of aquaculture and countermeasures to aquaculture pollution in China. Env Sci Pollut Res 14(7):452–462

Dasuki K, Auta J, Oniye S (2013) Effects of stocking density on production in floating bamboo cages at Kubanni reservoir, Zaria, Nigeria. Bayero Journal of Pure and Applied Sciences ( BAJOPAS) 6(1):112–117

Emmanuel O (2014) Review of aquaculture production and management in Nigeria. Am J Exp Agric 4(10):1137–1151

Emokaro CO, Ekunwe PA, Achille A (2010) Profitability and viability of catfish farming in Kogi state. Nigeria Res J Agric Biol Sci 6(3):215–219

European Commission Calculation of labour including FTE (full-time equivalent) in fisheries; final report FISH/2005/14, vol 2005. Directorate General for Fisheries and Maritime Affairs of the European Commission, Brussels, p 2005

FAO (2011) Technical guidelines on aquaculture certification. Rome, FAO, p 2011

FAO (2016). The state of world fisheries and aquaculture 2016. Food and agriculture organization of the United Nations, Rome, p 204

FAO (2017). FAOSAT. Statistics Division. Food and Agriculture Organisation of the United Nations

FAO (2018) The state of world fisheries and aquaculture: meeting the sustainable development goals. Rome, FAO, p 2018

Gee J, Pinello D, Polymeros K (2017) Drivers of labour-related indicators across diverse Mediterranean fisheries. Sustainability 9:1–16

Golden CD, Allison EH, Cheung WWL, Dey MM, Halpern BS, McCauley DJ, Smith M, Vaitla B, Zeller D, Myers SS (2016) Nutrition: fall in fish catch threatens human health. Nature 534(7607):317–320

Gowen RJ (1994) Managing eutrophication associated with aquaculture development. J Appl Ichthyol 10(4):242–257

Grealis E, Hynes S, O'Donoghueb C, Vegaa A, Van Oscha S (2017) The economic impact of aquaculture expansion: an input-output approach. Mar Policy 81:29–36

Hasan MR, Halwart M (2010) Fish as feed inputs for aquaculture practices, sustainability and implications. In: FAO fisheries and aquaculture technical paper. No. 518, vol 209. FAO, Rome, p 407

IREPA, IFREMER, FOI, SEAFISH, Lei BV, Framian BV (2006) IREPA: Salerno, Italy, 2006

Islam MS, Rahman MM, Tanaka M (2006b) Stocking density positively influences the yield and farm profitability in cage aquaculture of sutchi catfish, Pangasius sutchi. J Appl Ichthyol 22(5):441–445

Kaliba AR, Ngugi CC, Mackambo J, Quagrainie KK (2007) Economic profitability of Nile tilapia (Oreochromis niloticus L.) production in Kenya. Aquac Res 38(11):1129–1136

Kapembwa-Namonje T, Samboko P (2017) Assessing the profitability of small-scale aquaculture fish production in Zambia. Indaba Agricultural Policy Research Institute (IAPRI), Zambia

Kawazaki N, Kushairi MR, Yusoff F, Nagao N, Imai A, Kohzu A (2016) Release of nitrogen and hosphorus from aquaculture farms to Selangor river, Malaysia. International Journal of Environmental Science and Development ( IJESD) 7(2):113–116

Kent G (2019) Fish, food, and hunger: the potential of fisheries for alleviating malnutrition. Routledge, Milton Park

Lazard J (2011) Evaluation of aquaculture system sustainability: a methodology and comparative approach CIRAD

Lazard J, Baruthio A, Mathé S, Rey-Valette H, Chia E, Clément O et al (2010) Aquaculture system diversity and sustainable development: fish farms and their representation. Aquat Living Resour 23(2):187–198

Lazard J, Rey-Valette H, Aubin J, Mathé S, Chia E, Caruso D et al (2014b) Assessing aquaculture sustainability: a comparative methodology. Int J Sustainable Dev World Ecol 21(6):503–511

Mafimisebi TE, Okunmadewa YF (2012) Comparative cost structure and yield performance analysis of upland and mangrove fish farms in southwest, Nigeria. International Journal of Agricultural Management and Development (IJAMAD), pp 187–198

Mensah J (2019) Sustainable development: meaning, history, principles, pillars, and implications for human action: literature review. Cogent Soc Sci 5(2019):1653531

National Bureau of Statistics (2014) A labour productivity in Nigeria (2010–2014): A short analysis

Nigeria fishery statistics (2016) Summary report. Retrieved December 25, 2019, from Fisheries Committee for the West Central Gulf of Guinea

Okechi JK (2004) Profitability assessment: a case study of African catfish (Clarias gariepinus) farming in the Lake Victoria basin, Kenya (Master's thesis). The United Nations University

Okpeke MY, Akarue BO (2015) Analysis of the profitability of fish farming in Warri south local government area of Delta state, Nigeria. IOSR Journal Of Agricultural And Veterinary Science (IOSR-JAVS) 8(12):45–51

Olaniyi WA, Omitogun OG (2012) Stages in the early growth and larva development of the African catfish, Clarias gariepinus. The Cambridge University press, p 17

Olaoye OJ, Ashley-Dejo SS, Fakoya EO, Ikeweinwe NB, Alegbeleye WO, Ashaolu FO, Adelaja OA (2012) Assessment of socio-economic analysis of fish farming in Oyo state, Nigeria. Global Journal of Science Frontier Research Agriculture and Veterinary 13(9):45–55

Olaoye OJ, Ogunremi BJ, Ojebiyi GW (2017) Investigation of sources of microcredit and profitability of fish farming in Eriwe fish farm estate. Ijebu-ode, Ogun state, Nigeria. Aquac Environ 4(2):36–50

Olapade OJ, Bangura H, Tholley JB, Momoh RB (2017) Economic differential of integrated farming, rice cum piggery and fish, rice cum poultry production systems. Afri J food Agric Nutri Dev 17(3):12325–12342

Oluwemimo O, Damilola A (2013) Socio-economic and policy issues determining sustainable fish farming in Nigeria. Int J Livest Prod 4(1):1–8. https://doi.org/10.5897/IJLP12.013

Omitoyin BO (2007) Introduction to fish farming in Nigeria. University Press, University of Ibadan, Ibadan, 105pp. ISBN 978–121–427-9

Omofunmi EO, Adisa AF, Alegbeleye OA, Ilesanmi OA (2017) Assessment of catfish effluents management in Lagos state, Nigeria. J Eng Technol 2(2):33–36

Osuagwu EO (2018) Effect of oil spills on fish production in the Niger Delta. PLoS One 13(10):e0205114

Sarà G (2007) A meta-analysis on the ecological effects of aquaculture on the water column: dissolved nutrients. Mar Environ Res 63(4):390–408

Tacon AGJ, Metian M, Turchini GM, Silva SSD (2009) Responsible aquaculture and trophic level implications to global fish supply. Rev Fish Sci 18(1):94–105

Udo IU, Ndome CB, Asuquo PE (2011a) Use of stochastic programming in least-cost feed formulation for african catfish (Clarias gariepinus) in semi-intensive culture system in Nigeria. J Fish Aquat Sci 6(4):447–455

Udo IU, Ndome CB, Ekanem SB, Asuquo PE (2011b) Application of linear programming technique in least-cost ration formulation for African catfish (Clarias gariepinus) in semi-intensive culture system in Nigeria. J Fish Aquat Sci 6:429–437

Valderrama J, Coronado J, Vasquez J, Chiang G (2001) Productividad y crecimiento económico en el Perú (Series de Estudios 075). Lima, Instituto Peruano de Economía (IPE) Retrieved from https://www.ipe.org.pe/portal/wp-content/uploads/2018/01/2001-Productividad-crecimiento-Peru.pdf

Valentti WC, Moraes-Valentti P (2018) Indicators of sustainability to assess aquaculture systems. Aquaculture 88:402–413

Van AJG, Bason L (1984) Checklist of freshwater fish parasites from southern Africa. S Afr J Wildl Res 14:49–61

Weir LK, Grant JW (2005) Effects of aquaculture on wild fish populations: a synthesis of data. Environ Rev 13:145–168

WorldFish (2018) WorldFish Nigeria strategy: 2018–2022 | WorldFish publications. WorldFish. https://www.worldfishcenter.org/content/worldfish-nigeria-strategy-2018-2022
Acknowledgement
We give glory and thanks to God Almighty for granting us the strength and ability to achieve this academic milestone. The authors greatly appreciate the remarks and valuable comments of the anonymous reviewers in improving the overall status of this article.
Ethics declarations
Ethical statement
This article does not contain any studies with animals performed by any of the aforementioned authors. However, other appropriate guidelines for conducting this were duly adhered to.
Conflict of interest
The authors declare no conflict of interest.
Additional information
Handling Editor: Gavin Burnell
Publisher's note
Springer Nature remains neutral with regard to jurisdictional claims in published maps and institutional affiliations.
About this article
Cite this article
Folorunso, E.A., Rahman, M.A., Sarfo, I. et al. Catfish farming: a sustainability study at Eriwe fish farming village in southwest Nigeria. Aquacult Int 29, 827–843 (2021). https://doi.org/10.1007/s10499-021-00662-0
Received:

Accepted:

Published:

Issue Date:

DOI: https://doi.org/10.1007/s10499-021-00662-0
Keywords