Abstract
This study aimed to establish the impact of commercial probiotics on European catfish growth parameters and water quality in recirculating aquaculture systems. For the study, the European catfish were placed in two tanks with 45 fish in each tank. Average body weight and length at the beginning of the study were 133.0 g and 27.0 cm, respectively. Rearing conditions and feeding regime were identical, and the only difference was that 1 ml of commercial probiotics was poured into the water of one experimental tank every other day. The experiment lasted for 42 days. Weight and length were measured every 2 weeks. After each measurement, European catfish growth parameters, feed conversion ratios, and feed efficiency were established. After the end of the study, it was established that there were significant differences between specific growth speed, daily growth index, feed conversion ratio, and feed efficiency (P < 0.05) for the fish reared in two experimental groups. Statistically significant differences in the water parameters were established among ammonia, nitrite, and dissolved oxygen concentrations (P < 0.05). Differences in temperature, nitrates, and pH were statistically insignificant. The results of this study showed that commercial probiotics can be used in the European catfish culture to enhance water quality, feed efficiency, and growth performance.
Access options
Buy single article
Instant access to the full article PDF.
US$ 39.95
Tax calculation will be finalised during checkout.
Subscribe to journal
Immediate online access to all issues from 2019. Subscription will auto renew annually.
US$ 79
Tax calculation will be finalised during checkout.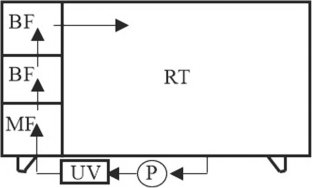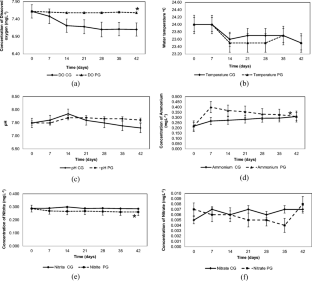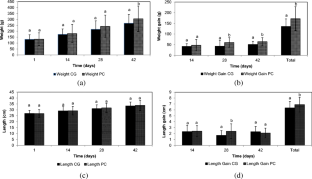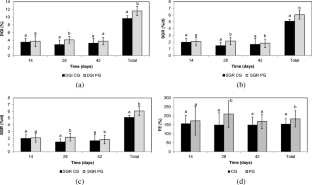 References
Al-Dohail MA, Hashim R, Aliyu-Paiko M (2009) Effects of the probiotic, Lactobacillus acidophilus, on the growth performance, haematology parameters and immunoglobulin concentration in African Catfish (Clarias gariepinus, Burchell 1822) fingerling. Aquac Res 40:1642–1652. https://doi.org/10.1111/j.1365-2109.2009.02265.x

Badiola M, Mendiola D, Bostock J (2012) Recirculating aquaculture systems (RAS) analysis: main issues on management and future challenges. Aquac Eng 51:26–35. https://doi.org/10.1016/j.aquaeng.2012.07.004

Balcazar JL, de Blas I, Ruiz-Zarzuela I, Cunningham D, Vendrell D, Muzquiz JL (2006) The role of probiotics in aquaculture. Vet Microbiol 114:173–186. https://doi.org/10.1016/j.vetmic.2006.01.009

Banerjee G, Ray AK (2017) The advancement of probiotics research and its application in fish farming industries. Res Vet Sci 115:66–77. https://doi.org/10.1016/j.rvsc.2017.01.016

Chun SJ, Cui Y, Ahn CY, Oh HM (2018) Improving water quality using settleable microalgae Ettlia sp. and the bacterial community in freshwater recirculating aquaculture system Danio rerio. Water Res 135:112–121. https://doi.org/10.1016/j.watres.2018.02.007

Copp GH, Robert Britton J, Cucherousset J, García-Berthou E, Kirk R, Peeler E, Stakenas S (2009) Voracious invader or benign feline? A review of the environmental biology of European Catfish Silurus glanis in its native and introduced ranges. Fish Fish 10(3):252–282. https://doi.org/10.1111/j.1467-2979.2008.00321.x

Crab R, Avnimelech Y, Defoirdt T, Bossier P, Verstraete W (2007) Nitrogen removal techniques in aquaculture for a sustainable production. Aquaculture 270:1–14. https://doi.org/10.1016/j.aquaculture.2007.05.006

Dalmin G, Kathiresan K, Purushothaman A (2001) Effect of probiotics on bacterial population and health status of shrimp in culture pond ecosystem. Indian J Exp Biol 39:939–942

David JA (2006) Water quality and accelerated winter growth of European Catfish using an enclosed recirculating system. Water Environ J 20(4):233–239. https://doi.org/10.1111/j.1747-6593.2006.00021.x

Dawood MAO, Koshio S (2016) Resent advances in the role of probiotics and prebiotics in carp aquaculture: a review. Aquaculture 454:243–251. https://doi.org/10.1016/j.aquaculture.2015.12.033

Dimitroglou A, Merrifield DL, Carnevali O, Picchietti S, Avella M, Daniels C, Güroy D, Davies SJ (2011) Microbial manipulations to improve fish health and production—a Mediterranean perspective. Fish Shellfish Immun 30:1–16. https://doi.org/10.1016/j.fsi.2010.08.009

El-Dakar AY, Goher TM (2004) Using of Bacillus subtillus in microparticulatediets for producing biosecure of Peneaus japonicus postlarvae. Agriculture Science Mansoura University 29:6855–6873

Eurofish International Organisation. Market Prospects for Aquaculture Species (2017). 106 p. https://zum.lrv.lt/uploads/zum/documents/files/LT_versija/Market%20prospects%20for%20aquaculture%20species.pdf. Accessed 15 Jan 2019

Farzanfar A (2006) The use of probiotics in shrimp aquaculture. FEMS Immunol Med Microbiol 48:149–158. https://doi.org/10.1111/j.1574-695X.2006.00116.x

FEAP secretariat European Aquaculture Production Report 2007-2015 (2016). (October 2016). http://www.aquamedia.org/Default.asp?SHORTCUT=617. Accessed 21 Jan 2019

Froese R, Pauly D (Editors) (2019) FishBase. World wide web electronic publication. version (02/2019)., available online at http://www.fishbase.org. Accessed 15 Jan 2019

Gatesoupe FJ (1999) The use of probiotics in aquaculture. Aquaculture 180:147–165. https://doi.org/10.1016/S0044-8486(99)00187-8

Ghosh AK, Bir J, Azad MAKM, Hasanuzzaman AF, Islam MS, Huq KA (2016) Impact of commercial probiotics application on growth and production of giant fresh water prawn (Macrobrachium Rosenbergii De Man, 1879). Aquacult. Reports 4:112–117. https://doi.org/10.1016/j.aqrep.2016.08.001

Gobi N, Malaikozhundan B, Sekar V, Shanthi S, Vaseeharan B, Jayakumar R, Nazar AK (2016) GFP tagged Vibrio parahaemolyticus Dahv2 infection and the protective effects of probiotic Bacillus licheniformis Dahb1 on the growth, immune and antioxidant responses in Pangasius hypophthalmus. Fish Shellfish Immun 52:230–238. https://doi.org/10.1016/j.fsi.2016.03.006

Hai NV (2015b) The use of probiotics in aquaculture. J Appl Microbiol 119:917–935. https://doi.org/10.1111/jam.12886

Huang X, Zhou H, Zhang H (2006) The effect of Sargassum fusiforme polysaccharide extracts on vibriosis resistance and immune activity of the shrimp, Fenneropenaeus chinensis. Fish Shellfish Immun 20:750–757. https://doi.org/10.1016/j.fsi.2005.09.008

Huynh TG, Shiu YL, Nguyen TP, Truong QP, Chen JC, Liu CH (2017) Current applications, selection, and possible mechanisms of actions of synbiotics in improving the growth and health status in aquaculture: a review. Fish Shellfish Immun 64:367–382. https://doi.org/10.1016/j.fsi.2017.03.035

Irianto A, Austin B (2002) Use of probiotics to control furunculosis in rainbow trout, Oncorhynchus mykiss (Walbaum). J Fish Dis 25:1–10. https://doi.org/10.1046/j.1365-2761.2002.00375.x

Iribarren D, Daga P, Moreira MT, Feijoo G (2012) Potential environmental effects of probiotics used in aquaculture. Aquac Int 20:779–789

Jahangiri L, Esteban AM (2018) Administration of probiotics in the water in finfish aquaculture systems. Fishes 3:1–13. https://doi.org/10.3390/fishes3030033

Johnston G (2008) Arctic charr aquaculture. John Wiley and Sons Ltd. USA

Kim JK, Park K, Cho KS, Nam SW, Park TJ, Bajpai R (2005) Aerobic nitrification–denitrification by heterotrophic Bacillus strains. Bioresour Technol 96:1897–1906. https://doi.org/10.1016/j.biortech.2005.01.040

Kumar NJP, Srideepu K, Hanuma Reddy M, Siva Reddy K V (2016) Effect of water probiotics (Pro-W) on Litopenaeus vannamei culture ponds of Nellore, Andhra Pradesh. India. International Journal of Environmental Sciences. Int J Environ Sci 6(5):846–850. http://www.ipublishing.co.in/ijesarticles/fourteen/articles/volsix/EIJES6079.pdf

Lakshmanan R, Soundarapandian P (2008) Effect of commercial probio-tics on large scale culture of black tiger shrimp Penaeus monodon (Fabricius). Res J Microbiol 3:198–203. https://doi.org/10.3923/jm.2008.198.203

Lakshmi B, Viswanath B, Sai Gopal DVR (2015) Influence of the isolated probiotic bacteria on the water quality parameters of shrimp pond and their effect on growth and survival of the shrimp. Int J Sci Eng Res 6:15–22

Laloo R, Ramchuran S, Ramduth D, Gorgens J, Gardiner N (2007) Isolation and selection of Bacillus spp. as potential biological agents for enhancement of water quality in culture of Ornamental sh. J Appl Microbiol 103:1471–1479. https://doi.org/10.1111/j.1365-2672.2007.03360.x

Lazado CC, Caipang CMA (2014) Atlantic cod in the dynamic probiotics research in aquaculture. Aquaculture 424–425:53–62. https://doi.org/10.1016/j.aquaculture.2013.12.040

Lazado CC, Caipang CM, Estante EG (2015) Prospects of host-associated microorganisms in fish and penaeids as probiotics with immunomodulatory functions. Fish shellfish Immun 45(1):2–12. https://doi.org/10.1016/j.fsi.2015.02.023

Lee SY, Lee BH (1990) Esterolytic and lipolytic activities of lactobacillusCasei-subsp-Casei LLG. Journal of Food Science 55(1):119–122. https://doi.org/10.1111/j.1365-2621.1990.tb06031.x

Liu CH, Chen JC (2004) Effect of ammonia on the immune response of white shrimp Litopenaeus vannamei and its susceptibility to Vibrio alginolyticus. Fish Shellfish Immun 16:321–334. https://doi.org/10.1016/S1050-4648(03)00113-X

Liu F, Han W (2004) Reuse strategy of wastewater in prawn nursery by microbial remediation. Aquaculture 230:281–296. https://doi.org/10.1016/j.aquaculture.2003.09.033

Ma C-W, Cho Y-S, Oh K-H (2009) Removal of pathogenic bacteria and nitrogens by Lactobacillus spp. JK-8 and JK-11. Aquaculture 287:266–270. https://doi.org/10.1016/j.aquaculture.2008.10.061

Martínez Cruz P, Ibáñez AL, Monroy Hermosillo OA, Ramírez Saad HC (2012) Use of probiotics in aquaculture. International Scholarly Research Network Microbiology 916845:1–13. https://doi.org/10.5402/2012/916845

Martins CIM, Eding EH, Verdegem MCJ, Heinsbroek LTN, Schneider O, Blancheton JP, d'Orbcastel ER, Verreth JAJ (2010) New developments in recirculating aquaculture systems in Europe: a perspective on environmental sustainability. Aquac Eng 43:83–93. https://doi.org/10.1016/j.aquaeng.2010.09.002

Mazurkiewicz J, Przybył A, Golski J (2008) Evaluation of selected feeds differing in dietary lipids levels in feeding juveniles of wels catfish, Silurus glanis L. Acta Ichthyol Piscat 38(2):91–96

Merrifield DL, Bradley G, Baker RTM, Davies SJ (2010) Probiotic applications for rainbow trout (Oncorhynchus mykiss Walbaum) II. Effects on growth performance, feed utilization, intestinal microbiota and related health criteria post antibiotic treatment. Aquac Nutr 16(5):496–503. https://doi.org/10.1111/j.1365-2095.2009.00688.x

Michael ET, Amos SO, Hussaini LT (2014) A review on probiotics application in aquaculture. Fish Aquac J 5:111

Myrick CA, Cech JJ (2000) Temperature influences on California rainbow trout physiological performance. Fish Physiol Biochem 22(245):254–254. https://doi.org/10.1023/A:1007805322097

Nayak SK (2010) Probiotics and immunity: a fish perspective. Fish Shellfish Immun 29:2–14. https://doi.org/10.1016/j.fsi.2010.02.017

Newaj-Fyzul A, Al-Harbi AH, Austin B (2014) Review: developments in the use of probiotics for disease control in aquaculture. Aquaculture 431:1–11. https://doi.org/10.1016/j.aquaculture.2013.08.026

Nimrat S, Suksawat S, Boonthai T, Vuthiphandchai V (2012) Potencial Bacillus probiotics enhance bacterial number, water quality and growth during development of white shrimp (Litopenaeus vannamei). Vet Microbiol 159:443–450. https://doi.org/10.1016/j.vetmic.2012.04.029

Padmavathi P, Sunitha K, Veeraiah K (2012) Efficacy of probiotics in improving water quality and bacterial flora in fish ponds. African Journal of Microbiology Research 6 (49), 7471–7478. https://doi.org/10.5897/AJMR12.496

Paschos I, Nathanailides C, Perdikaris C, Tsoumani M (2004) Comparison of morphology, growth and survival between Silurus glanis, S. aristotelis and their hybrid during larval and juvenile stages. Aquac Res 35:97–99

Pillay TVR, Kutty MN (2005) Aquaculture, principles and practices, 2nd Edition. Blackwell Publishing Ltd, Oxford

Proteau JP, Hilge V, Linhart O (1996) Present state and prospects of the aquaculture of catfishes (Siluroidei) in Europe. Aquat Liv Res 9:229–235

Pruszyñski T, Pistelok F (1999) Biological and economical evaluation of African and European catfish rearing in water recirculating systems – Archives of Polish Fisheries 7(2):343–352

Rodríguez-Ramos T, Espinosa G, Hernández-López J, Gollas-Galván T, Marrero J, Borrell Y, Alonso ME, Becquer U (2008) Effects of Echerichia coli lipopolysaccharides and dissolved ammonia on immune response in southern white shrimp Litopenaeus schmitti. Aquaculture 274:118–125. https://doi.org/10.1016/j.aquaculture.2007.10.049

Sahu MK, Swarnakumar NS, Sivakumar K, Thangaradjou T, Kannan L (2008) Probiotics in aquaculture: importance and future perspectives. Indian J Microbiol 48:299–308. https://doi.org/10.1007/s12088-008-0024-3

Shaheen AA, Eissa N, Abou-ElGheit EN, Yao H, Wang HP (2014) Effect of probiotic on growth performance and growth-regulated genes in yellow perch (Perca flavescens). Global Journal of Fisheries and Aquaculture Researches 1(2):01–15. https://doi.org/10.13140/2.1.4325.2803

Summerfelt ST, Davidson JW, Waldrop TB, Tsukuda SM, Bebak-Williams J (2004) A partial-reuse system for coldwater aquaculture. Aquacult Eng 31(3-4):157–181. https://doi.org/10.1016/j.aquaeng.2004.03.005

Timmons M, Ebeling J, Wheaton F, Summerfelt S, Vinci B (2002) Recirculating aquaculture systems, 2nd edition., Cayuga Aqua Ventures, USA, 760

Wang Y, Xu Z (2006) Effect of probiotics for common carp (Cyprinus carpio) based on growth performance and digestive enzyme activities. Anim Feed Sci Technol 127:283–292. https://doi.org/10.1016/j.anifeedsci.2005.09.003

Wang YB, Xu ZR, Xia MS (2005) The effectiveness of commercial probiotics in northern white shrimp (Penaeus vannamei L.) ponds. Fish Sci 71:1034–1039. https://doi.org/10.1111/j.1444-2906.2005.01061.x

Wang YB, Tian ZQ, Yao JT, Li WF (2008) Effects of probiotics, Enterococcus faecium, on tilapia (Oreochromis niloticus) growth performance and immune response. Aquaculture 277:203–207. https://doi.org/10.1016/j.aquaculture.2008.03.007

Ziaei-Nejad S, Rezaei MH, Takami GA, Lovett DL, Mirvaghefi A-R, Shakouri M (2006) The effect of Bacillus spp. bacteria used as probiotics on digestive enzime activity, survival and growth in the Indian white shrimp Fenneropenaeus indicus. Aquaculture 252:516–524. https://doi.org/10.1016/j.aquaculture.2005.07.021

Zorriehzahra MJ, Delshad ST, Adel M, Tiwari R, Karthik K, Dhama K, Lazado CC (2016) Probiotics as beneficial microbes in aquaculture: an update on their multiple modes of action: a review. Vet Q 36(4):228–241. https://doi.org/10.1080/01652176.2016.1172132
Acknowledgments
The authors are grateful to the Fishery Service for the opportunity to conduct the experiment with European catfish, Baltic Probiotics Enterprise for providing free probiotics, and the Aquaculture Centre for providing equipment.
Ethics declarations
Conflict of interest
The authors declare that they have no conflict of interest.
Ethical statement
All applicable international, national, and/or institutional guidelines for the care and use of animals were followed by the authors.
Additional information
Publisher's note
Springer Nature remains neutral with regard to jurisdictional claims in published maps and institutional affiliations.
About this article
Cite this article
Zibiene, G., Zibas, A. Impact of commercial probiotics on growth parameters of European catfish (Silurus glanis) and water quality in recirculating aquaculture systems. Aquacult Int 27, 1751–1766 (2019). https://doi.org/10.1007/s10499-019-00428-9
Received:

Accepted:

Published:

Issue Date:
Keywords
Commercial probiotics

Recirculating aquaculture system

Silurus glanis

Water quality

Growth performance