Abstract
We aimed to investigate proximate and fatty acid composition of important freshwater fish species in the Czech Republic. Sampled fish include seven species from intensive farming: African catfish, rainbow trout, Wels catfish, Nile tilapia, brook trout, northern whitefish, and pikeperch; eight species from semi-intensive culture systems: common carp, northern pike, pikeperch, grass carp, European perch, tench, silver carp, and catfish; and three species from extensive culture systems: rainbow trout, tench, and common carp. The fat content and fatty acid composition were highly influenced by the culture systems. Simultaneously, we observed a significant dependence of fatty acid composition on the fat content. The content of saturated fatty acids was below 34% in all analyzed fish. Northern pike, pikeperch, and European perch contained with over 50% the highest proportion of polyunsaturated fatty acids. Intensively cultured fish reached the highest content of eicosapentaenoic and docosahexaenoic fatty acid. Nutritional quality was determined by atherogenic and thrombogenic indexes which ranged from 0.27 to 0.63 and 0.20 to 0.61 and by ratios n-3/n-6 (0.54–3.45) and polyunsaturated/saturated fatty acids (0.67–2.01). Results demonstrated that the flesh of all studied species are of high nutritional quality.
This is a preview of subscription content,
to check access.
Access this article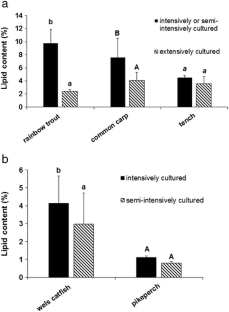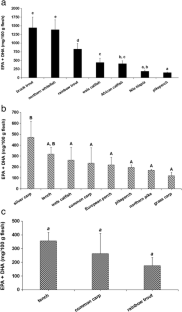 Similar content being viewed by others
References
Adamkova V, Kacer P, Mraz J, Suchanek P, Pickova J, Kralova Lesna I, Skibova J, Kozak P, Maratka V (2011) The consumption of the carp meat and plasma lipids in secondary prevention in the heart ischemic disease patients. Neuroendocrinol Lett 32(2):101–104

Adkins Y, Kelley DS (2010) Mechanisms underlying the cardioprotective effects of omega-3 polyunsaturated fatty acids. J Nutr Biochem 21(9):781–792. https://doi.org/10.1016/j.jnutbio.2009.12.004

Block RC, Pearson TA (2006) The cardiovascular implication of omega-3 fatty acids. Folia Cardiologica 13(7):557–569

Borderias AJ, Sanchez-Alonso I (2011) First processing steps and the quality of wild and farmed fish. J Food Sci 76(1):R1–R5. https://doi.org/10.1111/j.1750-3841.2010.01900.x

Calder PC, Yaqoob P (2009) Omega-3 polyunsaturated fatty acids and human health outcomes. Biofactors 35(3):266–272. https://doi.org/10.1002/biof.42

Cirkovic M, Ljubojevic D, Dordevic V, Novakov N, Petronijevic R, Matekalo-Sverak V, Trbovic D (2012) The breed effect on productivity and meat nutrient compsition of fish. Kafkas Univ Vet Fak 18(5):775–780

de Castro FAF, Sant'Ana HMP, Campos FM, Costa NMB, Silva MTC, Salaro AL, Franceschini SD (2007) Fatty acid composition of three freshwater fishes under different storage and cooking processes. Food Chem 103(4):1080–1090. https://doi.org/10.1016/j.foodchem.2006.10.002

Department of Health and Social Security, Diet and cardiovascular disease (1984) Report on health and social subjects. HMSO, London, pp 443–456

EFSA (2010) Panel on dietic products, nutrition and allergies (NDA). Scientific opinion on dietary reference values for fats, including saturated fatty acids, polyunsaturated fatty acids, monounsaturated fatty acids, trans fatty acids, and cholesterol. EFSA J 8:1461

Erkan N, Ozden O (2007) Proximate composition and mineral contents in aqua cultured sea bass (Dicentrarchus labrax), sea bream (Sparus aurata) analyzed by ICP-MS. Food Chem 102(3):721–725. https://doi.org/10.1016/j.foodchem.2006.06.004

FAO (Food and Agricultural Organization) (2014) The State of World Fisheries and Aquaculture-Opportunities and Challenges. http://www.fao.org/fishery/species/2957/en. Cited 3 April 2016

Füllner G, Wirth M (1996) Der Einfluß der Ernährung auf Fettgehalt und Fettsäurezusammensetzung Europäischer Welse Silurus glanis. Fett-Lipid 98(9):300–304. https://doi.org/10.1002/lipi.19960980904

Garaffo MA, Vassallo-Agius R, Nengas Y, Lembo E, Rando R, Maisano R, Dugo G, Giuffrida D (2011) Fatty acids profile, aterogenic (IA) and thrombogenic (IT) health lipid indices, of raw roe of blue fin tuna (Thunnus thynus L.) and their salted product "Bottarga". Food Nutr Sci 2(07):736–743. https://doi.org/10.4236/fns.2011.27101

Gjedrem T, Robinson N, Rye M (2012) The importance of selective breeding in aquaculture to meet future demands for animal protein: a review. Aquaculture 350:117–129

Hallier A, Serot T, Prost C (2007) Influence of rearing conditions and feed on the biochemical composition of fillets of the European catfish (Silurus glanis). Food Chem 103(3):808–815. https://doi.org/10.1016/j.foodchem.2006.09.027

Hara A, Radin NS (1978) Lipid extraction of tissues with a low-toxicity solvent. Anal Biochem 90(1):420–426. https://doi.org/10.1016/0003-2697(78)90046-5

Huynh MD, Kitts DD (2009) Evaluating nutritional quality of pacific fish species from fatty acid signatures. Food Chem 114(3):912–918. https://doi.org/10.1016/j.foodchem.2008.10.038

Jabeen F, Chaudhry AS (2011) Chemical compositions and fatty acid profiles of three freshwater fish species. Food Chem 125(3):991–996. https://doi.org/10.1016/j.foodchem.2010.09.103

Kose I, Yildiz M (2013) Effect of diets containing sesame oil on growth and fatty acid composition of rainbow trout (Oncorhynchus mykiss). J Appl Ichthyol 29(6):1318–1324. https://doi.org/10.1111/jai.12184

Kucska B, Pal L, Muller T, Bodis M, Bartos A, Wagner L, Husveth F, Bercsenyi M (2006) Changing of fat content and fatty acid profile of reared pike (Esox lucius) fed two different diets. Aquac Res 37(1):96–101. https://doi.org/10.1111/j.1365-2109.2005.01402.x

Ljubojevic D, Trbovic D, Lujic J, Bjelic-Cabrilo O, Kostic D, Novakov N, Cirkovic M (2013) Fatty acid composition of fishes from inland waters. Bulg J Agric Sci 19(1):62–71

Lund EK (2013) Health benefits of seafood; is it just the fatty acids? Food Chem 140(3):413–420. https://doi.org/10.1016/j.foodchem.2013.01.034

Másílko J, Bláha M, Hlaváč D, Vejsada P (2015) The effects of using mechanicaly modified cereals on the growth, feed conversion, fat content and fillet yield of market size common carp grown in ponds. Turk J Fish Aquat Sc 15:593–600

Morris PC (2001) The effects of nutrition on the composition of farmed fish. In: Kestin SC, Warriss PD (eds) Farmed fish quality. Fishing News Books, Oxford, pp 161–179

Mozaffarian D, Rim EB (2006) Fish intake, contaminants, and human health: evaluating the risks and the benefits. J Amer Med Assoc 296(15):1885–1899. https://doi.org/10.1001/jama.296.15.1885

Mraz J, Pickova J (2009) Differences between lipid content and composition of different parts of fillets from crossbred farmed carp (Cyprinus carpio). Fish Physiol Biochem 35(4):615–623. https://doi.org/10.1007/s10695-008-9291-5

Mraz J, Zajic T, Pickova J (2012) Culture of common carp (Cyprinus carpio) with defined flesh quality for prevention of cardiovascular diseases using finishing feeding strategy. Neuroendocrinol Lett 33:60–67

National Research Council (NRC) (1993) Nutrient requirements of fish. National Academy Press, Washington

Orban E, Nevigato T, Masci M, Di Lena G, Casini I, Caproni R, Gambelli L, De Ange-lis P, Rampacci M (2007) Nutritional quality and safety of European perch (Perca fluviatilis) from thre lakes of central Italy. Food Chem 100(2):482–490. https://doi.org/10.1016/j.foodchem.2005.09.069

Ozogul Y, Ozogul F, Alagoz S (2007) Fatty acid profiles and fat contents of commercially important seawater and freshwater fish species of Turkey: a comparative study. Food Chem 103(1):217–223. https://doi.org/10.1016/j.foodchem.2006.08.009

Popelka P, Marcincak S, Maskal'ova I, Guothova L, Certik M (2014) Comparison of the chemical composition and nutritional values of fresh and frozen rainbow trout. Slov Vet Res 51(2):73–80

Razavi NR, Arts MT, Qu MZ, Jin BS, Ren WW, Wang YX, Campbell LM (2014) Effect of eutrophication on mercury, selenium, and essential fatty acids in Bighead Carp (Hypophthalmichthys nobilis) from reservoirs of eastern China. Sci Total Environt 499:36–46. https://doi.org/10.1016/j.scitotenv.2014.08.019

Rosa R, Bandarra NM, Nunes ML (2007) Nutritional quality of African catfish Clarias gariepinus (Burchell 1822): a positive criterion for the future development of the European production of Siluroidei. Int J Food Sci Technol 42(3):342–351. https://doi.org/10.1111/j.1365-2621.2006.01256.x

Simopoulos AP (2002) The importance of the ratio of omega-6/omega-3 essential fatty acids. Biomed Pharmacother 56(8):365–379. https://doi.org/10.1016/S0753-3322(02)00253-6

Stancheva M, Merdzhanova A, Dobreva DA, Makedonski L (2014) Common carp (Cyprinus caprio) and European catfish (Sillurus glanis) from the Danube River as sources of fat soluble vitamins and fatty acids. Czech J Food Sci 32(1):16–24

Steffens W (1997) Effects of variation in essential fatty acids in fish feeds on nutritive value of freshwater fish for humans. Aquaculture 151(1-4):97–119. https://doi.org/10.1016/S0044-8486(96)01493-7

Tocher DR (2003) Metabolism and functions of lipids and fatty acids in teleost fish. Rev Fish Sci 11(2):107–184. https://doi.org/10.1080/713610925

Ulbricht TLV, Southgate DAT (1991) Coronary heart disease: seven dietary factors. Lancet 338(8773):985–992. https://doi.org/10.1016/0140-6736(91)91846-M

Zajic T, Mraz J, Sampels S, Pickova J (2013) Fillet quality changes as a result of purging of common carp (Cyprinus carpio L.) with special regard to weight loss and lipid profile. Aquaculture 400–401:111–119

Zmijewski T, Kujawa R, Jankowska B, Kwiatkowska A, Mamcarz A (2006) Slaughter yield, proximate and fatty acid composition and sensory properties of rapfen (Aspius aspius L) with tissue of bream (Abramis brama L) and pike (Esox lucius L). J Food Compos Anal 19(2–3):176–181. https://doi.org/10.1016/j.jfca.2005.03.006

Zotos A, Vouzanidou M (2012) Seasonal changes in composition, fatty acid, cholesterol and mineral content of six highly commercial fish species of Greece. Food Sci Technol Internat 18(2):139–149. https://doi.org/10.1177/1082013211414785
Acknowledgements
Special thank belongs to our technician Kateřina Fulínová from the Laboratory of Nutrition for her kind help with analyses.
Funding
The study was financially supported by the Ministry of Education, Youth and Sports of the Czech Republic—projects "CENAKVA" (No. CZ.1.05/2.1.00/01.0024), "CENAKVA II" (No. LO1205 under the NPU I program), by the Grant Agency of the University of South Bohemia in České Budějovice (No. 060/2016/Z), by the Ministry of Agriculture of the Czech Republic (No. QJ1510119).
Ethics declarations
Conflict of interest
The author declares that the research was conducted in the absence of any commercial or financial relationships that could be construed as a potential conflict of interest.
About this article
Cite this article
Linhartová, Z., Krejsa, J., Zajíc, T. et al. Proximate and fatty acid composition of 13 important freshwater fish species in central Europe. Aquacult Int 26, 695–711 (2018). https://doi.org/10.1007/s10499-018-0243-5
Received:

Accepted:

Published:

Issue Date:

DOI: https://doi.org/10.1007/s10499-018-0243-5
Keywords