Abstract
The Pacific or Japanese oyster, Crassostrea gigas, was introduced into Ecuador in 1990; however, little is known about its cultivation in the Eastern Tropical Pacific. This study analyzes growth and the influence of environmental factors on two cohorts of C. gigas held in pearl nets suspended from a long line, in Ayangue Bay, Santa Elena Province, Ecuador. Juveniles of 4.8 ± 0.11 mm (cohort I) and 7.3 ± 0.11 mm (cohort II) shell length remained in suspended cultivation for 7 months (beginning August 2014) and 9 months (beginning March 2015), respectively. Intra-monthly, (during the first 2 months), monthly, and bi-monthly sampling of the dorsoventral length, dry biomass of the shell and soft tissues, and the fouling on the shell were determined. Temperature (in a continuous pattern), weekly salinity, and total seston and phytoplankton biomass (chlorophyll a) were determined. Results show that available food, indicated by chlorophyll a, and temperature allowed an adequate development of oysters in culture. Growth in shell size and soft tissues increased with higher temperatures. Crassostrea gigas could reach commercial size in less than 1 year of cultivation. Results of this study demonstrate the biological potential for Japanese oyster culture along the Ecuadorian coast.
Access options
Buy single article
Instant access to the full article PDF.
USD 39.95
Price excludes VAT (USA)
Tax calculation will be finalised during checkout.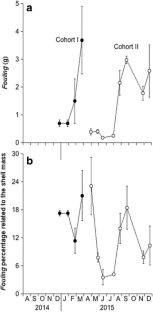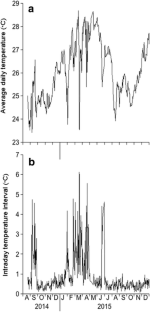 References
Allauca S (1990) Presencia de la corriente costanera ecuatoriana. Acta Oceanogr Pac 6:10–17

Alvarez R, Cobo L, Sonnenholzner S, Stern S (2008) Estado actual de la acuicultura de moluscos bivalvos en Ecuador, In: Lovatelli A, Farías A, Uriarte I (eds) Estado actual del cultivo y manejo de moluscos bivalvos y su proyección futura: factores que afectan su sustentabilidad en América Latina. Taller Técnico Regional de la FAO. 20–24 de agosto de 2007, Puerto Montt, Chile, FAO Actas de Pesca y Acuicultura, No. 12. Roma, FAO. pp. 129–133

Bernard FR (1983) Physiology and the mariculture of some northeastern Pacific bivalve molluscs. Can Spec Publ Fish Aquat Sci 63:24

Castillo-Durán A, Chávez-Villalba J, Arreola-Lizárraga A, Barraza-Guardado R (2010) Comparative growth, condition, and survival of juvenile oysters Crassostrea gigas and C. corteziensis cultivated in summer and winter. Ciencias Marinas 36:29–39

Chávez-Villalba J, Arreola-Lizárraga A, Burrola-Sánchez S, Hoyos-Chairez F (2010) Growth, condition, and survival of the Pacific oyster Crassostrea gigas cultivated within and outside a subtropical lagoon. Aquaculture 300:128–136

Chávez-Villalba J (2014) Cultivo de ostión Crassostrea gigas: Análisis de 40 años de actividades en México. Hidrobiológica 24(3):175–190

Crooks JA, Crooks KR, Crooks AJ (2015) Observations of the non-native Pacific oyster (Crassostrea gigas) in San Diego County, California. Calif Fish Game 101(2):101–107

FAO (2016) Fishery and aquaculture statistics (2014). FAO yearbook, Roma, p 238

Griffiths CL, Griffiths JS (1987) Bivalvia. In: Pandian JH, Vernberg FJ (eds) Animals Energetics, vol 2. Academic Press, New York, pp 1–88

Hair JF, Black WC, Babin BJ, Anderson RE (1992) Multivariate data analysis, 7th edn. Pearson International Edition, London, p 734

Héral M, Deslous-Paoli JM (1990). Oyster culture in European countries. In: Menzel, W (Ed) Estuarine and Marine Bivalve Mollusc Culture. CRC Press, pp. 153–190

Kantzow M, Hick P, Becker JA, Whittington R (2016) Effect of water temperature on mortality of Pacific oysters Crassostrea gigas associated with microvariant ostreid herpesvirus 1 (OsHV-1 μVar). Aquacult Environ Interact 8:419–428

Lacoste E, Gaertner-Mazouni N (2015) Biofouling impact on production and ecosystem functioning: a review for bivalve aquaculture. Rev Aquacult 7:187–196

Lodeiros C (2002) Cuestión de peso y posición. Rev Biol Trop 50(3/4):875–878

Lodeiros C, Himmelman JH (2000) Identification of environmental factors affecting growth and survival of the tropical scallop Euvola (Pecten) ziczac in suspended culture in the Golfo de Cariaco, Venezuela. Aquaculture 182:91–114

Lombeida P. (1997) Manual para el Cultivo de Ostras en Granjas Camaroneras. Proyecto JICA-CENAIM 25

Miossec L, Le Deuff RM, Goulletquer P (2009). Alien species alert: Crassostrea gigas (Pacific oyster). ICES Cooperative Research Report No. 299. Copenhagen 42

Ren JS, Ross AH (2001) A dynamic energy budget model of the Pacific oyster Crassostrea gigas. Ecol Model 142:105–120

Ren JS, Schiel DR (2008) A dynamic energy budget model: parameterisation and application to the Pacific oyster Crassostrea gigas in New Zealand waters. JEMBE 361:42–48

Royer J, Seguineau C, Park KI, Pouvreau S, Choi KS, Costil K (2008) Gametogenetic cycle and reproductive effort assessed by two methods in 3 age classes of Pacific oysters, Crassostrea gigas, reared in Normandy. Aquaculture 277:313–320

Saxby SA (2002) A review of food availability, seawater characteristics and bivalve growth performance at coastal culture sites in temperate and warm temperate regions of the world. Fisheries Research Report No. 132, Department of Fisheries, Western Australia 42

Sonnenholzner J, Alcivar G, Marquez A, Lodeiros C (2016) Los erizos Arbacia incisa y Eucidaris thouarsii(Echinodermata) como agentes de biocontrol del "fouling" en canastas de cultivo de Crassostrea gigas (Mollusca: Ostreidae) Rev Biol Trop 65(Supp.1):S35–S41

Sonnenlhozner J, Marquez A, Lodeiros C (2017) Evaluación de los erizos de mar Arbacia incisa y Eucidaris thouarssii como biocontroles del fouling en cestas del cultivo de la ostra Crassostrea gigas en Ecuador. Rev Biol Trop 65(Supp.1):S35–S41

Strickland JDH, Parsons TR (1972) A Practical Handbook of Seawater Analysis. Bull Fish Res Board Can Vol. 167, 2nd Ed:310

Urban HJ (2002) Modeling growth of different developmental stages in bivalves. Mar Ecol Prog Ser 238:109–114
Acknowledgements
The research was carried out as a complementary part of the project "Development of domestication protocol for the sustainable use of new marine species for food consumption and repopulation of natural banks", financed by the Secretary of Higher Education, Science, Technology and Innovation of Ecuador (SENESCYT). César Lodeiros participated in the study during his relationship with CENAIM-ESPOL through the Prometeo project of SENESCYT, Ecuador.
About this article
Cite this article
Lodeiros, C., Rodríguez-Pesantes, D., Márquez, A. et al. Suspended cultivation of the Pacific oyster Crassostrea gigas in the Eastern Tropical Pacific. Aquacult Int 26, 337–347 (2018). https://doi.org/10.1007/s10499-017-0217-z
Received:

Accepted:

Published:

Issue Date:

DOI: https://doi.org/10.1007/s10499-017-0217-z
Keywords
Growth

Japanese oyster

Mollusks

Ostreidae

Pacific oyster

Tropical pacific