Abstract
This study investigates polyunsaturated fatty acids (PUFAs) of European flat oyster (Ostrea edulis L.) and their composition shift in relation to the interaction of selected factors in the marine environment of the Adriatic Sea, over an annual farming cycle. We advance the hypothesis that fatty acid composition may be predicted regarding the changes of abiotic environment parameters. Novel approach was developed as a tool for interpretation of PUFA ratio using mathematical models and algorithms, providing association and better prediction of observed variables compared to standard statistical techniques. Data analysis using R language package resulted in models that primarily provide the possibility to predict the PUFA value based on certain fluctuations in the environment. In addition to predictions, results present a useful tool for insight into the oysters' quality and understanding of their basic biology in different environments. This is the first report of using mathematical modeling to investigate interactions between PUFA compositions of oyster meat relative to interactions of particular environmental variables. We furthermore discuss the potential of environmental variables in affecting the oyster PUFA composition and apply an approach providing a better insight into the health status and quality of oysters throughout the season. Model projection showed a nonlinear, parabolic dependence between the tested variables and dissolved oxygen. Both, the n-3 PUFA and DHA alone, were associated with an open-down parabolic relationship; the maximum levels were reached by 95 % oxygen saturation. The n-3 PUFAs and n-3/n-6 ratio were likely negatively affected by increase in sea water temperature, where a 15 % reduction in n-3 PUFAs content and 50 % reduction in n-3/n-6 proportion were predicted. Also, we detected FA ratios (AA/DHA, AA/EPA) and AA positively affected by increase in sulphate concentration and dissolved oxygen, respectively, and strongly negative prediction of ammonia level and sea water pH with AA, DHA and ARA/EPA ratio, respectively. These models might be applied to other aquatic species, for promotion of sea food quality, improvement of farming conditions and production, as well as for optimizing conditions in controlled trails.
Graphical Abstract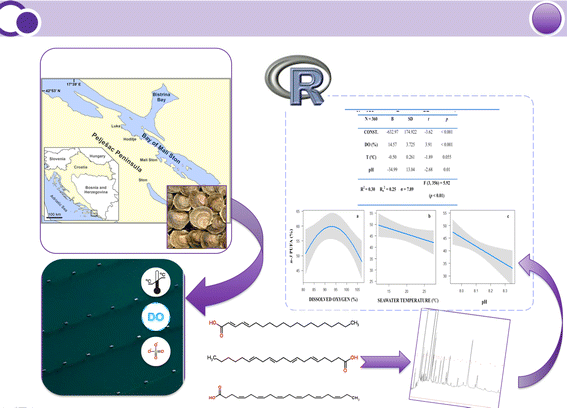 Access options
Buy single article
Instant access to the full article PDF.
US$ 39.95
Tax calculation will be finalised during checkout.
Subscribe to journal
Immediate online access to all issues from 2019. Subscription will auto renew annually.
US$ 79
Tax calculation will be finalised during checkout.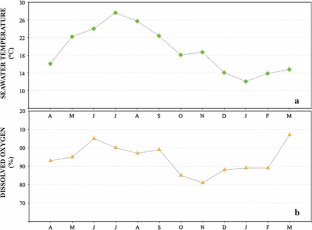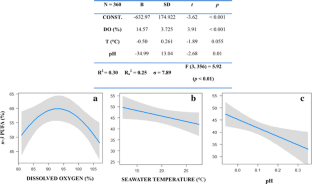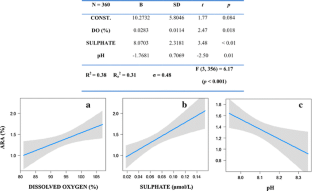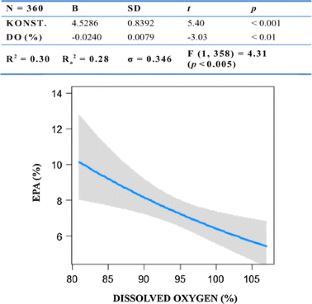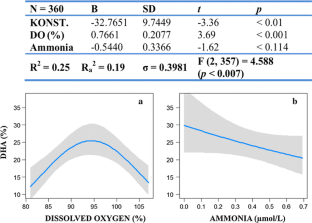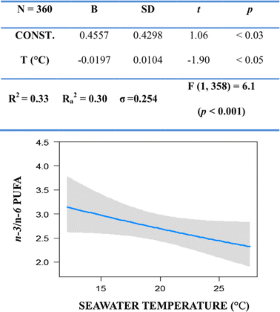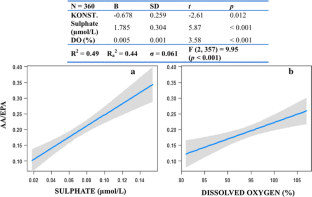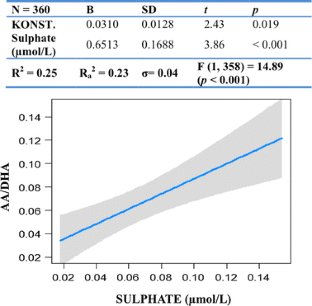 Abbreviations
N :

Number of specimens

B :

Standardized regression coefficients

SD:

Standard deviation

t :

t test

p :

Significance level

Const.:

Constant

R 2 :

Squared regression coefficient

R 2a :

Adjusted squared regression coefficient

σ :

Standard deviation of residuals

F :

Distribution of model
References
Abad M, Ruiz C, Martinez D et al (1995) Seasonal variation of lipid classes and fatty acids in flat oyster, Ostrea edulis, from San Cibran (Galicia, Spain). Comp Biochem Physiol 110C(2):109–118

Abele D, Puntarulo S (2004) Formation of reactive species and induction of antioxidant defence systems in polar and temperate marine invertebrates and fish. Comp Biochem Physiol 138A:405–415

Aguado-Giménez F, Hernández MD, Cerezo-Valverde J et al (2014) Does flat oyster (Ostrea edulis) rearing improve under open-sea integrated multi-trophic conditions? Aquac Int 22(2):447–467

Ahn IY, Cho KW, Choi KS et al (2000) Lipid content and composition of the Antarctic lamellibranch, Laternula elliptica (King & Broderip) (Anomalodesmata: Laternulidae), in King George Island during an austral summer. Polar Biol 23:24–33

Almeida EA, Bainy ACD, Dafre AL et al (2005) Oxidative stress in digestive gland and gill of the brown mussel (Perna perna) exposed to air and re-submersed. J Exp Mar Biol Ecol 318(1):21–30

Anacleto P, Maulvault AL, Bandarra NM et al (2014) Effect of warming on protein, glycogen and fatty acid content of native and invasive clams. Food Res Int 64:439–445

Bergström P, Lindegarth S, Lindegarth M (2015) Modeling and predicting the growth of the mussel, Mytilus edulis: implications for planning of aquaculture and eutrophication mitigation. Ecol Evol 5(24):5920–5933

Brailo M, Gavrilović A, Jug-Dujaković J et al (2011) Influence of the water quality parameters on the condition index of the European flat oyster Ostrea edulis. Paper presented at the 46th European marine biology symposium, Ruđer Bošković Institute, Rovinj, 12–16 Sep 2011

Brett M, Müller-Navarra D (1997) The role of highly unsaturated fatty acids in aquatic foodweb processes. Freshw Biol 38(3):483–499

Buestel D, Ropert M, Prou J et al (2009) History, status, and future of oyster culture in France. J Shellfish Res 28(4):813–820

Čalić M, Carić M, Kršinić F et al (2013) Controlling factors of phytoplankton seasonal succession in oligotrophic Mali Ston Bay (south-eastern Adriatic). Environ Monit Assess 185(9):7543–7563

Čož-Rakovac R, Šmuc T, Topić Popović N et al (2008) Novel methods for assessing fish blood biochemical data. J Appl Ichthyol 24:77–80

Crockett EL (2008) The cold but not hard fats in ectotherms: consequences of lipid restructuring on susceptibility of biological membranes to peroxidation, a review. J Comp Physiol 178B:795–809

Delaš I (2011) Benefits and hazards of fat-free diets. Trends Food Sci Technol 22(10):576–582

Dupčić Radić I, Carić M, Najdek M et al (2014) Biochemical and fatty acid composition of Arca noae (Bivalvia: Arcidae) from the Mali Ston Bay, Adriatic Sea. Mediterr Mar Sci 15(3):520–531

Eghtesadi-Araghi P, Bastami KD (2011) An integrated approach on interconnected effects between selected environmental parameters and fatty acid composition in mollusks. Res J Environ Sci 5(4):310–315

Ezgeta-Balić D, Najdek M, Peharda M et al (2012) Seasonal fatty acid profile analysis to trace origin of food sources of four commercially important bivalves. Aquaculture 334:89–100

Folch J, Lees M, Sloane Stanley GH (1957) A simple method for the isolation and purification of total lipids from animal tissues. J Biol Chem 226(1):497–509

Futagawa K, Yoshie Stark Y, Ogushi M (2011) Monthly variation of biochemical composition of Pacific oysters Crassostrea gigas from two main cultivation areas in Japan Food. Sci Technol 77:687–696

Hernández J, Matus de la Parra A, Lastra M (2013) Effect of lipid composition of diets and environmental temperature on the performance and fatty acid composition of juvenile European abalone (Haliotis tuberculata L. 1758). Aquaculture 412–413:34–40

Hulbert AJ, Else PL (1999) Membranes as possible pacemakers of metabolism. J Theor Biol 199:257–274

Kiel S (2015) Did shifting seawater sulfate concentrations drive the evolution of deep-sea methane-seep ecosystems? Proc Biol Sci 282(1804):20142908. doi:10.1098/rspb.2014.2908

Koroleff F (1983) In: Grasshoff K, Ehrhardt M, Kremling K (eds) Methods of seawater analysis, 2nd edn. Verlag Chemie, Weinheim, pp 159–228

Ludlow L, Klein K (2014) Suppressor variables: the difference between 'Is' versus 'Acting As'. J Stat Educ 22(2):1–28

Matozzo V, Marin MG (2011) Bivalve immune responses and climate changes: is there a relationship? Invertebr Surviv J 8:70–77

Múgica M, Sokolova IM, Izagirre U et al (2014) Season-dependent effects of elevated temperature on stress biomarkers, energy metabolism and gamete development in mussels. Mar Environ Res 103:1–10

Narváez M, Freities L, Mendoza J et al (2009) Influence of spat origin and environmental parameters on biochemical composition and biometry of the brown mussel Perna perna (L., 1758), under culture conditions. Rev Biol Mar Oceanogr 44(2):343–355

Patterson HK, Boettcher A, Carmichael RH (2014) Biomarkers of dissolved oxygen stress in oysters: a tool for restoration and management efforts. PLoS One. doi:10.1371/journal.pone.0104440

Pernet F, Tremblay R, Comeau L et al (2007) Temperature adaptation in two bivalve species from different thermal habitat: energetic and remodeling of membrane lipids. J Exp Biol 210:2999–3014

Pernet F, Barret J, Marty C et al (2010) Environmental anomalies, energetic reserves and fatty acid modifications in oysters coincide with an exceptional mortality event. Mar Ecol Prog Ser 401:129–146

Pethybridge HR, Parrish CC, Morrongiello J et al (2015) Spatial patterns and temperature predictions of tuna fatty acids: tracing essential nutrients and changes in primary producers. PLoS One. doi:10.1371/journal.pone.0131598

Pettersen AK, Turchini GM, Jahangard S et al (2010) Effects of different dietary microalgae on survival, growth, settlement and fatty acid composition of blue mussel (Mytilus galloprovincialis) larvae. Aquaculture 309(1–4):115–124

Portilla SE (2016) Mortality of first-year cultured northern quahogs, Mercenaria mercenaria, through thermal decline: impacts of low temperature, the rate of temperature decrease and dietary 20:5n-3 and 22:6n-3. Aquaculture. doi:10.1016/j.aquaculture.2015.11.023

Portilla SE, Branco BF, Tanacredi JT (2015) Preliminary investigation into the effects of two dietary fatty acids, 20:5n-3 and 22:6n-3, on mortality of juvenile Mercenaria mercenaria during the approach to winter. Aquac Int. doi:10.1007/s10499-015-9889-4

Pruitt NL (1990) Adaptations to temperature in the cellular membranes of crustacea: membrane structure and metabolism. J Therm Biol 15:1–8

Ratti S, Knoll AH, Giordano M (2011) Did sulfate availability facilitate the evolutionary expansion of chlorophyll a + c phytoplankton in the oceans? Geobiology 9(4):301–312

Ruano F, Ramos P, Quaresma M et al (2012) Evolution of fatty acid profile and Condition Index in mollusc bivalves submitted to different depuration periods. RPCV 107(581–582):75–84

Saito H (2004) Lipid and FA composition of the pearl oyster Pinctada fucata martensii: influence of season and maturation. Lipids 39(10):997–1005

Sajjadi N, Eghtesadi-Araghi P, Jamili S et al (2009) Seasonal variations of n-6: n-3 ratios and fatty ccid compositions in foot and tissue of Chiton lamyi in a high primary productivity area. Am J Environ Sci 5(3):278–284

Shen Y, Zhang D, Zhang B et al (2015) A baseline study on lipid and fatty acid composition in the pearl oyster, Pinctada fucata. Aquac Int. doi:10.1007/s10499-015-9942-3

Soudant P, Van Ryckeghem K, Marty Y et al (1999) Comparison of the lipid class and fatty acid composition between a reproductive cycle in nature and a standard hatchery conditioning of the Pacific oyster Crassostrea gigas. Comp Biochem Physiol 123B:209–222

Szatkowska B, Płaza E, Trela J et al (2004) Influence of dissolved oxygen concentration on deammonification process performance. In: Plaza E, Levlin E, Hultman B (eds) Integration and optimisation of urban sanitation systems: proceedings of a Polish-Swedish seminar, pp 121–131

Tanacredi JT, Portilla S (2015) Preliminary investigation of effects of seawater pH on early development of Limulus polyphemus. In: Carmichael RH, Botton ML, Shin PKS, Cheung SG (eds) Changing global perspectives on biology, conservation, and management of horseshoe crabs. Springer, New York, pp 281–287

Tocher DR (2015) Omega-3 long-chain polyunsaturated fatty acids and aquaculture in perspective. Aquaculture. doi:10.1016/j.aquaculture.2015.01.010

Valles-Regino R, Tate R, Kelaher B et al (2015) Ocean warming and CO2-induced acidification impact the lipid content of a marine predatory gastropod. Mar Drugs 13:6019–6037

Verghese B, Radhakrishnan EV, Padhi A (2007) Effect of environmental parameters on immune response of the Indian spiny lobster, Panulirus homarus (Linnaeus, 1758). Fish Shellfish Immunol 23:928–936

Wenne R, Polak L (1992) Lipid storage strategy in the clam Macoma (Bivalvia). In: Proceedings of the 12th Baltic Marine Biologists symposium, pp 179–183

Zar JH (2010) Biostatistical analysis, 5th edn. Pearson Prentice-Hall, Upper Saddle River
Acknowledgments
The financial support by the Ministry of Science, Education and Sport of the Republic of Croatia project: "Sub-cellular, biochemical and phylogenetic diversity of fish, crustaceans and molluscs tissues" (098-1782739-2749) is acknowledged. The sampling was carried out as a part of Ministry of Agriculture, Forestry and Water Management, the Council for Research in Agriculture project: "Protection of oysters from Mali Ston bay with establishing indigenousness".
About this article
Cite this article
Josip, B., Čož-Rakovac, R., Delaš, I. et al. Predictive modeling of European flat oyster (Ostrea edulis L.) fatty acid composition. Aquacult Int 25, 805–825 (2017). https://doi.org/10.1007/s10499-016-0079-9
Received:

Accepted:

Published:

Issue Date:
Keywords
Ostrea edulis L.

PUFA

Predictive modeling

Fatty acids