Abstract
Kenyi cichlids belong to mbuna group which is specific to Lake Malawi. Gender discrimination is easy because males have yellow, females have blue colors and their spawning efficiency is good. Cichlid producers prefer kenyi cichlids in recent years due to reproduction performance and coloring of kenyi. In this study, effects of Spirulina-based diet and feeding frequency on coloration, seed production, growth and survival on kenyi cichlids (Maylandia lombardoi) were investigated for 112 days. The study was carried out in a recirculating system which has 100 L each tank and 12 fiberglass tanks with three replicates. Ten fish (3 months old, mean body weight 2.00 ± 0.05 g and mean total length 4.51 ± 0.42 cm) were randomly placed in each tank. Experimental groups were designed with commercial granule (C) and commercial granule Spirulina (S) feeds. In the present study, two feeding frequencies were applied: one feeding daily at 09:00 (namely C1, S1) and three times daily at 09:00, 12:00 and 17:00 (namely C3, S3). The growth and seed production of cichlid fed three times daily were significantly higher compared to fish fed one feeding daily, irrespective of feed source (P < 0.05). Moreover, the specific growth rate of cichlid fed Spirulina-based diet was significantly elevated compared to fish fed non-Spirulina-based diet. The Spirulina-based diets affected skin coloration giving a bluish hue and a typical chroma values for the females of kenyi cichlid. In conclusion, growth performance, seed production and skin coloration of kenyi cichlid fed Spirulina diets three times daily enhanced under the study condition.
This is a preview of subscription content,
to check access.
Access this article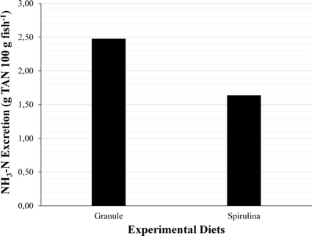 Similar content being viewed by others
References
Alagappan M, Vijula K, Sinha A (2004) Utilization of spirulina algae as a source of carotenoid pigment for blue gouramis (Trichogaster trichopterus, Pallas). J Aquaric Aquat Sci 10:1–11

Alderton D (2008) Encyclopedia of aquarium and pond fish. Dorling Kindersley Limited, London

AOAC (2000) Official methods of analysis of the association of official analytical chemists. 17th edn. AOAC International, Gaithersburg, MD, USA

Bhujel RC, Little DC, Hossain A (2007) Reproductive performance and the growth of pre-stunted and normal Nile tilapia (Oreochromis niloticus) broodfish at varying feeding rates. Aquaculture 273:71–79. doi:10.1016/j.aquaculture.2007.09.022

Booth M, Warner-Smith R, Allan G et al (2004) Effects of dietary astaxanthin source and light manipulation on the skin colour of Australian snapper Pagrus auratus (Blochand Schneider, 1801). Aquac Res 35:458–464. doi:10.1111/j.1365-2109.2004.01038.x

Brett JR, Groves TDD (1979) Physiological energetics. In: Hoar S, Randall DJ, Brett JR (eds) Fish physiology: bioenergetics and growth. Academic Press, New York, pp 279–352

Çelik P, Çelik İ, Cirik Ş (2011) Allometric growth in black neon tetra (Hyphessobrycon herbertaxelrodi) larvae. Alinteri J Agric Sci 20(2):25–32

Chong ASC, Ishak SD, Osman Z et al (2004) Effect of dietary protein level on the reproductive performance of female swordtails Xiphophorus helleri (Poeciliidae). Aquaculture 234:381–392. doi:10.1016/j.aquaculture.2003.12.003

Chuntapa B, Powtongsook S, Menasveta P (2003) Water quality control using Spirulina platensis in shrimp culture tanks. Aquaculture 220(1–4):355–366. doi:10.1016/S0044-8486(02)00428-3

CIE (1976) Official recommendations on uniform colour space, colour difference equations and metric colour terms. Suppl. No. 2, Publication No.15. Commission International de l'Eclairage, Paris

FAO (2011) Food and Agriculture Organization Statistics, http://faostat.fao.org. Accessed 25 Oct 2015

Folch J, Lees M, Sloane Stanley GH (1957) A simple method for the isolation and purification of total lipides from animal tissues. J Biol Chem 226(1):497–509

Gouveia L, Rema P, Pereira O et al (2003) Colouring ornamental fish (Cyprinus carpio and Carassius auratus) with microalgal biomass. Aquac Nutr 9:123–129. doi:10.1046/j.1365-2095.2003.00233.x

Güroy D, Deveciler E, Küt Güroy B et al (2006) Influence of feeding frequency on feed intake, growth performance and nutrient utilization in European sea bass (Dicentrarchus labrax) fed pelleted or extruded diets. Turk J Vet Anim Sci 30(2):171–177

Güroy D, Güroy B, Merrifield DL et al (2011) Effect of dietary Ulva and Spirulina on weight loss and body composition of rainbow trout, Oncorhynchus mykiss (Walbaum), during a starvation period. J Anim Physiol Anim Nutr 95:320–327. doi:10.1111/j.1439-0396.2010.01057.x

Güroy B, Şahin İ, Mantoğlu S et al (2012) Spirulina as a natural carotenoid source on growth, pigmentation and reproductive performance of yellow tail cichlid Pseudotropheus acei. Aquac Int 20(5):869–878. doi:10.1007/s10499-012-9512-x

Hatefi S, Sudagar M (2013) Effect of feeding frequency on fecundity in angel fish (Pterophyllum scalare). World J Fish Mar Sci 5(1):45–48. doi:10.5829/idosi.wjfms.2013.05.01.6682

Hunt RWG (1977) The specification of colour appearance: I. Concepts and terms. Color Res Appl 2:55–68. doi:10.1002/col.5080020202

James R, Sampath K (2003) Effect of meal frequency on growth and reproduction in the ornamental red swordtail, Xiphophorus helleri. Isr J Aquac Bamidgeh 55(3):197–207

James R, Sampath K (2004) Effect of feeding frequency on growth and fecundity in an ornamental fish, Betta splendens (Regan). Isr J Aquac Bamidgeh 56(2):136–145

James R, Sampath K, Thangarathinam R et al (2006) Effect of dietary Spirulina level on growth, fertility, coloration and leucocyte count in red swordtail, Xiphophorus helleri. Isr J Aquac Bamidgeh 58(2):97–104

James R, Vasudhevan I, Sampath K (2009) Interaction of Spirulina with different levels of vitamin E on growth, reproduction, and coloration in goldfish (Carassius auratus). Isr J Aquac Bamidgeh 61(4):330–338

Johnston G, Kaiser H, Hecht T et al (2003) Effect of ration size and feeding frequency on growth, size distribution and survival of juvenile clownfish, Amphiprion percula. J Appl Ichthyol 19(1):40–43. doi:10.1046/j.1439-0426.2003.00351.x

Kasiri M, Farahi A, Sudagar M (2011) Growth and reproductive performance by different feed types in fresh water angelfish (Pterophyllum scalare Schultze, 1823). Vet Res Forum 3(3):175–179

Kelsh RN (2004) Genetics and evolution of pigment patterns in fish. Pigment Cell Melanoma Res 17:326–336. doi:10.1111/j.1600-0749.2004.00174.x

Khanzadeh M, Fereidouni AE, Berenjestanaki SS (2016) Effects of partial replacement of fish meal with Spirulina platensis meal in practical diets on growth, survival, body composition, and reproductive performance of three-spot gourami (Trichopodus trichopterus) (Pallas, 1770). Aquac Int 24(1):69–84. doi:10.1007/s10499-015-9909-4

Kithsiri HMP, Sharma P, Zaidi SGS et al (2010) Growth and reproductive performance of female guppy, Poecilia reticulata (Peters) fed diets with different nutrient levels. Indian J Fish 57(1):65–71

Matsuno T, Katsuyama M, Iwahashi M et al (1980) Intensification of color of red tilapia with lutein, rhodoxanthin and spirulina. B Jpn Soc Sci Fish 46:479–482. doi:10.2331/suisan.46.479

Meng-Umphan K (2009) Growth performance, sex hormone levels and maturation ability of pla pho (Pangasius bocourti) fed with Spirulina supplementary pellet and hormone application. Int J Agric Biol 11:458–462

Montajami S, Vajargah MF, Hajiahmadyan M et al (2012) Assessment of the effects of feeding frequency on growth performance and survival rate of Texas cichlid larvae (Herichthys cyanoguttatus). J Fish Int 7(2):51–54

Mustafa MG, Nakagawa H (1995) A review: dietary benefits of algae as an additive in fish feed. Isr J Aquac Bamidgeh 47:155–162

Naish KA, Ribbink AJ (1990) A preliminary investigation of sex change in Pseudotropheus lombardoi (Pisces: Cichlidae). Env Biol Fish 28:285–294. doi:10.1007/978-94-009-2065-1_18

Nakagawa H, Montgomery WL (2007) Algae. In: Nakagawa H, Sato M, Gatlin DM (eds) Dietary supplements for the health and quality of cultured fish. Cabi International, Cambridge, pp 133–167

Olvera-Novoa MA, Dominguez-Cen LJ, Olivera-Castillo L (1998) Effect of the use of the microalga Spirulina maxima as fish meal replacement in diets for tilapia, Oreochromis mossambicus (Peters), fry. Aquac Res 29:709–715

Priestley SM, Stevenson AE, Alexander LG (2006) The influence of feeding frequency on growth and body condition of the common goldfish (Carassius auratus). J Nutr 136:1979S–1981S

Riche M, Haley DI, Oetker M et al (2004) Effect of feeding frequency on gastric evacuation and the return of appetite in tilapia Oreochromis niloticus (L.). Aquaculture 234:657–673. doi:10.1016/j.aquaculture.2003.12.012

Rotllant J, Tort L, Montero D et al (2003) Background colour influence on the stress response in cultured red porgy Pagrus pagrus. Aquaculture 223(1–4):129–139. doi:10.1016/S0044-8486(03)00157-1

Silva CR, Gomes LC, Brandão FR (2007) Effect of feeding rate and frequency on tambaqui (Colossoma macropomum) growth, production and feeding costs during the first growth phase in cages. Aquaculture 264(1–4):135–139. doi:10.1016/j.aquaculture.2006.12.007

Smith MP (2000) Lake Malawi Cichlids. Barron's Educational Series Inc, New York

Sombatjinda S, Wantawin C, Techarnjanaruk S, Withyachumnarnkul B, Ruengjitchatchawalya M (2014) Water quality control in a closed re-circulating system of Pacific white shrimp (Penaeus vannamei) postlarvae co-cultured with immobilized Spirulina mat. Aquac Int 22(3):1181–1195. doi:10.1007/s10499-013-9738-2

Spolaore P, Joannis-Cassan C, Duran E et al (2006) Commercial applications of microalgae. J Biosci Bioeng 101:87–96. doi:10.1263/jbb.101.87

Sun X, Chang Y, Ye Y et al (2012) The effect of dietary pigments on the coloration of Japanese ornamental carp (koi, Cyprinus carpio L.). Aquaculture 342–343:62–68. doi:10.1016/j.aquaculture.2012.02.019

Tocher DR (2010) Fatty acid requirements in ontogeny of marine and freshwater fish. Aquac Res 41:717–732. doi:10.1111/j.1365-2109.2008.02150.x

Türkmen G, Bulguroğlu SY, Aydoğan G (2011) Bring in some native osteichtyes marine fish species in Turkey to the marine aquarium. Ege JFAS 28(3):95–98

Ungsethaphand T, Peerapornpisal Y, Whangchai N et al (2010) Effect of feeding Spirulina platensis on growth and carcass composition of hybrid red tilapia (Oreochromis mossambicus x O. niloticus). Maejo Int J Sci Technol 4:331–336

van der Meer MB, van Herwaarden H, Verdegem MCJ (1997) Effect of number of meals and frequency of feeding on voluntary feed intake of Colossoma macropomum (Cuvier). Aquac Res 28(6):419–432. doi:10.1046/j.1365-2109.1997.00874.x

Vasudhevan I, James R (2011) Effect of optimum Spirulina along with different levels of vitamin C incorporated diets on growth, reproduction and coloration in goldfish Carassius auratus (Linnaeus, 1758). Indian J Fish 58(2):101–106

Zar JH (2001) Biostatistical analysis, 4th edn. Prentice-Hall Inc., Upper Saddle River
Acknowledgments
Some data of this study have been presented in 1st National Aquarium Fisheries and Issues Workshop, Antalya, Turkey, as an oral presentation on October 30–31, 2014. As the authors, we would like to thank Serhan Mantoğlu, M.Sc. for analyzing chemical components of feeds and Mevlüt Yalçın, Muhammet Balcı and Olkan Şentürk for their technical assistance.
About this article
Cite this article
Karadal, O., Güroy, D. & Türkmen, G. Effects of feeding frequency and Spirulina on growth performance, skin coloration and seed production on kenyi cichlids (Maylandia lombardoi). Aquacult Int 25, 121–134 (2017). https://doi.org/10.1007/s10499-016-0017-x
Received:

Accepted:

Published:

Issue Date:

DOI: https://doi.org/10.1007/s10499-016-0017-x
Keywords