Abstract
The welfare of farmed animals, and more recently of farmed fish, is a growing concern in current society. Changes in living conditions represent one of the most stressful situations in fish production. It is crucial to develop tools to evaluate welfare in farmed fish throughout the various situations observed during the production cycle. The present work aims to select relevant parameters in order to evaluate the welfare of trout, by describing the physiological and zootechnical profiles of rainbow trout Oncorhynchus mykiss (Walbaum) populations during adaptation to a new environment. Ten days after transferring seven groups of farmed trout to a laboratory setting, a principal component analysis was performed on five parameters: plasma cortisol level (PCL), hepatosomatic index (HI), growth (G), food intake (FI) and food conversion ratio (FCR). PCL and FCR were positively correlated and were both negatively correlated with FI and G. FI and G were positively correlated. HI was not correlated with any other parameter. PCL was considered as being at basal levels. Descriptive statistics and the principal component analysis suggest measuring PCL, G, FI and FCR to be a relevant strategy for evaluating the welfare of trout when adapting to a new environment. The study demonstrates the relevance of this approach in evaluating specific profiles related to the welfare of farmed animals.
This is a preview of subscription content, log in to check access.
Access options
Buy single article
Instant access to the full article PDF.
US$ 39.95
Price includes VAT for USA
Subscribe to journal
Immediate online access to all issues from 2019. Subscription will auto renew annually.
US$ 99
This is the net price. Taxes to be calculated in checkout.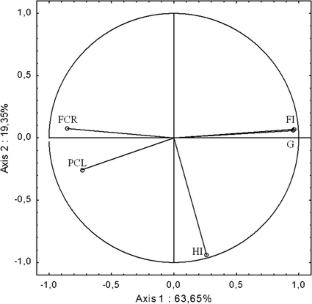 Abbreviations
ELISA:

Enzyme-linked immunosorbent assay

FI:

Food intake

FCR:

Food conversion ratio

G:

Growth

HI:

Hepatosomatic index

PCA:

Principal component analysis

PCL:

Plasmatic cortisol level
References
Ashley PJ (2007) Fish welfare: current issues in aquaculture. Appl Anim Behav Sci 104:199–235. doi:10.1016/j.applanim.2006.09.001

Barton BA, Peter RE (1982) Plasma cortisol stress response in fingerling rainbow trout, Salmo gairdneri Richardson, to various transport conditions, anaesthesia, and cold shock. J Fish Biol 20:39–51. doi:10.1111/j.1095-8649.1982.tb03893.x

Barton BA, Schreck CB, Barton LD (1987) Effects of chronic cortisol administration and daily acute stress on growth, physiological conditions, and stress responses in juvenile rainbow trout. Dis Aquat Org 2:173–185

Basrur TV, Longland R, Wilkinson RJ (2010) Effects of repeated crowding on the stress response and growth performance in Atlantic salmon (Salmo salar). Fish Physiol Biochem 36:445–450. doi:10.1007/s10695-009-9314-x

Begout Anras M, Lagardere J (2004) Domestication et comportement chez les poissons téléostéens. INRA Prod Anim 17:211–215

Braithwaite VA, Ebbesson LOE (2014) Pain and stress responses in farmed fish. Rev Sci Tech Off Int Epizoot 33:245–253

Broom DM (2007) Welfare in relation to feelings, stress and health. Rev Electron Vet 8:207–222

Broom DM (2008) Welfare assessment and relevant ethical decisions: key concepts. Annu Rev of Biomed Sci 10:79–90. doi:10.5016/1806-8774.2008.v10pT79

Broom DM, Fraser AF (2007) Domestic animal behaviour and welfare. CAB International, Cambridge

Broom DM, Johnson KG (1993) Stress and animal welfare. CAB International, Dordrecht

FAO (2004–2016) Programme d'Information sur les espèces aquatiques cultivées. Salmo salar. Programme d'Information sur les espèces aquatiques cultivées. Text by Jones M In: Département des pêches et de l'aquaculture de la FAO [en ligne]. Rome. http://www.fao.org/fishery/culturedspecies/Salmo_salar/fr

FAO (2005–2016) Programme d'Information sur les espèces aquatiques cultivées. Oncorhynchus mykiss. Programme d'Information sur les espèces aquatiques cultivées. Text by Cowx IG In: Département des pêches et de l'aquaculture de la FAO [en ligne]. Rome. http://www.fao.org/fishery/culturedspecies/Oncorhynchus_mykiss/fr

Fast MD, Hosoya S, Johnson SC, Afonso LOB (2008) Cortisol response and immune-related effects of Atlantic salmon (Salmo salar Linnaeus) subjected to short- and long-term stress. Fish Shellfish Immunol 24:194–204. doi:10.1016/j.fsi.2007.10.009

Fevolden S-E, Røed KH, Fjalestad KT (2002) Selection response of cortisol and lysozyme in rainbow trout and correlation to growth. Aquaculture 205:61–75. doi:10.1016/S0044-8486(01)00660-3

Folkedal O, Stien LH, Torgersen T et al (2012) Food anticipatory behaviour as an indicator of stress response and recovery in Atlantic salmon post-smolt after exposure to acute temperature fluctuation. Physiol Behav 105:350–356. doi:10.1016/j.physbeh.2011.08.008

Gilmour KM, Dibattista JD, Thomas JB (2005) Physiological causes and consequences of social status in salmonid fish. Integr Comp Biol 45:263–273. doi:10.1093/icb/45.2.263

Gregory TR, Wood CM (1999) The effects of chronic plasma cortisol elevation on the feeding behaviour, growth, competitive ability, and swimming performance of juvenile rainbow trout. Physiol Biochem Zool PBZ 72:286–295. doi:10.1086/316673

Huntingford FA, Kadri S (2014) Defining, assessing and promoting the welfare of farmed fish. Rev Sci Tech Off Int Epizoot 33:233–244

IFREMER (2006) Saumon d'Atlantique. In: La découverte des poissons et de leur élevage

Iwama G, Afonso LOB, Vijayan M (2005) Stress in fishes. In: Evans D, Claiborne J (eds) The physiology of fishes. Boca raton, pp 320–42

Jenkins JA, Bart HL, Bowker JD et al (2014) Guidelines for the use of fishes in research. American Fisheries Society, Maryland

Jentoft S, Aastveit AH, Torjesen PA, Andersen O (2005) Effects of stress on growth, cortisol and glucose levels in non-domesticated Eurasian perch (Perca fluviatilis) and domesticated rainbow trout (Oncorhynchus mykiss). Comp Biochem Physiol A Mol Integr Physiol 141:353–358. doi:10.1016/j.cbpb.2005.06.006

Kupsala S, Jokinen P, Vinnari M (2013) Who cares about farmed fish? Citizen perceptions of the welfare and the mental abilities of fish. J Agric Environ Ethics 26:119–135. doi:10.1007/s10806-011-9369-4

Martinez-Porchas M, Martinez-Cordova LR, Ramos-Enriquez R (2009) Cortisol and glucose: reliable indicators of fish stress? Am J Aquat Sci 4:158–178

McCormick S, Shrimpton J, Carey J et al (1998) Repeated acute stress reduces growth rate of Atlantic salmon parr and alters plasma levels of growth hormone, insulin-like growth factor I and cortisol. Aquaculture 168:221–235. doi:10.1016/S0044-8486(98)00351-2

Mommsen TP, Vijayan MM, Moon TW (1999) Cortisol in teleosts: dynamics, mechanisms of action, and metabolic regulation. Rev Fish Biol Fish 9:211–268

Mormède P, Andanson S, Aupérin B et al (2007) Exploration of the hypothalamic-pituitary-adrenal function as a tool to evaluate animal welfare. Physiol Behav 92:317–339. doi:10.1016/j.physbeh.2006.12.003

Pickering AD, Pottinger TG (1989) Stress responses and disease resistance in salmonid fish: effects of chronic elevation of plasma cortisol. Fish Physiol Biochem 7:253–258. doi:10.1007/BF00004714

Rance T, Baker BI, Webley G (1982) Variations in plasma cortisol concentrations over a 24-hour period in the rainbow trout Salmo gairdneri. Gen Comp Endocrinol 48:269–274

Sink TD, Lochmann RT, Fecteau KA (2008) Validation, use, and disadvantages of enzyme-linked immunosorbent assay kits for detection of cortisol in channel catfish, largemouth bass, red pacu, and golden shiners. Fish Physiol Biochem 34:95–101. doi:10.1007/s10695-007-9150-9

Syndicat Mixte du Bassin des Sorgues (2006) Etude Hydrologique des Sorgues - Compte rendu de prélèvement - Décembre 2006. Barjols

Van Weerd JH, Komen J (1998) The effects of chronic stress on growth in fish: a critical appraisal. Comp Biochem Physiol A Mol Integr Physiol 120:107–112. doi:10.1016/S1095-6433(98)10017-X

Vannier P, Michel V, Keeling LJ (2014) Science-based management of livestock welfare in intensive systems: looking to the future. Sci Tech Rev Off Int Epizoot 33:153–160
Acknowledgments
Rainbow trout were kindly provided by the farmer D. Meyer who manages the fish farm. We would like to thank E. Landen, a professional translator, and Dr. M. Mengoli for reviewing the manuscript. We are also grateful to IRSEA's Ethical Committee for their comments on the protocol.
About this article
Cite this article
Delfosse, C., Bienboire-Frosini, C., Chabaud, C. et al. Using physiological and zootechnical profiles to evaluate welfare in farmed rainbow trout Oncorhynchus mykiss (Walbaum) under stressful conditions. Aquacult Int 24, 1449–1457 (2016). https://doi.org/10.1007/s10499-016-0004-2
Received:

Accepted:

Published:

Issue Date:
Keywords
Animal welfare

Cortisol level

Growth performances

Principal component analysis

Rainbow trout