Abstract
False clownfish, Amphiprion ocellaris, is one of the most commercialized fish species in the world, highly produced to supply the aquarium market. The high stocking densities used to maximize fish production can increase ammonia and nitrite to toxic levels. In this study, A. ocellaris juveniles (1.20 ± 0.34 g) were exposed to six concentrations of ammonia ranged from 0.23 to 1.63 mg/L NH3-N and eight concentrations of nitrite (26.3–202.2 mg/L NO2 −-N). The LC50- 24, LC50-48, LC50-72 and LC50-96 h were estimated to be 1.06, 0.83, 0.75 and 0.75 mg/L for NH3-N and 188.3, 151.01, 124.1 and 108.8 mg/L for NO2 −-N. Analysis of gill lesions caused by sublethal concentrations of these nitrogenous compounds showed that both nitrogenous compounds induced tissue lesions such as hyperplasia of epithelium cells, hypertrophy of chloride cells and lamellar lifting to all concentrations tested. However, histopathological alterations were more conspicuous accordingly the increase of ammonia or nitrite in fish exposed to 0.57 mg/L NH3-N or 100 mg/L NO2 −-N. Based on our results, we recommend to avoid concentrations higher than 0.57 mg/L of NH3-N and 25 mg/L of NO2-N in water.
Access options
Buy single article
Instant access to the full article PDF.
USD 39.95
Price excludes VAT (USA)
Tax calculation will be finalised during checkout.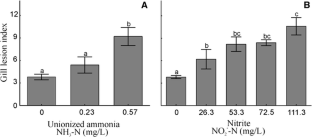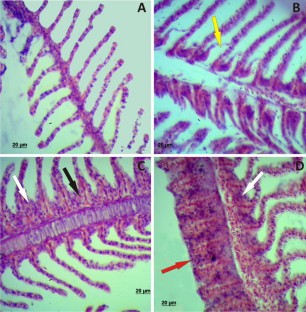 References
Almendras JME (1987) Acute nitrite toxicity and methemoglobinemia in juvenile milkfish (Chanos chanos Forsskal). Aquaculture 61:33–40

Aminot A, Chaussepied M (1983) Manuel des analyses chimiques en milieu marin. CNEXO, FRA, Brest

Barbieri E, Doi SA (2012) Acute toxicity of ammonia on juvenile cobia (Rachycentron canadum, Linnaeus, 1766) according to the salinity. Aquacult Int 20(2):373–382

Basset J, Denney RC, Jeffrey GH, Mendham J (1981) Vogel: análise inorgânica quantitativa. BRA, Rio de Janeiro

Benli AÇK, Köksal G, Özkul A (2008) Sublethal ammonia exposure of Nile tilapia (Oreochromis niloticus L.): effects on gill, liver and kidney histology. Chemosphere 72:1355–1358

Bernet D, Schmidt H, Meier W, Burkhardt-Holm P, Wahli T (1999) Histopathology in fish: proposal for a protocol to assess aquatic pollution. J Fish Dis 22:25–34

Bianchini A, Wasielesky W, Miranda Filho KC (1996) Toxicity of nitrogenous compounds to juveniles of flatfish Paralichthys orbignyanus. Bull Environ Contam Toxicol 56:453–459

Bower CE, Bidwell J (1978) Ionization of ammonia in seawater: effects of temperature, pH, and salinity. J Fish Res Board Can 35:1012–1016

Clesceri LS, Greenberghand AE, Trussel RR (1989) Standard methods: for examination of water and wastewater. APHA, Washington

Costa LDF, Miranda-Filho KC, Severo MP, Sampaio LA (2008) Tolerance of juvenile pompano Trachinotus marginatus to acute ammonia and nitrite exposure at different salinity levels. Aquaculture 285:270–272

Ellis T, North B, Scott AP, Bromage NR, Porter M, Gadd D (2002) The relationships between stocking density and welfare in farmed rainbow trout. J Fish Biol 61:493–531

Gomulka P, Żarski D, Kupren K, Krejszeff S, Targońska K, Kucharczyk D (2014) Acute ammonia toxicity during early ontogeny of ide Leuciscus idus (Cyprinidae). Aquacult Int 22:225–233

Grasshoff KM, Ehrhardtand K, Kremling K (1999) Methods of seawater analysis. Wiley-VCH, Weinheim, DEU

Grossel M, Jensen FB (1999) NO2 − uptake and HCO3 − excretion in the intestine of the European flounder (Platuchthys flesus). J Exp Biol 202:2103–2110

Hamilton MA, Russo RC, Thurston RV (1977) Trimmed Spearman–Karber method for estimating median lethal concentrations in toxicity bioassays. Environ Sci Technol 11:714–719

Hoff FH (1996) Conditioning spawning and rearing of fish. Florida Aqua Farms Inc, Dade City

Ip YK, Chew SF (2010) Ammonia production, excretion, toxicity, and defense in fish: a review. Front Physiol 1:1–20

Jensen FB (2003) Nitrite disrupts multiple physiological functions in aquatic animals. Comp Biochem Phys A 135:9–24

Kroupova H, Machova J, Svobodova Z (2005) Nitrite influence on fish: a review. Vet Med Czech 50:461–471

Lease HM, Hansen JA, Bergman HL, Meyer JS (2003) Structural changes in gills of Lost River suckers exposed to elevated pH and ammonia concentrations. Comp Biochem Physiol C: Toxicol Pharmacol 134:491–500

Mallat J (1985) Fish gill structural changes induced by toxicants and other irritants: a statistical review. Can J Fish Aquat Sci 42:630–648

Meade JW (1985) Allowable ammonia for fish culture. Prog Fish Cult 47:135–145

Miron DS, Moraes B, Becker AG, Crestani M, Spanevello R, Loro VL, Baldisserotto B (2008) Ammonia and pH effects on some metabolic parameters and gill histology of silver catfish, Rhamdia quelen (Heptapteridae). Aquaculture 277:192–196

Ostrensky A, Marchiori MA, Poersch LH (1992) Toxicidade aguda da amônia no processo produtivo de pós-larvas de Penaeus paulensis, Pérez-Farfante, 1967. An Acad Bras Ciênc 64:383–389

Randall DJ, Tsui TKN (2002) Ammonia toxicity in fish. Mar Pollut Bull 45:17–23

Rhyne AL, Tlusty MF, Schofield PJ, Kaufman L, Morris JA, Bruckner AW (2012) Revealing the appetite of the marine aquarium fish trade: the volume and biodiversity of fish imported into the United States. PLoS One 7(5):e35808

Rijn JV (1996) The potential for integrated biological treatment systems in recirculating fish culture: a review. Aquaculture 139:181–201

Rocha JMB, Kersanach MW, Baumgarten MGZ (2010) Titrimetria (Volumetria). In: Baumgarten MGZ, Kersanach MW, Niencheski LFH (eds) Manual de Análises em Oceanografia Química (Editora da FURG). BRA, Rio Grande

Rodrigues RV, Schwarz MH, Delbos BC, Sampaio LA (2007) Acute toxicity and sublethal effects of ammonia and nitrite for juvenile cobia Rachycentron canadum. Aquaculture 271:553–557

Rodrigues RV, Schwarz MH, Delbos BC, Carvalho EL, Romano LA, Sampaio LA (2011) Acute exposure of juvenile cobia Rachycentron canadum to nitrate induces gill esophageal and brain damage. Aquaculture 322–323:223–226

Rodrigues RV, Romano LA, Schwarz MH, Delbos B, Sampaio LA (2014) Acute tolerance and histopathological effects of ammonia on juvenile maroon clownfish Premnas biaculeatus. Aquac Res 45:1133–1139

Sampaio LA, Wasielesky W, Miranda-Filho KC (2002) Effect of salinity on acute toxicity of ammonia and nitrite to juvenile Mugil platanus. Bull Environ Contam Toxicol 68:668–674

Santos DMS, Melo MRS, Mendes DCS, Rocha IKBS, Silva JPL, Cantanhêde SM, Meletti PC (2014) Histological changes in gills of two fish species as indicators of water quality in Jansen Lagoon (São Luís, Maranhão State, Brazil). Int J Environ Res Public Health 11:12927–12937

Thurston RV, Russo RC, Vinogradov GA (1981) Ammonia toxicity to fishes. Effect of pH on the toxicity of the unionized ammonia. Environ Sci Technol 15:837–840

Watson CA, Hill JE (2006) Design criteria for recirculating, marine ornamental production systems. Aquac Eng 34:157–162

Weirich CR, Riche M (2006a) Acute tolerance of juvenile Florida pompano, Trachinotus carolinus L., to ammonia and nitrite at various salinities. Aquac Res 37:855–861

Weirich CR, Riche M (2006b) Tolerance of juvenile black sea bass Centropristis striata to acute ammonia and nitrite exposure at various salinities. Fish Sci 72:915–921

Whitfield M (1974) The hydrolysis of ammonium ions in sea water: a theoretical study. J Mar Biol Assoc UK 54:565–580

Wise DJ, Tomasso JR (1989) Acute toxicity of nitrite to red drum Sciaenops ocellatus: effect of salinity. J World Aquac Soc 20:193–198

Wittenrich ML (2007) The complete illustrated breeder's guide to marine aquarium fishes. Microcosm Ltd. and T.F.H. Publications Inc., Neptune city

Wuertz S, Schulze SGE, Eberhardt U, Schulz C, Schroeder JP (2013) Acute and chronic nitrite toxicity in juvenile pike-perch (Sander lucioperca) and its compensation by chloride. Comp Biochem Physiol C: Toxicol Pharmacol 157:352–360
Acknowledgments
R. S. Medeiros and B. A. Lopez are students of the Graduate Program in Aquaculture at FURG and are supported by the Brazilian funding agencies CAPES and CNPq, respectively. L. A. Romano and L. A. Sampaio are fellow researchers of CNPq, and R. V. Rodrigues is supported by CAPES.
About this article
Cite this article
Medeiros, R.S., Lopez, B.A., Sampaio, L.A. et al. Ammonia and nitrite toxicity to false clownfish Amphiprion ocellaris . Aquacult Int 24, 985–993 (2016). https://doi.org/10.1007/s10499-015-9965-9
Received:

Accepted:

Published:

Issue Date:

DOI: https://doi.org/10.1007/s10499-015-9965-9
Keywords