Abstract
The aim of the study was to investigate the feasibility of nutrient recycling from a marine recirculating aquaculture system (RAS) for fish (European sea bass, Dicentrarchus labrax L.) through three salt-tolerant, halophyte plant species, Tripolium pannonicum (Jacq.) Dobrocz., Plantago coronopus L., and Salicornia dolichostachya (Moss.). Halophytes, illuminated by sunlight and supplemented with artificial light, were maintained in hydroponic cultures integrated in a RAS water treatment system operating at 16 psu salinity. During a 35-day experiment, 248 fishes gained 5.6 kg of weight. Total plant biomass production reached 23 kg in 14 m2 hydroponic culture area. Gain of shoot biomass was 27, 18, and 60 g m−2 day−1 for T. pannonicum, P. coronopus, and S. dolichostachya, respectively. The plants retained 7 g phosphorus and 46 g nitrogen under the experimental conditions. This was equivalent to 9 % of the N and 10 % of the P introduced with the fish feed. The edible part of the harvested plant material was microbially safe and approved for human consumption. The coupling of production in a RAS–IMTA was tested as a feasible cascading production technology for sustainable aquaculture.
Access options
Buy single article
Instant access to the full article PDF.
USD 39.95
Price excludes VAT (USA)
Tax calculation will be finalised during checkout.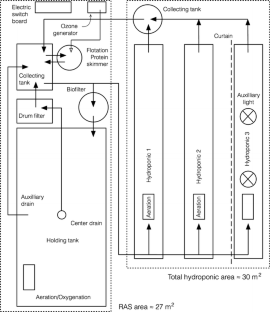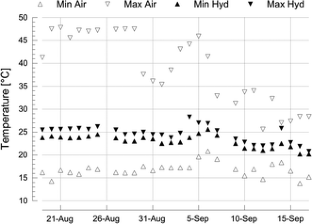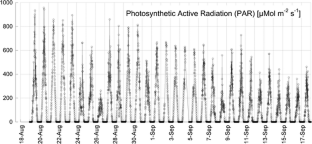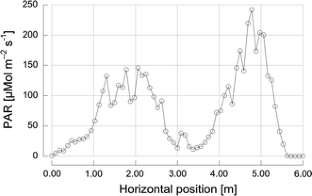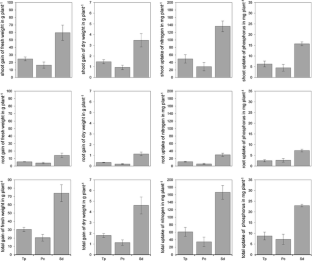 Abbreviations
IMTA:

Integrated multi-trophic aquaculture

RAS:

Recirculation aquaculture systems
References
Auerswald H, Schwarz D, Kornelson C, Krumbein A, Brückner B (1999) Sensory analysis sugar and acid content of tomato at different EC values of the nutrient solution. Sci Hortic 82:227–242

Ballestrazzi R, Lanari D, D'Agaro E (1998) Performance, nutrient retention efficiency, total ammonia and reactive phosphorus excretion of growing European sea-bass (Dicentrarchus labrax, L.) as affected by diet processing and feeding level. Aquaculture 161:55–65

Blidariu G, Grozea A (2011) Increasing the economical efficiency and sustainability of Indoor fish farming by means of aquaponics–review. Anim Sci Biotechnol 44:1–8

Buhmann AK, Waller U, Wecker B, Papenbrock J (2015) Optimization of culturing conditions and selection of species for the use of halophytes as biofilter for nutrient-rich saline water. Agric Water Manag 149:102–114

Chopin T, Robinson SMC, Troell M, Neori A, Buschmann AH, Fang J (2008) Multitrophic integration for sustainable marine aquaculture. In: Jørgensen SE, Fath BD (eds) The encyclopedia of ecology, ecological engineering, vol 3. Elsevier, Oxford, pp 2463–2475

Cooper J, Lombardi R, Boardman D, Carliell-Marquet C (2011) The future distribution and production of global phosphate rock reserves. Resour Conserv Recycl 57:78–86

Dalsgaard J, Lund I, Thorarinsdottir R, Drengstig A, Arvonen K, Bovbjerg Pedersen P (2013) Farming different species in RAS in Nordic countries: current status and future perspectives. Aquac Eng 53:2–13

De Pinheiro Henriques AR, Marcelis LFM (2000) Regulation of growth at steady-state nitrogen nutrition in lettuce (Lactuca sativa L.): interactive effects of nitrogen and irradiance. Ann Bot 86:1073–1080

DGHM, Deutsche Gesellschaft für Hygiene und Mikrobiologie (2004) Richt- und Warnwerte für Seefische. http://www.dghm-richt-warnwerte.de/, Accessed at 20 Nov 2013

DGHM, Deutsche Gesellschaft für Hygiene und Mikrobiologie (2007) Richt- und Warnwerte für Mischsalate. Mittelwerte für abgepackte Ware bei Abgabe an den Verbraucher. http://www.dghm-richt-warnwerte.de/, Accessed at 20 Nov 2013

Deviller G, Aliaume C, Nava MAF, Cesellas C, Blancheton JP (2004) High-rate algal pond treatment for water reuse in an integrated marine fish recirculating system: effect on water quality and sea bass growth. Aquaculture 235:331–344

Fallovo C, Rouphael Y, Rea E, Battistelli A, Colla G (2009) Nutrient solution concentration and growing season affect yield and quality of Lactuca sativa L. var. acephala in floating raft culture. J Sci Food Agric 89:1682–1689

Franco-Nava MA, Blancheton JP, Deviller G, Charrier A, Le-Gall JY (2004) Effect of fish size and hydraulic regime on particulate organic matter dynamics in a recirculating aquaculture system: elemental carbon and nitrogen approach. Aquaculture 239(1–4):179–198

Frantz JM, Ritchie G, Cometti NN, Robinson J, Bugbee B (2004) Exploring the limits of crop productivity: beyond the limits of tipburn in lettuce. J Am Soc Hortic Sci 129:331–338

Galloway JN, Dentener FJ, Capone DG, Boyer EW, Howarth RW, Eitzinger SP, Asner GP, Cleveland CC, Green PA, Holland EA, Karl DM, Michaels AF, Porter JH, Townsend AR, Vörösmarty CJ (2004) Nitrogen cycles: past, present, and future. Biogeochemistry 70:153–226

Herbeck LS, Unger D, Wub Ying, Jennerjahn TC (2013) Effluent, nutrient and organic matter export from shrimp and fish ponds causing eutrophication in coastal and back-reefwaters of NE Hainan, tropical China. Cont Shelf Res 57:92–104

Incrocci L, Malorgio F, Della Bartola A, Pardossi A (2006) The influence of drip irrigation or subirrigation on tomato grown in closed-loop substrate culture with saline water. Sci Hortic 107:365–372

Islam MS (2005) Nitrogen and phosphorus budget in coastal and marine cage aquaculture and impacts of effluent loading on ecosystem: review and analysis towards model development. Mar Pollut Bull 50:48–61

Jegatheesan V, Shu L, Visvanathan C (2011) Aquaculture Effluent: impacts and remedies for protecting the environment and human health. reference module in earth systems and environmental sciences. Encycl Environ Health 2011:123–135

Kitano M, Inoue Y, Yamazaki Y, Hayashi F, Kanbara S, Matsuishi S, Yokoyama T, Kim SW, Hara M, Hosono H (2012) Ammonia synthesis using a stable electrode as an electron donor and reversible hydrogen store. Nat Chem 4:934–940

Kroeze C, Hofstra N, Ivens W, Löhr A, Strokal A, Jvan Wijnen J (2013) The links between global carbon, water and nutrient cycles in an urbanizing world—the case of coastal eutrophication. Curr Opin Environ Sustain 5(6):566–572

Lennard WA, Leonard BV (2006) A comparison of three different hydroponic sub-systems (gravel bed floating and nutrient film technique) in an aquaponic test system. Aquac Int 14:539–550

Lewis WM, Yopp JH, Schramm HL, Brandenburg AM (1978) Use of hydroponics to maintain quality of recirculated water in a fish culture system. Trans Am Fish Soc 107:92–99

Lichtenthaler HK (1987) Chlorophylls and carotenoids, the pigments of photosynthetic membranes. Methods Enzymol 148:350–382

Martins CIM, Eding EH, Verdegem MCJ, Heinsbroek LTN, Schneider O, Blancheton JP, Roque d'Orbcastel E, Verreth JAJ (2010) New developments in recirculating aquaculture systems in Europe: a perspective on environmental sustainability. Aquac Eng 43:83–93

Orellana J, Waller U, Wecker B (2014) Culture of yellowtail kingfish (Seriola lalandi) in a marine recirculating aquaculture system (RAS) with artificial seawater. Aquac Eng 58:20–28

Park JBK, Craggs RJ, Sukias JPS (2009) Removal of nitrate and phosphorus from hydroponic wastewater using a hybrid denitrification filter (HDF). Bioresour Technol 100:3175–3179

Poulet L, Massa GD, Morrow RC, Bourget CM, Wheeler RM, Mitchell CA (2014) Significant reduction in energy for plant-growth lighting in space using targeted LED lighting and spectral manipulation. Life Sci Space Res 2:43–53

Randall DJ, Tsui TKN (2002) Ammonia toxicity in fish. Mar Pollut Bull 45:17–23

Ricker WE (1975) Computation and interpretation of biological statistics of fish populations. Environment Canada Bulletin 191, Ottawa

Robaina L, Corraze G, Aguirre P, Blanc D, Melcion JP, Kaushik S (1999) Digestibility, postprandial ammonia excretion and selected plasma metabolites in European sea bass (Dicentrarchus labrax) fed pelleted or extruded diets with or without wheat gluten. Aquaculture 179:45–56

Rouphael Y, Colla G (2005) Growth yield, fruit quality, and nutrient uptake of hydroponically cultivated zucchini squash as affected by irrigation systems and growing seasons. Sci Hortic 105:177–195

Schroeder JP, Croot PL, Von Dewitz B, Waller U, Hanel R (2011) Potential and limitations of ozone for the removal of ammonia, nitrite, and yellow substances in marine recirculating aquaculture systems. Aquac Eng 45:35–41

Shpigel M, Ben-Ezra D, Shauli L, Sagi M, Ventura Y, Samocha T, Lee YY (2013) Constructed wetland with Salicornia as a biofilter for mariculture effluents. Aquaculture 412–413:52–63

Sikawa DC, Yakupitiyage A (2010) The hydroponic production of lettuce (Lactuca sativa L.) by using hybrid catfish (Clarias macrocephalus × C. gariepinus) pond water: potentials and constraints. Agric Water Manag 97:1317–1325

Tal Y, Schreier HJ, Sowers KR, Stubblefield JD, Place AR, Zohar Y (2009) Environmentally sustainable land-based marine aquaculture. Aquaculture 286:28–35

Trang NTD, Schierup HH, Brix H (2010) Leaf vegetables for use in integrated hydroponics and aquaculture systems: effects of root flooding on growth, mineral composition, and nutrient uptake. Afr J Biotechnol 27:4186–4196

Turekian KK (1968) Oceans. Prentice Hall, NJ

Van Bussel CGJ, Schroeder JP, Wuertz S, Schulz C (2012) The chronic effect of nitrate on production, performance, and health status of juvenile turbot (Psetta maxima). Aquaculture 326–329:163–167

Van Rijn J, Tal Y, Schreier HJ (2006) Denitrification in recirculating systems: theory and applications. Aquac Eng 34:364–376

Ventura Y, Wuddineh WA, Shpigel M, Samocha TM, Klim BC, Cohen S, Shemer Z, Santos R, Sagi M (2011) Effects of day length on flowering and yield production of Salicornia and Sarcocornia species. Sci Hortic 135:510–516

Ventura Y, Myrzabayeva M, Alikulov Z, Cohen S, Shemer Z, Sagi M (2013) The importance of iron supply during repetitive harvesting of Aster tripolium. Funct Plant Biol 40:968–976

Watten BJ, Busch RL (1984) Tropical production of tilapia (Sarotherodon aurea) and tomatoes (Lycopersicon esculentum) in a small-scale recirculating water system. Aquaculture 41:271–283

Webb JM, Quinta R, Papadimitriou S, Norman L, Rigby M, Thomas DN, Le Vay L (2012) Halophyte filter beds for treatment of saline wastewater from aquaculture. Water Res 46:512–514

Yao F, Sun J, Tang C, Ni W (2011) Kinetics of ammonium, nitrate and phosphate uptake by candidate plants used in constructed wetlands. Procedia Environ Sci 10:1854–1861

Yorio NC, Goins G, Kagie HR, Wheeler RM, Sager JC (2001) Improving spinach, radish, and lettuce growth under red light-emitting diodes (LEDs) with blue light supplementation. Hortic Sci 36:380–383
Acknowledgments
The authors thank the gardeners, Yvonne Leye and Lutz Krüger, for taking care of the seedlings and young plants, Rebecca Hosang, Pamela von Trzebiatowski, and Julia Volker for technical assistance, and Christian Boestfleisch for support in harvesting the plants. The project was financially supported by the Deutsche Bundesstiftung Umwelt (DBU) (AZ27708/1-3) and the Erwin Sander Elektroapparatebau GmbH Germany.
About this article
Cite this article
Waller, U., Buhmann, A.K., Ernst, A. et al. Integrated multi-trophic aquaculture in a zero-exchange recirculation aquaculture system for marine fish and hydroponic halophyte production. Aquacult Int 23, 1473–1489 (2015). https://doi.org/10.1007/s10499-015-9898-3
Received:

Accepted:

Published:

Issue Date:

DOI: https://doi.org/10.1007/s10499-015-9898-3
Keywords