Abstract
In this study, Astronotus ocellatus were fed with food supplemented with Dunaliella salina (a natural β-carotene source) or astaxanthin (synthetic pigment), and their effects on fish skin carotenoids, growth indices and immune responses were evaluated. 135 A. ocellatus, weighing 25.6 ± 0.6 g, were randomly divided into three groups with three replicates (15 fish in each replicate). Group 1 and 2 were fed with a diet supplemented with 200 mg/kg astaxanthin or D. salina, respectively. Control group received the same diet without supplemented carotenoids. After 50 days, the growth indices were compared with the groups. Blood, mucus and skin samples were taken from each group. The immunological parameters of dietary D. salina and astaxanthin were studied in terms of serum and mucus lysozyme and bactericidal activity, as well as resistance against Aeromonas hydrophila infection. Carotenoid content of skin was assayed as well. Results showed that growth indices increased significantly in fish fed diet supplemented either with astaxanthin or D. salina (P < 0.05). Serum and mucus lysozyme and bactericidal activity increased in D. salina and astaxanthin groups (P < 0.05). Skin carotenoid content was statistically higher in astaxanthin group (6.48 ± 0.84 mg g−1) and D. salina group (4.89 ± 0.83 mg g−1) compared with the control group (3.05 ± 0.32 mg g−1) (P < 0.05). Rate of mortality following the challenge with A. hydrophila was significantly lower in D. salina group (50 ± 10) and astaxanthin (56.7 ± 5.8) group compared with control group (76.7 ± 5.8) (P < 0.05). Conclusively, D. salina and astaxanthin as a food additive can affect positively the growth and immunological parameters as well as skin carotenoid of A. ocellatus.
We're sorry, something doesn't seem to be working properly.
Please try refreshing the page. If that doesn't work, please contact support so we can address the problem.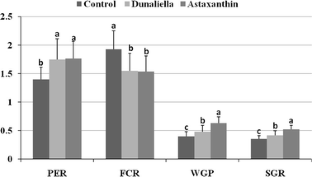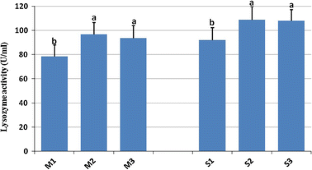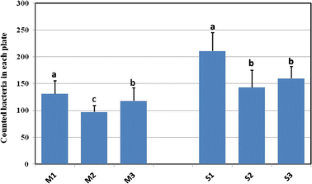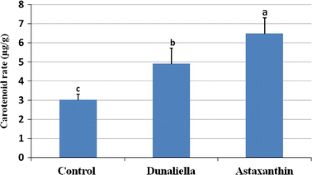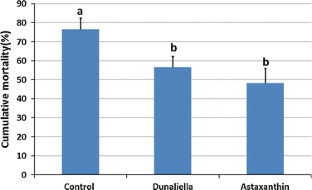 References
Alishahi M, Buchmann K (2006) Temperature-dependent protection against Ichthyophthirius multifiliis following immunisation of rainbow trout using live theronts. Dis Aquat Org 72:269–273

Alishahi M, Ranjbar M, Ghorbanpor M, Peyghan R, Mesbah M, Razijalali M (2010) Effects of dietary Aloe vera on specific and nonspecific immunity in the common carp (Cyprinus carpi). Int J Vet Res 4:189–195

Alishahi M, Karamifar M, Mesbah M, Zarei M (2014) Hemato-immunological responses of Heros severus fed diets supplemented with different levels of Dunaliella salina. Fish Physiol Biochem 40:57–65

Amar EC, Kirona V, Satoha S, Watanabea T (2004) Enhancement of innate immunity in rainbow trout (Oncorhynchus mykiss Walbaum) associated with dietary intake of carotenoids from natural products. Fish Shellfish Immunol 16:527–537

Baker RTM, Pfeiffer AM, Schöner FJ, Smith-Lemmon L (2002) Pigmenting efficacy of astaxanthin and canthaxanthin in fresh-water reared Atlantic salmon (Salmo salar). Anim Feed Sci Technol 99:97–106

Becker EW (1994) Microalgae biotechnology and microbiology. Cambridge University Press, Cambridge

Ben-Amotz A, Avron M (1983) On the factors which determine massive β-carotene accumulation in the halotolerant alga Dunaliella bardawil. Plant Physiol 72:593–597

Bendich, Shapiro SS (1986) Effect of β-carotene and canthaxanthin on the immune responses of the rat. J Nutr 116:2254–2262

Bjerkeng B, Hatlen B, Wathne E (1999) Deposition of Astaxanthin in fillets of Atlantic salmon (Salmo salar) fed diets with herring, capelin, sandeel, or Peruvian high PUFA oils. Aquaculture 180:307–319

Borowitzka MA, Borowitzka LJ (1988) Dunaliella. In: Borowitzka MA, Borowitzka LJ (eds) Microalgal Biotechnology. Cambridge University Press, New York

Bricaud A, Morel A, Babin M, Allali K, Claustre H (1998) Variations of light absorption by suspended particles with chlorophyll a concentration in oceanic (case 1) waters: analysis and implications for biooptical models. J Geophys Res 103:31033–31044

Choubert G, Storebakken T (1989) Dose response to astaxanthin and canthaxanthin pigmentation of rainbow trout fed various dietary carotenoids concentrations. Aquaculture 81:69–77

Choubert G, Mendes-Pinto MM, Morais R (2006) Pigmenting efficacy of astaxanthin fed to rainbow trout Oncorhynchus mykiss: effect of dietary astaxanthin and lipid sources. Aquaculture 257:429–436

Divyagnaneswari MD, Christybapita R, Dinakaran M (2007) Enhancement of nonspecific immunity and disease resistance in Oreochromis mossambicus by Solanum trilobatum leaf fractions. Fish Shellfish Immunol 23:249–259

Ellis AE (1990) Lysozyme assay. In: Stolen JS, Fletcher DP, Anderson BS, Robertson BS (eds) Techniques in fish immunology. SOS Publication, Fair Haven, New Jersey, pp 101–103

Fuji R (1969) Chromatophores and pigments. In: Hoar WS, Randall DJ (eds) Fish physiology. Reproduction and growth. Bio Luminescence, Pigments and Poisons. Academic Press, New York, pp 301–353

Gourveia L, Gomes E, Empis J (1997) Use of Chlorella vulgaris in diets for rainbow trout to enhance pigmentation of muscle. J Appl Aquat Cult 7:61–70

Hejazi M, Barzegari A, Hosseinzadeh A, Hejazi MS (2010) Introduction of a novel 18S rDNA gene arrangement along with distinct ITS region in the saline water microalga Dunaliella Saline Systems 6(4):11–17

Jyounchi H, Zhang L, Tomita Y, Gross M (1993) Immunomodulating actions of carotenoids-enhancement of Ab production against T-dependent Ag (TD-Ag) in vivo and in vitro. FASEB J 7:519–521

Kajita Y, Sakai M, Atsuta S, Kobayash M (1990) The immunomodulatory effects of levamisole on rainbow trout, Oncorhynchus mykiss. Fish Pathol 25:93–98

Keshav S, Chung P, Milton G, Gordon S (1991) Lysozyme is an inducible marker of macrophage activation in murine tissues as demonstrated by in situ hybridization. J Exp Med 174:1049–1058

Kop A, Durmaz Y (2008) The effect of synthetic and natural pigments on the colour of the cichlids (Cichlasoma severum). Aquaculture 16:117–122

Krinski N (1991) Effects of carotenoids in cellular and animal systems. Am J Clin Nutr 53:238–246

Magnado'ttir B (2006) Innate immunity of fish (overview). Fish Shellfish Immunol 20:137–151

Matsuno T (1991) Xanthophylls as precursors of retinoids. Pure Appl Chem 63:81–88

Ong ASH, Tee ES (1992) Natural sources of carotenoid from plants and oils. Meth Enzymol 213:142–167

Raja R, Hemaiswarya S, Rengasamy R (2007) Exploitation of Dunaliella for bcarotene production. Appl Microbiol Biotechnol 74:517–523

Raymundo A, Gouveida L, Batisa AP, Empis J, Sousa L (2005) Fat mimetic Capacity of chlorella vulgaris biomass in oil-in-water food emulsions stabilized by pea protein. Food Res lnt 38:961–965

Sakai M (1999) Current status of fish immunostimulants. Aquaculture 172:63–92

Sales J, Janssens PX (2003) Nutrient requirements of ornamental fish. Aquat Living Resour 16:533–540

Schaperclaus W, Kulow H, Schreckenbach K (1992) Fish Disease. A.A. Balkema, Rotterdam

Supamattaya K, Kiriratnikom S, Boonyaratpalin M (2005) Effect of a Dunaliella salina extract on growth performance, health condition, immune response and disease resistance in black tiger shrimp (Penaeus monodon). Aquaculture 248:207–216

Tacon AGJ (1981) Speculative review of possible carotenoid function in fish. Progess Fish Cult 43:205–208

Tanaka Y, Matsuguchi H, Katayama T, Simpson KL, Chichester CO (1976) The biosynthesis of astaxanthin XVIII. The metabolism of the carotenoids in the prawn, Penaeus japonicus Bates. Bull Jpn Soc Sci Fish 42:197–202

Zhang LX, Cooney RV, Bertram JS (1992) Carotenoids up-regulate Connexin 43 gene expression independent of their provitamin A or antioxidant properties. Cancer Res 52:5707–5712
Acknowledgments
This work was financially supported by the Research Council of Shahid Chamran University, Ahvaz, Iran.
About this article
Cite this article
Alishahi, M., Karamifar, M. & Mesbah, M. Effects of astaxanthin and Dunaliella salina on skin carotenoids, growth performance and immune response of Astronotus ocellatus . Aquacult Int 23, 1239–1248 (2015). https://doi.org/10.1007/s10499-015-9880-0
Received:

Accepted:

Published:

Issue Date:
Keywords
Astronotus ocellatus
Dunaliella salina

Astaxanthin

Immunological parameters

Growth indices