Abstract
The use of aquafeeds formulated with plant protein sources supplemented with crystalline amino acids (CAAs) is believed to influence amino acid (AA) uptake patterns and AA metabolic fate. Oxygen consumption and ammonia excretion rates were measured in rainbow trout (468.5 ± 86.5 g) force fed 0.75 % of their body mass with a diet based on either (1) fish meal (FM), (2) pea protein concentrate (PPC), or (3) pea protein concentrate supplemented with histidine, lysine, methionine and threonine (PPC+) to mimic FM AA profile. The specific dynamic action and nitrogen quotient (NQ) were calculated for 48 h of the postprandial period. In parallel, plasma AA concentrations were measured in blood samples withdrawn from the caudal vein before and then 2, 4, 6, 8, 12, 20, 32 and 48 h after feed administration. The unbalanced diet PPC had a significantly higher NQ compared to FM (0.29 ± 0.09 and 0.18 ± 0.04, respectively), and plasma profiles of essential AAs reflected the dietary deficiencies. Supplementation with CAA in diet PPC+ resulted in an intermediary NQ (0.21 ± 0.04) and significantly affected plasma AA profiles, presenting greater and faster rises followed by sharp decreases compared to FM. The strongest effect was observed for methionine, presenting threefold higher concentrations at peak time for PPC+ compared to FM (297.0 ± 77.0 and 131.8 ± 39.0 nmol ml−1, respectively). The differences in AA availability and metabolic profile in the pea diets compared to the FM diet were believed to be caused by an unbalanced dietary AA profile and CAA supplementation, rather than inclusion of plant protein concentrate.
Access options
Buy single article
Instant access to the full article PDF.
USD 39.95
Price excludes VAT (USA)
Tax calculation will be finalised during checkout.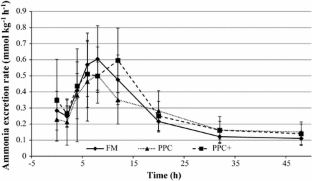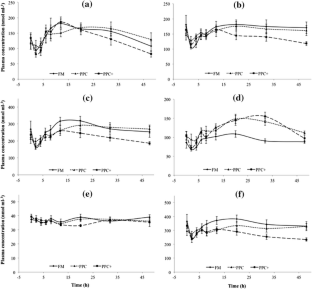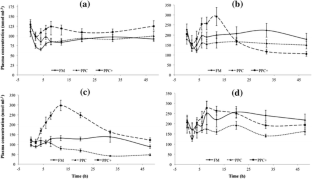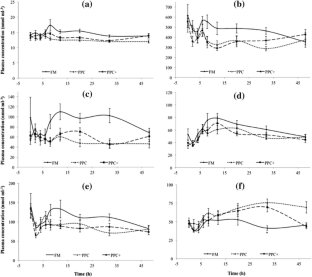 Abbreviations
AA:

Amino acid

ACC:

Acclimation

ANF:

Anti-nutritional factor

CAA:

Crystalline amino acid

DM:

Dry matter

EAA:

Essential amino acid

FM:

Fish meal

NEAA:

Non-essential amino acid

NQ:

Nitrogen quotient

PI:

Protein intake

PPC:

Pea protein concentrate

SDA:

Specific dynamic action

TAN:

Total ammonia nitrogen
References
Ambardekar AA, Reigh RC, Williams MB (2009) Absorption of amino acids from intact dietary proteins and purified amino acid supplements follows different time-courses in channel catfish (Ictalurus punctatus). Aquaculture 291:179–187

Bendiksen EÅ, Johnsen CA, Olsen HJ, Jobling M (2011) Sustainable aquafeeds: progress towards reduced reliance upon marine ingredients in diets for farmed Atlantic salmon (Salmo salar L.). Aquaculture 314:132–139

Bligh EG, Dyer WJ (1959) A rapid method of total lipid extraction and purification. Can J Biochem Physiol 37:911–917

Bodin N, Delfosse G, Nang Thu TT, Le Boulengé E, Abboudi T, Larondelle Y, Rollin X (2012) Effects of fish size and diet adaptation on growth performances and nitrogen utilization of rainbow trout (Oncorhynchus mykiss W.) juveniles given diets based on free and/or protein-bound amino acids. Aquaculture 356–357:105–115

Bonaldo A, Parma L, Mandrioli L, Sirri R, Fontanillas R, Badiani A et al (2011) Increasing dietary plant proteins affects growth performance and ammonia excretion but not digestibility and gut histology in turbot (Psetta maxima) juveniles. Aquaculture 318:101–108

Bórquez AS, Hernández AJ, Dantagnan P, Saez P, Serrano E (2011) Incorporation of whole lupin, Lupinus albus, seed meal in commercial extruded diets for rainbow trout, Oncorhynchus mykiss: effect on growth performance, nutrient digestibility, and muscle fatty acid composition. J World Aquac Soc 42:209–221

Brown CR, Cameron JN (1991a) The relationship between specific dynamic action (SDA) and protein synthesis rates in channel catfish. Physiol Zool 64:298–309

Brown CR, Cameron JN (1991b) The induction of specific dynamic action in channel catfish by infusion of essential amino acids. Physiol Zool 64:276–297

Burr GS, Wolters WR, Barrows FT, Hardy RW (2012) Replacing fishmeal with blends of alternative proteins on growth performance of rainbow trout (Oncorhynchus mykiss), and early or late stage juvenile Atlantic salmon (Salmo salar). Aquaculture 334–337:110–116

Carter CG, Houlihan DF (2001) Protein synthesis. In: Wright PA, Anderson PM (eds) Nitrogen excretion. Fish physiology, vol 20. Academic Press, New York, pp 31–75

Collins SA, Desai AR, Mansfield GS, Hill JE, Van Kessel AG, Drew MD (2012) The effect of increasing inclusion rates of soybean, pea and canola meals and their protein concentrates on the growth of rainbow trout: concepts in diet formulation and experimental design for ingredient evaluation. Aquaculture 344–349:90–99

National Research Council (ed) (2011) Nutrient requirements of fish and shrimp. National Academy Press, Washington

Cowey C (1995) Protein and amino acid requirements: a critique of methods. J Appl Ichthyol 11:199–204

Cowey CB, Sargent JR (1979) Nutrition. In: Hoar WS, Randall DJ, Brett JR (eds) Bioenergetics and growth. Fish physiology, vol 8. Academic Press, New York, pp 1–79

Cowey CB, Walton MJ (1988) Studies on the uptake of (14C) amino acids derived from both dietary (14C) protein and dietary (14C) amino acids by rainbow trout, Salmo gairdneri richardson. J Fish Biol 33:293–305

Dabrowski K (1982) Postprandial distribution of free amino acids between plasma and erythrocytes of common carp (Cyprinus carpio L.). Comp Biochem Physiol A Mol Integr Physiol 72:753–763

Dabrowski K, Lee KJ, Rinchard J (2003) The smallest vertebrate, teleost fish, can utilize synthetic dipeptide-based diets. J Nutr 133:4225–4229

Davies SJ, Morris PC (1997) Influence of multiple amino acid supplementation on the performance of rainbow trout, Oncorhynchus mykiss (Walbaum), fed soya based diets. Aquac Res 28:65–74

DS (1975) Water analysis. Determination of ammonia–nitrogen No. DS 224:1975. Dansk standardiseringsråd, Denmark

Espe M, Lemme A, Petri A, El-Mowafi A (2006) Can Atlantic salmon (Salmo salar) grow on diets devoid of fish meal? Aquaculture 255:255–262

FAO (2012) The state of World Fisheries and Aquaculture 2010. FAO, Rome

Fiedman M, Levin CE (2011) Nutritional and medicinal aspects of d-amino acids. Amino Acids 42:1553–1582

Francis G, Makkar HPS, Becker K (2001) Antinutritional factors present in plant-derived alternate fish feed ingredients and their effects in fish. Aquaculture 199:197–227

Gatlin DM III, Barrows FT, Brown P, Dabrowski K, Gaylord TG, Hardy RW et al (2007) Expanding the utilization of sustainable plant products in aquafeeds: a review. Aquacult Res 38:551–579

Gaylor TG, Barrows FT (2009) Multiple amino acid supplementations to reduce dietary protein in plant-based rainbow trout, Oncorhynchus mykiss, feeds. Aquaculture 287:180–184

Green JA, Hardy RW (2008) The effects of dietary protein: energy ration and amino acid pattern on nitrogen utilization and excretion of rainbow trout Oncorhynchus mykiss (Walbaum). J Fish Biol 73:663–682

Güroy D, Güroy B, Merrifield DL, Tekinay AA, Davies SJ, Sahin I (2012) Effects of fish oil and partial fish meal substitution with oilseed oils and meals on growth performance, nutrient utilization and health of the rainbow trout Oncorhynchus mykiss. Aquac Int 20:481–497

ISO (1998) Animal feeding stuffs—determination of phosphorus content—spectrometric method no. ISO 6491:1998. International Organization for Standardization (ISO), Geneva

ISO (2005) Animal feeding stuff—determination of nitrogen content and calculation of crude protein content—part 2: block digestion/steam distillation method no. ISO 5983-2:2005. International Organization for Standardization (ISO), Geneva

Jalili R, Noori F, Agh N (2012) Effects of dietary protein source on growth performance, feed utilization and digestive enzyme activity in rainbow trout (Oncorhynchus mykiss). J Appl Biol Sci 6:61–68

Jobling M, Davies PS (1980) Effects of feeding on metabolic rate, and the specific dynamic action in plaice, Pleuronectes platessa L. J Fish Biol 16:629–638

Kajimura M, Croke SJ, Glover CN, Wood CM (2004) Dogmas and controversies in the handling of nitrogenous wastes: the effect of feeding and fasting on the excretion of ammonia, urea and other nitrogenous waste products in rainbow trout. J Exp Biol 207:1993–2002

Kim KI, Kayes TB, Amundson CH (1992) Requirements for sulphur amino acids and utilization of d-methionine by rainbow trout (Oncorhynchus mykiss). Aquaculture 101:95–103

Kolar K (1992) Gravimetric determination of moisture and ash in meat and meat products—NMKL interlaboratory study. J AOAC Int 75:1016–1022

Lansard M, Panserat S, Plagnes-Juan E, Seiliez I, Skiba-Cassy S (2010) Integration of insulin and amino acid signals that regulate hepatic metabolism-related gene expression in rainbow trout: role of TOR. Amino Acids 39:801–810

Lansard M, Panserat S, Plagnes-Juan E, Dias K, Seiliez I, Skiba-Cassy S (2011) l-Leucine, l-methionine, and l-lysine are involved in the regulation of intermediary metabolism-related gene expression in rainbow trout hepatocytes. J Nutr 141:75–80

Larsen BK, Dalsgaard J, Pedersen PB (2012) Effects of plant proteins on postprandial, free plasma amino acid concentrations in rainbow trout (Oncorhynchus mykiss). Aquaculture 326–329:90–98

Lied E, Braaten B (1984) The effect of feeding and starving, and different ratios of protein energy to total energy in the feed on the excretion of ammonia in atlantic cod (Gadus morhua). Comp Biochem Physiol A Mol Integr Physiol 78:49–52

Liener IE (1994) Implications of antinutritional components in soybean foods. Crit Rev Food Sci Nutr 34:31–67

McCue MD (2006) Specific dynamic action: a century of investigation. Comp Biochem Physiol A Mol Integr Physiol 144:381–394

Médale F, Kaushik SJ (2009) Les sources protéiques dans les aliments pour les poissons d'élevage. Cah Agric 18:103–111

Murai T, Ogata H, Hirasawa Y, Akiyama T, Nose T (1987) Portal absorption and hepatic uptake of amino acids in rainbow trout force-fed diets containing casein or crystalline amino acids. Nippon Suisan Gakk 53:1847–1859

Øverland M, Sørensen M, Storebakken T, Penn M, Krogdahl Å, Skrede A (2009) Pea protein concentrate substituting fish meal or soybean meal in diets for Atlantic salmon (Salmo salar)—effect on growth performance, nutrient digestibility, carcass composition, gut health, and physical feed quality. Aquaculture 288:305–311

Plakas SM, Katayama T, Tanaka Y, Deshimaru O (1980) Changes in the levels of circulating plasma free amino acids of carp (Cyprinus carpio) after feeding a protein and an amino acid diet of similar composition. Aquaculture 21:307–322

R Core Team (2013) R: a language and environment for statistical computing. R Foundation for Statistical Computing. Vienna. http://www.R-project.org/

Robinson JW, Yanke D, Mirza F, Ballantyne JS (2011) Plasma free amino acid kinetics in rainbow trout (Oncorhynchus mykiss) using a bolus injection of 15N-labeled amino acids. Amino Acids 40:689–696

Schuhmacher A, Schön J, Goldberg M, Gropp JM (1995) Plasma amino acid levels in rainbow trout (Oncorhynchus mykiss). J Appl Ichthyol 11:309–316

Schuhmacher A, Wax C, Gropp JM (1997) Plasma amino acids in rainbow trout (Oncorhynchus mykiss) fed intact protein or a crystalline amino acid diet. Aquaculture 151:15–28

Secor SM (2009) Specific dynamic action: a review of the postprandial metabolic response. J Comp Physiol B 179:1–56

Skov PV, Larsen BK, Frisk M, Jokumsen A (2011) Effects of rearing density and water current on the respiratory physiology and haematology in rainbow trout, Oncorhynchus mykiss at high temperature. Aquaculture 319:446–452

Slawski H, Adem H, Tressel RP, Wysujack K, Koops U, Kotzamanis Y, Wuertz S, Schulz C (2012) Total fish meal replacement with rapeseed protein concentrate in diets fed to rainbow trout (Oncorhynchus mykiss Walbaum). Aquac Int 20:443–453

Sveier H, Nordås H, Berge GE, Lied E (2001) Dietary inclusion of crystalline d- and l-methionine: effects on growth, feed and protein utilization, and digestibility in small and large Atlantic salmon (Salmon salar L.). Aquac Nutr 7:169–181

Thebault H (1985) Plasma essential amino acids changes in sea-bass (Dicentrarchus labrax) after feeding diets deficient and supplemented in l-methionine. Comp Biochem Physiol A Mol Integr Physiol 82:233–237

Thiessen DL, Campbell GL, Adelizi PD (2003) Digestibility and growth performance of juvenile rainbow trout (Oncorhynchus mykiss) fed with pea and canola products. Aquac Nutr 9:67–75

Van Der Thillart G, Kesbeke F (1978) Anaerobic production of carbon dioxide and ammonia by goldfish Carassius auratus (L.). Comp Biochem Physiol A Mol Integr Physiol 59:393–400

Wacyk J, Powell M, Rodnick K, Overturf K, Hill RA, Hardy R (2012) Dietary protein source significantly alters growth performance, plasma variables and hepatic gene expression in rainbow trout (Oncorhynchus mykiss) fed amino acid balanced diets. Aquaculture 356–357:223–234

Wood CM (2001) Influence of feeding, exercise, and temperature on nitrogen metabolism and excretion. In: Wright PA, Anderson PM (eds) Nitrogen excretion. Fish physiology, vol 20. Academic Press, New York, pp 201–238

Yamada S, Simpson KL, Tanaka Y, Katayama T (1981) Plasma amino acid changes in rainbow trout Salmo gairdneri force-fed casein and corresponding amino acid mixture. Bull Jpn Soc Sci Fish 47:1035–1040

Yamamoto T, Unuma T, Akiyama T (1998) Postprandial changes in plasma free amino acid concentrations of rainbow trout fed diets containing different protein sources. Fish Sci 64:474–481

Zarate DD, Lovell RT (1997) Free lysine (l-lysine–HCl) is utilized for growth less efficiently than protein-bound lysine (soybean meal) in practical diets by young channel catfish (Ictalurus punctatus). Aquaculture 159:87–100

Zarate DD, Lovell RT, Payne M (1999) Effects of feeding frequency and rate of stomach evacuation on utilization of dietary free and protein-bound lysine for growth by channel catfish Ictalurus punctatus. Aquac Nutr 5:17–22
About this article
Cite this article
Rolland, M., Larsen, B.K., Holm, J. et al. Effect of plant proteins and crystalline amino acid supplementation on postprandial plasma amino acid profiles and metabolic response in rainbow trout (Oncorhynchus mykiss). Aquacult Int 23, 1071–1087 (2015). https://doi.org/10.1007/s10499-014-9865-4
Received:

Accepted:

Published:

Issue Date:

DOI: https://doi.org/10.1007/s10499-014-9865-4
Keywords
Essential amino acid

Non-essential amino acid

Ammonia excretion

Respirometry

SDA