Abstract
There is an increasing demand for highly skilled workers in all advanced industrialised economies. Although most jobs require occupation-specific skills to carry them out, it is widely recognised that generic skills are ever more needed by job seekers, to increase job opportunities and maintain employability; this applies to all sectors of the economy, from selling cars to undertaking marine research. Several recent European Union strategy documents emphasise the importance of generic skills. However, the apparent mismatch between the skills sets that employers seek and that job seekers offer remains a major challenge. This paper focuses on perceptions of and attitudes to generic skills training for university graduates intending to gain employment in aquaculture, fisheries or other marine sectors and presents the results of a survey administered to academics, industry representatives, students (at different stages of their academic career) and graduates. The various respondents regarded most of the 39 generic skills under investigation as important, with none classified as unimportant. However, students undertaking different types of degree (i.e. B.Sc., M.Sc. and Ph.D.) prioritized different generic skills and the level of importance ascribed to generic skills training increased as students progressed in their university careers. On the other hand, university staff and other employers were fairly consistent in their choice of the most important generic skills. We argue that there remains a need to place generic skills and employability attributes and attitudes at the centre of the higher education curriculum.
Access options
Buy single article
Instant access to the full article PDF.
US$ 39.95
Tax calculation will be finalised during checkout.
Subscribe to journal
Immediate online access to all issues from 2019. Subscription will auto renew annually.
US$ 79
Tax calculation will be finalised during checkout.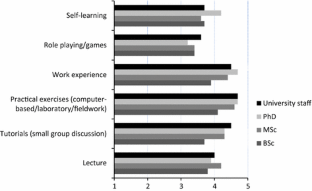 Notes
1.

2.

Notices from European Union Institutions, Bodies, Offices and Agencies. 2010 joint progress report of the Council and the Commission on the implementation of the 'Education and Training 2010 work programme' (2010/C 117/01).

3.

Official Journal C 119 of 28.5.2009 "A strategic framework for European cooperation in education and training (ET 2020)".

4.

5.

6.

7.

"Today's youth not fit for work says car firm", The Scotsman, Tuesday, 22 May 2012.

8.
Abbreviations
CV:

Curriculum Vitae

EC:

European Commission

EQF:

European Qualifications Framework

ESCO:

European Skills/Competences Qualifications and Occupations

EU:

European Union

HEIs:

Higher Education Institutions

VET:

Vocational Education and Training
References
Bennett N, Dunne E, Carre C (2000) Skills development in higher education and employment. SRHE, Buckingham

CBI/NUS (2011) Working towards your future. Making the most of your time in higher education. Confederation of British Industry (CBI) and National Union of Students (NUS). UK, 44 pp

CEDEFOP (2010) Skills supply and demand in Europe: medium-term forcast up to 2020. European Centre for the Development of Vocational Training (CEDEFOP). Publication number 3052 EN. Publications Office of the European Union, Luxembourg, 120 pp

CEDEFOP (2011) What next for skills on the European labour market? Centre for the Development of Vocational Training (CEDEFOP). Briefing note, February 2011. Publications Office of the European Union, Luxembourg, 4 pp

De La Harpe B, Radloff A, Wyber J (2000) Quality and generic (professional) skills. Qual High Educ 6(3):231–243. doi:10.1080/13538320020005972

Dearing R (1997) Higher Education in the Learning Society. Report of the National Committee of Inquiry into Higher Education. HMSO, Norwich

Dunne E, Bennett N, Carré C (2000) Skill development in higher education and employment. In: Coffield F (ed) Differing visions of a learning society. Research findings, vol I. The Policy Press & ESRC, Bristol

ESCO (2013) European classification of skills/competences, qualifications and occupations: the first public release. A Europe 2020 initiative. Publications Office of the European Union, Luxembourg, p 16

European Commission (2009a) Employment, Social Affairs and Equal Opportunities DG. Presentation fiche: ESCO, the forthcoming European Skills, Competencies and Occupations taxonomy. EMPL D-3/LK D(2009), 18 January 2010, Brussels, 6 pp

European Commission (2009b) Key competences for a changing world. Draft 2010 joint progress report of the Council and the Commission on the implementation of the "Education & Training 2010 work programme". Communication from the Commission to the European Parliament, the Council, The European Economic and Social Committee and the Committee of the Regions. COM (2009) 640 final

European Commission (2010) A New Impetus for European cooperation in Vocational Education and Training to support the Europe 2020 strategy, European Commission, 9 June 2010. COM (2010) 296 final

European Commission (2011a) Principles for innovative doctoral training. Brussels. http://ec.europa.eu/euraxess/pdf/research_policies/Principles_for_Innovative_Doctoral_Training.pdf

European Commission (2011b) EU mapping exercise on doctoral training in Europe, towards a common approach. European Commission, Brussels

European Universities Association (2010) Salzburg II Recommendations: European Universities' achievements since 2005 in implementing the Salzburg Principles, Brussels, p 5

Figel J (2008) The future of higher education: challenges and policy directions: the EU perspective. OECD/France international conference: higher education to 2030. What future for quality access in the era of globalisation? Paris, December 2008

Green F (2009) The growing importance of generic skills. Document commissioned as part of the UK Department for Children, Schools and Families' Beyond Current Horizons project, Futurelab, 10 pp

Jackling B, Watty K (2010) Generic skills. Account Educ Int J 19(1–2):1–3. doi:10.1080/09639280902875549

Leckey J, McGuigan M (1997) Right tracks-wrong rails: the development of generic skills in higher education. Res High Educ 38(3):365–378. doi:10.1023/A:1024902207836

Lees D (2002) Graduate employability: literature review. Learning and Teaching Support Network (LTSN) Generic Centre. University of Exeter, Exeter, p 23

Mastura M, Imam O, Osman S (2013) Employability skills and task performance of employees in government sector. Int J Humanit Soc Sci 13(4):150–162

Merrifield K (2013) Do 'employability skills' matter? How important are employability skills to teachers, young people and employers today? MA by Research, University of York, Department of Education

Nguyen D (1998) The essential skills and attributes of an engineer: a comparative study of academics, industry personnel and engineering students. Glob J Eng Educ 2(1):65–74

OECD (2013a) OECD skills outlook 2013: first results from the survey of adult skills. Organisation for Economic Co-operation and Development (OECD) Publishing, Paris 461 pp

OECD (2013b) Skilled for life? Key findings from the survey of adult skills. Secretary-general of the OECD. Organisation for Economic Co-operation and Development (OECD) Publishing, Paris 30 pp

Rudiger K (2013) Employers are from Mars, young people are from Venus: addressing the young people/jobs mismatch. Today's young people, tomorrow's workforce. Chartered Institute of Personnel Directors, London

Warn J, Tranter P (2001) Measuring quality in higher education: a competency approach. Qual High Educ 7(3):191–198. doi:10.1080/13538320120098078
Acknowledgments
The data used in this study were collected for the purposes of the EU-funded projects "AQUA-TNET 2" and "AQUA-TNET 3". The survey was designed with the assistance of AQUA-TNET project partners, in particular those involved in the Generic Skills workpackages of both projects. The authors would like to thank all the people who took part in the survey, both in administering the survey and respondents. We would also like to thank Marieke Reuver (AQUATT, Ireland) for the helpful comments.
About this article
Cite this article
Pita, C., Eleftheriou, M., Fernández-Borrás, J. et al. Generic skills needs for graduate employment in the aquaculture, fisheries and related sectors in Europe. Aquacult Int 23, 767–786 (2015). https://doi.org/10.1007/s10499-014-9843-x
Received:

Accepted:

Published:

Issue Date:
Keywords
Aquaculture

Employability

Fisheries

Generic skills

Marine

Vocational