Abstract
The choice of the source of organic carbon utilized in the fertilization of the farming system in bioflocs is important as it influences the nutritional composition of the bioflocs and should consider factors such as costs, local availability, and biodegradability. Therefore, the study aimed to evaluate the effect of brewery residues, an industrial by-product, as a source of organic carbon in bioflocs technology (BFT) farming system, on the performance of juvenile Litopenaeus schmitti (initial weight 0.64 ± 0.36 g) and compare it with two other sources already used for this purpose: sugarcane molasses and cassava flour. After 60 days of study, the superior growth performance of L. schmitti grown in fertilized BFT brewery residues system was evidenced by significantly higher final weight (p < 0.05) in prawns grown in this system (2.47 ± 0.19 g) compared to the cultivated systems with sugarcane molasses (2.07 ± 0.23 g) and cassava flour (2.38 ± 0.27 g). The nutritional composition of bioflocs varied significantly according to the carbon source (p < 0.05), with the largest concentrations of lipids (2.39 %) found in molasses and ash (71.56 %) for the brewery residues. The bioflocs formed in the brewery residues system had the highest density of diatoms (27 × 103 cells ml−1) and nematodes (6 org mL−1). The results showed that the brewery residues is a good source of organic carbon for L. schmitti farming in BFT system, presenting advantages in improving the zootechnical performance of the species and the low cost compared to other sources studied.
This is a preview of subscription content,
to check access.
Access this article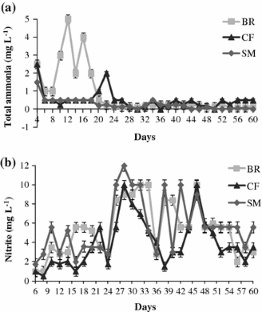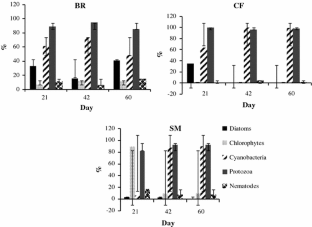 References
Alonso-Rodriguez R, Paez-Osuna F (2003) Nutrients, phytoplankton and harmful algal blooms in shrimp ponds: a review with special reference to the situation in the Gulf of California. Aquaculture 219:317–336

Aminot A, Chaussepied M (1983) Manuel des analyses chimiques en milieu marin. CNEXO, Brest

AOAC (Association of Official Analytical Chemists) (2000) Official methods of analysis, 17ª Ed, Gaithersburg

APHA (American Public Health Association) (1998) Standard methods for the examination of water and wastewater. Washington

Asaduzzama M, Wahab MA, Verdegem MCJ, Huque S, Salam MA, Azim ME (2008) C/N ratio control and substrate addition for periphyton development jointly enhance freshwater prawn Macrobrachium rosenbergii production in ponds. Aquaculture 280:117–123

Asaduzzaman M, Rahman MM, Azim ME, Islam MA, Wahab MA, Verdegem MCJ, Verreth JAJ (2010) Effects of C/N ratio and substrate addition on natural food communities in freshwater prawn monoculture ponds. Aquaculture 306:127–136

Avnimelech Y (1999) Carbon/nitrogen ratio as a control element in aquaculture systems. Aquaculture 176:227–235

Avnimelech Y (2006) Bio-filters: the need for an new comprehensive approach. Aquacult Eng 34:172–178

Avnimelech Y (2007) Feeding with microbial flocs by tilapia in minimal discharge bio-flocs technology ponds. Aquaculture 264:140–147

Azim ME, Little DC (2008) The biofloc technology (BFT) in indoor tanks: water quality, biofloc composition, and growth and welfare of Nile tilapia (Oreochromis niloticus). Aquaculture 283:29–35

Ballester ELC, Abreu PC, Cavalli RO, Emerenciano M, Abreu L, Wasielesky W (2010) Effect of practical diets with different protein levels on the performance of Farfantepenaeus paulensis juveniles nursed in a zero exchange suspended microbial flocs intensive system. Aquacult Nutr 16:63–172

Boyd C (1990) Water quality in ponds for aquaculture. Birmingham Publishing Co, Alabama

Burford MA, Lorenzen K (2004) Modeling nitrogen dynamics in intensive shrimp ponds: the role of sediments remineralization. Aquaculture 229:129–145

Cappelle ER, Filho SCV, Silva JFC, Cecon PR (2001) Estimativas do valor energético a partir de características químicas e bromatológicas dos alimentos. R Bras Zootec 30(6):1837–1856

Costa AD, Vieira AA, Lima CAR, Vieira MS, Matos MA, OliveiraCH, Mendes LL (2009) Desempenho de suínos em crescimento (26–70 kg) alimentados com rações contendo bagaço de cevada. In: Paper presented at 11 International Congresso of the Zootecnia, University of São Paulo, Brazil, 19–22 May 2009

Crab R, Kochva M, Verstraete W, Avnimelech Y (2009) Bio-flocs technology application in over-wintering of tilapia. Aquacult Eng 40:105–112

Crab R, Chielens B, Wille M, Bossier P, Verstraete W (2010) The effect of different carbon sources on the nutritional nutritional value of bioflocs, a feed for Macrobrachium rosenbergii postlarvae. Aquac Res 41:559–567

Decamp O, Conquest C, Cody J, Foster I (2007) Effect of shrimp stocking density on size-fractionated phytoplankton and ecological groups of ciliated protozea within zero-water exchange shrimp culture systems. J World Aquacult Soc 38(3):395–406

DePeters EJ, Cant JP (1992) Nutritional factors influencing the nitrogen composition of bovine milk: a review. J Dairy Sci 75(8):2043–2070

Emerenciano M, Ballester ELC, Cavalli RO, Wasielesky W (2012) Biofloc technology application as a food source in a limited water exchange nursery system for pink shrimp Farfantepenaeus brasiliensis (Latreille, 1817). Aquac Res 43:447–457

Ferreira LMMHM (2008) Formação de flocos microbianos em cultivo do camarão-rosa Farfantepenaeus paulensis e do camarão-branco Litopenaeus vannamei. Dissertation, Federal University of Rio Grande

Folch JM, Lees M, Sloane-Stanley GH (1957) A simple method for the isolation and purification of total lipids from animal tissues. J Biol Chem 226:497–507

Godoy LC, Odebrecht C, Ballester E, Martins TG, Wasielesky W Jr (2012) Effect of diatom supplementation during the nursery rearing of Litopenaeus vannamei (Boone, 1931) in a heterotrophic culture system. Aquacult Int 20:559–569

Griffith RE (1967) Phytoplankton of Chesapeake Bay: an illustrated guide to the genera. University of Maryland Natural Resources Institute

Hargreaves JA (2006) Photosynthetic suspended-growth systems in aquaculture. Aquacult Eng 34:344–363

Hari B, Kurup BM, Varghese JT, Schrama JW, Verdegem MCJ (2004) Effects of carbohydrate addition on production in extensive shrimp culture systems. Aquaculture 241:179–194

Jeffrey SW, Humphrey GF (1975) New Spectrophotometric equations for determining chlorophylls a, b, c1 and c2 in higher plants, algae, and natural phytoplankton. Biochem Physiol Pflanz 167:191–194

Jory DE, Cabrera TR, Dugger DM, Fegan D, Lee GP, Lawrence AL, Jackson JC, McIntosh PR, Castañeda AJ (2001) A global review of shrimp feed management: status and perspectives. The New Wave. In: Proceedings of the special session on sustainable shrimp culture, The World Aquaculture Society, Baton Rouge

Ju ZY, Forster I, Conquest L, Dominy W, Kuo WC, Horgen FD (2008) Determination of microbial community structures of shrimp floc cultures by biomarkers and analysis of floc amino acid profiles. Aquac Res 39:118–133

Khatoon H, Yusoff FM, Banerjee S, Shariff M, Mohamed S (2007) Use of periphytic cyanobacterium and mixed diatoms coated of Penaeus monodon Fabricius postlarvae. Aquaculture 271:196–205

Koroleff F, Palmork KH (1972) Report on the ICES/SCOR nutrient intercalibration Experiment. ICES, C.M. Hydr.Comm

Kumarly K, Da Jones AB, East J (1989) Comparative analysis of the growth and survival of Penaeus monodon (Fabricius) larvae, from protozoea I to postlarvae I, on live feeds, artificial diets and combinations of both. Aquaculture 81:27–45

Kumlu M, Fletcher DJ (1997) The Nematode Panagrellus redivivus as an alternative live feed for larval Penaeus indicus. Isr J Aquac 49(1):12

Kumlu M, Fletcher DJ, Fisher CM (1998) Larval pigmentation, survival and growth of Penaeus indicus fed the nematode Panagrellus redivivus enriched with astaxanthin and various lipids. Aquacult Nutr 4:193–200

Lin YC, Chen JC (2003) Acute toxicity of nitrite on Litopenaeus vannamei (Boone) juveniles at different salinity levels. Aquaculture 224:193–201

Mahanand SS, Moulick S, Srinivasa Rao P (2012) Optimum formulation of feed for rohu, Labeo rohita (Hamilton), with biofloc as a component. Aquacult Int 21:347–360

Mridula RM, Manissery JK, Keshavanath P, Shankar KM, Nandeesha MC, Rajesh KM (2005) Effects of paddy straw and sugarcane bagasse on water quality, bacterial biofilm production and growth and survival of rohu, Labeo rohita (Hamilton). Aquacult Res 36:635–642

Needham PR (1973) Guias para el reconocimiento de algas e invertebrados dulceacuícuolas, 5th edn

Nootong K, Pavasant P (2011) Effects of organic carbon addition in controlling inorganic nitrogen concentrations in a biofloc system. J World Aquac Soc 42(3):339–346

Palmer CM (1977) Algae and water pollution an illustrated manual on the identification, significance, and control of algae in water supplies and in polluted water. US Environmental Protection Agency Cincinnati, Ohio

Ray JA, Lewis BL, Browdy CL, Leffler JW (2010) Suspended solids removal to improve shrimp (Litopenaeus vannamei) production and an evaluation of a plant based feed in minimal-exchange, superintensive culture systems. Aquaculture 299:89–98

Richards FA, Thompson G (1952) The estimation and characterization of plankton populations by pigmet analysis. II A spectrophotometric method for the estimation of plankton pigments. J Mar Res 11:156–172

Samocha TM, Patnaik S, Speed M, Ali AM, Burger JM, Almeida RV, Ayub Z, Harisanto M, Horowitz A, Brook DL (2007) Use of molasses as carbon source in limited discharge nursery and grow-out systems for Litopenaeus vannamei. Aquacult Eng 36:184–191

Schneider O, Sereti V, Machiels MAM, Eding EH, Verreth JAJ (2006) The potential of producing heterotrophic bacterial biomass on aquaculture waste. Water Res 40:2684–2694

Schryver PD, Crab R, Defoirdt T, Boon N, Verstraete W (2008) The basics of bio-flocs technology: the added value for aquaculture. Aquaculture 277:125–137

Silva VB, Fonseca CEM, Morenz MJF, Peixoto ELT, Moura ES, Carvalho INO (2010) Resíduo úmido de cervejaria na alimentação de cabras. R Bras Zootec 39(7):1595–1599

Strickland JDH, Parsons TR (1972) A practical handbook of seawater analysis, 2nd edn. Fisheries Research Board of Canada, Ottawa

Tacon AGJ, Cody JJ, Conquest LD, Divakaran S, Forster IP, Decamp OE (2002) Effect of culture system on the nutrition and growth performance of Pacific white shrimp Litopenaeus vannamei (Boone) fed different diets. Aquacult Nutr 8:121–137

Van Wyk P, Scarpa J (1999) Water quality and management. In: Van Wyk P (ed) Farming marine shrimp in recirculating freshwater systems. Florida department of agriculture and consumer services, Tallahassee

Wasielesky W, Atwood H, Stokes A, Browdy CL (2006) Effect of natural production in a zero exchange suspended microbial floc based super-intensive culture system for white shrimp Litopenaeus vannamei. Aquaculture 258:396–403

Yang X, Wang S, Zhou L (2012) Effect of carbon source, C/N ratio, nitrate and dissolved oxygen concentration on nitrite and ammonium production from denitrification process by Pseudomonas stutzeri D6. Bioresource Technol. 104:65–72

Zar JH (1996) Biostatical analysis. Prentice Hall, New Jersey
Acknowledgments
The authors acknowledge the financial support provided for the study and the scholarship awarded to the first author by the Foundation for Research Support of the State of Rio de Janeiro (FAPERJ). We also thank the researchers Ricardo Cavalcanti Martino, Luzia Triani and Wanessa Melo at the Foundation for the Institute of Fisheries of the State of Rio de Janeiro (FIPERJ) for their assistance in analyzing the proximate and microbiological composition of the bioflocs, respectively.
About this article
Cite this article
Fugimura, M.M.S., dos Reis Flor, H., de Melo, E.P. et al. Brewery residues as a source of organic carbon in Litopenaeus schmitti white shrimp farms with BFT systems. Aquacult Int 23, 509–522 (2015). https://doi.org/10.1007/s10499-014-9832-0
Received:

Accepted:

Published:

Issue Date:

DOI: https://doi.org/10.1007/s10499-014-9832-0
Keywords