Abstract
The hypothesis that intraspecific competition affects survival and growth during the culture and harvest at extensive/semi-intensive Penaeus vannamei shrimp ponds was evaluated. Thus, the effect of stocking density on the biomass, shrimp average weight, survival, and economic performance during the culture (133 days) and at the harvest of the P. vannamei shrimp was investigated in 400 m2 earthen ponds. In order to reduce the likelihood of infectious diseases, shrimp received preventive health treatments (probiotics and β-1,3/1,6-glucans) during all culture phases. In this way, the effect of density on the intraspecific competition for space/food was isolated. Ponds stocked at 6, 9, and 12 shrimp m−2 showed competition-dependent growth. Ponds stocked at 12 shrimp m−2 presented a mortality (12 %) between days 76 and 99. Competition, and accordingly individual growth reduction, could have begun at day 76 at a density of 5 shrimp m−2. Survival was significantly higher at 6 shrimp m−2 (84.2 ± 6.2 %) compared with the 12 shrimp m−2 (64.8 ± 12.4 %) treatment, while no significant differences in yield were observed between both treatments. Ponds stocked at 3 and 6 shrimp m−2 presented the best benefit–cost rates. The optimal shrimp density during the experimental culture was 5 shrimp m−2. Given the experimental conditions and considering the fraction of density-independent mortality observed, the optimum stocking density was found to be 6 shrimp m−2.
Access options
Buy single article
Instant access to the full article PDF.
USD 39.95
Price excludes VAT (USA)
Tax calculation will be finalised during checkout.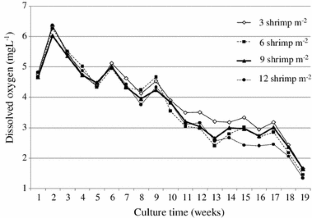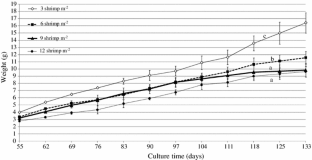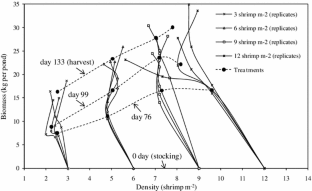 Abbreviations
ANOVA:

Analysis of variance

B:

Biomass

B–N graph:

Biomass–density graph

CENAIM:

Centro Nacional de Acuicultura e Investigaciones Marinas

ESPOL:

Escuela Superior Politécnica del Litoral

FCR:

Feed conversion rate

N:

Density

N5:

Nauplii5

OSD:

Optimal stocking density

PL:

Postlarvae

SD:

Standard deviation

WSD:

White spot disease

WSSV:

White spot syndrome virus
References
Allan GL, Maguire GB (1992) Effects of stocking density on production of Penaeus monodon Fabricius in model farming ponds. Aquaculture 107:49–66

D'Abramo L, Daniels WH, Gerard PD et al (2000) Influence of water volume, surface area, and water replacement rate on weight gain of juvenile freshwater prawns, Macrobrachium rosenbergii. Aquaculture 182:161–171

Dickinson J (1997) Nonparametric methods for quantitative analysis, 3rd edn. American Sciences Press Inc, Columbus

Fréchette M, Bergeron P, Gagnon P (1996) On the use of self-thinning relationships in stocking experiments. Aquaculture 145:91–112

Fréchette M, Gaudet M, Vigneau S (2000) Estimating optimal population density for intermediate culture of scallops in spat collector bags. Aquaculture 183:105–124

Fréchette M, Alunno-Bruscia M, Dumais JF et al (2005) Incompleteness and statistical uncertainty in competition/stocking experiments. Aquaculture 246:209–225

Guinez R (2005) A review on self-thinning in mussels. In: Revista de biología marina y oceanografía 40:1–6. Available from http://www.scielo.cl/scielo.php?script=sci_arttext&pid=S0718-19572005000100001&lng=en&nrm=iso. Cited 15 Nov 2012

Hernández M, Buckle LF, Palacios E et al (2006) Preferential behavior of white shrimp Litopenaeus vannamei (Boone 1931) by progressive temperature-salinity simultaneous interaction. J Therm Biol 31:565–572

Jolly CM, Clonts HA (1993) Economics of aquaculture. The Haworth Press Inc, Binghamton

Lachance-Bernard M, Daigle G, Himmelman JH et al (2010) Biomass-density relationships and self-thinning of blue mussels (Mytilus spp.) reared on self-regulated longlines. Aquaculture 308:34–43

Maguire GB, Leedow MI (1983) A study of the optimum stocking density and feed rate for school prawns Metapenaeus macleayi (Haswell) in some Australian brackish water farming ponds. Aquaculture 30:285–297

Morrissy N (1992) Density-dependent pond growout of single year-class cohorts of a freshwater crayfish Cherax tenuimanus (Smith) to two years of age. J World Aquacult Soc 23:154–168

Nelson K, Hedgecock D, Borgeson W et al (1980) Density-dependent growth inhibition in lobsters, Homarus (Decapoda, Nephropidae). Biol Bull 159:162–176

Neter J, Kutner MH, Nachtsheim CJ et al (1996) Applied linear statistical models, 4th edn. WCB/McGraw-Hill, Boston

Peterson JJ, Griffith DRW (1999) Intensive nursery systems. Global Aquac Advocate 2:60–61

Qin C, Dong S, Tan F et al (2009) Optimization of stocking density for the sea cucumber, Apostichopus japonicus Selenka, under feed-supplement and non-feed-supplement regimes in pond culture. J Ocean Univ China 8:296–302

Quinn GP, Keough MJ (2002) Experimental design and data analysis for biologists. Cambridge University Press, New York

Renaud ML (1986) Detecting and avoiding oxygen deficient sea water by brown shrimp, Penaeus aztecus (Ives), and white shrimp Penaeus setiferus (Linnaeus). J Exp Mar Biol Ecol 98:283–292

Rodríguez J, Espinosa Y, Echeverría F et al (2007) Exposure to probiotics and β-1,3/1,6 glucans in larviculture modifies the immune response of Penaeus vannamei juveniles and both the survival to white spot Syndrome Virus challenge and pond culture. Aquaculture 273:405–415

Rodríguez J, Cedeño R, Bayot B et al (2011) Effects of Probiotics, β1,3/1,6-glucans and temperature on shrimp production. In: Russo R (ed) Aquaculture 1. Dynamic Biochemistry, Process Biotechnology and Molecular Biology 5:49–55

Stern S, Sonnenholzner S (2011) Semi-intensive shrimp culture: the history of shrimp farming in Ecuador. In: Alday-Sanz V (ed) The shrimp book. Nottingham University Press, Nottingham, pp 207–232

Vandenberghe J, Verdonck L, Robles-Arozarena R et al (1999) Vibrios associated with Litopenaeus vannamei larvae, postlarvae, broodstock, and hatchery probionts. Appl Environ Microbiol 65:2592–2597

Villarreal H, Hinojosa P, Naranjo J (1994) Effect of temperature and salinity on the oxygen consumption of laboratory produced Penaeus vannamei postlarvae. Comp Biochem Phys A 108:331–336

Westoby M (1984) The self-thinning rule. Adv Ecol 14:167–225

Wyban JA, Lee CS, Sato VT et al (1987) Effect of stocking density on shrimp growth rates in manure-fertilized ponds. Aquaculture 61:23–32

Yip-Hoi TA (2003) An investigation of effects of dissolved oxygen level, sediment type, stocking density and predation on the growth rate, survivorship, and burrowing behavior of juvenile brown and white shrimp. Dissertation, North Carolina State University, Raleigh, North Carolina

Zar JH (1999) Biostatistical analysis, 4th edn. Prentice Hall Inc, Upper Saddle
Acknowledgments
The authors are grateful to J. Cordova and two anonymous reviewers for critic comments on the manuscript, and Frankin Loján for the support during the field experiment. This research was funded by the Escuela Superior Politécnica del Litoral (ESPOL).
About this article
Cite this article
Bayot, B., Rodríguez, J., Arguello, W. et al. An evaluation of intraspecific competition for Pacific white shrimp Penaeus vannamei (Boone) in extensive/semi-intensive ponds. Aquacult Int 22, 1025–1039 (2014). https://doi.org/10.1007/s10499-013-9724-8
Received:

Accepted:

Published:

Issue Date:

DOI: https://doi.org/10.1007/s10499-013-9724-8
Keywords
B–N graph

Extensive/semi-intensive ponds

Intraspecific competition

Optimal stocking density

Pacific white shrimp Penaeus vannamei (Boone)