Abstract
The study was carried out with juvenile European catfish to evaluate the effects of commercial diets on growth, feed utilization and changes of selected morphometric traits of fish. Three diets containing different levels of crude protein and lipid: 37 and 12 %, 45 and 15 %, 45 and 20 %, respectively, were fed to triplicate groups of European catfish for 50 days. The fish were fed continuously (24 h day−1) by automatic belt feeders for fish with a clock drive. Biometric characteristics of fish included the determination of plasticity traits using modified Pravdin method. Fish growth rate and final body weight were statistically higher in variant 45/20 diet (specific growth rate of 2.6 % day−1). The intergroup significant differences were recorded for food conversion ratio (FCR) and protein efficiency ratio (PER), during the particular decades of the experiment. For the whole period of the growth test, no significant differences in FCR were observed, but the most favorable values of PER were obtained in variant 37/12. Protein retention in fish body ranged from 18.7 to 21.0 %, and fat retention was significantly more variable, ranged from 87.5 to 121.3 %. Fish survival rate recorded during the growth test was higher in all variants (above 95 %). Statistically significant increases in protein and lipid content were found in fish fed diets 45/15 and 45/20. The tested diets have no effect on changes in fish body proportions. The most effective in juvenile European catfish rearing was diet with 45 % of crude protein and 20 % of lipid.
Access options
Buy single article
Instant access to the full article PDF.
US$ 39.95
Tax calculation will be finalised during checkout.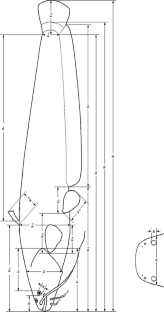 References
AOAC (2000) Official methods of analysis of the association of analytical chemists, 19th edn. Association of Analytical Chemists, Arlington

Beckan S, Cakirogullari GC, Dogankaya L (2006) Growth and body composition of European catfish (Silurus glanis L.) fed diets containing different percentages of protein. Isr J Aquacul Bamidgeh 58(2):137–142

Bogut I, Has-Schön E, Čačić M, Milaković Z, Novoselić D, Brkić S (2002) Linolenic acid supplementation in the diet of European catfish (Silurus glanis): effect on growth and fatty acid composition. J Appl Ichth 18:1–6

Bolliet V, Aranda A, Boujard T (2001) Demand-feeding rhythm in rainbow trout and European catfish. Synchronization by photoperiod and food availability. Physiol Behav 73(4):625–633

Boujard T (1995) Diel rhythms of feeding activity in the European catfish, Silurus glanis. Physiol Behav 58(4):641–645

Cho CY, Bureau DP (2001) A review of diet formulation strategies and feeding systems to reduce excretory and feed wastes in aquaculture. Aquac Res 32:349–360

Cho CY, Kaushik SJ (1990) Nutritional energetic in fish: energy and protein utilization in rainbow trout (Salmo gairdneri). World Rev Nutr Diet 61:132–172

Cowey CB, Sargent JR (1979) Nutrition. In: Hoar WS, Randall DJ, Brett JR (eds) Fish physiology. Volume VIII. Bioenergetics and growth. Academic Press, New York

Filipiak J, Trzebiatowski R, Sadowski J (1993) The effects of different protein levels on feed utilization and body composition of wels (Silurus glanis L.) cage reared in cooling water. Sci Pap Agricult Univ Szczecin 156:43–54

Fu S-J, Cao Z-D (2006) Effect of dietary protein and lipid levels on feed intake and growth performance of southern catfish, Silurus meridionalis Chen. Aquacult Res 37:107–110

Has-Schön E, Bogut I, Kralik D, Vuković B (2004) Mutual influence of protein and lipid feed content on European catfish (Silurus glanis L.) growth. J Appl Ichthyol 20:92–99

Jahan P, Watanabe T, Kiron V, Satoh S (2003) Improved carp diets based on plant protein sources reduce environmental phosphorus loading. Fish Sci 69:219–225

Jankowska B, Zakęś Z, Żmijewski T, Ulikowski D, Kowalska A (2004) Impact of diet on the fatty acids profile of European catfish (Silurus glanis L.). Arch Pol Fish 12:99–110

Jobling M (2001) Nutrient partitioning and the influence of feed composition on body composition. In: Houlihan D, Boujard T, Jobling M (eds) Food intake in fish. Blackwell, New York, pp 354–375

Jobling M, Koskela J, Savolainen R (1998) Influence of dietary fat level and increased adiposity on growth and fat deposition in rainbow trout, Oncorhynchus mykiss. Aquacult Res 29:601–607

Koskela J, Jobling M, Savolainen R (1998) Influence of dietary fat level on feed intake, growth and fat deposition in the whitefish, Coregonus lavaretus. Aquacult Int 6:95–102

Lanari D, Polil BM, Ballesstrazzi R, Lupi P, D'Agaro E, Mecatti M (1999) The effect of dietary fat and NFE level on growing European sea bass (Dicentrarchus labrax L.). Growth, rate, body and fillet composition, carcas traits on nutrient retention efficiency. Aquaculture 179:351–364

Linhart O, Štěch L, Švarc J, Rodina M, Audebert JP, Grecu J, Billard R (2002) The culture of the European catfish, Silurus glanis, in the Czech Republic and in France. Aquat Liv Res 15:139–144

Mareš J, Wognarová S, Spurný P (2003) Evaluation of production efficiency of selected feed mixes at intensive culture of European wels (Silurus glanis L.). Acta Sci Pol Piscaria 2(1):183–194

McGoogan B, Gatlin DM (2000) Dietary manipulations affecting growth and nitrogenous waste production of red drum, Sciaenops ocellatus. Aquaculture 182:271–285

Paschos I, Nathanailides C, Perdikaris C, Tsoumani M (2004) Comparison of morphology, growth and survival between Silurus glanis, S. aristotelis and their hybrid during larval and juvenile stages. Aquacult Res 35:97–99

Peres H, Oliva-Teles A (1999) Effect of dietary lipid level on growth performance and feed utilization by European sea bass juveniles (Dicentrarchus labrax). Aquaculture 179:325–334

Proteau JP, Hilge V, Linhart O (1996) Present state and prospects of the aquaculture of catfishes (Siluroidei) in Europe. Aquat Liv Res 9:229–235

Salhi M, Izquierdo MS, Hernandez-Cruz CM, Gonzalez M, Fernandez-Palacios H (1994) Effect of lipid n-3 HUFA levels in microdiets on growth, survival and fatty acid composition of larval gilthead seabream (Sparus aurata). Aquaculture 124:275–282

Sargent JR, Tacon AGJ (1999) Development of farmed fish: a nutritionally necessary alternative to meat. Proc Nutr Soc 58:377–383

Sargent JR, Tocher DR, Bell JG (2002) The lipids. In: JE Halver, RW Hardy (eds) Fish nutrition. Academic Press, San Diego, pp 181–257

Shearer KD (1994) Factors affecting the proximate composition of cultured fishes with emphasis on salmonids. Aquaculture 119:63–88

Siwicki A (1984) New anaesthetic for fish. Aquaculture 38:171–176

Stickney RR, Hardy RW (1989) Lipid requirements of some warm water species. Aquaculture 79:149–156

Vallod D (1987) The sheat-fish (Silurus glanis L.). Publ Assoc Dev Lyon 70 p

Vergara M, Robaina L, Izquierdo M, Higuera M (1996) Protein sparing effects of lipids in diets for fingerlings of gilthead sea bream. Fish Sci 62:624–662

Watanabe T, Jahan P, Satoh S, Kiron V (1999) Total phosphorus loading onto the water environment from common carp fed commercial diets. Fish Sci 65:712–716

Wolnicki J, Myszkowski L (1998) Survival, growth and food conversion in European wels, Silurus glanis L., larvae fed commercial dry diets at 28°C. Pol Arch Hydrobiol 45(3):531–538

Wolnicki J, Przybył A, Starzonek I (1998) Evaluation of five dry diets for initial feeding of European wels, (Silurus glanis L.), larvae under controlled conditions. Arch Pol Fish 6(1):123–133
About this article
Cite this article
Florczyk, K., Mazurkiewicz, J., Przybylska, K. et al. Growth performance, feed intake and morphology of juvenile European catfish, Silurus glanis (L.) fed diets containing different protein and lipid levels. Aquacult Int 22, 205–214 (2014). https://doi.org/10.1007/s10499-013-9667-0
Received:

Accepted:

Published:

Issue Date:
Keywords
European catfish

Silurus glanis L.

Dietary protein and lipids

Growth

Morphology