Abstract
The use of traditional Chinese medicine (TCM) in aquaculture has been widely investigated. It is believed that herbal supplements could enhance the immunity and promote fish growth. The powdered TCM or its decoction can be easily applied in the form of feed supplements by direct incorporation into fish feeds and side effects are seldom found. In this study, Radix scutellaria (Rs) and Rhizoma coptidis (Rc) showed strong bacterial inhibition on Aeromonas hydrophila out of the sixteen selected herbal extracts. Four TCMs, R. scutellaria, R. coptidis, Herba andrographis (Ha), and Radix sophorae flavescentis (Rsf) were selected to form a compound formulation in the ratio of 1:1:2:3. A feeding experiment on grass carp was conducted with addition of the above TCM formulation (0.5, 1 and 2 % w/w) in the fish feed, and bactericidal activity, total protein and immunoglobulin in blood plasma, and nitroblue tetrazolium activity in the whole blood were measured. 2 % supplementation significantly improved (p < 0.05) the bactericidal activity and total immunoglobulin in the plasma after feeding for 21 days. Compared to control, 2 % TCM feeding groups showed a significantly lower mortality after A. hydrophila challenge at the end of experiment and the same result was archived in field trial. In the cost evaluation, the use of the TCM formulation in grass carp culture was insignificant and could be compensated by improved yield. TCM formulation contained different active ingredients including some immuno-stimulant and antimicrobial agents and therefore could be applicable to multiple diseases. Application of this TCM formulation would be a cost-effective and prophylactic approach for disease control in aquaculture, replacing the use of antibiotics for treating enteritis and even other general diseases.
Access options
Buy single article
Instant access to the full article PDF.
US$ 39.95
Tax calculation will be finalised during checkout.
Subscribe to journal
Immediate online access to all issues from 2019. Subscription will auto renew annually.
US$ 79
Tax calculation will be finalised during checkout.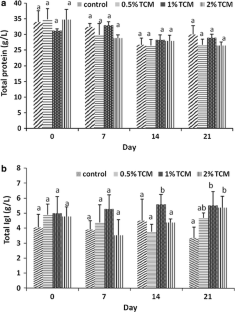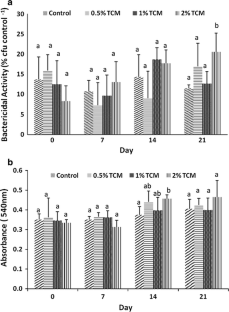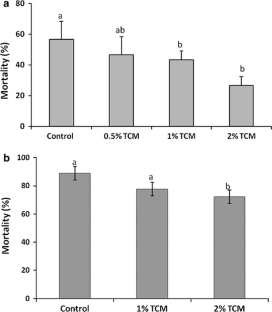 References
Abasali H, Mohamad S (2010) Immune response of common carp (Cyprinus carpio) fed with herbal immunostimulants diets. Agric J 5:163–172

Abidov AA, Mirismailov MI (1979) In: Tretyakova NM (ed) Influence of vaccination on some factors of natural resistance, Medizina, Tashkent, pp 88–89

Anderson DP (1992) Immunostimulants, adjuvants, and vaccine carriers in fish: application to aquaculture. Annu Rev Fish Dis 2:281–307

Anderson DP, Siwicki AK (1995) Basic haematology and serology for fish health programs. In: Shariff M et al (eds) Diseases in Asian aquaculture II fish health section. Asian Fisheries Society, Manila, pp 185–202

Anderson DP et al (1992) Neutrophile, glass-adherent, nitroblue tetrazolium assay gives early indication of immunization effectiveness in rainbow trout. Vet Immunol Immunopathol 30:419–429

Angulo FJ, Griffin PM (2000) Changes in antimicrobial resistance in Salmonella enterica serovar Typhimurium. Emerg Infect Dis 6:436–438

Ardó L et al (2008) Chinese herbs (Astragalus membranaceus and Lonicera japonica) and boron enhance the non-specific immune response of Nile tilapia (Oreochromis niloticus) and resistance against Aeromonas hydrophila. Aquaculture 275:26–33

Atanasova R (2003) Investigations on the natural resistance of carp (Cyprinus carpio L) reared in ponds. PhD dissertation, National Centre for Agrarian Sciences, Sofia, Bulgaria

Atanasova R et al (2008) Investigations on the biochemical composition of carp fish (Cyprinidae) blood serum at conditions of organic aquaculture. Bulg J Agric Sci 14:117–120

Bilen S, Bulut M (2010) Effects of Laurel (Laurus nobilis) on the non-specific immune response of rainbow trout (Oncorhynchus mykiss, Walbaum). J Anim Vet Adv 9:1275–1279

Bradford MM (1976) A rapid and sensitive method for the quantitation of microgram quantities of protein utilizing the principle of protein-dye binding. Anal Biochem 72:248–254

Cabello FC (2006) Heavy use of prophylactic antibiotics in aquaculture: a growing problem for human and animal health and for the environment. Environ Microbiol 8:1137–1144

Cai X et al (1994) Effect of baicalin on the cellular immunity of mice. J Nanjing Railw Med Coll 13:65–68 (in Chinese)

Chen X et al (2003) Effects of four species of herbs on immune function of Carassius auratus gibelio. J Fish Sci China 10:36–40 (in Chinese)

Cheng J (2000) Review: drug therapy in Chinese traditional medicine. J Clin Pharmacol 40:445–450

Chiou WF et al (2000) Mechanisms of suppression of inducible nitric oxide synthase (iNOS) expression in RAW 264.7 cells by andropholide. Br J Pharmacol 129:1553–1560

Citarasu T et al (2006) Influence of selected Indian immunostimulant herbs against white spot syndrome virus (WSSV) infection in black tiger shrimp, Penaeus monodon with reference to haematological, biochemical and immunological changes. Fish Shellfish Immunol 21:372–384

CSD (2009) Hong Kong annual digest of statistics 2009. 2009 Edition. Census and Statistics Department, the Government of Hong Kong Special Administrative Region, China

Das BK et al (2009) The effect of Euglena viridis on immune response of rohu, Labeo rohita (Ham.). Fish Shellfish Immunol 26:871–876

Direkbusarakom S (2004) Application of medicinal herbs to aquaculture in Asia, Walailak. J Sci Tech 1:7–14

FAO (2009) Ctenopharyngodon idellus. In: Cultured aquatic species fact sheets. Text by Weimin M Edited and compiled by Crespi V, New M CD-ROM (multilingual). FAO Fisheries and Aquaculture Department, Rome, Italy. http://www.fao.org/fishery/culturedspecies/Ctenopharyngodon_idella/en "Cited 02 Aug 2012"

Francis G et al (2005) Quillaja saponins—a natural growth promoter for fish. Anim Feed Sci Technol 121:147–157

Furushita M et al (2005) Analysis of plasmids that can transfer antibiotic resistance genes from fish farm bacteria to clinical bacteria. In: Joint Meeting of the 3 Divisions of the International Union of Microbiological Societies 2005. International Congress of Bacteriology and Applied Microbiology, B-1162. 23–28 July 2005, San Fransisco, CA, USA

Galina J et al (2009) The use of immunostimulating herbs in fish. An overview of research. Fish Physiol Biochem 35:669–676

Gao L, Wu X (2008) Comparison of traditional Chinese medicine with western medicine cancer therapy. J Clin Oncol Cancer Res 5:231–234

Heuer OE et al (2009) Human health consequences of use of antimicrobial agents in aquaculture. Clin Infect Dis 49:1248–1253

Ibrahim AB et al (2010) Pesticide and antibiotic residues in freshwater aquaculture fish: chemical risk assessment from farm to table. Asian J Agro-Ind 3:328–334

Ji C et al (2012) Effect of berberine hydrochloride on grass carp Ctenopharyngodon idella serum bactericidal activity against Edwardsiella ictaluri. Fish Shellfish Immunol 33:143–145

Jian J, Wu Z (2003) Effects of traditional Chinese medicine on nonspecific immunity and disease resistance of large yellow croaker, Pseudosciaena crocea (Richardson). Aquaculture 218:1–9

Jian J, Wu Z (2004) Influences of traditional Chinese medicine on nonspecific immunity of Jian carp (Cyprinus carpio var. Jian). Fish Shellfish Immunol 16:185–191

Kong WJ et al (2009) Spectrum–effect relationships between ultra performance liquid chromatography fingerprints and anti-bacterial activities of Rhizoma coptidis. Anal Chim Acta 634:279–285

Li J et al (2007) Separation and identification of Aeromonas punctata in the grass carp. Reserv Fish 27:107–108 (in Chinese)

Mikriakov VR, Silkin NF (1978) Seasonal dynamics in the antimicrobical features of the blood serum from fishes with different ecological habitat. Biol Inland Water 39:63–68

NACA (1989) Integrated fish farming in China. NACA Technical Manual 7. A world food day publication of the Network of Aquaculture Centres in Asia and the Pacific, Bangkok, Thailand pp 278

NCCLS (1999) Performance standards for antimicrobial susceptibility testing, ninth informational supplement. Wayne, Pennsyslvania. National Committee for Clinical Laboratory Standards; document M100-S9, 19(1)

Philip K et al (2009) Antimicrobial peptides in aqueous and ethanolic extracts from microbial, plant and fermented sources. Biotechnology 8:248–253

Punitha SMJ et al (2008) Immunostimulating influence of herbal biomedicines on nonspecific immunity in grouper Epinephelus tauvina juvenile against Vibrio harveyi infection. Aquacult Int 16:511–523

Rao YV et al (2006) Effect of Achyranthes aspera on the immunity and survival of Labeo rohita infected with Aeromonas hydrophila. Fish Shellfish Immunol 20:263–273

Rattanachaikunsopon P, Phumkhachorn P (2009) Prophylactic effect of Andrographis paniculata extracts against Streptococcus agalactiae infection in Nile tilapia (Oreochromis niloticus). J Biosci Bioeng 107:579–582

Sahu S et al (2006) Effect of Allium satium on the immunity and survival of Labeo rohita infected with Aeromonas hydrophila. Fish Shellfish Immunol 22:1–6

Sahu S et al (2007a) Effect of Mangifera indica as feed additive on immunity and resistance to Aeromonas hydrophila in Labeo rohita fingerlings. Fish Shellfish Immunol 23:109–118

Sahu S et al (2007b) Effect of Allium sativum on the immunity of Labeo rohita infected with Aeromonas hydrophila. Fish Shellfish Immunol 23:80–86

Secombes CJ (1994) Enhancement of fish phagocyte activity. Fish Shellfish Immunol 4:421–436

Shen YC et al (2002) Andrographolide prevents oxygen radical production by human neutrophils: possible mechanism(s) involved in its anti-inflammatory effect. Br J Pharmacol 135:399–406

Singha PK et al (2003) Antimicrobial activity of Andrographis paniculata. Fitoterapia 74:692–694

Siwicki AK et al (1994) Dietary intake of immunostimulants by rainbow trout affects non-specific immunity and protection against furunculosis. Vet Immunol Immunopathol 41:125–139

Smith DL et al (2002) Animal antibiotic has an early but important impact on the emergence of antibiotic resistance in human commensal bacteria. Proc Natl Acad Sci 99:6434–6439

Sørum H (2000) Farming of Atlantic salmon—an experience from Norway. Acta Vet Scand Suppl 93:129–134

Sørum H (2006) Antimicrobial drug resistance in fish pathogens. In: Aarestrup FM (ed) Antimicrobial resistance in bacteria of animal origin. American Society for Microbiology Press, Washington, pp 213–238

Venketramalingam K et al (2007) Zingiber officinalis an herbal appetizer in the tiger shrimp Penaeus monodon (Fabricius) larviculture. Aquac Nutr 13:439–443

Wang H et al (2005a) A review on the traditional Chinese medicinal immunopotentiators for fishery. Chin J Vet 39:41–44 (in Chinese with English abstract)

Wang WB et al (2005b) Effects of intraperitoneal injection of cortisol on non-specific immune functions of Ctenopharyngodon idella. J Fish Biology 67:779–793

Wiegertjes GF et al (1996) Immunogenetics of disease resistance in fish: a comparable approach. Dev Comp Immunol 20:365–381

Xu B et al (1988) Pathogenetic investigation of the enteritis of the grass carp (Ctenopharyngodon idellus). Acta Hydrobiologica Sinica 12:308–315 (in Chinese with English abstract)

Yang ZJ (2008) On the dialogue of the development strategy of modern fishery in Guangdong province. Chinese Fish Econ 26:10–16 (in Chinese)

Yin G et al (2006) Effect of two Chinese herbs (Astragalus radix and Scutellaria radix) on non-specific immune response of tilapia Oreochromis niloticus. Aquaculture 253:39–47

Yin G et al (2009) Chinese herbs (Astragalus radix and Ganoderma lucidum) enhance immune response of carp, Cyprinus carpio, and protection against Aeromonas hydrophila. Fish Shellfish Immunol 26:140–145

Yu HH et al (2005) Antimicrobial activity of berberine alone and in combination with ampicillin or oxacillin against methicillin-resistant Staphylococcus aureus. J Med Food 8:454–461

Zhang H, Yang G (2006) Killing ability of 12 Chinese herb medicines to bacterium Aeromonas hydrophila. Fish sci 25:16–18 (in Chinese with English abstract)

Zheng W et al (2012) Grass carp (Ctenopharyngodon idellus) infected with multiple strains of Aeromonas hydrophila. African J Micro Res 6:4512–4520
Acknowledgments
Financial support from State Key Laboratory in Marine Pollution, Seed Collaborative Research Fund (HKBU CITYU SKLMP/SCRF/0003), and Environment and Conservation Fund (37/2009) of the Hong Kong SAR Government is gratefully acknowledged. We would also like to thank the staff in Au Tau Fisheries Centre of AFCD and Prof. XP Nie's research group for technical support provided in the field experiment.
About this article
Cite this article
Choi, W.M., Mo, W.Y., Wu, S.C. et al. Effects of traditional Chinese medicines (TCM) on the immune response of grass carp (Ctenopharyngodon idellus). Aquacult Int 22, 361–377 (2014). https://doi.org/10.1007/s10499-013-9644-7
Received:

Accepted:

Published:

Issue Date:
Keywords
Aeromonas hydrophila

Bactericidal activity

Feed supplement

Grass carp

Traditional Chinese medicines