Abstract
In recent years, cobia has become an emerging farmed species in Asia due to its quick growth and high economic value. This study collects biological and economic data affecting the economic performance of cobia farming in three countries, namely Taiwan, China, and Vietnam. The data are collected by questionnaire sampling and analyzed by multivariate statistical analysis in order to compare the key factors affecting the production and economy of cobia farming in these three countries. The results show that Taiwan, China, and Vietnam have significant differences in input intensities and profitability. China has the highest input intensity (3372.42 TWD/m3), as its high stocking density increases feed input. Taiwan has the highest unit input cost (103.44 TWD/kg), as the high quality of the product increases the price of cobia in Taiwan, which offsets the high product costs. In terms of profitability, the benefit–cost ratio is over one in all three countries, indicating that the profitability of cobia farming is good in all three countries. Profitability analysis shows that fingerlings in China achieve 36.50, which is the highest among the three countries; whereas Taiwan has the highest feed profitability of 0.78, which reveals that the fingerlings produced in China are competitive in both price and quality, while Taiwan has the best feed management efficiency. The production costs and profitability of Vietnam fall between those of Taiwan and China. Feed cost is the main expenditure in cobia culture; thus, good feed management could effectively reduce production costs and increase business performance. The feed quality and input management model of Taiwan, in conjunction with the fingerling quality and stock model of China, could provide future reference for farming management in such areas as feed input and selection of fingerling.
This is a preview of subscription content, log in to check access.
Access options
Buy single article
Instant access to the full article PDF.
US$ 39.95
Price includes VAT for USA
Subscribe to journal
Immediate online access to all issues from 2019. Subscription will auto renew annually.
US$ 99
This is the net price. Taxes to be calculated in checkout.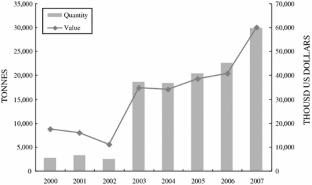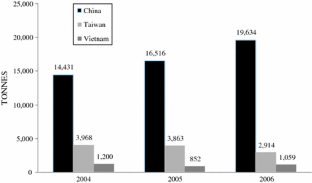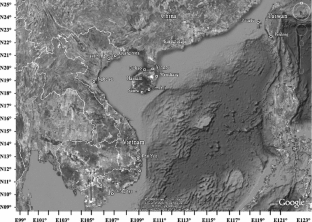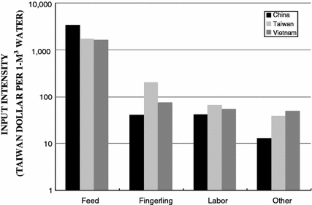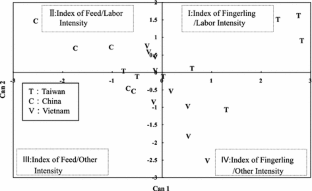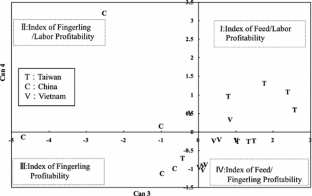 References
Chang SL, Liao IC, Leaño EM (2007) Nurse rearing of cobia in Taiwan: problem, recent developments and strategies. Cobia aquaculture: research, development and commercial production. AFS, WAS, FST, NTOU, Taiwan, pp 79–88

Ditty JG, Shaw RF (1992) Larval development, distribution, and ecology of cobia Rachycentron canadum (Family: Rachycentridae) in the northern Gulf of Mexico. Fish Bull 90:668–677

FAO (2009) FishStat plus: Universal software for fishery statistical time series. Food and agriculture organization of the united nations. Rome, Italy. http://www.fao.org/fishery/statistics/software/fishstat/en. Cited 15 June 2009

Fisher RA (1936) The utilization of multiple measurements in taxonomic problems. Ann Eugen 7:179–188

Google (2009) Google earth. http://maps.google.com.tw/maps?hl=zh-TW&tab=wl. Cited 1 June 2009

Hair JF, Anderson RE, Tatham RL (1987) Multivariate data analysis with readings, 2nd edn. Macmillan, New York, p 449

Huang TS, Lin KJ, Chen CC, Tsai WS (2002) Study on cobia, Rachycentron canadum, over-wintering using the indoor high density recirculating system. J Taiwan Fish Res 10:53–62

Huang CT, Miao S, Farok A (2008) Economic analysis of cobia's (Rachentron canadum) phase nursery stage culture in Taiwan. J Fish Soc Taiwan 35(2):117–130

Johnson RA, Wichern DW (1988) Applied multivariate statistical analysis, 2nd edn. Prentice-Hall, Englewood Cliffs, NJ, p 607

Kenneth A, Webb Jr, Hitzfelder GM, Faulk CK, Holt GJ (2007) Growth of juvenile cobia, Rachycentron canadum, at three different densities in a recirculating aquaculture system. Aquaculture 264:223–227

Ku CC, Lu CH (2001) Typhoon Chebi destroyed Chuwan and Tunlung sea cage culture area of Penghu. FA COA aquaculture series No. 4, Reports on aquaculture research (III):75–88

Ku CC, Lu CH, Thea GT, Chen SN (2000) Sea cage culture and disease investigation of cobia (Rachentron canadum). FA COA aquaculture series No. 1, Reports on fish disease research (XX):35–46

Liao IC, Huang TS, Tsai WS, Hsueh CM, Chang SL, Leaño EM (2004) Cobia culture in Taiwan: current status and problems. Aquaculture 237:155–165

Liao IC, Leaño EM, Hsu CY, Ku CC (2007) Marine cage culture of in Taiwan. Cobia aquaculture: research, development and commercial production. AFS, WAS, FST, NTOU, Taiwan, pp 131–145

Mahalanobis PC (1948) Historical note on the D3-statistic. Sankhya 9:237

Manly BFJ (1986) Multivariate statistical methods. A primer. Chapman & Hall, NY, p 159

Miao S, Tang HC (2002) Bioeconomic analysis of improving management productivity regarding grouper Epinepelus malabaricus farming in Taiwan. Aquaculture 211:151–169

Miao S, Jen CC, Huang CT, Hu SH (2009) Ecological and economic analysis for cobia Rachycentron canadum commercial cage culture in Taiwan. Aquacult Int 17(2):125–141

Nan FH (2007) Handbook of cobia. TFEDA and COA, Taiwan, p 274 In Chinese

Nguyen QH, Do VM, Le TL (2006) Status of cobia Rachycentron canadum seed production in Vietnam with focus on method production, constrains and potential. AQUA 2006: meeting abstract. WAS. https://www.was.org/meetings/AbstractData.asp?AbstractId=10893. Cited 20 June 2009

Niels S, Nguyen QH (2005) Status of hatchery and farm production of cobia Rachycentron canadum in Vietnam, potential and constraints for development. World aquaculture 2005: meeting abstract. WAS. https://www.was.org/Meetings/AbstractData.asp?AbstractId=9168. Cited 20 June 2009

Shaffer RV, Nakamura EL (1989) Synopsis of biological data on the cobia Rachycentron canadum (Pisces: Rachycentridae). FAO fisheries synop. 153 (NMFS/S 153). US Dep Commer, NOAA Tech Rep NMFS 82, p 21

Shang YC (1990) Aquaculture economic analysis: An introduction. World Aquaculture Society, California

Shyu CZ, Liao IC (2004) Development of sustainable aquaculture in Asia: challenges and strategies. J Fish Soc Taiwan 31:159–172

Su MS, Chien TH, Liao IC (2000) Potential of marine cage aquaculture in Taiwan: Cobia culture. Cage aquaculture in Asia. Proceedings of the first international symposium on cage aquaculture in Asia. AFS & WAS, Taiwan, pp 97–106

Sun L, Chen H, Huang L, Wang Z, Yan Y (2006a) Growth and energy budget of juvenile cobia (Rachycentron canadum) relative to ration. Aquaculture 257:214–220

Sun L, Chen H, Huang L (2006b) Effect of temperature on growth and energy budget of juvenile cobia (Rachentron canadum). Aquaculture 261:872–878

Wang JT, LiuYJ Tian LX, Mai KS, Du ZY, Wang Y, Yang HJ (2005) Effect of dietary lipid level on growth performance, lipid deposition, hepatic lipogenesis in juvenile cobia (Rachycentron canadum). Aquaculture 249:439–447

Zhou QC, Tan BP, Mai KS, Liu YJ (2004) Apparent digestibility of selected feed ingredients for juvenile cobia Rachycentron canadum. Aquaculture 241:441–451

Zhou QC, Wu ZH, Tan BP, Chi SY, Yang QH (2006) Optimal dietary methionine requirement for juvenile cobia (Rachycentron canadum). Aquaculture 258:551–557

Zhou QC, Wu ZH, Chi SY, Yang QH (2007) Dietary lysine requirement of juvenile cobia (Rachycentron canadum). Aquaculture 273:634–640
Acknowledgments
This project is financially supported by Council of Agriculture, Executive Yuan, under No. (95AS-1.1.3-ST-a1; 96AS-13.1.3-ST-a1; 97AS-13.1.2-ST-a2). The authors would also like to thank the farmers for participating in the interviews and providing valuable information on cobia farming. The authors wish to express their sincere gratitude to the anonymous reviewers for valuable suggestions to improve this paper.
About this article
Cite this article
Huang, C., Miao, S., Nan, F. et al. Study on regional production and economy of cobia Rachycentron canadum commercial cage culture. Aquacult Int 19, 649–664 (2011). https://doi.org/10.1007/s10499-010-9391-y
Received:

Accepted:

Published:

Issue Date:
Keywords
Cobia

Cage culture

Production cost

Profitability

Multivariate statistical analysis