Abstract
This paper examines freshwater prawn (Macrobrachium rosenbergii) farming in southwest Bangladesh where a large number of farmers have converted their rice fields to export oriented prawn farms, locally known as gher. The gher design potentially provides good opportunities for diversified production of prawn, fish, rice and dike crops, that has brought about a 'blue revolution'. The average annual yield of prawn, fish and rice was estimated at 467, 986 and 2,257 kg ha−1, respectively. Large farmers produced higher production due to more inputs, larger farm size and longer experience of prawn farming than others. All farmers in different gher size categories (i.e., small, medium and large) made a profit, with seed and feed dominating variable costs. Despite a higher production costs per hectare, the average annual net return was higher in large farms (US$2,426), compared with medium (US$1,798) and small (US$1,420) farms. Prawn production in gher systems has been accompanied by a great deal of social and economic benefits. Most farmers associate the blue revolution with increases in income and living standards. Socio-economic benefits of the households of prawn farmers depend on resource ownership (i.e., farm size) and are very apparent. Nevertheless, a number of significant challenges, particularly social and environmental issues, are vital in translating its benefits effectively to the thousands of rural poor.
Access options
Buy single article
Instant access to the full article PDF.
US$ 39.95
Tax calculation will be finalised during checkout.
Subscribe to journal
Immediate online access to all issues from 2019. Subscription will auto renew annually.
US$ 79
Tax calculation will be finalised during checkout.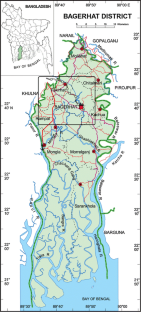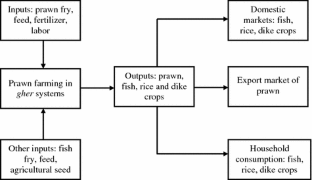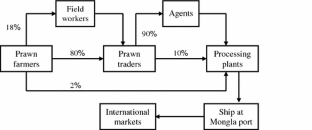 References
Ahmed N (2001) Socio-economic aspects of freshwater prawn culture development in Bangladesh. PhD Thesis. Institute of Aquaculture, University of Stirling, Scotland, p 320

Ahmed N (2003) Environmental impacts of freshwater prawn farming in Bangladesh. Shellfish News 15:25–28

Ahmed N (2005) The role of women in freshwater prawn farming in southwest Bangladesh. Fish Farmer 28(2):14–16

Ahmed N (2008) Freshwater prawn hatcheries in Bangladesh: concern of Broodstock. Aquac Asia 13(3):22–26

Ahmed N, Miah MI, Islam MA (1997) Reproductive biology of freshwater snail Pila globosa (Swainson). Progress Agric 8:225–229

Ahmed N, Ahammed F, Lecouffe C (2007a) Socio-economic aspects of small-scale freshwater prawn marketing systems in Mymensingh, Bangladesh. Aquac Econ Manag 11:335–353

Ahmed N, Wahab MA, Thilsted SH (2007b) Integrated aquaculture–agriculture systems in Bangladesh: potential for sustainable livelihoods and nutritional security of the rural poor. Aquac Asia 12(1):14–22

Ahmed N, Demaine H, Muir JF (2008) Freshwater prawn farming in Bangladesh: history, present status and future prospects. Aquacult Res 39:806–819

Arens AA, Loebbecke JK (1981) Applications of statistical sampling to auditing. Prentice Hall Inc., Englewood Cliffs, NJ

Bailey C (1985) The blue revolution: the impact of technological innovation on third world fisheries. Rural Sociol 5:259–266

Chambers R (1992) Rural appraisal: rapid, relaxed and participatory. IDS Discussion Paper 311. International Development Studies, Brighton, UK

Chambers R (1994) The origins and practice of participatory rural appraisal. World Dev 22:953–969

Cunningham WP, Saigo BW, Cunningham MA (2004) Environmental science: a global concern. McGraw-Hill Higher Education, New York

Department of Fisheries (DOF) (2007) Fishery statistical yearbook of Bangladesh 2005–2006. Fisheries Resources Survey System. Department of Fisheries, Ministry of Fisheries and Livestock, Dhaka

Edwards P (1998) A systems approach for the promotion of integrated aquaculture. Aquac Econ Manag 2:1–12

Environmental Justice Foundation (EJF) (2004) Desert in the delta: a report on the environmental, human rights and social impacts of shrimp production in Bangladesh. Environmental Justice Foundation, London, pp 1–13

Food Agriculture Organization (FAO) (2006) State of world aquaculture 2006. FAO Fisheries Technical Paper 500, Rome

Gain P (1998) Chanda beel: shrimp attacks snails and environment. Earth Touch 4:24–25

Giap DH, Yi Y, Lin CK (2005) Effects of different fertilization and feeding regimes on the production of integrated farming of rice and prawn Macrobrachium rosenbergii (De Man). Aquacult Res 36:292–299

Goldburg RJ, Elliott MS, Naylor RL (2001) Marine aquaculture in the United States: environmental impacts and policy options. Pew Oceans Commission, Arlington

Gupta MV (1990) Rural women in aquaculture: Bangladesh. Naga. ICLARM Q 13(3):8

Hossain MS (2001) Biological aspects of the coastal and marine environment of Bangladesh. Ocean Coast Manag 44:261–282

Hossain MA, Islam MS (2006) Optimization of stocking density of freshwater prawn Macrobrachium rosenbergii (de Man) in carp polyculture in Bangladesh. Aquacult Res 37:994–1000

Islam MS (2003) Perspectives of the coastal and marine fisheries of the Bay of Bengal, Bangladesh. Ocean Coast Manag 46:763–796

Islam MS (2007) From pond to plate: towards a twin-driven commodity chain in Bangladesh shrimp aquaculture. Food Policy 33:209–223

Ito S (2004) Globalization and agrarian change: a case of freshwater prawn farming in Bangladesh. J Int Dev 16:1003–1013

Kamp K, Brand E (1994) Greater options for local development through aquaculture (GOLDA). CARE GOLDA Project, Dhaka

Kendrick A (1994) The gher revolution: the social impacts of technological change in freshwater prawn cultivation in southern Bangladesh. Bangladesh Aquaculture and Fisheries Resource Unit, Dhaka

King H (1989) Fisheries development programs and women. Naga ICLARM Q 12(2):6–7

Lightfoot C, Bimbao MP, Dalsgaard JPT, Pullin RSV (1993) Aquaculture and sustainability through integrated resources management. Outlook Agric 22:143–150

Mazid MA (1994) Evaluation of prawn farming on socio-economic aspect. Fisheries Research Institute, Mymensingh

McGinn AP (1998) Blue revolution: the promises and pitfalls of fish farming. World Watch March/April:10–19

Morris J (1997) The changing face of women in Bangladesh. Department of International and Public Affairs, Columbia University, New York

Movik S, Mehta L, Mtisi S, Nicol A (2005) A blue revolution for African agriculture? Int Dev Stud Bull 36(2):41–45

Muir JF (2003) The future for fisheries: economic performance. Fisheries Sector Review and Future Development Study. Commissioned with the association of the World Bank, DANIDA, USAID, FAO, DFID with the cooperation of the Bangladesh Ministry of Fisheries and Livestock and the Department of Fisheries, Dhaka

Nandeesha MC (2003) The gher revolution: innovations in freshwater prawn farming by Bangladesh farmers. Aquac Asia 8(4):30–36

New MB (2005) Freshwater prawn farming: global status, recent research and a glance at the future. Aquacult Res 36:210–230

Nhan DK, Phong LT, Verdegem MJC, Duong LT, Bosma RH, Little DC (2007) Integrated freshwater aquaculture, crop and livestock production in the Mekong delta, Vietnam: determinants and the role of the pond. Agric Syst 94:445–458

Nuruzzaman AKM (1993) Coastal environment and shrimp cultivation. Bangladesh Agricultural Research Council, Dhaka

Pillay TVR (1994) Aquaculture development: progress and prospects. Fishing News Books, Oxford

Prein M (2002) Integration of aquaculture into crop-animal systems in Asia. Agric Syst 71:127–146

Raizada S, Chadha NK, Javed H, Ali M, Singh IJ, Kumar S, Kumar A (2005) Monoculture of giant freshwater prawn, Macrobrachium rosenbergii in inland saline ecosystem. J Aquac Trop 20:45–56

Roos N, Wahab MA, Chamnan C, Thilsted SH (2007) The role of fish in food-based strategies to combat vitamin A and mineral deficiencies in developing countries. J Nutr 137:1106–1109

Rutherford S (1994) An investigation of how freshwater prawn cultivation is financed. Bangladesh Aquaculture and Fisheries Resource Unit, Dhaka

Scheaffer RL, Mendenhall W, Ott L (1990) Elementary survey sampling. PWS-KENT Publishing Company, Boston

Schofield W (1993) Principles of social and educational research. The Open University, Walton Hall

Shang YC (1990) Aquaculture economics analysis: an introduction. Advances in world aquaculture. The World Aquaculture society. Louisiana State University, Baten Rouge

The United States Agency for International Development (USAID) (2006) A pro-poor analysis of the shrimp sector in Bangladesh. Development and Training Services, Arlington, pp 8–89

Theis J, Grady HM (1991) Participatory rapid appraisal for community development, a training manual based on experiences in the Middle East and North Africa. International Institute for Environment and Development, and Save the Children Federation, London

Vicki SS (2007) Social, economic and production characteristics of freshwater prawn Macrobrachium rosenbergii culture in Thailand. MS Thesis. School of Natural Resources and Environment, University of Michigan, USA, p 47

Weimin M, Xianping G (2002) Freshwater prawn culture in China: an overview. Aquac Asia 7(1):7–12

Wollenweber B, Porter JR, Lubberstedt T (2005) Need for multidisciplinary research towards a second green revolution. Curr Opin Plant Biol 8:337–341
Acknowledgments
The study was supported by the UK Department for International Development (DFID) as part of the Aquaculture and Fish Genetics Research Program (AFGRP). The opinions expressed herein are those of the authors and do not necessarily reflect the views of DFID or AFGRP.
About this article
Cite this article
Ahmed, N., Allison, E.H. & Muir, J.F. Rice fields to prawn farms: a blue revolution in southwest Bangladesh?. Aquacult Int 18, 555–574 (2010). https://doi.org/10.1007/s10499-009-9276-0
Received:

Accepted:

Published:

Issue Date:
Keywords
Prawn

Rice field

Gher

Blue revolution

Bangladesh