Abstract
Quercetin (3,3′,4′,5,7-pentahydroxyflavone, Qu) is a promising cancer chemo-preventive agent for various cancers because it inhibits disease progression and promotes apoptotic cell death. In our previous study, we demonstrated that Qu could evoke ER stress to enhance drug cytotoxicity in ovarian cancer (OC). However, Qu-induced ER stress in OC is still poorly understood. Here, we demonstrated that Qu evoked ER stress to involve in mitochondria apoptosis pathway via the p-STAT3/Bcl-2 axis in OC cell lines and in primary OC cells. Unexpectedly, inhibition of ER stress did not reverse Qu-induced cell death. Further functional studies revealed that Qu-induced ER stress could activate protective autophagy concomitantly by activating the p-STAT3/Bcl-2 axis in this process. Moreover, the autophagy scavenger 3-MA was shown to enhance Qu's anticancer effects in an ovarian cancer mice xenograft model. These findings revealed a novel role of ER stress as a "double edge sword" participating in Qu-induced apoptosis of OC and might provide a new angle to consider in clinical studies of biological modifiers that may circumvent drug resistance in patients by targeting protective autophagy pathways.
Access options
Buy single article
Instant access to the full article PDF.
US$ 39.95
Tax calculation will be finalised during checkout.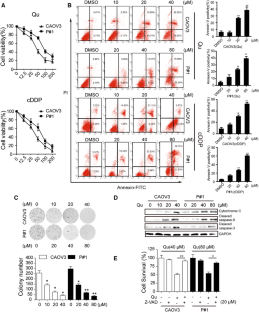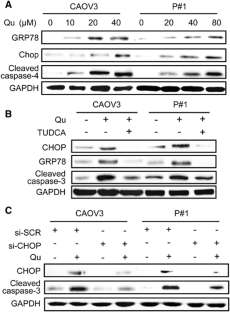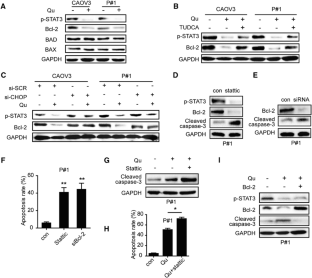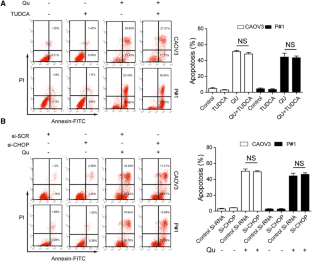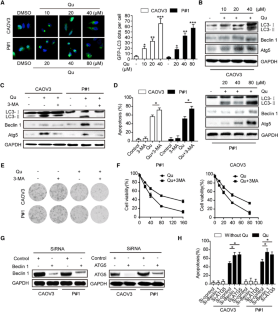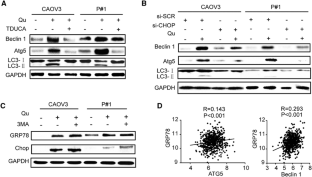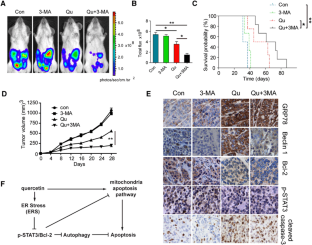 References
1.

Mitra AK, Sawada K, Tiwari P, Mui K, Gwin K, Lengyel E (2011) Ligand-independent activation of c-Met by fibronectin and alpha(5)beta(1)-integrin regulates ovarian cancer invasion and metastasis. Oncogene 30:1566–1576

2.

Bast RC Jr, Hennessy B, Mills GB (2009) The biology of ovarian cancer: new opportunities for translation. Nat Rev Cancer 9:415–428

3.

De A, De A, Papasian C et al (2013) Emblica officinalis extract induces autophagy and inhibits human ovarian cancer cell proliferation, angiogenesis, growth of mouse xenograft tumors. PLoS One 8:e72748

4.

Song NR, Chung MY, Kang NJ et al (2014) Quercetin suppresses invasion and migration of H-Ras-transformed MCF10A human epithelial cells by inhibiting phosphatidylinositol 3-kinase. Food Chem 142:66–71

5.

Del Follo-Martinez A, Banerjee N, Li X, Safe S, Mertens-Talcott S (2013) Resveratrol and quercetin in combination have anticancer activity in colon cancer cells and repress oncogenic microRNA-27a. Nutr Cancer 65:494–504

6.

Gates MA, Vitonis AF, Tworoger SS et al (2009) Flavonoid intake and ovarian cancer risk in a population-based case-control study. Int J Cancer 124:1918–1925

7.

Kim I, Xu W, Reed JC (2008) Cell death and endoplasmic reticulum stress: disease relevance and therapeutic opportunities. Nat Rev Drug Discov 7:1013–1030.

8.

Sano R, Reed JC (2013) ER stress-induced cell death mechanisms. Biochim Biophys Acta 1833:3460–3470

9.

Yang Z, Liu Y, Liao J et al (2015) Quercetin induces endoplasmic reticulum stress to enhance cDDP cytotoxicity in ovarian cancer: involvement of STAT3 signaling. FEBS J 282:1111–1125

10.

Yi L, Zongyuan Y, Cheng G, Lingyun Z, Guilian Y, Wei G (2014) Quercetin enhances apoptotic effect of tumor necrosis factor-related apoptosis-inducing ligand (TRAIL) in ovarian cancer cells through reactive oxygen species (ROS) mediated CCAAT enhancer-binding protein homologous protein (CHOP)-death receptor 5 pathway. Cancer Sci 105:520–527

11.

Rabinowitz JD, White E (2010) Autophagy and metabolism. Science 330:1344–1348

12.

Wei Y, Sinha S, Levine B (2008) Dual role of JNK1-mediated phosphorylation of Bcl-2 in autophagy and apoptosis regulation. Autophagy 4:949–951

13.

Zhou Y, Liang X, Chang H et al (2014) Ampelopsin-induced autophagy protects breast cancer cells from apoptosis through Akt-mTOR pathway via endoplasmic reticulum stress. Cancer Sci 105:1279–1287

14.

Zhao X, Fang Y, Yang Y et al (2015) Elaiophylin, a novel autophagy inhibitor, exerts antitumor activity as a single agent in ovarian cancer cells. Autophagy 11:1849–1863

15.

Wang K, Liu R, Li J et al (2011) Quercetin induces protective autophagy in gastric cancer cells: involvement of Akt-mTOR- and hypoxia-induced factor 1alpha-mediated signaling. Autophagy 7:966–978

16.

Lee JH, Lee HB, Jung GO, Oh JT, Park DE, Chae KM (2013) Effect of quercetin on apoptosis of PANC-1 cells. J Korean Surg Soc 85:249–260

17.

Liu KC, Yen CY, Wu RS et al (2014) The roles of endoplasmic reticulum stress and mitochondrial apoptotic signaling pathway in quercetin-mediated cell death of human prostate cancer PC-3 cells. Environ Toxicol 29:428–439

18.

Ulianich L, Insabato L (2014) Endoplasmic reticulum stress in endometrial cancer. Front Med 1:55

19.

Chistiakov DA, Sobenin IA, Orekhov AN, Bobryshev YV (2014) Role of endoplasmic reticulum stress in atherosclerosis and diabetic macrovascular complications. BioMed Res Int 2014:610140

20.

Duan W, Yang Y, Yi W et al (2013) New role of JAK2/STAT3 signaling in endothelial cell oxidative stress injury and protective effect of melatonin. PLoS One 8:e57941

21.

Shi Y, Tang B, Yu PW et al (2012) Autophagy protects against oxaliplatin-induced cell death via ER stress and ROS in Caco-2 cells. PLoS One 7:e51076

22.

Warr MR, Binnewies M, Flach J et al (2013) FOXO3A directs a protective autophagy program in haematopoietic stem cells. Nature 494:323–327

23.

Ma XH, Piao SF, Dey S et al (2014) Targeting ER stress-induced autophagy overcomes BRAF inhibitor resistance in melanoma. J Clin Invest 124:1406–1417

24.

Maejima Y, Kyoi S, Zhai P et al (2013) Mst1 inhibits autophagy by promoting the interaction between Beclin1 and Bcl-2. Nat Med 19:1478–1488

25.

Meister S, Frey B, Lang VR et al (2010) Calcium channel blocker verapamil enhances endoplasmic reticulum stress and cell death induced by proteasome inhibition in myeloma cells. Neoplasia 12:550–561

26.

Verfaillie T, Garg AD, Agostinis P (2013) Targeting ER stress induced apoptosis and inflammation in cancer. Cancer Lett 332:249–264

27.

Kraskiewicz H, FitzGerald U (2012) InterfERing with endoplasmic reticulum stress. Trends Pharmacol Sci 33:53–63

28.

Jakubowicz-Gil J, Langner E, Badziul D, Wertel I, Rzeski W (2013) Silencing of Hsp27 and Hsp72 in glioma cells as a tool for programmed cell death induction upon temozolomide and quercetin treatment. Toxicol Appl Pharmacol 273:580–589

29.

Yamamuro A, Kishino T, Ohshima Y et al (2011) Caspase-4 directly activates caspase-9 in endoplasmic reticulum stress-induced apoptosis in SH-SY5Y cells. J Pharmacol Sci 115:239–243

30.

Thepparit C, Khakpoor A, Khongwichit S, et al. (2013) Dengue 2 infection of HepG2 liver cells results in endoplasmic reticulum stress and induction of multiple pathways of cell death. BMC Res Notes 6:372

31.

Hui K, Yang Y, Shi K et al (2014) The p38 MAPK-regulated PKD1/CREB/Bcl-2 pathway contributes to selenite-induced colorectal cancer cell apoptosis in vitro and in vivo. Cancer Lett 354:189–199

32.

Natsume Y, Ito S, Satsu H, Shimizu M (2009) Protective effect of quercetin on ER stress caused by calcium dynamics dysregulation in intestinal epithelial cells. Toxicology 258:164–175

33.

Wu J, Xu X, Li Y et al (2014) Quercetin, luteolin and epigallocatechin gallate alleviate TXNIP and NLRP3-mediated inflammation and apoptosis with regulation of AMPK in endothelial cells. Eur J Pharmacol 745:59–68

34.

Verfaillie T, Salazar M, Velasco G, Agostinis P (2010) Linking ER stress to autophagy: potential implications for cancer therapy. Int J Cell Biol 2010:930509

35.

Bommareddy A, Hahm ER, Xiao D et al (2009) Atg5 regulates phenethyl isothiocyanate-induced autophagic and apoptotic cell death in human prostate cancer cells. Cancer Res 69:3704–3712

36.

Chen YJ, Huang WP, Yang YC et al (2009) Platonin induces autophagy-associated cell death in human leukemia cells. Autophagy 5:173–183

37.

Valente G, Morani F, Nicotra G et al (2014) Expression and clinical significance of the autophagy proteins BECLIN 1 and LC3 in ovarian cancer. BioMed Res Int 2014:462658
Acknowledgements
Grant support: Educational Commission of Hubei Province of China (No. B2016078) National Science Foundation of China (No. 81072135, 81372801, 81272426, 81572570) and the "973" Program of China (No. 2015CB553903) supported this work.
Author contributions
YL, WG and ZYY contributed equally to this work.
Ethics declarations
Conflict of interest
The authors have no conflict of interest.
Additional information
Yi Liu, Wei Gong and Zongyuan Yang contributed equally to this work.
Electronic supplementary material
Below is the link to the electronic supplementary material.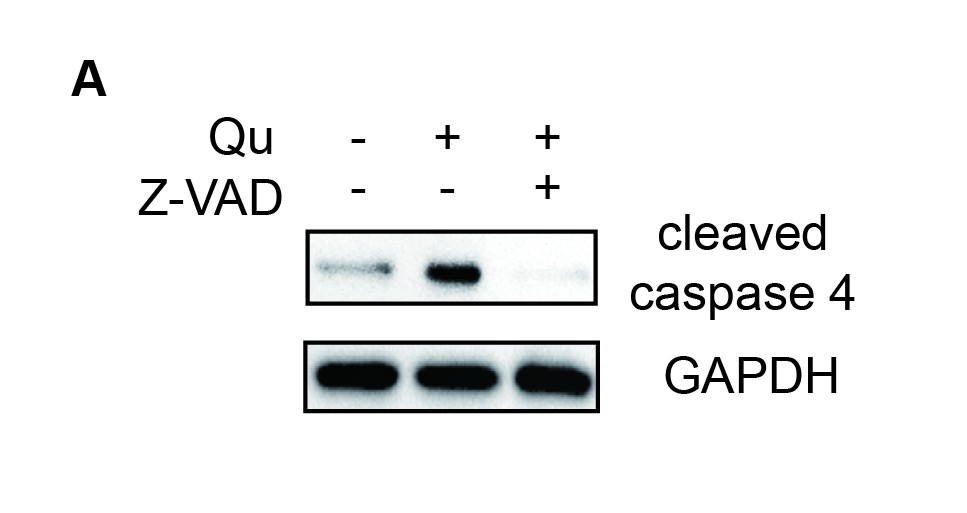 . The effects of pan-caspase on alleviating Qu-induced cleaved caspase-4 were examined by western blot. (A) Lysates were harvested and immunoblotted with Cleaved caspase-4 and GAPDH. (JPG 655 KB)
. The effects of Salubrinal (eIF2-alpha phosphatase inhibitor), 3-E-5,6-D (XBP-1 splicing inhibitor) and sp600125 (JNK inhibitor) on alleviating Qu-induced autophagy were examined by western blot, respectively. (A-C) Lysates were harvested and immunoblotted with Beclin 1 and GAPDH. (TIF 385 KB)
HOSE cell was treated with DMSO (<0.1%), Qu (80 μM) or Qu (80 μM)+3MA for 48 h. (A) Lysates were harvested and immunoblotted with GRP78 and Chop. (B) Annexin V/FITC assay was used to determine the apoptosis rate by flow cytometry. The results were similar in at least three independent experiments. (TIF 651 KB)
About this article
Cite this article
Liu, Y., Gong, W., Yang, Z.Y. et al. Quercetin induces protective autophagy and apoptosis through ER stress via the p-STAT3/Bcl-2 axis in ovarian cancer. Apoptosis 22, 544–557 (2017). https://doi.org/10.1007/s10495-016-1334-2
Keywords
Qu

ER stress

Autophagy

Ovarian cancer

p-STAT3/Bcl-2 axis