Abstract
The pleiotropic transcription factor, signal transducer and activator of transcription 3 (STAT3) is often aberrantly activated in a wide variety of cancers and plays a pivotal role in tumor initiation, promotion and progression. Targeting deregulated STAT3 activation by small molecule inhibitors is generally considered as an important therapeutic strategy. Hence, in the present study, we evaluated the potential of cardamonin (CD), a 2′,4′-dihydroxy-6′-methoxychalcone, to modulate STAT3 activation in prostate cancer (PC) cells and found that this chalcone can indeed exhibit significant anticancer effects through negatively regulating STAT3 activation by diverse molecular mechanism(s). CD suppressed STAT3 phosphorylation, nuclear translocation and DNA binding ability in PC cells. Computational modeling revealed that CD can bind directly to the Src Homology 2 domain of STAT3 and also effectively inhibit its dimerization. CD was also found to significantly reduce the migratory/invasive potential of PC cells through the downregulation of various oncogenic proteins. Overall, the data indicates that the potential application of CD as a STAT3 blocker can mitigate both the growth and survival of PC cells.
Access options
Buy single article
Instant access to the full article PDF.
USD 39.95
Price excludes VAT (USA)
Tax calculation will be finalised during checkout.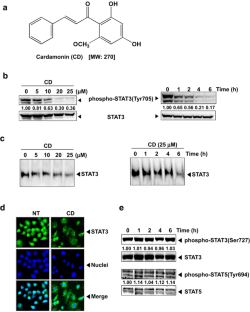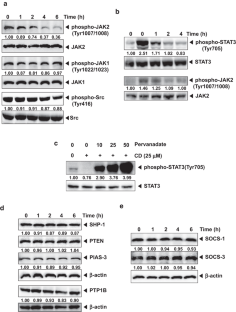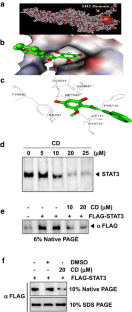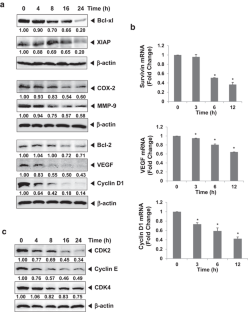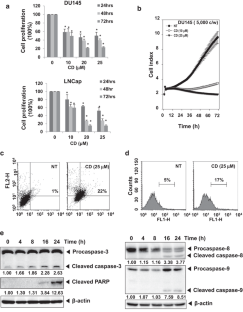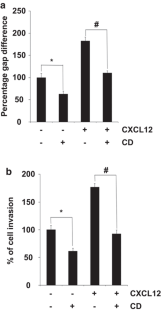 Abbreviations
STAT3:

Signal transducer and activator of transcription 3

CD:

Cardamonin

PC:

Prostate cancer

PSA:

Prostate-specific antigen

SH2:

Src Homology 2

MTT:

3-(4,5-Dimethylthiazol-2-yl)-2,5-diphenyltetrazolium bromide (MTT)

EMSA:

Electrophoretic mobility shift assay

PFA:

Paraformaldehyde
References
Pouresmaeili F, Hosseini SJ, Farzaneh F et al (2014) Evaluation of environmental risk factors for prostate cancer in a population of Iranian patients. Asian Pac J Cancer Prev 15:10603–10605

Gerber L, Banez LL, Freedland SJ (2010) Defining and treating high-risk prostate cancer: can we do better? Eur Urol 58:8–9

Sharifi N, Gulley JL, Dahut WL (2005) Androgen deprivation therapy for prostate cancer. Jama 294:238–244

Mukherji D, Omlin A, Pezaro C, Shamseddine A, de Bono J (2014) Metastatic castration-resistant prostate cancer (CRPC): preclinical and clinical evidence for the sequential use of novel therapeutics. Cancer Metastasis Rev 33:555–566

Heidegger I, Massoner P, Eder IE et al (2013) Novel therapeutic approaches for the treatment of castration-resistant prostate cancer. J Steroid Biochem Mol Biol 138:248–256

Yu H, Jove R (2004) The STATs of cancer–new molecular targets come of age. Nature Rev Cancer 4:97–105

Blume-Jensen P, Hunter T (2001) Oncogenic kinase signalling. Nature 411:355–365

Frank DA (2003) StAT signaling in cancer: insights into pathogenesis and treatment strategies. Cancer Treat Res 115:267–291

Subramaniam A, Shanmugam MK, Perumal E et al (2013) Potential role of signal transducer and activator of transcription (STAT)3 signaling pathway in inflammation, survival, proliferation and invasion of hepatocellular carcinoma. Biochim Biophys Acta 1835:46–60

Siveen KS, Sikka S, Surana R et al (2014) Targeting the STAT3 signaling pathway in cancer: role of synthetic and natural inhibitors. Biochim Biophys Acta 1845:136–154

Chai EZ, Shanmugam MK, Arfuso F et al (2015) Targeting transcription factor STAT3 for cancer prevention and therapy. Pharmacol Ther. doi:10.1016/j.pharmthera.2015.10.004

Bheemasankara Rao C, Namosiva Rao T, Suryaprakasam S (1976) Cardamonin and alpinetin from the seeds of Amomum subulatum. Planta Med 29:391–392

Chow YL, Lee KH, Vidyadaran S et al (2012) Cardamonin from Alpinia rafflesiana inhibits inflammatory responses in IFN-gamma/LPS-stimulated BV2 microglia via NF-kappaB signalling pathway. Int Immunopharmacol 12:657–665

Hatziieremia S, Gray AI, Ferro VA, Paul A, Plevin R (2006) The effects of cardamonin on lipopolysaccharide-induced inflammatory protein production and MAP kinase and NFkappaB signalling pathways in monocytes/macrophages. Br J Pharmacol 149:188–198

Lee JH, Jung HS, Giang PM et al (2006) Blockade of nuclear factor-kappaB signaling pathway and anti-inflammatory activity of cardamomin, a chalcone analog from Alpinia conchigera. J Pharmacol Exp Ther 316:271–278

Bajgai SP, Prachyawarakorn V, Mahidol C, Ruchirawat S, Kittakoop P (2011) Hybrid flavan-chalcones, aromatase and lipoxygenase inhibitors, from Desmos cochinchinensis. Phytochemistry 72:2062–2067

Simirgiotis MJ, Adachi S, To S et al (2008) Cytotoxic chalcones and antioxidants from the fruits of a Syzygium samarangense (Wax Jambu). Food Chem 107:813–819

Fusi F, Cavalli M, Mulholland D et al (2010) Cardamonin is a bifunctional vasodilator that inhibits Ca(v)1.2 current and stimulates K(Ca)1.1 current in rat tail artery myocytes. J Pharmacol Exp Ther 332:531–540

Yamamoto N, Kawabata K, Sawada K et al (2011) Cardamonin stimulates glucose uptake through translocation of glucose transporter-4 in L6 myotubes. Phytother Res 25:1218–1224

Niu PG, Zhang YX, Shi DH, Liu Y, Chen YY, Deng J (2015) Cardamonin inhibits metastasis of lewis lung carcinoma cells by decreasing mTOR activity. PloS One 10:e0127778

Qin Y, Sun CY, Lu FR et al (2012) Cardamonin exerts potent activity against multiple myeloma through blockade of NF-kappaB pathway in vitro. Leuk Res 36:514–520

Park S, Gwak J, Han SJ, Oh S (2013) Cardamonin suppresses the proliferation of colon cancer cells by promoting beta-catenin degradation. Biol Pharm Bull 36:1040–1044

Pascoal AC, Ehrenfried CA, Lopez BG et al (2014) Antiproliferative activity and induction of apoptosis in PC-3 cells by the chalcone cardamonin from Campomanesia adamantium (Myrtaceae) in a bioactivity-guided study. Molecules 19:1843–1855

Shanmugam MK, Manu KA, Ong TH et al (2011) Inhibition of CXCR4/CXCL12 signaling axis by ursolic acid leads to suppression of metastasis in transgenic adenocarcinoma of mouse prostate model. Int J Cancer 129:1552–1563

Becker S, Groner B, Muller CW (1998) Three-dimensional structure of the Stat3beta homodimer bound to DNA. Nature 394:145–151

Kim SM, Lee JH, Sethi G et al (2014) Bergamottin, a natural furanocoumarin obtained from grapefruit juice induces chemosensitization and apoptosis through the inhibition of STAT3 signaling pathway in tumor cells. Cancer Lett 354:153–163

Shodeinde AL, Barton BE (2012) Potential use of STAT3 inhibitors in targeted prostate cancer therapy: future prospects. Oncotargets Ther 5:119–125

Turkson J, Jove R (2000) STAT proteins: novel molecular targets for cancer drug discovery. Oncogene 19:6613–6626

Valentino L, Pierre J (2006) JAK/STAT signal transduction: regulators and implication in hematological malignancies. Biochem Pharmacol 71:713–721

Song H, Wang R, Wang S, Lin J (2005) A low-molecular-weight compound discovered through virtual database screening inhibits Stat3 function in breast cancer cells. Proc Natl Acad Sci USA 102:4700–4705

Wu N, Liu J, Zhao X et al (2015) Cardamonin induces apoptosis by suppressing STAT3 signaling pathway in glioblastoma stem cells. Tumour Biol. doi:10.1007/s13277-015-3673-y

Jia D, Tan Y, Liu H et al. (2015) Cardamonin reduces chemotherapy-enriched breast cancer stem-like cells in vitro and in vivo. Oncotarget

Aggarwal BB, Sethi G, Ahn KS et al (2006) Targeting signal-transducer-and-activator-of-transcription-3 for prevention and therapy of cancer: modern target but ancient solution. Ann N Y Acad Sci 1091:151–169

Zhao M, Jiang B, Gao FH (2011) Small molecule inhibitors of STAT3 for cancer therapy. Curr Med Chem 18:4012–4018

Mi XG, Song ZB, Sun LG et al (2016) Cardamonin inhibited cell viability and tumorigenesis partially through blockade of testes-specific protease 50-mediated nuclear factor-kappaB signaling pathway activation. Int J Biochem Cell Biol 73:63–71

Jia D, Tan Y, Liu H et al (2016) Cardamonin reduces chemotherapy-enriched breast cancer stem-like cells in vitro and in vivo. Oncotarget 7:771–785
Acknowledgments
Kwang Seok Ahn and Jae-Young Um were supported by the National Research Foundation of Korea (NRF) grant funded by the Korea government (MSIP) (NRF-2015R1A4A1042399). This work was also supported by NUHS Basic seed Grant (T1-BSRG 2015-02) and Ministry of Education Tier I to G. Sethi. G. Sethi was also supported by the John Nott Cancer Fellowship from Cancer Council, Western Australia. The authors would also like to extend their sincere appreciation to the Deanship of Scientific Research at King Saud University for its funding of this research through the Research Group Number (RG-1435-081). Alan Prem Kumar is supported by grants from the National Medical Research Council of Singapore (R-713-000-177-511), NUHS Bench-to-Bedside-To-Product (R-184-000-243-515), the National Research Foundation Singapore and the Singapore Ministry of Education under its Research Centres of Excellence initiative to Cancer Science Institute of Singapore, National University of Singapore and by the NCIS Yong Siew Yoon Research Grant through donations from the Yong Loo Lin Trust. The work was also supported by Department of Science and Technology (No. SR/FT/LS-142/2012) to Salundi Basappa.
Ethics declarations
Conflict of interest
The authors declare that they have no conflict of interest.
Additional information
Jingwen Zhang and Sakshi Sikka have contributed equally to this work.
About this article
Cite this article
Zhang, J., Sikka, S., Siveen, K.S. et al. Cardamonin represses proliferation, invasion, and causes apoptosis through the modulation of signal transducer and activator of transcription 3 pathway in prostate cancer. Apoptosis 22, 158–168 (2017). https://doi.org/10.1007/s10495-016-1313-7
Published:

Issue Date:

DOI: https://doi.org/10.1007/s10495-016-1313-7
Keywords